| | |
| --- | --- |
| | KARVY09's Recent Blog Entries |


Sunday, March 14, 2010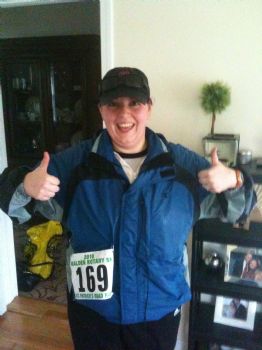 My first run in the pouring rain! Check me out.

I'm kind of a wimp. I've never run outside when it's been raining. So to have my first 5K of the spring season be in a massive deluge was not really my cup of tea. But I bucked up and did it because part of me thinks you aren't really a racer until you can brave the elements.

First of all, hilariously, they registered me for the race under the name "Krishna," the Supreme Being in Hinduism. Even funnier was that the woman who checked me in was clearly Indian and was clearly perturbed at my name.

Unfortunately, not many people came out to run so the cops decided not to completely shut down the roads. I decided to stick to the sidewalks most of the time. Drivers are kinda nuts around here.

I probably started out a little too fast, because the rain was really weighing me down around Mile 1. I wore fleece gloves at the beginning and they were sopping wet halfway through and I had to stuff them in my jacket. Then my iPod decided to randomly change volume during the run. One second there was zero volume and the next it was ear-achingly loud. Yikes.

My jacket was heavy, but it kept me dry and warm during the run. I realized how much easier it is to run now that I'm lighter and how much easier it will be when I drop even more weight!

According to my watch, my time was about 39:50, more than 2 minutes longer than my trial run on Thursday, which was expected, but I'm still glad I made it in under 40 minutes! I decided not to stick around for the awards and lunch, but I got my goodie bag which contained my T-shirt, brown rice, coffee, two gel packs from the local chiropractor's office, chapstick from the local bank, and a mini box of Wheaties Fuel cereal with Peyton manning on the box (boo!). Too funny. What a weird mix!

I'm excited for my April 5K, where it will (hopefully!) not rain and I can set a new PR! Now I'm relaxing and looking forward to a late lunch of PF Chang's! Mmmm!

Congrats to everyone else who ran a St. Patrick's Day 5K today!










Saturday, March 13, 2010
Things have been going pretty great right now. And I'm sorry if this is a bit of a "brag blog" but I wanted to share my happiness with you!

I went on an impromptu outlet shopping trip with my aunt today. And my goodness did I ever score. I got 13 pieces of brand name clothing for under $100!

It's strange how different pieces are all different sizes, but each item was definitely cut differently.

-Navy button down cardigan (XL)
-Off-white 3/4 length sweater (XL)
-Black cami (L)
-Belted black mid-lenght skirt (Size 16)
-Tan blazer (Size 16)
-Floral flouncy skirt (Size 14)
-Black sheath dress (Size 14)
-Gorgeous black trenchcoat (Size 14)
-Houndstooth dress pants (Size 14)
-White cap-sleeved dress shirt (Size 16)
-Striped dress shirt (Size 14)
-A beige mid-length skirt (Size 12)
-Tan dress pants (Size 12)

Yes, SIZE 12!!!






I have NEVER been a Size 12. Not in high school, not in junior high school. I have always been a Size 14 or higher. So to actually FIT into Size 12 clothing (yes, they fit! I could wear them on Monday if I wanted!) is a huge milestone for me.

Friday, I decided to do a trial run of the 5K I'm running tomorrow. It's right in my city, so it wasn't a big deal to do the course. I couldn't believe it, but I finished in 37:35 and this included two fairly large hills where I basically walked. By far my PR! Tomorrow is forecast heavy rains and winds, so I'm not expecting a good showing if I make out there at all.

Thursday, I tried my very first kickboxing class. It was AMAZING! The instructor was tough enough while being respectful of everyone's fitness level. There were several women in the class who were larger than me. (Yes, it is still "fat girl thinking." I still scan the room to see if I'm the bigggest girl in the room. I hope to get out of this habit soon.) This included a woman who was probably about 400 pounds. She did great with modified versions of the moves! After class, I thanked the instructor and told her that it was my first class and she complimented me on my form. WHAT? I have "form?"

So the last couple of days have been marvelous. I have been eating well but still having treats that I love and feeling absolutely great.

Living a healthy lifestyle can be difficult at times. Starting is the worst part though. Once you get acclimated to the little changes and realize that you can still eat the foods you love in moderation and learn to love exercise, it becomes so much easier. I want everyone here to feel as good as I do!

Now for some wine and snuggling with my sweetheart with a good St. Patrick's Day movie, Gangs of New York! I hope everyone is enjoying a wonderful weekend so far!





Friday, March 12, 2010
I'm not usually a survey person, but I have a little over an hour til I leave work, very little work to do and I think this will be helpful to see what different people are doing every single day!

Stolen from ANEWAMANDA, SUGIRL06, ALLYNMC and others!

1. What did you eat for breakfast?
A Joseph's whole wheat flax pita with 1 tbsp of Teddie peanut butter with flaxseed and a dab of honey, a Stonyfield Farms lemon yogurt and a coffee with one half and half container.

2. How much water do you drink a day?
8-10 glasses

3. What is your favorite workout?
It can change from day to day, but I love a good run, bike ride or swim. I just started to love group exercise classes like Zumba and Kickboxing. And when I'm home, I turn to 30-Day Shred, No More Trouble Zones, BL Last Chance Workout and Wii EA Sports Active.

4. What is your favorite fruit?
Can't pick just one! Even limiting it to five is tough: cherries, honeydew melon, blueberries, strawberries and mango. There. I did it! Oh and tomatoes!

5. What is your favorite vegetable?
Ughhh... I'll limit it to three this time: sweet potatoes, carrots, and snap peas. And Brussels sprouts. Shoot, that's four!

6. How many calories do you burn a week?
3000-3500

7. How many calories do you eat a day?
Between 1300-1600, but I'd say my average is 1450-1550.

8. What are your favorite healthy snacks?
Fruit (see above), including cara cara oranges, my current seasonal favorite. Almonds, Greek yogurt, Kashi bars, pitas with Laughing Cow light cheese.

9. What do you usually eat for lunch?
Oh, hard to say. A sandwich, frozen meal or leftovers from the night before usually. Lunch is usually my smallest meal of the day because I snack a lot!

10. What is usually for dinner?
Lean meat and Steamfresh veggies is my quick go-to meal. See my "Breaking the Fast Food/Restaurant Addiction" blog for my kitchen staples!

11. What is your favorite body part to strength train?
Legs. I find it easy to do lunges and squats.

12. What is your least favorite body part to strength train?
My arms. I need to get better about toning those guys. I want to have sexy guns!

13. What is your least favorite exercise?
Those freaking stair climbing machines. It looks like a form of torture!!!

14. What is your favorite exercise?
Running! It's so easy just to get up and go running! If you'd tell me I'd respond "running" as my favorite exercise a year from today, I'd have called you crazy!

15. What are your "bad" food cravings?
Pizza, Chinese, wings, cheeseburgers, and fries.

16. What is your go to workout song?
Hey Ya! by Outkast. Classic. Love it.

17. Do you take vitamins or supplements?
I take a multivitamin when I remember to supplement my calcium. So important!

18. How often do you eat out?
Once a week, sometimes less these days.

19. Do you eat fast food?
No, only if I'm in a bind. If we go out, we want a "real" meal. I'm happy to report I haven't been to a "Big Chain" in about six months. Seriously, no McD's, T-Bell, BK, Wendy's, etc.! Woot! If I do have something, it's a Dunkin Donuts egg white breakfast sandwich or a sandwich from Cosi.

20. How do you stay motivated?
You guys here on SparkPeople and all of your fantastic feedback is HUGE to me. And those little concrete differences I see every single day help keep me focused on things other than the scale. Loose pants, check! Can tie my shoe without trouble, check! Fitting in the subway seats now, check! And so on!

21. Who is your biggest supporter?
My husband. He never wanted or urged me to lose weight, but he supported my decision to do so and loves me no matter what.

22. How much weight have you lost?
I've lost 82 pounds from my highest weight in January 2009 and 73 pounds since joining SparkPeople a little more than 9 months ago!

23. How did you determine your goal weight?
My ticker goal currently is 199 because that's my first major goal. After that, I don't know how much farther I'll go. Probably somewhere between 150-160. 154 is "healthy" weight for my height of 5'6", but I've never been at a healthy weight, so I don't know what will be best for me until I get there.

24. Do you have a gym membership?
Oh yeah. I worked out at Planet Fitness from October '08-January '10 and then joined my "workout palace" last month. It's pretty freaking awesome.

25. How often do you work out?
5-6 days a week. Even on my off day, I try to do something like skating, hiking or a walk.

26. How did you find Spark?
A friend told me his friend was tracking on it when I told him I was using FitDay. I never found out who the friend was, but THANK YOU!

27. How much sleep do you get a night?
6-9 hours

28. Are you a morning or night workout person?
It used to be after work, but lately I've actually been waking up to work out. I think I prefer it because it makes me feel great all day and I can chill out in the evening!

29. Do you have a "cheat" day?
Not unless it's a holiday like Christmas or Thanksgiving. I eat what I want. If I really want a "naughty meal" I will have it and try to make it work into my meal/exercise plan.

30. Do you drink soda?
I've cut down from 4-6 Diet Cokes a day to 1-2 which is a huge acheivement. I think I will cut it out almost completely eventually, but not now. Working on my fitness and eating is enough for now.

31. Do you drink alcohol? How much?
I enjoy a glass of wine or beer or a GOOD martini on the weeknights here and there. I drink more when I go out on weekends. Lately, I haven't had more than 2 drinks when I've gone out.

32. What is your favorite thing about Spark?
The food and fitness trackers, the awesome people and teams, and the insightful blogs

33. What do you not like about your body? What do you love about your body?
I'm not a fan of these thighs and how SLOWLY the weight is coming off them.

But I'm liking my body a whole lot more these days, especially my rocking calves! I have killer eyes and a great smile too.

34. Do you have a workout buddy?
Nope. I'd love to find people to run with in the area on summer nights this year though!

35. What is the best thing that has changed about your life since committing to this Healthy Lifestyle?
Energy. I used to have zero energy when I got home from work and now I feel like I can change the world. A close second is not feeling like I'm being stared at or frowned down upon by strangers. It's fantastic!!!





Thursday, March 11, 2010
There was a meeting in the conference room at work today, which usually means that by 4 p.m. all of the leftovers are a free-for-all in the kitchen. So if you want to make yourself a cup of tea for example, you need to pass by all these brownies, cookies and other horribly delicious treats. FREE treats that seem to beckon, "C'mon eat me, I cost zero dollars!"

Of course, they are not technically free. They have lots and lots of those calories that we're all trying to limit!

I've been good about bypassing the free sweets lately, but this afternoon, a lemon bar caught my eye. I cut it in half and had it in lieu of the Luna Bar I had planned to eat before my workout this evening. It was so delicious and totally freaking worth it. It actually turned out being less calories, but probably not as nutritionally loaded as the Luna Bar would have been.

But here's the kicker. Always the generous one, I decide to wrap up a brownie to take home to my husband too. After all, it's FREE and I feel bad because I haven't been baking at all back at home. Immediately, I kind of felt guilty. Am I enabling his bad habits or being a thoughtful wife? Probably a little of both.

Ah well. It's off to my first ever kickboxing class! I'm excited and a little nervous, but I hope it's enough cardio to blast away every bit of lemony goodness and then some!







HAVE A WONDERFUL EVENING EVERYONE!






Tuesday, March 09, 2010
I get a lot of SparkMails asking about my running, but every so often I get one about nutrition, which surprises me, as I never thought of myself as a go-to person for healthy eating tips.

But this one caught my eye: "How did you break yourself away from a fast food and restaurant addiction?"







Hmm, good question. I had to think back to how I started.

Fair warning: I ate a large share of convenience meals before SparkPeople but I DID have some rudimentary cooking skills so I wasn't starting from scratch completely.

My dad is a chef. He always did the cooking in our house and is both a kitchen hog and and devoid of the patience necessary to teach me (but I love him anyways). Most of these meals were butter and cheese laden anyways. I got a couple of cookbooks, but most of what I make, I either make on the fly or get some guidance from AllRecipes.com.

I sometimes read people's recipes on SP though and I'm in awe how they carve out the time to make such amazing healthy meals. I would love to do that too, but if I have to choose between a rigorous workout schedule and a rigorous cooking schedule, I'll pick the exercise. I can make healthy meals (maybe not as delicious though) on my own without doing very much hardcore cooking.

Whenever I think of some of my unhealthiest eating days, I think of the time when I was working 60+ hours per week. During my high OT days, I was making a fair amount of money and I was living with family until after my wedding, so I wasn't too worried about spending a ton of money on fast food. A typical workday could go like this:

BREAKFAST: Breakfast sandwich/burrito and coffee from Cosi/Boloco and coffee with cream and sugar (600+ calories)
LUNCH: Chicken kabob platter plate (Chicken, two kinds of rice and salad) (1000+ calories)
SNACK: Chocolate or cookies (250+ calories)
DINNER: Cheeseburger and fries (1000+ calories)
DESSERT: Ice cream sundae (300+ calories)

It's no wonder I ballooned up to 288 lbs by January '09 eating 3000+ calories a day like this and being completely sedentary. I loved eating out. The nice thing about chains is that you basically know exactly what you're going to get and it's comforting to know that your cravings for salt and sugar will be met. I know a lot of us here on SP turn to chains for that same reason: comfort and familiarity.

Now in the past when I realized I needed to change my horrible eating habits, I would have done a complete 180 degree turn and switched to completely healthy foods and meal substitutions. Slimfast or Special K would be a crutch for me. And I'd quit eventually because who can drink crappy shakes or cardboard cereal for breakfast and lunch for every single day?

People will tell you that you can eat anything you want as long as you count your calories, which I suppose technically can be true, but I urge people to stay away from the two extremes. The first extreme is eating at your regular fast food joints, but eating less of it and skipping a meal and snacks in order to "fit it in." The other is eating a diet cereal for breakfast, a salad for lunch and grilled chicken breast and veggies every single day.

For example, take a look at June 12, 2009, about a week into my time at SparkPeople. This day I relied completely on fast food joints. I was going out with friends later on that evening.

BREAKFAST: Dunkin Donuts egg white and turkey flatbread sandwich and medium coffee with skim milk (300 calories)
LUNCH: California Roll sushi (350 calories)
DINNER: Chicken and chili nachos and two vodka tonics (1000 calories)

1650 calories for the day. I remember being completely famished, even after tucking into that plate of nachos. Yes, I stayed within my calorie limits for the day, but even with the "healthier items" at fast food establishments, I was starving. I had no snacks that day because I knew I would be indulging at night. That flatbread sandwich is tasty and pretty healthy overall, but it was salty and it had me craving more salt. Ditto on the sushi. I also remember really wanting to give up and order a cheeseburger along with the nachos we shared along with a couple of pints of beer. It was a vicious cycle. I can see doing this every so often, here and there, but it's totally not sustainable for the long-term.

Whenever I get the urge to check out someone's nutrition tracker and I see someone's fast food heavy choices, you can see that they genuinely tried to make it work using fast food. It looks something like this:

BREAKFAST: Breakfast sandwich (450 calories)
LUNCH: Taco Bell tacos (500 calories)
DINNER: Two slices of pizza (600 calories)

So, technically at 1550 calories, you are likely in your calorie range (probably not your fat or sodium range). But notice how little food that is! With just a little preparation, you can make your own meals and get a ton more nutrition for your calories worth!

As an example I give you February 23, 2010, when my healthy habits were more ingrained. Still low preparation:

BREAKFAST: Whole wheat pita with peanut butter and jam, 1/2 large apple, brewed tea with nonfat milk (271 calories)
LUNCH: Kashi chicken and vegetable red curry and rice frozen meal (300 calories)
DINNER: Two egg broccoli and cheese omelet with 1 slice high fiber toast with coconut spread (437 calories)
SNACKS: 1 small banana, 1/4 cup trail mix with almonds, cranberries, sunflower seeds and pepitas, 1 6 oz. container peach Greek yogurt, 6 garlic flatbread crackers with a wedge of Laughing Cow light cheese (538 calories)

This was about the same. 1550 calories. I probably took about 20 minutes in total to get all three meals together. Notice how much food there is! I remember being snacky that day, and indulging in snacks, but still having three main meals and hitting my calorie goals.

A lot of people will tell you to invest in a lot of high-tech equipment to help prepare healthy meals (blenders, food processors, juicers). While that stuff is great, I recommend buying a lot of low prep groceries that will prevent you from turning to fast food or convenience meals when you come home tired and hungry.

Here are the staples of my kitchen that I can't live without:






-Apples, bananas, and oranges (highly portable and can't get more convenient than that!)
-Salad supplies (baby carrots, tomatoes, lettuce, cucumber)
-Peppers, onions, garlic
-Lean meats, separated into portions and frozen (lean ground beef, pork chops, and chicken breasts, as well as chicken sausage and pre-seasoned pork tenderloin roast)
-Nuts and dried fruit
-Tofu
-Uncured or low-sodium bacon
-Greek yogurt or other high-protein yogurt
-Whole wheat pasta
-Eggs
-Oatmeal and Kashi cereal
-Prepackaged deli ham or turkey
-High fiber bread
-Whole wheat flax pitas
-Natural peanut butter and almond butter
-String cheese or reduced fat cheese
-Whole wheat tortillas
-Frozen veggies
-Frozen rice
-Canned beans
-Canned tuna
-Sweet potatoes







If I have these things, I pretty much have all of my meals for the week. I can make quick breakfasts of PBJ pitas, breakfast tacos, oatmeal, yogurt or cereal. And my lunches are leftovers from the night before, a sandwich, or the occasional frozen meal from Kashi, Trader Joe's or Lean Cuisine.

For supper, I can make chicken fajitas with cheese, veggies and a black bean side. Veggie omelets with bacon and toast. BBQ pork chops with sweet potato and frozen veggies. Pasta with ground beef, onion, and bell pepper. Cobb salad with egg, tomato, cucumber, bacon, and chicken. Tofu stirfry with veggies and rice.

I usually don't get much more inventive than this, and these meals take about 10-30 minutes to prepare and cook. Again, one of my goals is to be a little more adventurous on the weekends, but if you're just starting out and you need something fast, you don't need many cooking skills to get going. There is NOTHING wrong with frozen veggies and rice that you can throw in the microwave for 5 minutes. If you get them unseasoned, they are exactly the same as making your own, and no high-sodium additives.

Don't get me wrong. I still go out maybe once or twice a week, and it feels like a real treat! Mostly we go out for Asian food because it's really specialized. I can make a stir-fry but I can't make a great tandoori chicken, sushi platter or mango curry. My husband tells me my Italian food is just as good as the trattoria and that I make the best omelet so no need to go to the diner (aw, thanks hon!).

But it's not an addiction anymore. I realize that the food I make will keep me more satisfied and that there is ENOUGH of it to keep me full and happy without having to "save calories" for a big night out. I feel much more sated eating a ton of snacks (yes, even chocolate and popcorn) during the day and having a small sandwich than resorting on fast food for lunch, going into a food coma for an hour and then feeling hungry afterwards. I've learned to crave my own concoctions now that I've perfected them just like I used to take comfort in the assembly line sameness of the chains. The time I used to spend trekking out to get my burrito and waiting in line, I now use to get some fresh air and take a mile walk! All for just 10 extra prep minutes getting my breakfast, lunch and snacks together in the morning!

I realize that this is a long blog, but I hope it's been helpful for some. If you really have zero cooking skills, I recommend investing in a book like this one www.amazon.com/Basic-Cooking-Need-Co
ok-Quickly/dp/1930603002/ref=sr_1_2?ie
=UTF8&s=books&qid=1268154246&sr=1-2 that really helped me when I was in college. It has some recipes that SEEM really complicated, but once you actually look at them, they're totally not that difficult!

Bon appetit!



First Page
1
2
3
4
5
6
7
8
9
10
11
12
13
14
15
16
17
18
19
20
21
22
23
24
25
26
27
28
29
30
31
32
33
34
35
36
37
38
39
40
41
42
43
44
45 46 47 48 49 50 51 52 53 54 55 56 57 58 59 60 61 62 63 64 65 66 67 68 69 70 71 72 Last Page

Get An Email Alert Each Time KARVY09 Posts