| | |
| --- | --- |
| | KARVY09's Recent Blog Entries |


Saturday, February 27, 2010
I'm fasting on meat on Fridays because of Lent, so this day is pescatarian.

BREAKFAST: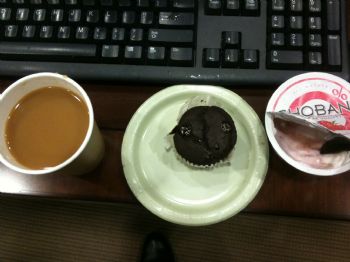 Deep Chocolate Vitamuffin, Chobani Raspberry Greek Yogurt, cup of coffee with nonfat milk

Love these muffins! They are small, but they are delicious, especially when warm and the chocolate chips melt into gooey fudgey pockets. Add the Chobani for a little bit of raspberry, creamy complement. This was the first time trying the raspberry (I think it's a new flavor) but now it's one of my favorites.

Calories: 260
Carbs: 45
Fat: 2
Protein: 19

*********

LUNCH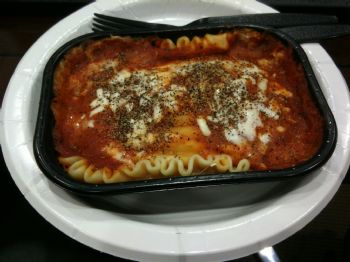 Garden Salad and Lean Cuisine Classic Five Cheese Lasagna

Mmm mmm mmm! I made myself a great garden salad with romaine lettuce, tomato, baby carrots, cucumber, leftover broccoli (from cheese omelet night), and peppadew peppers. If you haven't tried peppadew peppers (they come in a jar), you should try them! They are a good mix of sweet and spicy. I brought a lemon to work to squeeze on it when I was ready to eat it. I'm trying not to eat salad dressings as often. Even the low-cal kinds are full of unecessary sweeteners and chemicals and sodium. I didn't miss it at all!

Besides I had my Lean Cuisine, which had 600 mg of sodium. I've never tried this one, but it was VERY GOOD. It didn't taste lowfat or frozen, just cheesy and delicious. This was a slightly larger lunch because I was leaving early for work for the gym and wanted enough fuel to get through a long workout.

Calories: 459
Carbs: 71
Fat: 9
Protein: 25

*********

DINNER: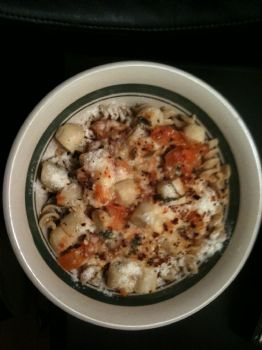 Scallop Scampi with Whole Wheat Pasta

15 small scallops, 1/2 large tomato, 2 cloves garlic, 3 sprigs fresh parsley, 1/2 tbsp EVOO, 1/4 cup white wine, 1 cup of cooked whole wheat rotini, 4 tsp reduced fat parmesan, squeeze of lemon. Small glass of port wine (not pictured)

I decided to try my own scampi with only a bit of olive oil and no butter. It was good! Basically, I sauteed some garlic and parsley in olive oil, added scallops and tomato, simmered for a bit, added the wine and lemon and topped it off with some reduced fat parmesan. My husband and I had a small glass of port wine with our dinner as well.

Calories: 510
Carbs: 58
Fat: 12
Protein: 25

*********

SNACKS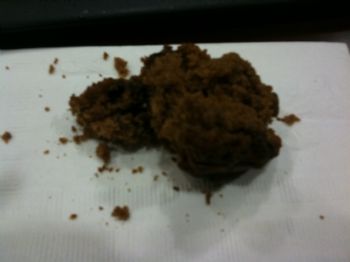 1/4 Dunkin Donuts Honey Bran Raisin Muffin

I know this doesn't look great in the photo and there's a story behind this one: So my coworker who usually brings donuts every Friday decided, because he noticed a few of us were eating "healthy," to bring these bran muffins instead. He thought he was being extremely generous, and was pushing and pushing the muffins on me and another coworker. I'd already eaten breakfast and declined, knowing full well that I could eat a honey glazed donut for about 220 calories, while this "healthy"muffin was 480 calories. I felt bad that he tried though, so I split one with the other coworker.

He then called us "wimpy." Sigh. Anyways, I ate a half of the half muffin and threw the other bit away discreetly. Isn't it insane the amount of peer pressure we sometimes face at work? It was pretty good though. Much better than a lot of the muffins I've had there. 120 calories and filling.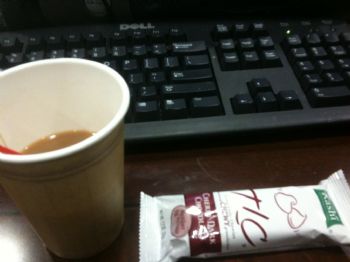 Kashi Cherry Dark Chocolate Granola Bar

Post-gym replenishment. I tore into this thing! I was hungry!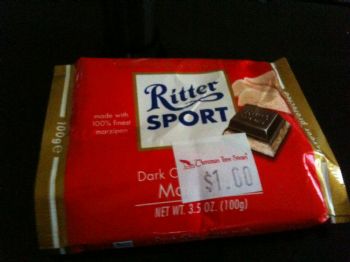 Ritter Sport Dark Chocolate Marzipan

Had 5 pieces of this delicious chocolate bar while chilling out with DH and watching a movie after dinner. It was a nice end to an active day!

Calories: 375
Carbs: 61
Fat: 13
Protein: 9

*********

DAILY TOTAL:

Calories: 1,604
Carbs: 236
Fat: 35
Protein: 78
Sodium: 1,446 (not bad for a Lean Cuisine day! Eating clean otherwise helped!)
Fiber: 30
Calcium: 94 (without multivitamin)

*********

WORKOUT:

1.5 mile walk on lunch break, 4.5 mile jog/walk on treadmill, 15 minutes on the rowing machine

Calories Burned: 948

I was cleared to run! And it felt so good. I did intervals though because I hadn't run in two weeks, and it felt absolutely marvelous! A little back stiffness, but not too bad. I love running and I think I should be able to do the St. Patrick's Day 5K even if I don't break my PR.

I used my heart rate monitor for the first time. It was amazing! And as I expected, I burned WAY more calories on my run, even while wogging it. 687 calories in 60 minutes,where I ran 30 minutes! Before I was logging around 500-550 for a 60 minute session in which 50 minutes was running! So I imagine a full-on run will burn around 800 calories.

My heart rate got up to 163!

I also tried the rowing machine for the first time, which was TOUGH, but great for my arms and back.

I LOVE RUNNING!











Friday, February 26, 2010
BREAKFAST: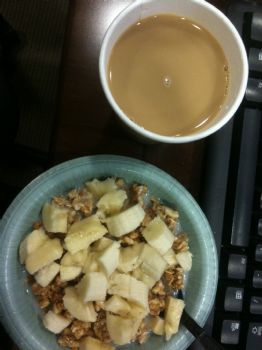 Kashi Go Lean Crunch Honey Almond Flax cereal, nonfat milk, chopped banana and coffee with fat-free half and half.

Look familiar? It should! It's the same breakfast from Monday. Yum. So good.

Calories: 356
Carbs: 68
Fat: 5
Protein: 15

*********

LUNCH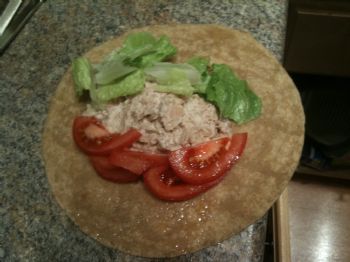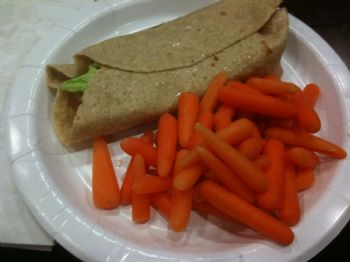 Tuna wrap with lettuce, tomato and baby carrots

1 can of Sunkist chunk white tuna, 3/4 tbsp mayo, 1 whole wheat/low carb Cedar's wrap, 1/2 sliced tomato, 1 chopped lettuce leaf with a handful of petite baby carrots

My yummy and super-filling lunch. Yes, I used real mayo. I have never gotten used to the low fat or imitation versions. I'd rather just use a little less of the real thing and enjoy it. I realized that while these Cedar's whole wheat wraps are low-calorie and high-fiber they also have a lot of sodium. And of course, canned tuna has a lot of sodium too. Ah well.

Calories: 349
Carbs: 22
Fat: 16
Protein: 35

*********

DINNER: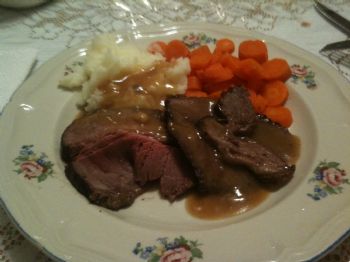 Roast beef with mashed potatoes and sliced carrots, with gravy

5 oz roast beef, one cup of sliced carrots, 3/4 cup mashed potatoes and 1/4 cup of beef gravy

I didn't make this. I had to go to my grandparents to help them with some things and of course they treat every time I go over there like it's an occasion for a Sunday dinner (they're so cute!). I've finally convinced them not to pre-butter the carrots and mashed potatoes, so everything was naked when I got there. So it actually was not too bad calorically, though usually I try to limit red meat to only one meal per week.

Calories: 493
Carbs: 43
Fat: 14
Protein: 49

*********

SNACKS

Wasn't feeling too snacky today, but still had some good ones...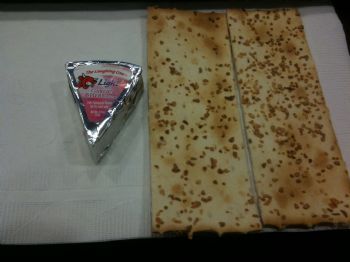 Suzie's Garlic Salt flatbreads with a wedge of Laughing Cow garlic herb cream cheese

That's the end of them! They were delicious, but way too tempting. This was a great snack, but I had to chew a stick of gum afterwards (garlicky!!!).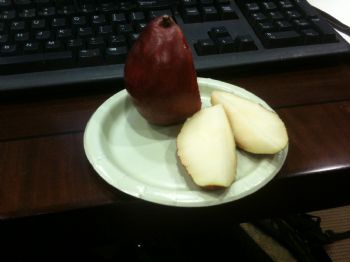 Red Anjou Pear

This was pretty good! I'm usually not a pear person, but the color of this one intrigued me. So dark! It needed a little more ripening, but it was still pretty juicy and very sweet.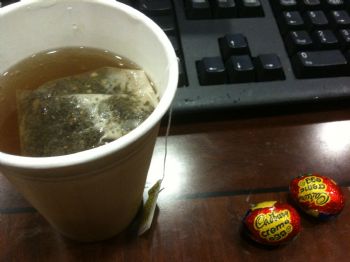 Cadbury's mini cream egg and a cup of green tea

Co-worker brought in Peeps and mini creme eggs. I took a couple of cream eggs but only ate one and saved the other for DH. For 53 calories an egg, it definitely took the edge off my chocolate craving.

Calories: 259
Carbs: 49
Fat: 5
Protein: 6

*********

DAILY TOTAL:

Calories: 1,457
Carbs: 183
Fat: 40
Protein: 105
Sodium: 2,515 (higher than I'd like)
Fiber: 31
Calcium: 101 (with multivitamin)

*********

WORKOUT:

1.5 mile walk on lunch break

Calories Burned: 112

I didn't get to the gym today because of physiotherapy, having to help my grandparents, and picking DH up from a dentist appointment. It's OK though because I'm getting out at 2:30 this afternoon and plan to do an extra long session WITH MY NEW HEART RATE MONITOR!!!

Yes, it came last night even though it wasn't due to arrive til March 3. What a great surprise!

I was also cleared to run again as long as it didn't bother my back and skiing should be OK too if this rain ever lets up!






Thursday, February 25, 2010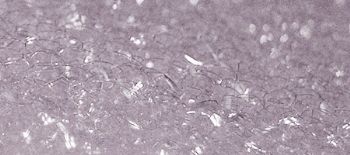 I went to the gym early in the morning yesterday so I had a nice long evening at home with my husband. After dinner, I really wanted to treat myself to a nice bubble bath, and so I did. I ran scalding hot water and crumbled some creamy peppermint bath fizzies in the water, grabbed a cup of herbal tea and got to it.

A nice long soak is a great thing to clear your mind. My skin turned bright red and my muscles instantly relaxed (my back had been acting up that afternoon). I put on my eye mask, slid further into the water, and had a good ten minutes of serenity. A Type A personality at heart, I've tried meditation sans the bubles before without much luck. There's just something about 100F+ degree water, soothing bubbles, and hot steam that instantly calms me and allows me to relax.

What jolted me to reality was the realization that my stomach was UNDERWATER. Then I noticed how much room I had in the tub!

This had never happened before. I'm no scientist, but it's basic fluid mechanics that you learn in high school physics: displacement of water. I had a lot more mass before and therefore a lot less water to cover aforementioned mass. Losing more than one-quarter of my body weight surely means that there is a lot more splashing to be done!

I thought back to the first time I had taken a bath in this apartment and how CUMBERSOME it had been. My legs were squeezed into the long, thin tub and I couldn't lie back very far because it defeated the purpose of the bath. My legs, stomach and torso were all exposed. So back then, I sat for a little bit, washed up and was on my way, feeling mildly dissatisfied at my bathing experience.

Last night, I spent a whole hour in the tub. My revelation at how roomy my bath was instantly elevated my mood. I turned on my side, stretched my legs out, and realized how much more flexible I was now. This is another development that has made me (and my husband) very happy for naughtier reasons that you can probably guess.

These are the simple pleasures they don't tell you when expounding the benefits of losing weight. My doctor told me about a longer life. Fitness magazines tell you about increased athleticism and energy. My family spoke mostly about how much better I would feel and the clothes I could wear.

Nobody ever told me, "Kristina, if you lose a quarter of your body weight you will be able to stretch your legs to the sky and take a fabulous bubble bath." I would have thought strangely of the person who did tell me that!

But since I'm here, I'm telling you about this simple pleasure. I'm still obese, and I still need to lose about 50 or so pounds, but my quality of life is so much better now. I want to scream it from the rooftops. I want to let people know that the tangibles (scale readings, measurements, skinnier jeans) are wonderful but there are myriad intangibles that people just don't talk about.

209, 215, two hundred and whatever. Size 16, 18, 14. Numbers, numbers, numbers are all fine and good.

But damn, that was one good soak.





Thursday, February 25, 2010
BREAKFAST:




Packet of Quaker Instant Oatmeal, 1 tbsp sweetened flaked coconut, 3 chopped dates, and 1/3 chopped banana (the rest of the banana had gone bad so I threw it away . Cup of coffee with nonfat milk (not pictured).

This is one of my variations on oatmeal. I like the non-instant kind best, but they have free instant oatmeal at work, so I've been turning to that one regularly!

Calories: 239
Carbs: 47
Fat: 4
Protein: 7

*********

LUNCH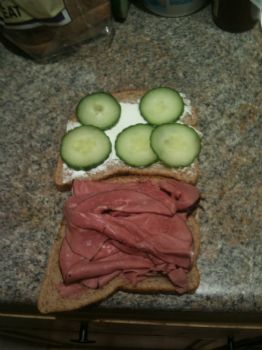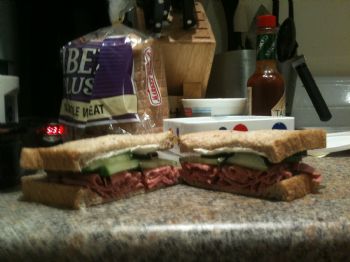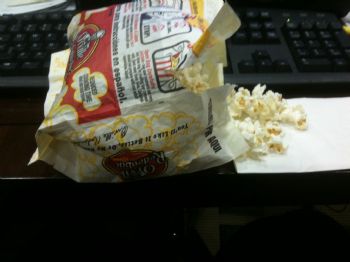 Roast beef and cucumber sandwich and kettle corn

2 slices high fiber bread, 1 tbsp whipped cream cheese, 6 slices Oscar Meyer shaved roast beef, 1/2 cup sliced English cucumber, with Orville Redenbacher's Smart Pop Kettle Corn, Mini Bag.

This is one of my favorite sandwiches that some people might find "weird." I love the combination of cucumbers and cream cheese. Sometimes I just have a cucumber and cream cheese sandwich and sometimes I add a little ham. Today I tried it with some roast beef and it was delicious! It had a good mix of creamy, crunchy and meaty.

And who doesn't love a side of kettle corn? Can't beat it for 100 calories!

Calories: 342
Carbs: 62
Fat: 8
Protein: 23

*********

DINNER: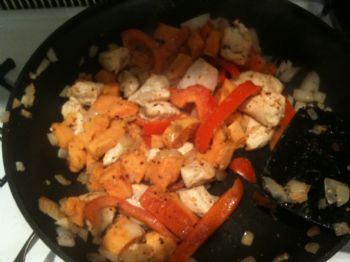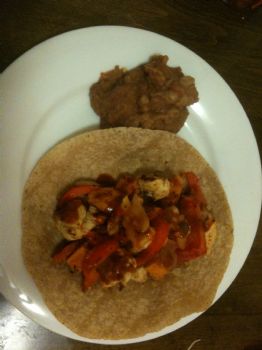 Fajita with chicken breast, sweet potato, onion, red peppers on a whole wheat tortilla with a side of refried beans

I decided to try a variation on fajitas and add a little sweet potato. Usually I'll use two chicken breasts and my husband will eat at least 2/3 of the fajita mixture and most of the chicken. But I wanted to show him that sweet potatoes and just a little chicken could be just as good. I try to sneak him veggies a lot! Cooked this whole mixture with a tbsp EVOO and used salt-free Mrs. Dash seasoning rather than high-sodium taco seasoning.

He said it was very tasty and filling, so score!!!

Calories: 441
Carbs: 48
Fat: 13
Protein: 42

*********

SNACKS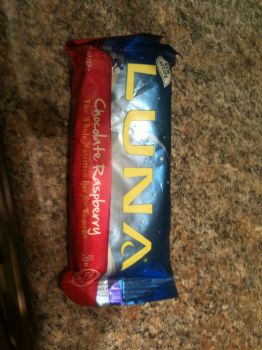 Chocolate Raspberry Luna Bar

This was my EARLY morning workout fuel. I ate it on the bus at 6:15 a.m. before the gym. I can't say enough good things about Luna Bars. They are low-glycemic and sometimes when my husband and I are out shopping, we split one and it staves off the hunger. The Chocolate Raspberry is my favorite, but I like Caramel Nut Brownie, White Chocolate Macadamia Nut and Berry Almond as well.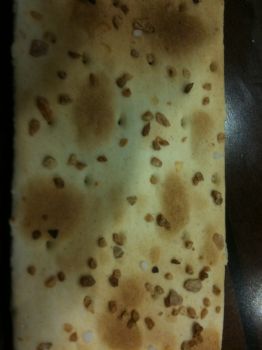 Suzie's Garlic Salt flatbreads

Yep, had this as a late afternoon snack. I love these but I have a hard time stopping at just three, so while they are yummy, I don't think I'll be buying them again for awhile. SO GOOD though!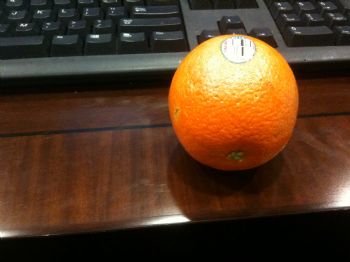 Cara Cara orange

Yum. Yum. Yum.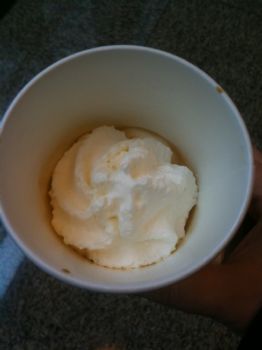 Starbucks espresso con panna

Around 3 p.m. I needed something sweet so I went to Starbucks and got this treat that usually isn't even on the menu there. Simple. Shot of espresso and a dollop of whipped cream! It's so nice to take tiny sips of the espresso through the cream and to enjoy the bit of cream that's leftover afterwards. And it's only 30 calories! I'd much rather have that than an artificially sweetened skinny latte.

Calories: 335
Carbs: 64
Fat: 8
Protein: 12

*********

DAILY TOTAL:

Calories: 1,377
Carbs: 221
Fat: 32
Protein: 84
Sodium: 2,422 (a little higher because of refried beans and roast beef)
Fiber: 46 (high!)
Calcium: 118 (with multivitamin)

*********

WORKOUT:

1.5 mile walk on lunch break, 50 minutes/10 miles on the video bike, post-workout stretches

Calories Burned: 625
Average Speed: 12.5
Average HR: 150
Highest HR: 161

I used the video bike today, which simulates biking courses on a big screen in front of the bike. It was awesome. I could tell some of the dedicated early morning gymmers were skeptical, but I was sweating and panting halfway through my virtual bike tour. Definitely a whole lot of fun and a great workout. Biking can be very therapeutic!











Tuesday, February 23, 2010
Tuesday, snacky Tuesday!




BREAKFAST: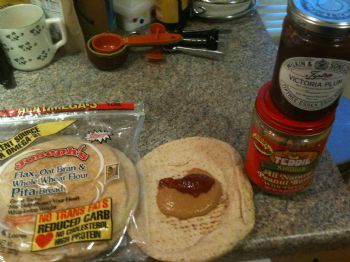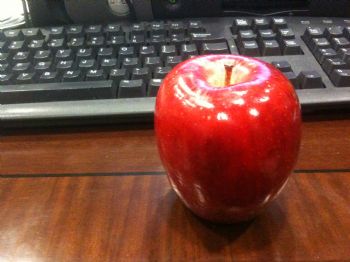 Teddie peanut butter with flaxseed, English Victoria Plum jam on a Joseph's pita and 1/2 large apple. Cup of tea with nonfat milk (not pictured).

One of my low-cal standbys! Now doesn't that Braeburn apple look shiny and delicious? Mmmm, I totally intended to eat that whole thing, but after one bite, I knew it was one of those trick apples that looks all crisp and yummy but instead it was mealy and blah.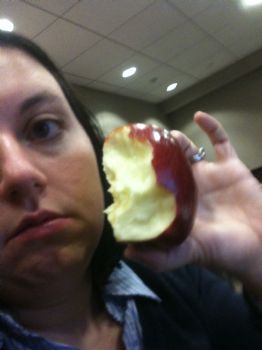 Grrr! The apple sent me on the snack spiral for the rest of the day!

Calories: 271
Carbs: 41
Fat: 10
Protein: 11

*********

LUNCH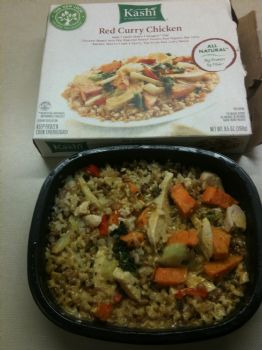 Kashi Red Curry frozen meal

OK, shoot me. Kashi was on sale this week and I had coupons! This was DELICIOUS. I mean, better than some of the Thai food I've had in restaurants. The chicken was tender and it had yummy bok choy, sweet potato, bamboo, kale and red peppers on a bed of whole grain and sesame pilaf. Mmmmm!

Calories: 300
Carbs: 40
Fat: 9
Protein: 18

*********

DINNER: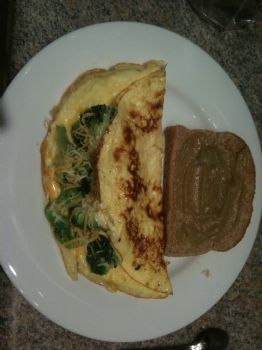 Broccoli and cheese omelet, high fiber toast with Singaporean coconut jam

Another super quick supper since I've been making the gym a high priority this week. But so tasty! I love breakfast for dinner. My good friend brought me the jam (kaya) that I loved when I was in Singapore and it's made from eggs, coconut and sugar basically. Here's a photo of the kaya jar: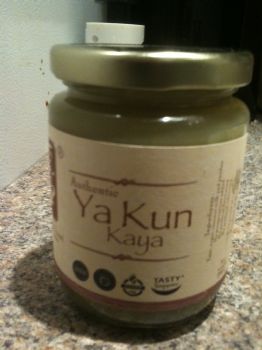 Calories: 437
Carbs: 36
Fat: 20
Protein: 28

*********

SNACKS

It was a super snacky day today, so snacks were my biggest meal!




Suzie's Garlic Salt flatbreads with a wedge of Laughing Cow Garlic Herb Light Cheese

I had the munchies around 10:30 a.m. so I cracked open some of these terrific flatbreads. And then I had a few more in the afternoon. Yum! They're only 70 calories for three flatbreads. Here's the close-up: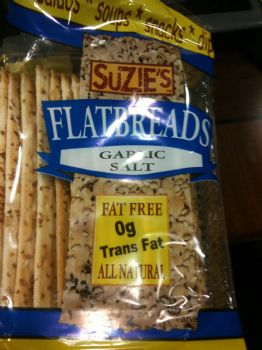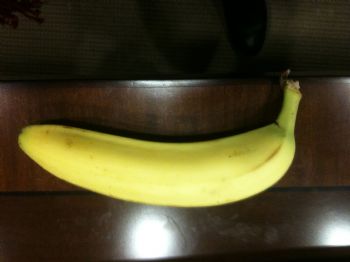 Still hungry at 11:30, so I had a banana...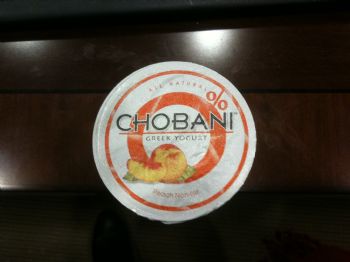 And some Chobani peach yogurt at 3 p.m. So tasty!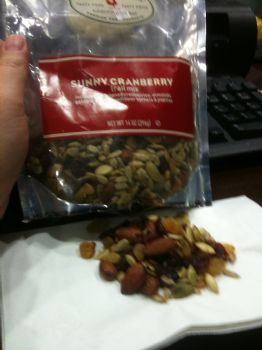 Finally, I had 1/4 cup of this tasty trail mix with cranberries, golden raisins, sunflower seeds and pepitas before my workout at 5 p.m.

Calories: 538
Carbs: 89
Fat: 10
Protein: 25

*********

DAILY TOTAL:

Calories: 1,546
Carbs: 206
Fat: 49
Protein: 82
Sodium: 2,179
Fiber: 26
Calcium: 118

*********

WORKOUT:

1.5 mile walk on my lunch break, 20 minutes of swimming, 30 minutes of aqua aerobics, post-workout stretches

Calories Burned: 558







I enjoyed the swimming, but the aqua aerobics was VERY low impact and I don't feel like I got my heart rate up quite enough. But I had fun! It's so nice to have a pool to go to!



First Page
1
2
3
4
5
6
7
8
9
10
11
12
13
14
15
16
17
18
19
20
21
22
23
24
25
26
27
28
29
30
31
32
33
34
35
36
37
38
39
40
41
42
43
44
45
46
47
48 49 50 51 52 53 54 55 56 57 58 59 60 61 62 63 64 65 66 67 68 69 70 71 72 Last Page

Get An Email Alert Each Time KARVY09 Posts