| | |
| --- | --- |
| | KARVY09's Recent Blog Entries |


Tuesday, January 12, 2010
I read an interesting article on the way to the hospital today about an obese blogger who comments on fashion and being plus-sized. I was excited, because I thought it would be a push for better plus-sized fashion:
www.boston.com/lifestyle/fashion/art
icles/2010/01/12/lesley_kinzel_helps_f
at_people_see_themselves_in_a_new_light/ .

Unfortunately the article was less about fat fashion and more about the fat acceptance movement, which apparently is what the article's subject, 32-year old, 300-pound Lesley Kinzel, writes about on her website, found here: www.fatshionista.com/ .

My thoughts? I love the idea of loving who you are RIGHT NOW, no matter what size you are. And I do think you can be a happy obese person. I was happy at 286 pounds. I had a husband who loved me at that weight and great friends and family, and so I didn't have that "Nobody will ever love me because I'm fat," complex that a lot of overweight single women have. But could I have been happier? Of course. I'm a lot happier now that I have more energy. And I feel stronger inside and out.

I also know you can be relatively healthy, active, and obese. At my highest weight I didn't have major health problems and I still played the occasional game of basketball, but I knew that remaining at that weight would likely lead to health problems (like my father's hypertension and heart disease).

I believe in treating fat people like human beings. I believe in compassion. I believe in magazine covers with curvy women.

But Kinzel has given up on losing weight and calls it "beyond the realm of my own possibilities," despite eating healthy foods and going to the gym. The article may be distorting her story a bit, but she speaks about how she embarked upon a restrictive 6-month diet and only lost 3 pounds. It struck me as sad that she perhaps believes that the only way to lose weight is to diet and diet HARD.

Denial is a powerful thing. I convinced myself that I "couldn't lose weight" because I ate the same crap as my friends and had the same non-gym lifestyle as theirs. I like vegetables and sports too! But God decided I wouldn't have the lightning quick metabolism as theirs, and now I realize that I need to workout hardcore in order to lose weight. I need running and strength training and my workout DVDs and I need to track everything that goes into my mouth to keep myself accountable.

So yes, while I would love it if obese people were treated with dignity instead of disdain and yes, even disgust, I'm not sure I can buy completely into the whole fat acceptance movement. I'm not going to be one of those "former fatties" who judges overweight people once I hit my goal weight, but I do know that being morbidly obese is not a fun thing, even if you are sexy and confident at that weight. I could barely fit into an airplane seat, I couldn't ride some amusement park rides, and I huffed and puffed on stairs. Those things along with others put a HUGE damper on my lofty dreams for what life should be like.

What do you think?





Tuesday, January 12, 2010
Having one of those weeks that is just "happening." I'm busy, and running around, but I feel like I'm in some sort of daze. Last weekend went by so quickly. I was in the hospital with my mother and then my grandfather was admitted, and they are running tests on him to figure out what is wrong.

I need a looooooooooong workout, like 90 minutes or more. Planned on a run yesterday, but got caught in construction traffic and had to skip it. So today is another day, and I'm looking forward to running out my stress.

In the past, I definitely would have eaten my stress, but my pattern of thinking has changed and I keep thinking, "What is that going to acheive?" The answer is nothing, and if I continue to not deprive myself, I should be OK.

Thanks to everyone for all of your great messages, thinking of me and my family. You all are so great.





Thursday, January 07, 2010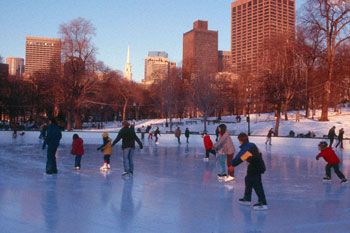 Last night, I got home from ice skating and I felt like dancing, even though my legs were sore. I couldn't believe how well I did. In the past when I went ice skating, my legs would give out on me or I was so scared of falling that the fear crippled me until I DID fall.

Not anymore. I don't know if it is because I'm lighter on my feet now, or that the running and strength training has helped, but after one test run around the ice, I was gliding with ease. It surprised the HECK out of me! I only fell once, and it wasn't anything big, and I was right back up on my feet again!

This newfound confidence has lit a fire under me, and all those "can'ts" and "won'ts" that were so omnipresent in my life before I started running and losing weight.

If I can run a mile at over 250 pounds, then why can't I ski and skate and do all those things that caused me such trepidation in the past? The answer is that I can. This was a huge realization for me this year.

I fell once on the ice and this one teenager burst out laughing. The old me would have felt so embarrassed and it might have ruined my whole evening. I just looked at him and smiled and said, "Falling is just perfect comedy, isn't it?" and he agreed, and that was it. I brushed myself off and kept on skating.

_____

My enthusiasm was cut short by a call from the Intensive Care Unit of a local hospital. My mother, who has battled with alcohol addiction programs, apparently had an incident with a cigarette and a bottle of hairspray and suffered burns to her face, ears, and head.

She has been so low lately, but she refuses to get help for her addiction, and so there is not much I, or other members of our family can do to help her unless she agrees to treatment. Today has been filled with calls to the hospital and social workers and tears and prayers for her.

I tried to get to sleep last night but my mind was spinning after hearing the news of her accident. While I was gliding on ice, my mom was immersed in fire. I can't imagine how painful it must have been.

How many times have I wished that she could have a different sort of fire lit under her, much like the one lit under me, the one who could brush aside all the demons of the past -- mostly failed relationships -- and take control over her addiction? Too many to count.

While I am soaring, I feel my mom slowly sinking, and while she has hurt me in the past, all I want is for her to get well; to realize her own self-worth; and to gain the ability to rise above the past.

Please pray for my mom today.






Wednesday, January 06, 2010
"I can't tell you what I had for breakfast, but I can sing every single word of rock and roll."
--Patty Duke

If there's one meal of the day that I completely rock at, it's breakfast, and with all respect to Ms. Duke, I sing a mean karaoke, but enough said on that matter.

I firmly believe that you need a good mix of carbs and protein to boost your day from the start. Although sometimes I struggle with creative new dinner ideas, I can honestly say I'm a breakfast superstar and have the appropriate authority to wax poetic about the importance of breakfast.

Looking through some of the New Year's blogs, I noticed that a lot of people have a hard time either eating breakfast or waking up in time to have breakfast before heading off to school or work. I saw this at my office all the time. There were the people who bought a bacon, egg and cheese on a bagel from the local coffee place every single day and the others who didn't eat anything at all for breakfast and by 10-11 a.m. they were either munching on whatever they could find OR tucking into a huge lunch at noon. Or if you were like me, my pre-SparkPeople weight loss efforts consisted of trying to stay full on 3/4 cup of Special K for breakfast and a small sandwich for lunch and I was notoriously ravenous and crabby by 3 p.m.

So here I plan to share some of my favorite breakfasts with you and show that there is a viable substitute for some of the higher carb, higher calorie breakfast items that often tempt us. In the same vein, if you are interested in some of my snack ideas, you can check out my DailySpark guest blog here: www.dailyspark.com/blog.asp?post=i_g
et_by_with_a_little_help_from_my_snacks

All of these breakfasts are less than 300 calories, and I tried to make them as high in protein as possible:


QUICK, LOW-PREP BREAKFASTS:

YOGURT, NUTS, AND FRUIT
This is something you can eat quickly before running off to work or completely transportable to the office. If you need to grab something quick to take to work, my favorite yogurts are Chobani Greek-style (Greek yogurt has more protein and is thicker than its competitors) and Yoplait Thick and Creamy Light in individual containers. Otherwise, you can save a lot of money by grabbing a big container and measuring out a half cup yourself. (Did you know that the Trader Joe's brand yogurt is actually Stonyfield Farms? I have an insider source there who let me in on that little secret!)

I like to add some chopped walnuts or pistachios and cut up a little banana or apple to eat alongside the yogurt. You can get completely creative here!

Chobani Vanilla Yogurt, 16 Chopped Pistachios and 1 Small Banana
CALORIES: 260
PROTEIN: 20
A GOOD SUBSTITUTE FOR: Yogurt with high sugar content or sugar-free yogurt that doesn't keep you full for long enough!






THE PB-WHATEVER
Why not have a peanut butter and jelly sandwich for breakfast? I have a good high protein bread that I use for my PBJs: Joseph's Flax, Oat Bran & Whole Wheat Pita. It is soft and tasty and is only 60 calories for a huge pita with 6 grams of protein and 4 grams of fiber. I usually add a tablespoon of a local brand of natural peanut butter which is delicious, Teddie Peanut Butter, which even has a version with flaxseed! Again, I can either use a teaspoon of jam or honey, half a sliced banana, some chopped apples, even raisins!

1 Joseph's Pita, 1 Tbsp Natural Peanut Butter, and 1 Tsp Jam
CALORIES: 200
PROTEIN: 10
A GOOD SUBSTITUTE FOR: Toast with butter and jam, jelly doughnuts, pecan rolls






CHOCOLATE CRAVERS' BREAKFASTS

THE FAUX CHOC CROISSANT
Take the Joseph's Pita from the PBJ above and add a tablespoon of Nutella or chocolate spread. It's not as high protein, but it is completely decadent for a small amount of calories and if you're the type of person who needs a chocolate croissant or muffin to start your day, this can completely take the edge off. This is even low enough calorie that you can add a side snack with higher protein to help keep you fuller (string cheese, peanut butter, etc.)

1 Joseph's Pita & 1 Tbsp Nutella
CALORIES: 150
PROTEIN: 7.5
A GOOD SUBSTITUTE FOR: Chocolate croissants, muffins, and doughnuts






CHOCOLATE CHIP OATMEAL
Again, not a high protein option, but sometimes only a carb fix will do, although you can add some protein powder to the oatmeal to give it a boost. This one is also easy prep: instant oats plus a sprinkling of your favorite chocolate chip. Also makes you feel like you are cheating, but you're still getting the whole oats of the oatmeal.

1 Packet Quaker Instant Oatmeal & 1 Tbsp Chocolate Chips
CALORIES: 170
PROTEIN: 5

+ 1 Scoop of Vanilla Whey or Soy Protein Powder
CALORIES: 260-300 (depending on product)
PROTEIN: 20-30 (depending on product)






BREAKFAST SANDWICHES

THE BREAKFAST TACO
A visit to ONLY_AS_HIGH's adopted city of Austin, TX introduced me to the joy of breakfast tacos. These things are insanely good, but of course the fast food versions have eggs cooked in butter, high fat cheese, and full-fat sour cream. The good news is that you can make a high-protein, lower fat version of a breakfast taco or burrito with very little effort. My favorite is scrambled egg, fat-free cheese, and crispy bacon with a little salsa and lowfat sour cream. Vegetarians can substitute beans for the bacon and vegans can make tacos with just beans, veggies, and salsa.

HOW TO MAKE: Use some cooking spray and scramble an egg in the pan. Melt a slice of prepackaged fat-free American cheese on top of the eggs. I call this "raincoat cheese" because it's got that waterproof sheen to it. Now some of you are probably screaming "Processed cheese! Gross!" And I would agree, EXCEPT for melting purposes. This stuff melts great and gives it that yummy taco cheese taste. But if you're still against it, you can substitute a good half-fat cheddar cheese. Cabot makes a stellar 50% Reduced Fat Jalapeno Cheese.

You can fry up one slice of low-sodium bacon in the pan until crispy and drain all the grease (my fave) or use the precooked slices they sell in the supermarket.

Warm a tortilla in the microwave, pan, or oven. I LOVE, LOVE, LOVE Boston Whole Wheat Tortillas, but I'm not sure whether this is a local brand or not, especially since I thought Boston Market was a local chain when I was a stupid, gullible teenager. In any case, this tortilla has only 70 calories and a banging 6 grams of protein and 9 grams of fiber (much like its cousin, the Joseph's pita) which is the best I've seen at the supermarket, but if you can't find it, there are other brands of whole wheat tortilla out there.

Place cheesy egg and crumble bacon in the tortilla, top with your salsa and lowfat sour cream. Delicious!

1 Large Egg, 1 Slice Bacon, 1 Slice Fat-Free Cheese, 1 Boston Whole Wheat Tortilla, 1 Tbsp Salsa, and 1 Tbsp Lowfat Sour Cream
CALORIES: 250
PROTEIN: 19
A GOOD SUBSTITUTE FOR: Those massive breakfast burritos






BREAKFAST BAGELS
If the idea of a breakfast taco doesn't appeal to you, you can also make a lower calorie breakfast sandwich with mostly the same ingredients. Subtract the tortilla and substitute a whole wheat mini bagel or English muffin. I really like Thomas' Whole Wheat Mini Bagels, which definitely do the job. Cook the egg and bacon the same way but don't add the salsa and sour cream and you basically have the same calories as the breakfast taco! You can also substitute sliced lowfat deli ham for the bacon or skip the bacon altogether.

1 Large Egg, 1 Slice Bacon, 1 Slice Fat-Free Cheese, 1 Thomas' Whole Wheat Mini Bagel
CALORIES: 250
PROTEIN: 17.5
A GOOD SUBSTITUTE FOR: Your favorite 500+ calorie breakfast sandwich!






SMOOTHIES

THE FRUITY SMOOTHIE
My blender was one of the best investments I ever made, especially given my penchant for Frappucinos! I never believed a smoothie could fill me up, but it totally can if you add the right ingredients. My favorite fruit smoothie consists of 1 cup of frozen unsweetened strawberries, 3/4 cup of frozen unsweetened peaches, 1 cup of fresh or canned pineapple, and a 1/2-1 cup of yogurt or vanilla soymilk. Honestly, I feel like I'm drinking a milkshake, but it gives me an incredible boost of energy to keep me through the day. Again, because of all the fruit, this one is higher carb, but you can add that scoop of protein powder if you want, or you can substitute blueberries for some of the other fruits. Basically any fruit can be substituted for something!

1 Cup Frozen Strawberries, 3/4 Cup Frozen Peaches, 1/2 Cup Fresh Pineapple, 1 Cup Silk Vanilla Light Soymilk
CALORIES: 255
PROTEIN: 8 (Protein powder will add an additional 90-150 calories and 15-30 grams of protein)
GOOD SUBSTITUTE FOR: Higher calorie fruit smoothies and shakes






THE PEANUT BUTTER BANANA ESPRESSO SMOOTHIE
Yep, sounds tasty, don't it? This one is very simple: Just 1.25 tablespoons of natural peanut butter, 1 small frozen banana, 1 tablespoon instant coffee or espresso dissolved into one cup of water, and one cup of light vanilla soymilk. Again, tastes decadent and is super filling!

CALORIES: 290
PROTEIN: 13
A GOOD SUBSTITUTE FOR: Frappucinos and other coffee smoothies






Anyhow, I know this was long, but I hope you enjoyed my breakfast ideas! Have a wonderful day, Sparkers!





Monday, January 04, 2010
So today I decided to try on the Size 16s I found in the store about a month ago for $8. They zipped at the time, but they were skin tight and unwearable at the time. Today, they are a little snug, but not indecent!




One of the mini challenges for Boot Camp is to post before and after stats or photos. I never did an official "before" photo when I started Sparkpeople at 279 lbs, but I posted some photos of the 270-280s era on my photo page. I figure the new Year is a good time to do this, given my goal is to lose an additional 70 pounds this year.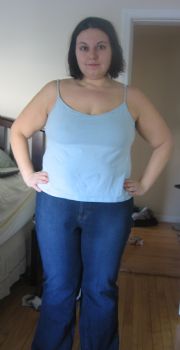 A view from the front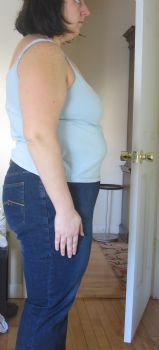 From the side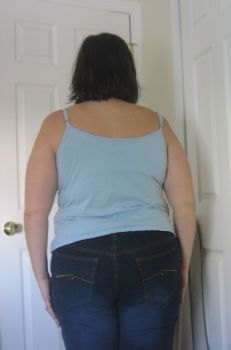 Backside


I have to remind myself that even though I cringe when I see the photos, especially from the side and back, I look a lot better than I did before:



August 2007. One of those photos that makes me shudder.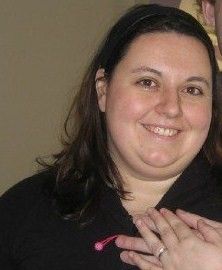 December 2008.


So yeah, let's see what 2010 brings!

Time to get going. Gotta check on that car (fingers crossed, fingers crossed!), head downtown to do some work, and then try out the new gym! Have a wonderful day, everyone!



First Page
1
2
3
4
5
6
7
8
9
10
11
12
13
14
15
16
17
18
19
20
21
22
23
24
25
26
27
28
29
30
31
32
33
34
35
36
37
38
39
40
41
42
43
44
45
46
47
48
49
50
51
52 53 54 55 56 57 58 59 60 61 62 63 64 65 66 67 68 69 70 71 72 Last Page

Get An Email Alert Each Time KARVY09 Posts