| | |
| --- | --- |
| | KARVY09's Recent Blog Entries |


Sunday, December 27, 2009
Christmas was WONDERFUL. Full of family and friends and food and drink and more food... Santa Claus was VERY good to me, so I guess I was a very good girl this year!




Christmas Eve, we picked up my grandparents and drove to my aunt and uncle's house for our fish bonanza. My grandmothers' family is Sicilian and they believe in eating as much seafood as humanly possible on Christmas Eve.

I stayed away from alcohol but consumed a fair amount of fried calamari and snow crab legs, but honestly, I don't think I was too too bad food-wise. I tasted bits and pieces of dessert but stayed away from the starchy sides. I felt pretty good about my restraint.

Then Christmas morning! Santa brought me a Jillian Michaels DVD and a Biggest Loser DVD, weightlifting gloves, EA Sports Active for Wii, a kettlebell, a Wii points card, an iPhone armband and lots of other little toys and games. My husband got ice skates, membership in a ski and sports club, and Guitar Hero 5. We both got lots of gift cards from family members.

Then to dad's house for Christmas dinner. And I ate and ate and ate. And some rum and Diet Cokes for good measure. It was so good. My only saving grace was that Christmas dinner was my only meal for the day, but I watched my dad make the mashed potatoes with butter, cream and cheese, and GOD were they good. Shrimp, sausage, ham, mash, squash, carrots. My Ghiradelli chocolate brownies. Ohh.

When I saw one of the photos from Christmas, I was like, damn, I look good...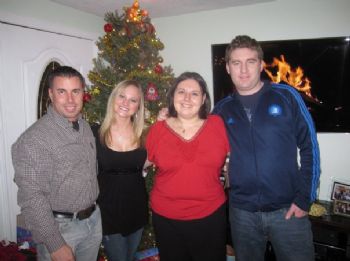 I decided to look at some old photos to look at the difference, and here is one from January 1, 2009 with one of my best friends: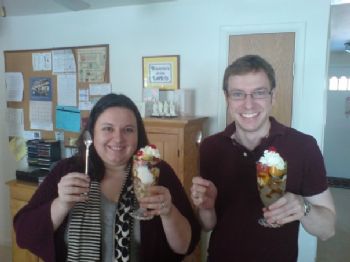 HUGE DIFFERENCE, in my opinion. And yes, those ice cream sundaes didn't help, I'm sure. So Christmas was one day, and one day isn't going to kill me. I'm still highly motivated to keep on-track.

Yesterday I hosted a Boxing Day lunch, and while I did OK with my food choices, I didn't track my food, because I was SO FREAKING BUSY all day cleaning and cooking and mostly just grazed on cheese and vegetables. We had a bit of a mishap with our Christmas pudding, which was supposed to be the centerpiece of the whole shindig. Basically it's a whole mess of fruit and citrus peel and ale that's left to mature before eaten. We made it about a month ago and were storing it in the closet since then. Well, DH didn't store it properly and it became moldy.

Yes, I ate cookie dough and cheesecake and drank three glasses of red wine, but it wasn't too bad. We had a fun time, playing games and chatting and enjoying each others' company.

This morning, I was sick of eating and PUMPED to get to the gym at last. I've been taking pains to get walks in to get SOME fitness in, but I was craving some hard core cardio. Last week I had a bit of back pain so I hadn't gone running in over a week. I did some slow jogging... 3.7 miles in 50 minutes and it was TOUGH. You really do start to regress after not running for awhile. I did another half hour on the elliptical, and now I'm feeling terrific after a nice long workout.

Because I want to be the girl in Photo #1, not Photo #2.

Back in gear!






Wednesday, December 23, 2009
This is a blog entry to celebrate all of my SparkFriends and everything that they've given to me this year as I've embarked on my healthy lifestyle. I know for a fact that without your support, I would have faltered along the way, but I'm still here over six months later, and not planning to quit anytime soon.

So without further ado, here is what my SparkFriends have given me and/or what traits and what accomplishments of theirs have kept me motivated and amped up for 2010 ahead...









WISLNDR: Constant support during my 6 months on Spark and a drive to keep up my fitness minutes! She checks in on me all the time and keeps me pumped to keep going.

JAMIE_OQUIN: She's given me great friendship and awesome wall posts, spurring me on to continue running, strength training, and the 30 Day Shred in order to stay healthy for our wonderful husbands.

THE_NEW_MELISSA: Thanks to Melissa's unfaltering positivity and encouragement and lots of running tips, 2009 was a great year.

PINKCOCONUT: She gave me the desire to be as devoted a team leader as she is and the belief that I can do a half marathon next year!

KGRIMES536: Thanks to her blogs, I believe every day is an adventure to be chronicled in some way.

STINA6584: A desire to visit Chicago to run with all the Chicago Sparkies as well as awesome oatmeal and other recipes!

AWESOMES: Her devotion to fitness and helping the obese realize that they can acheive their goals inspires me to try harder every single day

ZIRCADIA: Because of you, I hope to run a marathon someday with the shirt "Because I used to weigh almost 300 pounds." You gave me the belief that anything is possible. Thank you.

COURTNIZZLE82: So much support in my running and half-marathon training endeavors as well as a sunny smile that bolsters my mood!

CHICAT63: Always gives me great comments on my Feed and blogs, and I benefit a lot from her amazing survivor's spirit.

HOSTALADY: Powerwalking warrior with the best attitude! Thanks for your never-wavering support of my progress and for being the best cheerleader ever!

MBSHAZZER: Just looking at your profile pic makes me want to get out there and get moving!

CHAYA22: Thanks for supporting a chunky girl running!

RAINTHIEF: Her enthusiasm is infectious and it's great to have someone doing C25K and the 30DS alongside me.

SPIRITRUN: A desire to mush and visit her neck of the woods! As well as propelling me to run outside in the cold. If she can do it, what am I complaining about?!

AZILEE80: This Hotlanta babe always makes me smile when I get a message from her in the morning. It's great to have another person working to get healthy for their 30th birthday!

JESPAH: Boston Fitness Minute Monster keeps me motivated to exercise!

TIFFANYFRIIS: Makes me crave Portuguese food! Just kidding... It's nice to have someone kicking it South Shore style in Sparkville.

BETT2U: You spurred me to buy ice skates for me and my husband this winter. Yes, I know you roller skate, but still, skating and me did not mix and thanks to your awesome derby example, I'm giving it a try!

HEYSKINNY: You've definitely given me the desire to organize running events in my area.

RAWKAT: The belief that maybe spinning class WON'T kill me!

AUGUSTAGLOOP: You're someone to check in with on running and C25K. Thanks!

SEEKING-AMY: I love your great attitude and faith even when things don't go your way, you remain steadfast and are a great example to look up to.

JENNIMCGU: Thanks for making the FRC such a great place to hang!

INNERPO: A great friend to have since we're both going for a 10K next year and her support will help me along the way.

KEAKA2: My weight goal buddy! It's cool to have a friend at the same weight to check in on. We will break out of the 220s in 2010!

WOLFKITTY: What you do with the DONE girls is nothing short of amazing! Thanks for being an inspiration and giving us all of your time and energy.

MANA8503: Gives all of us chunky girls inspiration to get out there and C25K!

THINUNDERMYCHUB: C'mon, anyone with a Chris Farley/Black Sheep headline on their profile doles out the good humor on a regular basis...

JAE165: Keeps me motivated to keep pushing and keep running and to get into those Size 14s next year!

GRACEISENUF7: Sweet, considerate, and a great partner to work toward ONEDERLAND with in 2010!

PEDIPOD: Your progress is nothing short of amazing! You're another icon to look up to and I know you will acheive all of your goals.

NEENEE_BEANZ: Friends that are so close to their goals keep me hyped up to keep going!

ROBINSON_CMR: Another awesome friend that does both the Jillian and the running!

ANEPANALIPTI: Wonderful leadership on the C25K Team and courageous blogs that are so honest and motivating that they make me wish that I could be as open with my writing. Thank you for being so honest with yourself and sharing so freely with all of us. Me yia!

FLORIDASUN: Whoop da! Can't believe her blogs actually made me agree to try the raw lifestyle for a few days in 2010 but there you go!

LITTLEFREEZE: Helps me to relive my days in Japan! Shin nen omedeto, and hope we will have a wonderful 2010!

3KIDSUNDER3: Gives me the gift of perserverance! If she can follow through with a healthy lifestyle while working from home and taking care of three small children, then surely I can.

MOLLYWASHINGTON: Divaliciousness! We'll fit in all of those booty outfits next year!

BEYONDTHESEA43: Reminds me that we can be gorgeous at any weight.

CATCANDLISH: I love me an enthusiastic Scottish chick!

DREA243: I love her tenacity despite setbacks and that she keeps coming back motivated and ready to go. Definitely a good lesson!

HUBBACHUBBAUK: His amazing sense of humor and attitude coupled with his awesome weight loss and running progress this year keeps me motivated!

BUTTAPECANB: Funny anecdotes and stories of marathon workout sessions. She works it!

JKSTEIN123: Her blog made me think about my future this year and how I don't want to end up old and obese with medical problems.

MLE102286: Sent me many encouraging messages about my running this year!

GONE2THEDOGS: Another running icon of mine that is running long distances in the snow and is planning a half and full marathon next year. Your gift of enthusiasm is so wonderful!

CUBANJELLY: Her fitness journey is another inspiration to me and gave me the motivation to consider a triathalon for next year.

WEEZIETEE: Losing 100 pounds and working so hard to maintain a healthy weight can be so difficult, but her determination is such a great example for us all.

CLAUDIASPARK: Pushed me over the edge and got me to try Zumba this year!

KOULAL1: Efharisto for your enthusiasm, energy and good spirit! Being so close to ONEDERLAND makes me believe I can do it too!

SPEEDWACER: I so enjoy your blogs. Keep writing them!

HEALTHYSASSY: Your running goals spur me to try even harder. 100 miles in December. Love that ambition!

ONMYWAYTOGOAL: Your kind words have made me smile on many occasions.

LAGUERAGORDITA: Sharing your success and glory and trials and tribulations with C25K made me love running even more than I did before.

PAPER_WINGS18: You're such a great little sister here on SP, lending me tons of encouragement and spurring me along!

NIKMON: She works at Curves so she definitely got me moving once or twice.

LIBGIRL22: Her survivor's spirit and amazing progress this summer was so inspiring.

BETHSHEALTH: I love her to-the-point responses to people's blogs. Her sassiness and down-to-earth attitude is refreshing here on Spark where cheerleading is the norm.

SSONGBIRD2942: She taught me to never ever give up. Even if things go bad for awhile, you have to come back with the same spirit and determination.

KIERSTENELLA: She taught me not to let "perfect get in the way of better." Great advice.

CURVYCASEY: One of the brightest stars at SparkPeople. Every time I look at her page, I just feel a whole lot happier because her cheer is infectious (in a good way of course!)

CARISSASOPHIA: She told me not to accept excuses, and I'm telling her the same thing. Come back to Spark! I miss you!

DAPHNERUNNING: She is one of the toughest out there. She taught me that a chubby girl could do it all, including crazy hikes in the mountains and running and still look smoking hot!

TRAVELNISTA: She is always devoting a TON of her time to people on Spark, giving them motivation to continue and reach their goals. She is just such a special lady that has given so much to everyone here!

LADYSUNBEAM: She taught me that if I'm going to take care of others, you need to take care of yourself first. I hope she is doing the same thing, and I wish her the very best!

SWEETSWEETPEA: Was there for me when I had doubts about whether I could run my first 5K. Red Sox Nation doing it together!

ONLY1TAN: Best video blogs on Spark! Just so refreshing and honest, and it takes strength and courage to put oneself out there like that.

NCSUALUM03: Really pushed me through this summer and her progress really got me moving.

DEFTERA: Koukla mou! Another big girl who did boot camp, kickboxing, everything and wasn't afraid and this allayed MY gym fears! One of my first SparkFriends and I'm going to keep pushing you to work it in 2010.

THREADBENDER: Another one who was up for anything and reaped positive results from it. A great role model.

SLARTYB: One of the first to encourage me to start running, for which I will always be thankful

NB3717: A friendly Philly gal who kept me motivated in my early weeks and I wish would return to Spark!

SARANGEREL: Gives out great running and gym tips to me and our 2010 Half Marathoners Team.

8CHUNKYMUNKEY9: She was such a great inspiration to me as I started here at SP and I know she has the power in her to keep moving on and working it!

KNITTINGFROG: My oldest friend here who was by my side as I started my running journey, always lending an ear when I was figuring everything out. Without people like this in my Spark Class, I don't know where I would be!

3LITTLEBIRDS: I always find his blogs to be so uplifting even when they got down and dirty about food addiction and other demons. Thanks for giving us all your wonderful writing.

KOOKERBEE: Camraderie for a problem we have both dealt with: a mother with her own dependency issues

MANDA097: Another one of my fellow runners that completely worked it and knocked it out of the park this fall. She gave me the hope that maybe I can run a longer distance as soon as this spring!

APRILRUNNER: Yet again, this runner girl gives me the Spark to get out there and just put one foot in front of the other.

MRAKES: Refreshing. Hilarious. No-holds barred. Girl is just unapologetically awesome, and that confidence that shines in her writing definitely boosts my mood every single time.

CURVYTEENA84: Another C25K girl that keeps me going!

BREW99: We ran our 5Ks on the same day and it was so great to be able to check in with her to update each other on our progress. When it was cold and rainy on race day, I thought about her, and it helped me to get my head in the game.

OVERHAULING-ME: Great enthusiasm and a get-to-it spirit.

WILSOCA: Her enthusiasm for running and exercise is infectious (in a good way)!

OFFTOTHESHARKS: She reminds me to take my vitamins! Seriously. And she's got a great quirky writing style that I really enjoy!

DANCINGPENGUIN: One of my running gals that I absolutely adore and is always checking in on me to see if I'm doing well, and I really appreciate that.

JENONTHEROX: She's in the battle for fitness minutes too, and it spurs me on to keep moving!

THERACKET: Amazing me with C25K progress. I always love to see this!

HEIDIMORRISON: Such a great spirit that she shares with others, and I predict great things for her in 2010.

FRIZGIRL: Taught me the importance of a New Hampshire mullet... nah, just kidding! She's so diligent with her goal tracking, that it forces me to check in on my own goals every month.

BOOTS1221: Another Boston-area runner with a great attitude that I hope to race with in the near future!

ERMAC22: Along with my other New England runners, it's great to get a little geographical motivation as we move on to our longer distance races. Thanks for that!

DAWNROBIN2: Despite her leg injury, she always keeps her spirits high and gives so much to others on Spark.

YOOVIE: If she writes a blog, I know I'm either going to be chuckling or going to feel like I need to do some crunches or take it to the treadmill because her writing is so motivational.

TYEASLEY: Her SparkPage is full of smiley faces! She's so happy and is always there to lend a kind word.

LACE0708: Girl runs huge distances. I love reading about this because long-distance runners are my idols!

LISTLOADRUN: Rocking it hardcore every single day and taking on life with such a great attitude. It's impossible not to be pumped reading her status messages.

HUGMONKEYMOM: Another gal that makes me smile. She's been so great to swap running stories with and is so amazingly supportive to Sparkfriends.

REINVENT_ME: Awesome attitude and great determination!

ONLY_AS_HIGH: My only real-life friend on SP, so it's great to have someone who knows me as Kristina and not just KARVY09. She's doing so well on her first couple months on Spark and it's great to share our days together on gchat.

LLBEAN75: Such an emotional writer that makes me think about my own issues with food and exercise. It's impossible not to empathize with her and she really makes you think about what is at the root of our relationship with food and exercise.

SUMDUMGI: Good to see a guy taking on C25K with great humor.

DIGISCRAPPY: Takes on life's challenges and wins everytime! A really fun person to talk to.

HOKU-ALOHI: Hawaiian goddess makes me feel more at peace when I read her blogs and messages!

TUBBYHUBBY340: Another honest, funny, awesome blogger that makes me simultaneously laugh and think when I read his writing.

ITSHOWYOULIVE: You're such a rocking runner and it's awesome to have you as a friend to be RWC with!

LARACOLLINS: A great zest for life and a great friend to have on SP.

LADYINOHIO: Such a strong woman who taught me that it's never to late to stand up for yourself and start over.

SWAZY33: So encouraging and supportive, I'm so happy to have you as a new SparkFriend!

And to my newer Sparkfriends, I hope to learn more about you and I hope that that 2010 is a great one for all of us: BESTSELLERS, FEFE2009, LADY_JOSIELOT, EGGINABOWL, WANDAC2009, NRLB75, ESSYOUEEE, LJRW170, REDEEMING_GRACE, BRIOBRIO, LOTUSBLOSSOM126, REMCMFA, NAOMIPALOMARES, ACREEK, MANDARAE1127, JWENZEL723, GOODRAD, KARSTASAURUS, STAYFOCUSEDASH, GRETCHEN_D_GR8, RWADHAMS, LADYSNOWFALL, THENEWPATRICIA, JESS_CA, 3SNAPDRAGON, OLDDOG57, JUSDUCKY, and INSPIRED-ONE.

Merry Christmas and Happy Holidays to all of you!












Tuesday, December 22, 2009
Of course I'm going to do these before Christmas! Whaddya crazy?




Body Part - June - July - Aug - Sept - Oct - Nov -Dec

Waist - 46 - 43.5 - 41 - 39 - 39 - 37.5 - 37
Hips - 53 - 50.5 - 49.5 - 48.5 - 48 - 47 -46
Neck - 16 - 15.5 - 15 - 14.5 - 14.5 - 14 - 13.5
Thigh - 32 - 31 - 30 - 29 - 28 - 27 - 27
Upper Arm - 16 - 16 - 15.5 - 15 - 14.5 - 13.5 - 13.5

Inches lost since November: 2
Waist - 0.5
Hips - 1
Neck - 0.5
Thigh - 0
Upper Arm - 0

Inches lost total: 26
Waist - 9
Hips - 7
Neck - 2.5
Thigh - 5
Upper Arm - 2.5

VERDICT: Very cool!




Add two more inches to the lost list. Woohoo! Not too shabby considering Thanksgiving and holiday parties.






Monday, December 21, 2009
I felt myself sliding backwards this weekend due to the stresses of the holidays. It's so amazing how you can be doing so well one day, and then something can just trigger the bad binging habits of old.

Friday night, my dad threw a birthday party for my stepmom which started at 6pm. Well due to work, car troubles, and insane traffic, we didn't make it until 8:30pm. By then I was starving and went straight for the rum punch and cheese plate. I had one glass and then diluted the second with some Sprite Zero but still ended up having a couple of sips more. He made these huge party subs with every Italian cold cut imaginable and I ate some of that and some other pickies and insisted we take the rest of the sub home. So we did. I went over my calories that day, and again, compared to the past it probably wasn't so bad -- maybe 1800-2000 calories -- but still, it made me a bit sad that I wasn't able to stay away from the alcohol. Alcohol at parties is my nemesis!

On Saturday morning we aimed to drive to New Hampshire to finish our Christmas shopping, get a new microwave since ours broke last week, and do some grocery shopping early in the morning. The day started out horrible because I couldn't contain myself from stepping on the scale and it flashed back 225.5 at me, a 3 pound GAIN.

I kept telling myself that it was a culmination of all high sodium days and I hadn't done anything to merit a 3 pound weight gain. Again, it took 45 minutes for the car to start in the sub-zero weather, which put me in a snappy mood for the rest of the morning. I picked on the leftover Italian sub during the day and then put together a dinner party for some relatives only to find out the new microwave we had just purchased didn't work! Well, again, something in me just decided I was going to enjoy my meal at the dinner, have a small slice of cheesecake, and not worry about calories. Even after the scale debacle, I deserved it, I told myself. Even though I skipped my gym workout to do all the chores that needed to be done. Sure I was running around like crazy, but it's not the cardio that I'm used to!

The dinner party went well and even though I had a bigger portion than normal, again I probably ended up at 1800-2000, which compared to years past was not bad at all. But still, it wasn't great.

Sunday morning we got hit with the snowstorm, and while I knew I wasn't going to drive to the gym, I figured some good shoveling out would be some exercise to start my day. Turns out my uncle (who is also my landlord) had hired a guy to snowblow and shovel everything! In the past we had shoveled everything ourselves for the rest of the tenants in the building. Sigh. Again, I started picking on the cheese and cracker and bread leftovers from Saturday night's dinner, watching the snow fall outside. Before I knew it I had consumed 1100 calories before dinner!

So I snapped out of it, went for a brisk walk in the snow and had a small dinner and ended up within my calorie range for Sunday. Again, I know it could have been a lot worse. Last December, I estimate I was eating 2500-4000 calories a day and was completely sedentary and didn't care one bit. Whereas this weekend, the small binges were causing me massive anxiety because I DO NOT want to go back to that 286 pound girl who couldn't run a block without panting like a dog.

That's not me anymore.

This morning I stepped on the scale and I was at 222, a 1.5 pound loss. AFTER ALL THAT stressing over calories and crappy food, I lost weight.

Crazy, crazy Kristina.

The moral of this weekend recap is that those days that we think we've done so so bad and feel like we want to "give up" really aren't as damaging as we might seem. Should I probably have practiced more restraint this weekend? Sure. But I still had that little SP version of Gazoo on my shoulder telling me to dilute the punch and eat four carrots for every one cube of cheese, so I was still basically ontrack. We're all human and are going to have moments of weakness. As long as we pick ourselves up and remember that we never want to go back to the person we were when we started this healthier lifestyle, then we're on our way.

So remember that this Christmas week and New Year next week, when the "XXX lost 2 pounds! Congratulations from SparkPeople!" announcements tend to wane, that even if we stay 75% ontrack, then we're doing pretty darn fantastic compared to last year when we had our guiltless binge-fests.

Don't let perfect become the enemy of good.

4 days until Christmas! 490 minutes until I hit my 10,000 goal!





Wednesday, December 16, 2009
I think the humbugs have subsided! I feel like Bill Murray at the end of Scrooged!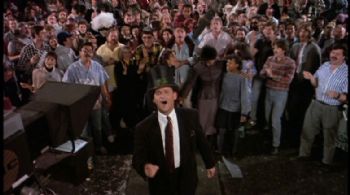 1. I did the 30 Day Shred this morning and the tree barely shook! This is thanks to your great suggestion to use those plastic hooks and string the tree to the ceiling. THANK YOU SO MUCH for that. You rock!

Yes, the whole thing seems a lot funnier now that the glass is vacuumed and our house looks real again. Definitely a classic "remember when" moment.

2. The cafeteria was celebrating Hanukkah today! Now, I'm not Jewish, but I appreciate a good matzoh ball soup and a potato latke just as much as the next Goyim who freaked out a number of bubbies by dating their mench of a grandson. Even better, the latkes were sweet potato ones with a dollop of cinnamon apple sauce on top. The perfect lunch!

3. Our database/internet at work was acting up this morning which means there were three full hours where I just putzed around and got paid for it. I went to the post office and mailed all my Christmas cards, got some candy canes and chocolate on sale at CVS, and took care of all my bills and banking. I needed that time, but I also needed the money, so it was PERFECT.

4. We got sent home early yesterday for the same problem without pay (but I should be able to make up the hours) which meant an extra long gym session. I decided I was going to up my speed every 10 minutes. So I started at 4.0 mph for a warm-up walk, amped it up to 4.4 and ended up finishing at 5.4! I was going to stop at around 3.5 miles, but I kept pushing until I had run 5 miles in 1:05!







I drove home from the gym, felt awesome, and the same as last time when I ran a longer distance for the first time (I think it was Week 5 of C25K) I felt nauseous and faint despite a good intake of water. Three Diet Cokes later and some pizza, I felt fine. Weird, because my sodium intake was high that day beforehand. Oops.

In any case, I needed a little victory this week and that was mine! Yes, it was on treadmill, but I upped the incline, and I DID IT!

This month, celebrate those small victories even when there are other setbacks, particularly in the food area. I'm eating more crap than I usually would, but I'm keeping in range and exercising like crazy to counter it! Keep moving and upping your exercise this month. I've got 780 minutes to go in order to meet my goal of 10,000 in '09. Keep doing it every single day! We're rocking December!









First Page
1
2
3
4
5
6
7
8
9
10
11
12
13
14
15
16
17
18
19
20
21
22
23
24
25
26
27
28
29
30
31
32
33
34
35
36
37
38
39
40
41
42
43
44
45
46
47
48
49
50
51
52
53
54 55 56 57 58 59 60 61 62 63 64 65 66 67 68 69 70 71 72 Last Page

Get An Email Alert Each Time KARVY09 Posts