| | |
| --- | --- |
| | KARVY09's Recent Blog Entries |


Tuesday, December 15, 2009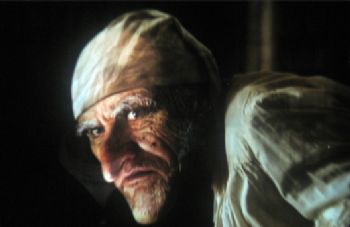 "Darkness is cheap, and Scrooge liked it."
--A Christmas Carol, Charles Dickens

Last weekend was a test of my Christmas spirit for sure. I was so excited about getting our tree! Yes, we are "real tree" people. After scouring the lot for 10 minutes, the DH had to choose an 8-footer for our one-bedroom apartment. So we shoved the thing in our trunk and drove it home, dragged all of our Christmas decorations from the basement and got to work. Even the kitty got excited!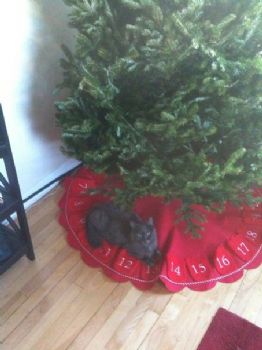 My husband's family gave him an ornament every year for the tree. It's such a cute tradition that we want to pass on to our own children once we have them. His family also has a tradition of putting as much crap on the tree as it can hold. Tons of twinkly lights, baubles, garland, tinsel, and ornaments. So here was the end result: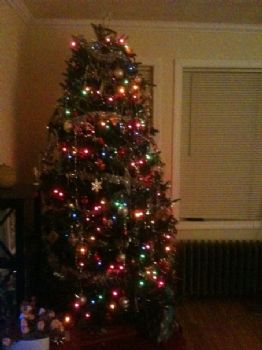 I then decided what's a Christmas tree without presents to put under it? We finished most of our shopping on Saturday, so I set to work wrapping the presents under the pretext that it'll be one less chore to do when the big day approaches. We have a string of Christmas celebrations: Christmas Eve at my Sicilian relatives' home (seven different kinds of fish!), Christmas Day at my Greek dad's house (lamb!), and Boxing Day at our apartment so that we can cook all the English foods that my DH loves. Getting the chore of wrapping out of the way would be a huge relief.

Two hours later, I was done, and wrote some cards, and decided to take a little snooze on the couch while my husband watched football.

Thunk.

I woke up to the tree being inches from my head on the coffeetable. Glass everywhere and water all over those presents I had just lovingly wrapped. I freaked out, I'll be honest. And it wasn't pretty. So much for being ahead of the game this Christmas! Poor kitty had been sleeping under the tree and was rudely awakened but she was not hurt. DH swept while I tried to salvage the presents (the gifts were OK, the wrapping not so much!).

By the time we were done, it was 11pm and I was exhausted. The house was still a mess, and I realized how much time and effort Christmas was taking. Work has been busy lately and my own business has picked up and on top of that we have so many extra chores. I started to metamorphasize into Mr. Scrooge, pictured above. I went to bed after we righted the tree and was awakened by another thud. It fell again!

Thankfully, only one of the "sentimental" ornaments was broken, but still, the falling tree really represented my falling Christmas spirits. More sweeping, more vacuuming, and finally we leaned the tree against our wall until the next day until we were able to decorate it again, weighing the back down with all those now-useless law textbooks from my past.

As of this morning, the tree was OK. I snapped at my husband a bit for snoozing the alarm so many times and proclaimed that Christmas was more trouble than it was worth. Full on Ebeneezer there. Then it dawned on me that I was scared to death to do the 30-Day Shred in the living room lest all that jumping disturb that delicate tree balance we have established. So what does that mean, no more 30DS til Epiphany? The thought of that really bummed me out. I had the idea to drag the laptop to the kitchen and do it there (it's a really small apartment), but the thought didn't necessarily appeal to me.

So I walked to work this morning and decided to treat myself to a Cosi Everything Bagel (seriously, if you're going to carb-load your morning, you might as well do it with a freshly baked bagel) and seriously saw a group of carolers on the streetcorner singing my favorite Christmas carol, Carol of the Bells. I stopped for a bit and listened and smiled and gave them some money for their charity. I love Christmas music.

Despite all its annoyances, Christmas really is a wonderful time of year.

Perhaps there is hope for Christmas spirit after all.

"It is a fair, even-handed, noble adjustment of things, that while there is infection in disease and sorrow, there is nothing in the world so irresistibly contagious as laughter and good-humour."
--A Christmas Carol, Charles Dickens





Friday, December 11, 2009
As I mentioned yesterday, my office building had a holiday party from 2-4 pm in the lobby. I figured I'd go down, maybe get something sweet and come back upstairs to do work. WRONG. There were passed trays of chocolate mousse cups, cannolis, brownies, lemon bars, chocolate dipped marshmallows, Christmas cookies, a decorate-your-own gingerbread men. Yeah, I'll stop there, but the list goes on. I was handed a glass of champagne with pomegranate seeds and sipped that and nibbled on a brownie and a cannoli but threw 75% of it away.

Then from the corner of my eye, I spied the coffee/hot chocolate bar complete with "happiness," as the bartender put it: Kahlua, butterscotch schnapps, peppermint schnapps, and spiced rum. I had a hot chocolate with Kahlua, whipped cream and chocolate sprinkles with a mini candy cane topper. And I grabbed a chocolate dipped pretzel stick on the way out. It could have been a LOT WORSE and the hot chocolate was worth it. You know sometimes how you have a cupcake and you think, "Eh, it wasn't worth the 200-300 or whatever calories." This hot chocolate was fantastic. So I estimated I blew about 400 calories at the party.

Then three of my coworkers ended the day and dressed up like Catholic priests for the heck of it. Just to see how people reacted to them drinking in the bars. So I and a few others tagged along. It was hilarious, especially when one girl tried to challenge one priest to break his celibacy vow. But of course, I knocked back a Rolling Rock and a Newcastle, came home and had some crackers and Laughing Cow cheese. Again it could have been worse. Sticking to two beers isn't so bad.

I still came in under calories for the day and did all my exercise, but I know I wasn't healthy. I'm starving today, and I started the day with a donut because the box was right in my face. Ugh. I've got to snap out of it, but I'm not going to feel guilty about it. I had fun, I didn't go completely crazy like I did in the past.

Now for some positives:
1. I'm 4.5 pounds away from my goal of 219 by the January 1st.
2. I'm burning over 3,000 calories a week and I'm on track to make my fitness minutes goal.
3. Today I mistakenly put on Level 1 of the 30 Day Shred I figured I'd see how easy it was for me after 4 days of Level 2, and the exercises that almost broke me a couple of weeks ago were extremely easy. I can feel myself getting stronger and stronger every single day!

STAY STRONG FOLKS. We're all going to have imperfect days, but just bounce back and keep up the momentum into the New Year!











Wednesday, December 09, 2009
So this was my first season watching the Biggest Loser and it had its ups and downs for me. I'm blessed with the wonderful invention that is DVR and it is totally necessary to watch this program. Fast forward Bob schilling gum and subs... Fast forward any Sweeney smug moments... Fast forward when they show the same scene AGAIN after the commercial break. Sweet DVR, I think I love you!

The husband and I watched the finale last night complete with its freakish holograms and cadre of transformations. There were some good moments. Seeing Julio walk out and look like a completely different person, Alexandra and Antoine all cute and coupley, Sean's big smile, and of course how slammingly hot Abby and Amanda look right now. Unfortunately Liz and Coach Mo get my vote for those most likely to put the weight back on. They just seemed like they wanted to get the heck out of there.

Even after losing 230+ pounds, Rudy and Danny looked terrific. Danny might even be a little too thin and I hope he's able to maintain a healthy weight that works for him, even if it is not in the 190s. Antoine, Julio, Allen and Daniel all were STUNNING. Good for them.

And now onto the "loser" women.

I gotta say, I wonder if the ones who lost the most weight are the biggest winners on this show. Rebecca won the at-home prize and $100,000 (and apparently the love of Daniel, which they didn't mention on the show, bizarrely enough) but with her completely unflattering blonde moptop, her facial Tourette's and her newly skeletal face, she just seemed otherworldly to me. I mean, I'm sure she's a very nice person, but she doesn't quite look right at 140 pounds. Is that just me?

And then there's Tracey, another one with the weird facial tics and crazy eyes who was CERTAIN she was going to win the competition. She looked disgusting. Her face was gaunt, and her body just didn't look right at 132 pounds. It made me wonder if she had used some not-so-healthy tactics to reach her goal weight. Now I was on the record as saying she looked TERRIFIC in her post-elimination wrapup. Here's a photo: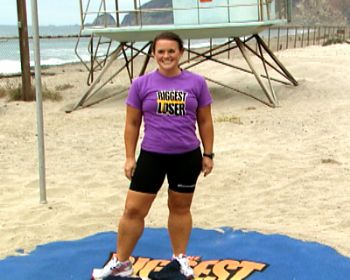 Compare that to how she looked last night. I couldn't find a photo, but that ghastly image is just emblazoned on my memory right now. She didn't look right.

And then there's Abby. At 147 pounds, she looks AMAZING. She was glowing! She looked fit and healthy and ready to take on the world. And if anyone deserved a do-over, it is this wonderful woman. Shay looked great after her 172 pound weight loss. Dina (174) and Alexandra (218) looked a whole lot better and healthier than the "biggest loser" women. And Amanda at 163 also looked terrific. She didn't look like all the fat had been sucked out of her with a vacuum like Rebecca and Tracey did.

But we as viewers are supposed to believe that Rebecca and Tracey did "better" than Amanda, Dina, Abby, Shay, and other women who lost the weight more slowly. I don't know about you, but I'd rather lose the weight slowly and keep my "pretty face" than look all Halloweeny and leathery like those who lose the weight more quickly.

Skin needs time to shrink, folks, so losing over 100 pounds in a few months is going to take its toll on your body. Ever wonder why they start out shirtless and with tank tops, but later on in the show they wear T-shirts? It's because the stretched out skin has gotta look so creepy that it would discourage viewers from trying to lose weight.

The show does have great motivating moments, but it's entertainment. The average person should NOT be encouraged to lose weight as quickly as possible for health reasons, cosmetic reasons, and for maintenance reasons.

So I'll take Abby's or Dina's results over Rebecca's or Tracey's anyday. We have to remember that this is entertainment and the average person trying to lose weight should be praised for fitness and health, and not necessarily "losing."






Monday, December 07, 2009
Yep, I'm still running, still a "fit fatty!"

A few months ago, I wrote a blog called "But I'm Too Fat to Run!" which is still getting so much great responses from Spark members: www.sparkpeople.com/mypage_public_jo
urnal_individual.asp?blog_id=2326373 . I want to thank everyone who's been inspired by my and others' attempts to begin a running program. When I wrote that blog, I was 256 pounds and still morbidly obese, running, and nervous about my first 5K in a month's time. I started running at 275 pounds and everyone from my friends to family (except for my wonderful husband, my rock) called me "crazy" for training for a 5K.

Now, I call them crazy for doubting me!

Over 100 days later, I'm now 225 pounds with two 5Ks under my belt. I'm not perfect. I had my weak moments: the days when I wanted to stop, when I thought I'd NEVER be able to hit my mileage goals outside, when my shins ached, when my ankles turned, and when I despaired that I would never run as fast or as long as the others on the track.

Running can be just as psychological as physical. There are times when I broke down in tears from unrelated frustrations or from unbridled joy. You could learn something about yourself just by pushing yourself.

Because I think there are unique concerns for those who start running while obese or overweight, I started a thread on my Couch to 5K Group forum called the "Fat Runners Club," a support group for runners who are starting at a weight that they never believed they could run at. You can join the discussion here: www.sparkpeople.com/myspark/team_mes
sageboard_thread.asp?board=-1x788x2780
4218 .

So what's next? Well, consider this "But I'm Too Fat to Run!" Part Two. I wanted to share a few of the tips that I and others have learned as we started our journey as fluffier runners, a concept I'll call Running While Chunky (RWC), kind of an update to my previous blog, and perhaps, PERHAPS an outline for a longer guide I hope to write. In the future, I hope to add update blogs as well.

I'm sure many Biggest Loser fans watched the final four contestants run/walk a marathon last week. Perhaps after seeing that you felt motivated to run, but are facing the doubts that are nagging you or the skepticism of your significant other or parents or friends.

Maybe you have the flashbacks back to the gym class in elementary school like I did. The 600-meter dash. The physical fitness test. Finishing last. Or next to last, like I did, right after the girl with an injury who was required to walk the whole thing. Fun times!

But you know what? Those days are over. You may be heavier now. But you are also stronger! You have come to SparkPeople to gain control over your life, and you are ontrack to a fitter and healthier you!

I am telling you right now. You can be a runner. You can do this.

CHAPTER ONE: TALK TO THE DOC
You think you're too fat to run? Don't take your own advice. Ask your doctor first. Some people will not be medically cleared to start a running program, but the great majority of people will be fine beginning a routine that eases you into running gradually in order to avoid injury.

CHAPTER TWO: SIGN UP FOR A RACE
Whoa, what? Surely you mean Chapter 17 or something. No, I mean Chapter 2! Listen, what's going to keep you motivated more than actually signing up for a race? Most road races benefit charitable causes, include slower runners and walkers, and are less competitive than you might think. So do it. If you can't run the entire race, it's OK. I wasn't ready to run the whole 3.1 miles when I signed up for my 5K. I still managed it in under 45 minutes, ahead of many other runners and walkers on the course.

Many of the runners that I know who stuck their training did it because they had a goal to be as fit as possible before their 5K. Make fitness your goal as well as a weight loss goal. Losing pounds is great, and I'm so happy with my progress thus far, but weight loss doesn't even compares to the thrill of running your first 5 minutes, half mile, one mile, or 5K. NOTHING.

CHAPTER THREE: ACCEPT IT: YOU'RE RUNNING WHILE CHUNKY (RWC)
SparkMember NORAB52GOOD said it best: "I realized I have to first be a slow, fat runner before I can be a fast thin runner. One follows the other." Well said. You're RWC; you're not going to run 8 mph like that fit chick on the treadmill at the gym. Not yet, anyways. If you lift your foot up before the other foot has fully struck the pavement or treadmill you are still running, even if this is only 4 mph or a 17-minute mile. One pet peeve about SparkPeople is that you have to be running 12-minute miles in order for SP to classify it as running and not walking. I don't believe this is true.

CHAPTER FOUR: CHECK OUT A RUNNING PROGRAM & START SLOW
I started with Couch to 5K (C25K)
www.coolrunning.com/engine/2/2_3/181
.shtml , but there are others out there as well. C25K starts you out jog/walking three times per week, and the first week you are running for 1 minute and recover by walking for 90 seconds in intervals. It gradually gets harder and harder each week. Technically you are supposed to finish in 9 weeks, but if you are RWC, you most likely will not. It took me twice as long to finish C25K and that's OK!

Fight the urge to run longer or faster at first. Take your time. You are building up your endurance and fitness as a new runner. You will get there, but it will take time! You don't want to injure yourself just as you are hitting your stride!

CHAPTER FIVE: GET YOUR GEAR
Here is a list of the Top 3 items that the RWC suggest in order to maximize your experience while running.

1. Tight biker shorts that hit above the knee or tight spandex pants
This keeps the tummy and thighs from jiggling but is long enough to prevent the chafing that can occur when your thighs rub together when running. This is like the sports version of Spanx!

2. A good sports bra
The RWC are often very well endowed! My solution was to buy a sports bra one size too small so that the girls were pushed down right to my chest. Others have used TWO sports bras for support. In any case, keeping those puppies in check is integral to your running experience.

3. Running shoes
You need good running shoes (not cross-trainers) if you get serious about running. The difference is astounding when you get fitted for a pair of shoes. After running for a few months, I finally got around to going to a specialty running store to get a gait analysis and fitting and it was amazing. The RWC tend to overpronate (strike the foot at an angle) and stability shoes will be needed to help prevent injury. An insole insert might be a good start when strapped for cash or need some additional padding.

CHAPTER SIX: MUSIC'S IN MY SOLE
The C25K Program has a free podcast with a guy named Robert who will tell you to stop your walking and start running over and over again. It's boring, frankly. My solution to the monotony is to create your own playlist that signals when to stop and start. In the beginning you'll know that halfway through the song it will be time to start running, and soon. you might have three Blackeyed Peas songs that serve as your 10-minute running interval.

CHAPTER SEVEN: KEEP IT UP!
You might run on the treadmill and see the next marathoner plugging away and get discouraged. Or you'll be on an outdoor track and people will pass you or run longer than you. And when you start, you'll most likely have shin splints or some other minor pain. Work through it. Dispel all these doubts. If you want to be a runner, you can run. It may take longer and you may have to work harder at it than your skinny friends, but it can be done.

CHAPTER EIGHT: WORK WHAT WORKS
If you like running on the treadmill as winter approaches, do that. If you love the feel of running outdoors, then go for it. People will give you great advice, and people will maybe reach their goals faster than you do, but it's important to not become jealous of others quicker progress and give up. Have fun with it! Running can be a whole lot of fun and pushing your body to see what it can do is a fun game to play with yourself.

You will get there and persevere, and maybe someday you will wear a shirt like ZIRCADIA'S at your first marathon: "Because I used to weigh almost 300 pounds" and others will be astonished and inspired by you. That is my goal, anyways.

Happy running to all!






Wednesday, December 02, 2009
If you get anything from this blog, it's this: Don't settle. Love yourself now, not 100, 50 or 20 pounds from now. Never settle.

There's an acquaintance of mine, let's call her Katy, who probably weighs close to 300 pounds. She is gorgeous, with this beautiful curly, silky black hair, pale perfect skin, big brown eyes, and a sparkling smile. I know that we big girls hate the "pretty face" backhanded compliment, but she really does have a beautiful, striking face. And she's funny and outgoing, but the confident facade is masking a whole lot of pain and rejection on the inside.

Needless to say, I see a lot of myself in Katy.

Katy has been dating this perfectly decent guy, "Mike." I mean, I never thought he was anything special, but he seemed nice, mildly attractive, and normal. She confessed to another friend, "Mike loves me more than I love him. Which is good for someone like me."

"Someone like me." The fat girl. Someone nobody should really want to date.

I felt crushed when I heard this, but since he treats her well, I figured, even if she is settling, maybe she'll realize that she somebody really can love her the way she is and that she is worth loving no matter what her weight. I dated plenty of duds before I met my husband, all with their own various issues. My first real boyfriend in college I dated for three years even though I had fallen out of love with him long before that. When he finally dumped me, I bawled uncontrollably for days, not because I had lost HIM, but because I truly believed that was the end for me, that I would never find someone else to love me. How sad is that? I was around the same age as Katy is now: 22, overdramatic, and stubborn.

So I figured, well, she'll learn that lesson the hard way. Probably the same way I did. And she'll meet someone else who she loves just as much has he loves her and there will be that instant connection and a lifetime of happiness.

I thought it was the same old story of a fat girl finding out that love is out there.

Except, I recently found out...

In Mike's spare time, he likes to dress as a woman.

Mike claims to be 100% heterosexual. Just, sometimes he likes to go out dressed as a woman. He even has a Facebook page of his "alter ego," and this woman has a whole backstory, photos, and a completely different set of friends. Don't get me wrong, I love my LGBT friends, but I just don't believe you can be a straight man and dress like a woman. I just don't.

So Katy found out. And Katy was shocked at first, but she eventually accepted it. And then she accepted his proposal of marriage. And they're getting married next year.

"Someone like me."

That phrase, just just rung in my ear as I heard the news. I know I shouldn't judge their relationship, and I'm not close enough to judge the relationship, but I see a whole lot of pain ahead for Katy, and that inspired this blog.

Again.

Don't settle. Never settle. Fall in love with yourself first. You're so worth it. At 500, 300, 100 pounds, you are worth the best that life has to offer.

Too many times I see the phrase "I'll ______ when I lose weight." Don't cheat yourself out on life because you feel like you're too fat, slow, or any other negative adjective.

"Someone like me" is someone worth loving.



First Page
1
2
3
4
5
6
7
8
9
10
11
12
13
14
15
16
17
18
19
20
21
22
23
24
25
26
27
28
29
30
31
32
33
34
35
36
37
38
39
40
41
42
43
44
45
46
47
48
49
50
51
52
53
54
55 56 57 58 59 60 61 62 63 64 65 66 67 68 69 70 71 72 Last Page

Get An Email Alert Each Time KARVY09 Posts