| | |
| --- | --- |
| | KARVY09's Recent Blog Entries |



Tuesday, April 16, 2013
As I walk around Boston today, law enforcement is making its presence known: SWAT teams, K9, National Guard, BPD, State Police - they are all out and about.

So are the blue and yellow BAA jackets. The uniform of the runners. Some who didn't get to finish and make the goal that they trained and worked so hard for. And some who did finish, but whose experience was marred by bloodshed and cowardice.

I'm angry. I'm so angry that I find this hard to write.

I didn't run Boston this year and I haven't in the past. I'm sure there are others here who can talk about the sweat and agony of Heartbreak Hill and working through the blisters and chafing on Mile 20 and how it feels to turn the bend and see the Citgo sign peeking out from Fenway and knowing that they're almost there. I don't have that experience, but I have the experience of feeling the joy that comes with sharing my city with thousands of runners on a holiday that the Commonwealth celebrates, but rest of the nation does not: Patriots Day.

I hate that one person's (or one group's) cowardly violent act will define this day for so many. I hate that the winners' names are halfway down the page of the newspaper today, their acheivements scuttled by shrapnel.

I hate that it is mostly the slower runners who made huge fundraising commitments to run for charity are the ones who had their marathon dream deferred yesterday. And that many of their supporters paid a huge price for standing on the sidelines.

I hate that the victims are my neighbors, one as young as 8 years old; one who lives blocks away from me.

But I have to say, my love for this city, my love for the runners I share it with each Patriots Day will drown out all of my anger eventually. Someday, I will run Boston. I will know the joy of running a marathon and sharing the pain and frustration and elation and amazement with my fellow runners. I will know I did it in the city that I love with all my heart. When the bombs went off, people ran toward the blasts: to help and to console the victims. I love that for even though Bostonians and Massachusettians get a bum rap for having a hard edge, so many reached out yesterday to those in need.

Boston, you're my home. And running, you're my peace.





Friday, April 05, 2013
Coming to the realization that I will actually have two jobs starting on Monday. Since I decided to do consultations only on evenings and weekends, I actually booked three consultations for Saturday morning. People are finding me through my articles online. Yesterday I filed some motions in court. Whenever I do that, I feel all official and stuff. I don't get to court much, so when I do it's a little nerve-wracking.

Yesterday was a gorgeous day! I did a lot of walking yesterday. Walked to work, walked to the bank and the post office, took the stairs a lot. Made a trip to Trader Joe's and managed not to buy chocolate or junk food (other than a pack of gummy bears - I ate a few and gave the rest to Jon), which is absolutely amazing for me.

The FitBit has been very motivating to move around more. Even though I didn't officially "exercise" yesterday, I earned an extra 200 calories, which I didn't even use. So far, so good!





Thursday, April 04, 2013
I made a very simple smoothie yesterday for lunch: fresh strawberries, crushed ice, coconut almond milk, and a scoop of french vanilla protein powder. It made a huge portion and it was only 200 calories and 20 grams of protein. Kept me full til dinner. Funny how we forget about these things when we slip back into bad habits.

So we booked a hotel for Mohegan Sun for next weekend. I'm excited to get away and it will a good way to celebrate the first week of my new job. We actually get a three-day weekend here in MA (as FMREES noted yesterday) because of Patriots Day. So we'll leave Saturday afternoon and come back Sunday afternoon and still have a whole day off!

We are planning to use our tax refund to get bikes this weekend too (and a little trailer for the Kbomb)!





Wednesday, April 03, 2013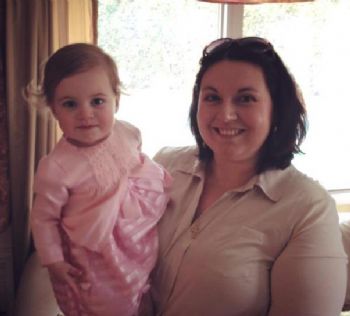 My first day back to running was good. I usually don't have a problem with Week 1 of C25K. It's everything after that that's tough! I was on the treadmill, but hope to run outside this weekend. I'm enjoying the FitBit too, and finding it nice to see the difference between an "active" and a "lazy" day. I have been tired a lot too, because Keira has been having some trouble at night recently.

I've lost 4.2 lbs since starting the DietBet (though a lot of that was TOM bloat). So I'm happy about that!

The office has been busy too, which is kinda sad since I'm scaling it back to a part-time operation. But for every client that I enjoy working with, there are like a dozen others either trying to scam the system or don't understand that I need to get paid to help them. It will nice to accept only the cases that I want to take, and if immigration reform happens, at least I will have everything in place to help people (though of course it will be a lot more work!). I start my new job on Monday and I've been told that after the initial training and getting the hang of things, it will be a pretty easygoing job, which I think is what I need now.






Monday, April 01, 2013
Saturday was a great day. We went for a long walk and of course ruined the exercise with ice cream, but it was worth it.

Saturday night was rough, lots of night waking from Keira and Sunday morning was just as bad. Surprisingly, she decided to straighten up for Easter dinner and we had a pretty good afternoon. Of course, she woke us all up at 4:30 this morning...

No tracking this weekend but did well. Restarting running today! Wish me luck!



1 2 3 4 5 6 7 8 9 10 11 12 13 14 15 16 17 18 19 20 21 22 23 24 25 26 27 28 29 30 31 32 33 34 35 36 37 38 39 40 41 42 43 44 45 46 47 48 49 50 51 52 53 54 55 56 57 58 59 60 61 62 63 64 65 66 67 68 69 70 71 72 Last Page

Get An Email Alert Each Time KARVY09 Posts