| | |
| --- | --- |
| | KARICHELLE's Recent Blog Entries |


Tuesday, May 13, 2008
I really have to stop giving in to my cravings and finding something else to do when they come. Tonight I went out at 9:30 to get Blizzards, then consumed almost 900 calories because I was craving a Snickers bar. I would have done better to have just gotten the Snickers bar for about 400. But the ice cream sounded soooo good. So I went. I have to stop this. Last night I resisted, but tonight I just couldn't, and I can't help but say that I am very disappointed with myself. So tonight, I'm drawing the line. Past this point I'm going to follow my meal plan, and if I am honestly hungry and have to have something else, it must not put me above 1700 calories for the day, which is about 400-500 under what my TDEE should be with 5 days a week of moderate exercise.

If I don't stop this now, I'm never going to lose this next five pounds or learn how to resist the cravings long term. I did so well last year with my weight loss, which I'm proud of myself for maintaining, but I just don't know why I can't exhibit the same discipline I did then. My poor blog is starting to sound like a broken record, where I keep saying the same thing over and over again yet somehow I just can't do it. I need some kind of a reward, but I don't have a clue what to reward myself with that will really, really motivate me. I think I need to go read some articles on motivation. And work on fixing my healthy lunch that won't blow my calories tomorrow.




Tuesday, May 06, 2008
Or at least gaining some muscle from my casual strength training that I've been doing at the gym after my cardio workouts. (I have noticed lately that my shoulders are looking nice and toned too.) I usually spend about 15-20 minutes after my cardio workout doing machines...I average 8-10 different machines per workout. I usually do the same ones, unless someone is on one I like, then I try something different. Well, it must be working, because today I had to buy new dumbbells for Coach Nicole's swimsuit bootcamp videos! I used my 3lb dumbbells this morning, which had previously been plenty, and they were way too light, so I just bought some 5 lb that I'm hoping will work better for the next upper body workout. I'm replacing my gym strength training with the videos, so hopefully that will help and not hinder my progress.

I'm doing fairly well with the meal plans also. I noticed today that my bagels have almost twice the calories as the ones in SP's system, so I bought some new ones at Wal-Mart that are about 10 calories under what SP uses. Since I had 1 1/2 bagels yesterday, that was 420 calories instead of about 300 that I was supposed to have had in bagels. :o The bean stir fry that we had for dinner from the meal plan was awesome though. I even ate out for lunch today and still stuck to the plan, since I got a Naked Taco Salad from Qdoba with black beans, grilled veggies, fat free dressing, and sour cream. I even left off the tortilla strips. It didn't keep me full for as long as it used to when I got the cheese though. :( About 2 hours after lunch I was already hungry for a snack, so I tried one of my new bagels with some jelly...pretty good! Thanks to the SP meal plan I have also discovered that NutriGrain waffles are awesome. I keep substituting them into my breakfast because I like them so much. I should probably eat the cereal I bought too though. ;) Overall, I'm eating less calories and I'm still satisfied, so that's a good thing. I wish it was easier to get more healthy fats in though, since a lot of the meals are very low fat.




Sunday, May 04, 2008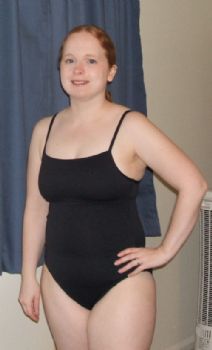 I don't own a two-piece that's not a size 14, so for now the size 8 black one-piece will have to do. ;) Maybe I'll make that my goal reward--a nice, new two-piece swimsuit. Anyhow, today is Day 1 of the SparkPeople Swimsuit Bootcamp Challenge, and I'm hoping to stick with it through the entire 4 weeks. Let this picture with my lovely belly fat be my inspiration! Haha.

Measurements:
Weight: 136 (some is water, yesterday was a free day)
Waist: 30"
Hips: 35.5"
Neck: 11.5"
Thigh: 21.5"
Bust: 35.25"

My #1 goal for the month is to complete the challenge. Second, I'd like to stick with the SP meal plan for the month as well. I'm hoping to tone up and make my body look better, and lose 5 pounds in the process to get down to 130.





Sunday, May 04, 2008
I am trying the SP meal plans for the first time starting tomorrow. I've been a member here for nearly a year and a half, and I only did the meal plans for one day. I lost weight successfully creating my own meal plan, but now I'm struggling with sticking to my calorie schedule to lose weight. I'm maintaining just fine, but cutting out that little bit to lose a few more pounds is proving to be difficult. So, in asking for a little help, I'm letting the SP meal planner take over for a few weeks, hoping to jumpstart my weight loss again. I'm excited to try something different, and I hope it works for me. I'm curious why they all seem to come in around 1300 calories though when my range doesn't start until 1360. Oh well, I guess that does give room for a little extra snack if I decide I need it. Maybe that was their intention. I'm also starting the Swimsuit Boot Camp Challenge tomorrow -- I'll post my measurements and a "before" pic tomorrow. :) Hopefully between these two things I can lose another 5 pounds to get down to 130, and get toned while I'm at it!




Tuesday, April 29, 2008
I don't really understand why it's been so difficult for me to get started and stay going with a diet plan to lose those last 5 or 10 pounds. I still have a lot of fat jiggle that I'd like to lose in my butt/thighs/upper arms, and I know it's there to lose, but for some reason I just can't make myself follow the caloric plan this time. I'm getting the exercise in, finally, but then I think I'm blowing it by eating more in maintenance mode than weight loss mode. So right now I'm trying to decide between calorie cycling and just staying within the SparkPeople recommended calorie range, which worked when I lost the first 30 pounds. There are benefits to both...I can have higher days (but also have lower lows) with calorie cycling, or I can have more flexibility with the calorie range. So I guess for now I'll just play it by ear and try to stay as close to one or the other as I can, and see what happens. For the last three days I've stayed in range, so I'm hoping to keep that up.


First Page
1
2
3
4
5
6
7
8 9 10 11 12 13 14 15 16 Last Page

Get An Email Alert Each Time KARICHELLE Posts