| | |
| --- | --- |
| | KAREN_NY's Recent Blog Entries |


Wednesday, October 05, 2011
WOOHOO!! Oh YEAH!! Come join the party! I'm celebrating a full year with no hip pain, celebrating running because I can, and celebrating my first half marathon, completed last Sunday at The Wineglass. OOOHH YEAH!

Still slightly unbelievable! An idea– more like a wish, really – from last November became something that I made happen regardless of what bumps in the road might trip me up. Things that used to be excuses became things that I could simply cope with and move on.

There were intense office deadlines and the work of being Mom. There was family travel, a major flood, and illness that fell on everyone else in my house (even my dog). I love running for its stress-shedding perks, but I also sometimes yelled, or shut down, or trolled SP blogs.

I drank Airborne 3x/day when others got sick, in a bid to stave off illness. I coped.

But then came the rain. Lots of rain. And fall's first 40* temps. Seriously? THIS was going to be my trip up? I had never missed a long run, and each one was in beautiful weather for the last 4 months. Come ON!

Steeling myself for it, and still hoping for a few dry hours on Sunday, I drove with my BF to Corning to sign in Saturday. Wha…? Who were all of these uberfit people? EVERYONE looked like an RW model. I kept chatting happily, but the nagging question, "Do I belong here??" was making my heart skip a beat, and not in a good way. At the expo, all of the women's clothes were in sizes too small for me, fueling my doubts. Apparently in the running world, even a "large" woman is much smaller than me.

As we drove away from registration, my BF gently noted that actually not everyone there was some superior athlete. We went home, and while I dealt with one last curve ball (an off-hours call from work), he made me a great dinner. Because he's awesome like that.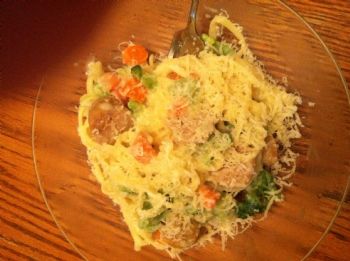 (He would also get up about 5 hours earlier than his norm to be at the main event. Yeah, I'm a lucky girl.)

I checked weather.com. I put my timing chip on my shoe- it felt so official! I checked weather.com again. Enough already! Moving on…. I assembled my armor for fighting the rain, and dry clothes for afterward, and went to bed.

I had imagined I'd be so tired that sleep wouldn't be a problem...until I awoke to thunder at 12:30. It's very rare that I can't sleep, and I'm nearly dysfunctional without it, so at 2:45am I actually took Benedryl. That made getting up at 5am a little tough, but I was nearly rested.

Taking Hudson out in the cold windy pouring rain, I honestly couldn't remember why I was doing this. (In fact, I'd learn later that lots of people bailed.) Did I really have to prove this to myself TODAY? Maybe I could sign up for something else? Maybe it was enough to know I can do 12 miles. I stood in the middle of the road and yelled, "What am I DOING?!!" (It's nice to live in the country, where one can be lunatic like that.)

I harkened to all the times my BF reminded me that the actual goal is to just DO this. In spite of everything, really do it. No ordinary obstacles like weather or other peoples' priorities could stop me. I didn't realize it until later, but I really needed this event in order to know this for myself.

So I marched back inside, started my happy rockin' playlist, ate my pb toast & banana, and we were on the road by 6:15am.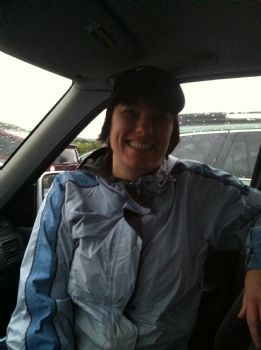 As we got closer, I added Vaseline to my feet. So glad I did this – I had no problems until a hint of a blister around mile 11, despite my feet being soaked from the beginning. Also invaluable: the hat my daughter gave me, which kept the rain out of my face. I didn't want to wear a jacket, but it wasn't optional. It was 42* and, as I may have mentioned, raining the whole time.

A friend who warned me about all the smelly people jostling in a race like this had paused mid-complaint and said, "Never mind, you'll treat this like one big dance party when you get there." Turns out she was right. Runners are just plain friendly people. Even at the portapotties, at the start line, everywhere. I really really like this about us.


I slurped a chocolate CLIF gel, and after the national anthem, joined the herd to the starting line, where I put myself behind the 2:30 pace group. I had long since abandoned my 2:30 goal, and now doubted my 2:45 goal, but I still wanted to finish with something that started with a "2." :)

While other people jogged in place, or simply shivered, I danced around for a while to stay limber and warm, keeping twirling to a minimum so I wouldn't scare anyone. ;) At 8:13, we started the shuffle forward, and I started my Garmin at the timing mat.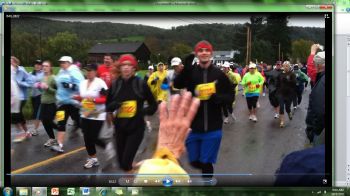 I jogged the first mile or so, because we were still moving in that slow herd sort of way, and the course was easy and flat there. Besides, the rain and slap-slap-slap of feet were too loud for me to hear my Garmin beeping out the intervals. (My plan was a Galloway 2:30/1 split) I was feeling pretty good, and not being too aggressive about it, so it never caused a problem later. By the 2nd mile I mostly stuck to my intervals, sometimes rounding up to walk the water stops instead.

The central NY countryside course is lovely, even when grey & wet. It was easy to just feel good.

Wait a sec… Did I just say that? It's hard to believe I was now feeling that way, but it's true! It felt THAT good to really be on my way!!

Volunteers are AWESOME. It's gotta be easier to run in the ick for 2-3 hours than to stand there and shout happily and take care of others for 6. One spectator, with a giant rainbow umbrella, seemed to keep appearing every 2-3 miles. The regular tempo of seeing her was very encouraging!

Afterward, someone asked me how far apart the water stations were, and then noted, "I guess they were every step of the way." I was glad I'd played with my dog in the cold drizzle yesterday, because it made me remember that if I'm having fun, I can block out this weather for awhile.

At mile 6 there were about 10 volunteers each holding a different flavor of Gu. (Espresso!) They were playing sports tunes from their car too – that was a great boost! So was the realization that I was about 5 minutes ahead of my 10K workout time. :)

Several runners were using intervals, and we kept leapfrogging one another, and calling out encouragement. The leapfrogging made me laugh out loud. So did the first time the rain went from "steady" to "freakin' downpour." We were about an hour into it, so what else can you do but laugh, right? Lots of moments like that when I just thought to myself, "This is unreal!" But it's my reality now!

Around mile 9, I met a woman who became my partner pretty much the rest of the way. We chatted so easily that the last few miles flew by. Along a trail that was part of our route, someone had staked several signs saying things like, "There's no WHINING at the WINEGLASS!"

Shortly after that, we were passed by the leading marathoners, who were working to qualify for Olympic trials. Cheering for them energized me too. Wow! Their bodies are seriously fast machines!

With less than a mile to go, coming over the Chemung River bridge, I thought I'd run the rest of the way, but the woman who'd helped me needed some help too, so we decided together to go for it after one more walking interval.

The finish was FUN! I "sprinted," knowing that I was FINISHING – and bonus! - my time started with a "2." ;)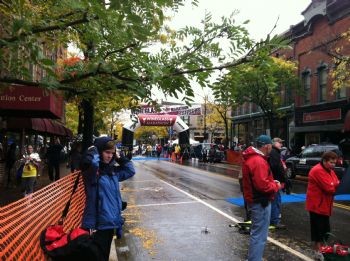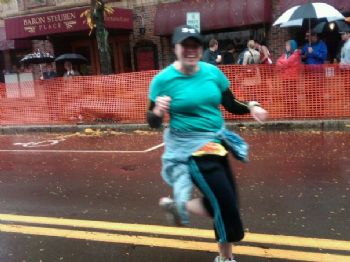 Oops – forgot to stop my Garmin! The finish line archway, high fives, medals, hugs, blankets and chocolate milk were all more fun than watching the watch. When I got home I was really happy with my stats – a very steady pace, with a final time of 2:41. With the intervals, I ran 10.7 miles of this, and walked 2.4. I was #103 out of 118 in my age group, #793 out of 915 HM finishers.

Whew!

I was so happy for my daughter's hug, and a dear friend with a warm dry blanket. The Y was open for showers (heat!), and then I went back for chicken noodle soup. There was a great spread, and there were even PT's on site to help runners stretch out. Since it was set up in the parking garage for cover, and I was still cold, we headed for the brick oven pizza place.

My knees didn't like the stairs much, but otherwise, I felt pretty good. I wondered if adrenaline was masking major pain anywhere, but it's been 3 days, and I'm fine. On Monday I stretched in the gym pool, and have been stretching regularly since then, walking the dog, etc. Itching to do a short treadmill run tonight!

Oh, and here's the swag!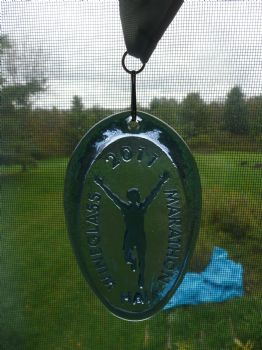 There are so many realizations on the road from training to achievement, and yet another after the finish line: I feel like an athlete. I AM an athlete. My hip injury and sedentary life were a part of me for so long, that even when I started running again, I didn't feel like an athlete. But now it's undeniable and empowering.

And I'm going to do it again. Cheers!
K:)





Saturday, April 16, 2011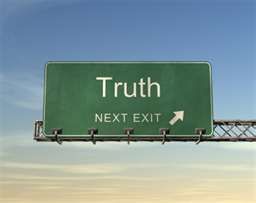 So I just finished the Spring 5% Challenge. I met 0% of my goal.

There it is.

This failure gets written down as publicly as the hopes I had in the beginning, because it's as important. I need both in order to set things right again. I wasn't always overweight, and didn't always struggle with the things I do now.




2 recurring problems, unearthed through lots of psychobabble that, lucky you, I deleted from this blog.

1. I'm not sure I deserve the time & attention on myself to work out when others are around, or plan meals well, or to visibly take breaks at work. It means getting "caught" doing something for me.

Yeah, I know that what I do "for me" is also for my family and the people who depend on me. I know it in my head. In my heart & habits? Not so much.

Or it means disturbing someone else. But those someones want me to do this, so that's no excuse at all.

2. I'm tired. My job is mentally stressful, emotionally draining, and physically fatigue-inducing. I stand most of the time because the best way to avoid reinjuring my hip is to avoid sitting too much. By the end of the day, I've got little left to give, and I give it to my family. I don't work out, and even though the daytime meals are great, I undo it all with a quick, convenient, unhealthy overboard snack or dinner.

But wait! There's a solution to both: Get up earlier and take it outside.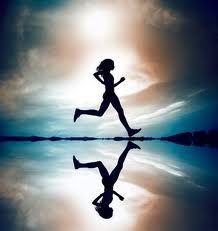 1 recurring theme: I want it the way I want it. I want it like it is in that picture, where I get a minimum 7 hours sleep, there are no deer to distract my dog, and the weather brings minimum 40-degree mornings with no wind or rain, thank you very much.

And besides, are you telling me I only have one alternative?

Boofreakinghoo.
Remember when you said it'd be inconvenient, and you said that's just too bad? Believe it, baby. And do something Today.







Saturday, January 22, 2011
On 11/29 I was pumping up my jogging pace and dreaming of a half marathon. I was workin' it and superconsistent for the next 3 weeks. Then my older dog died, Christmas commitments washed over me, visitors came & went, my younger dog was hit by a truck, and my father had spinal surgery... all while the upstate NY winter wind chilled my bones.

Oh pity party. ** NOT! **

The thing is, Life Happens. It's not all bad, but it requires real coping skills, doesn't it?

There's Destructive Coping: Sleep erratically, grab whatever's edible when you need it, do a half-a$$ed job on the things you need to do, and then "treat" yourself with sleeping in or eating gobs of chocolate & cream when you finally have a moment to yourself. None of this leaves energy or time for exercise, and there is no plan to make any, because the days Just Happen To You, as you fly by the seat of your pants.

Pretty soon 5 weeks have gone by and you don't remember what you were achieving before. Now that you're ready to "get back on track," you've got to claw your way through undone laundry, purge a stack of untended email you won't get to anyway, reassemble your workout plan, suffer through hamstring cramps when you finally get to run again; then reality-check those credit card bills, buy all new groceries, and find a way to tactfully tell those you've been doting on that you're rebooting your sanity. And you've got to make this shift without feeling selfish about it.

Then there's Productive Coping. I imagine that this includes taking your hour-long workout and simply trimming to a half-hour when time is tight (instead of skipping it altogether). It probably involves setting priorities and doing the important things well. It's sure to include using a ready list of healthy quick meals that you actually like. I'll bet there are even some requests to others for help with the laundry or driving. And of course it's full of forgiveness and humour.

When you're ready to return to prior routines, you gracefully and gratefully add a little more workout time. After all, you've got some energy to spare now. You catch up on a few tasks, with a quick but sincere thanks to those who've waited for you. You get together with the family members who helped you get through it, commisserate a little, laugh through a nice dinner together, and get a good night's sleep.


Any dream, notion, or plan of achieving a new level of fitness has got to include ways to succeed anyway when the going gets tough. Fitness does not happen in a vacuum! It happens amid Real Life. If you're gonna run, you've got to do it in the body you've got. (Thanks John Bingham.) If you're gonna achieve, you've got to do it from where you are right now.

Right now, I'm in bed with my laptop, looking at my November/December achievements and no longer thinking, "WTH happened?" I know what happened. And now it's time to do it differently. Not tomorrow, not "next time," but NOW.

Off to the treadmill, and to rock the day!
K:)






Saturday, December 04, 2010
The GOYAAM (Get Off Your Ahem And Move) plan for this month is tied up in the other challenges that I'm also doing. Lots of movement... now if I only can make the time to write it all down! :)

Butterflies 5% Challenge: There is a challenge each week, but the overall goal is to lose 5% of the bw in 8 weeks. This'll keep me moving through the winter.

300 fitness minutes/week will include
- C25K, which I'm now using to increase my jogging pace. I'm starting week 5!
- Pilates 2x/week
- ST 2x/week
- Putting together a rockin' holiday running playlist today, because all this snow means a lot of treadmill time. I'm using dog walks to throw in sprints, because my furry girl still needs to GOYAAM too!

And water water water!

Rock the holidays!
K:)





Monday, November 29, 2010
Dear Blogosphere,

Have you noticed how motivating a surprise accomplishment can be?

I'm seriously considering... just a baby step away from committing to... running a half marathon. Not just any half marathon, but the Disney Princess in Orlando. I'm actually a lifelong big fan of Disney musicals and the WDW park-- 100% manufactured happiness? Oh yeah!

The first and last time I went to the Castle 9 years ago, my (now ex-) husband said we'd go back when I'd lost 50 lbs... and the idea that I need to EARN the next trip sticks with me. When I saw an ad for the princess half this weekend, with it's high fun/low stress atmosphere and all the great music playing, I figured I'd better step up my running! Heck, I haven't even truly run a solid 5k in a long time!

So yesterday I did some homework. Yeah, I know the race starts at 540 am in March. Ugh. But I kept reading. Then I dragged out the coolrunning.com C25K program, thinking I'd use it to step up my pace.

I somehow leapt from bed at 6am, with no snooze alarm, uncharacteristically energized. I sprinted/walked my 3 hilly miles with Hudson. After work I hit the treadmill to see what I could do about that c25k pace ... and found myself on week 4 at almost 6.3 mph!

That might not sound like much, but it's a pretty good launch for a gal who's still got 50 lbs to go, injured her hip last May, and has only been doing the walk/jog mix for 2 months.

Yeah, I really did that!

So I'm thinking that the Disney Princess half, over a year away, is entirely and completely possible. Yeah, I can do that.

What can you do? Are you ready to set a goal so tangible that the world can see it?




First Page
1
2 3 Last Page

Get An Email Alert Each Time KAREN_NY Posts