| | |
| --- | --- |
| | KANDKFAM1's Recent Blog Entries |


Wednesday, August 24, 2011
Forget the calorie counting and worries about whether the vending machine chocolate milk has a higher sugar content than soda. If parents want to help prevent their children from becoming overweight, keep them active and get them playing outside. You'll only be half in the battle if you feed them a salad but yet allow them to watch TV for 4 hours a day.
Just my $.02.







Tuesday, August 16, 2011
OMG - I had a moment of thoughts that was both depressing AND motivating. I connected with a friend of mine that I haven't seen in over 25 years. To catch him up on my life, I started to write a quick summary of my life over the past couple decades.



With the cursor blinking at me, I began to realize the sad thought that, "Wow, I haven't really done much in the past 20 years, and haven't accomplished much either." I dropped out of college after one semester, been arrested once, struggled through 10 years of a lonely marriage, gave up all of my childhood hobbies, never saved any money, have no assets, don't own any property, still renting to have a roof over my head, have zero funds for retirement, got laid off from a great job and was out of work for 10 long months, now making a salary equal to almost 10 years ago, and, last but not least...gained over 80 friggin' pounds.



Jeez, what the hell have I done to myself over the past 20 years?
I could just cry right now. But men don't cry...right?



Fortunately, sadness turned into a glimmer of hope. I am not a lazy person. I am a hard worker. Sure, I have made some bad choices in life, but I have also made a few good ones, too. Although there is room for improvement, the past 20 years have not been wasted. I am relatively healthy, I have three wonderful children from that first marriage, and also now have a great stepson. I have a wonderful family and terrific friends who love and support me. I have the best wife a guy could ask for who is my light, my hope, and keeper of my soul. My salary isn't where is should be, but, at least I am employed. I don't own a home yet, but at least I have a place to live. I might just try taking up fishing again in a couple weeks. Oh, and those 80 pounds...thanks to SparkPeople, I am working on removing those...for good.



It is amazing how a look back can be just the reset one needs to build a bright plan for the future. I have a renewed vigor and passion for making the right choices and setting myself up for the future. SparkPeople taught me how to use goal setting and rewards to motivate myself and put plans into action. I may not be exactly where I planned to be according to dreams of the past. But, rest assured, I sure as heck like where I am now, am thankful for what I do have, and prepared to make the future two decades the best that they can possibly be.







Thursday, August 04, 2011
I finally completed my first-ever 5K walk yesterday. I have to admit that it wasn't easy. However, the feeling of accomplishment from reaching an important fitness milestone made those grueling minutes well worth the effort.

I have wanted to do a 5K walk for about five months. During this time period, there were many occasions which I planned on setting aside some walking time, but 'life' always got in the way. Well, at least that's the excuse I use. To be honest, I simply chose to do other things instead. My walk yesterday was not planned ahead at all. Maybe spontaneity was the motivational spark that I needed.

The past couple months have been a struggle for my new healthy lifestyle. I fell off the wagon hard. One vacation of no exercising and snacking turned into a road back to the unhealthy habits of the past. I started eating all kinds of junk food, avoided any sort of portion control, and stopped all of my workouts. I needed something to put me back on track. Achieving my 5K goal did just that.

As mornings go, yesterday started out like any typical day. However, it slowly turned into a high stress day. All things considered, I have a pretty good life so I don't want to seem like a whiner. Feelings about the unhealthy habits, finances, career, etc. were more depressing than normal. I took a step back in my healthy diet and had tortilla chips for my morning snack…lots of them. My bad feelings and poor eating choice, combined with the day's work issues, and missing a lunch date with my wife, pushed me to want to take a short escape to clear my head. The weather was great and it was an at-home office day. I thought a walk down our country back roads would be a perfect break.



I grabbed my water bottle and phone, tightened up my sneakers, and headed out the door for a walk. I originally had no direction or plan. A few steps into the walk, I thought, "why not make this my 5K?" But, I trained for it back five months ago…had too much time gone by? I hadn't walked for more than 20 minutes in the past few months…am I too out of shape? What if a work emergency happens…shouldn't I stay close to home? The snack I ate was a ton of calories…would any amount of exercise be worth it? My son and my wife wanted to be around for my first 5K…shouldn't I wait and do another day with them?

The potential excuses piled on that created all sorts of reasons for me to not do my 5K walk. But something happened that made me ignore all of them and go for it. That something was making a single decision: JUST GO. I wanted to achieve this important goal and having the opportunity to do so at that moment was too hard to pass up. I decided to walk until I couldn't anymore, work would be there when I got back, those tortilla chips had to be worked off, and my family would understand that doing something healthy for me benefits them, too.

I decided before heading out that I would not bother using the stopwatch on my phone to get an exact time. This was not a race, time is not important. Making the distance was my only goal.

So, I walked. I knew I may not make the 5K distance. However, I was determined to give it my best and resolved myself to the fact that doing something is better than doing nothing.

A few steps into it, I remembered that a few months ago we used our car's odometer to calculate the 5K distance. This was a short term goal of mine that I hoped would fuel my long term goal of actually going the distance on foot. We spray painted a small mark in the road to signify where 2.5K was. This would be my half-way point that I could use for a turn around. I wondered if it would still be there. If it disappeared, I would still know how far to go because I remembered the house there.

And, I walked. I focused on proper walking form that I learned from SparkPeople. I tried to remain at a constant, brisk pace. I took sips of water.

A few minutes into the 5K, my lower back started to tighten up and become painful. I have had lower back issues since my teenage years. I thought if the pain got worse, that could mean the end of my 5K. I walked.

Minutes after the back pain started, reflux heartburn kicked in. The unhealthy snack I ate earlier was determined to become another hurdle in this journey. I walked.

My trek took me past the area that for years I thought would be a perfect spot for our dream home. As I walked by, my thoughts turned to our rough financial situation. I muttered to myself, "building a home there will never happen". I walked.

When I encountered my first incline, my feet were sore. My breathing became much heavier walking uphill. I realized I was even more out of shape than I thought. I walked.

A funny thing occurred midway to the turn-around point: an involuntary smile appeared on my face. My back pain subsided just a bit, sips of water helped calm the heartburn, and I realized that I was actually doing this 5K. I walked.

About fifty yards before the turn-around point; I noticed a street sign that I never saw before. The name of the street, Hard Road, hit me like a brick and became a symbol for my journey. I chose to take the 'hard road' today, and was proud of myself for it. Some challenges have to be overcome in order for great things to happen. I walked.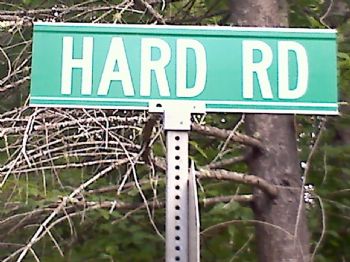 At the turn-around area, the 2.5K spot previously spray painted no longer existed. This was another symbol for me. Just like that spot, the best 5K intentions I had months ago disappeared. I had a relapse in my healthy lifestyle. This walk is my spark to press the reset button and start again on my quest for a better life. I walked.

I used trees I remembered from before as my guide. I made sure to walk past the area where the spot used to be. I didn't want any doubt in my mind that I went the complete distance. I made the turn at the approximate 2.5K+ point, and I walked.



Headed back now. I noticed what perfect day it was. Reaching the half-way point was an incredible milestone. All I had to do now was return home and my goal would be achieved. I felt confident and positive. I walked.



I reached the return pass by the area of our future dream home. I gazed at the spot and actually envisioned the house on the land. I imagined grandchildren playing and laughing, and dogs running around the property. I pictured the gazebo we always wanted in the front yard. When the area fell out of site, I began to think of the steps that would be required in order for us to fix our financial situation and begin planning on building there. I walked.

Near the end of my 5K, I finally crossed the pseudo finish line without realizing it. I walked past that point with my thoughts clear and positive. Achieving this goal gave me a refreshed outlook on life. I thought about making sure that we would have a healthy dinner that night. I thought about when my next 5K walk would be.

I did it.



Deciding to do the 5K walk was a life-changer for me. Instead of giving into my failed attempt of a healthy lifestyle and continuing to move backwards, I picked myself back up and took a step forward (well, actually many real steps forward). Accomplishing that goal gave me the confidence, power, and desire to achieve more.

If you get stuck in your healthy lifestyle journey, and have an opportunity to take a step forward, JUST GO. The results can be amazing.








Thursday, March 31, 2011
I am very excited to have moved back down to the pants size I wore last year (40). However, at that size, I was overweight. I am looking forward to actually IMPROVING as opposed to just getting back to "not as much overweight".






Thursday, March 17, 2011
So, I am eating lunch today (a healthy Sparkpeople recipe) and noticed something strange. When I started to eat, the first thing I went for was the side of vegetables. Huh? That can't be ME! Then I started thinking back a couple weeks and remembered that I have been trying vegetables on my subs that I have never eaten before (like black olives, onions, mushrooms, and hot peppers). I am actually enjoying the taste of vegetables. What? Not me!

I have never really liked vegetables before. I used to be a strict "meat and potatoes" kind of person and passed on any offering of veggies. What the heck is going on?

Although I am a fairly new member, this means I am living proof that many aspects of this system works. My previous disgust for vegetables has turned into an affinity without me being consciously aware of it.

I wanted to share this because we are all aware that making some changes are necessary for a healthier lifestyle. The really great news is: stick with it and some of the positive changes happen all on their own!











1 2 Last Page

Get An Email Alert Each Time KANDKFAM1 Posts