| | |
| --- | --- |
| | KALISWALKER's Recent Blog Entries |


Tuesday, May 21, 2013
5% Challenge 2 - Nutrition Tracking. I see a few comments about not tracking, hate it, time consuming, etc. Yes I felt the same for years, but not now. I am so happy, no THRILLED with the results. Two days after my Saturday weigh in I was down another 2.4 pounds! Yahoo!!!

You bet I am tracking my food! I am not concerned with the calorie range, just tracking but some how the calories count falls into place.

I am getting back into a routine going to the gym. Happy, happy about that too!!!

My Streaks

Nutrition Tracking Day 65
Walking Day 31
No alcohol 64/65

My no alcohol streak would be perfect but I had a free light beer on a hot day, at a place we stopped at on our way to Las Vegas. I had a few swallows then looked at it and thought, what am I doing? Any way my streak goes on. It really does help keep my appetite in check not having a glass of wine before dinner.

I have 46 days to lose 7.8 pounds and hit 199. I will do it!











Saturday, May 18, 2013
I travel a lot and go off my diet, do not exercise enough and gain weight. However, I developed a lifestyle/habits that I can do at home or anywhere. My list of things I do everyday regardless of where I am. Daily - aim for 7,000 steps (Fitbit), walk minimum 10 minutes, use the nutrition tracker for all food and beverages, drink 8 glasses of water, no alcohol, use the plate model for meals and get enough fiber, sleep minimum 7 hours, Spark, find a gym and go a few times a week.

I have been in Las Vegas almost 4 weeks and I've lost 6 pounds. I got a short term YMCA membership. This week I lost 2.2 pounds which really gives me a boost and proves I can diet, exercise and lose weight when I stick to the list. I am aiming to hit 199 in the Spring Challenge.

Week 2 of the Spring 5% Challenge is Nutrition Tracking - love it or hate it, it works. I fought it for years, would only do it for the 5% Challenges. Guess what? I started tracking daily 2 months ago and I have been losing weight every week. I wasn't trying to stay in my calorie range, just tracking. Somehow my calorie intake became smaller and smaller. Now there are some days when I am actually under my daily minimum. How did that happen???

In the Winter Challenge I did a first and made up a one week menu in advance, bought the groceries and entered all of it in Spark. I am more impulsive than I thought as I changed the foods around, but by the end of the week I did eat it. I will try menu planning when I get home.

Nutrition Tracking Day 62
Walking Day 28
No alcohol 61/62

Spark is a great place to get the support you need for a successful lifestyle!








Saturday, May 11, 2013




I updated my Goals & Progress May 5th and had to update it again, since I lost more weight. Wow I seem to be on a roll! I am increasing my goals to hit 199 pounds by July 6 which is 6%. I will take advantage of my ability to shed weight right now and aim higher.

For the purposes of the 5% Challenge

My 5% Goal 211.4 X .05 = 10.6 pounds

Under my Goals & Progress it reads

Current Weight:211.4 pounds
Target Weight: 200.8 pounds
By When: July 6, 2013

My Trackers/Start/my Goals & Progress it reads

Goal to eat 1200 - 1500 calories per day
Goal to burn 1750 calories per week
Goal to go from 211.4 to 200.8 by 07/06/2013

Plan - Change Your Attitude & You Can Do Anything!

nutrition tracking
daily walk
eat off smaller plates
Fitbit 7,000 steps minimum
in bed by 10 PM
weigh in once a week
drink V8 juice to keep appetite under control
take a before picture
drink 8 glasses of water so I don't confuse thirst and hunger
going to the YMCA every 2nd day
record exercise in SP
have protein each meal
have a meatless dinner a few times a week
1.5 cups of cooked veggies with dinner
put steps to success in Spark Planner
update list of 3 things to look forward to
can of mussels at 4:30 PM (could be a few tablespoons of tuna)
view Win List several times a day
no alcohol

Nutrition Tracking Day 55
Walking Day 21
No alcohol 54/55

Nutrtion tracking streak started March 18th
Walking streak started April 20th

In the Winter 5% Challenge I lost 8.2 pounds and I will do better in the Spring Challenge!

Thanks to my Spark Friends, I appreciate your encouragement!






Friday, May 10, 2013
The Spring 5% Challenge starts tomorrow and I am ready! I weighed this morning and am down another pound, 211.4. Wow I could get to 199 in the next 8 weeks!!! I got a one month YMCA membership here in Las Vegas which can be used at any of the 4 Y's.

I am moving more during the day, eating off smaller plates and highly motivated! Last night I was very tired so I could not go to the YMCA, but I did push myself to walk. I set the bar low, just do a 10 minute walk, which turned into 24 minutes! That the great thing about walking outdoors, you cannot just stop and jump off, you still have to get yourself back home.

Hubby will be back here in a few weeks. I have to keep Kali in shape till then, so I am supplementing her walks with treadmill time. She usually does 32 minutes, but was distracted and only did 9 minutes.

Feb 23 224.1 start of Winter Challenge
Apr 20 215.9 end of Winter Challenge
May 10 211.4 start of Spring Challenge

I hope you have great weather this weekend and can get outside and have fun!





Monday, May 06, 2013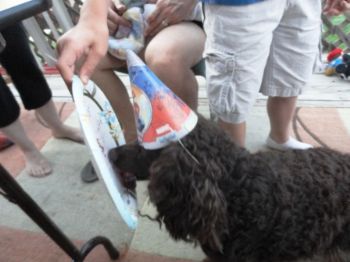 Hi everyone, I am ready for take off with the 5% Challenge. I was at the YMCA today and found out it's closed on Sundays, so I will head over there tomorrow and look around. I took my dog Kali for a few walks. The sunset walk with the family, after dinner was a longer one and I got in my 10,000 steps today. They should make pedometers for dogs, she must have twice that.

It was Kali's birthday today. She had cheddar cheese and sausage for appetizers followed by her usual meal and a few tastes of blueberry pie for dessert. After the sunset walk, we roasted marshmallows in the yard. Kali will have a spa day this week.

Hubby flew home this morning and will be busy with business there. I will keep busy with family here and focus on my 10,000 steps.

My Streaks

Nutrition Tracking Day 49
Walking Day 16
No alcohol 48/49










1 2 3 4 5 6 7 8 9 10 11 12 13 14 15 16 17 18 19 20 21 22 23 24 25 26 27 28 29 30 31 32 33 34 35 36 37 38 39 40 41 42 43 44 45 46 47 48 49 50 51 52 53 54 55 56 57 58 59 60 61 62 63 64 65 66 67 68 69 70 71 72 73 74 75 76 77 78 79 80 81 82 83 Last Page

Get An Email Alert Each Time KALISWALKER Posts