| | |
| --- | --- |
| | KALEIGH2010's Recent Blog Entries |




Thursday, December 13, 2012
Now that I'm engaged, and planning a wedding part time (hah.. I'm so excited to get married - have no desire to plan a wedding...or spend all that money).

I got engaged in August, and committed to losing 20lbs before December. It was always my end goal weight - I just needed the push. I thought that getting married and wedding dress shopping would be that push. But it never really happened. I started well, had a great gym routine, was eating well - but for the last 3-4 weeks, I just couldn't be bothered.

Now that we're into December, panic has set in. I haven't lost any weight. In fact I have gained a few pounds. What the what! While I'm not planning a fancy event (we're having a BBQ - super casual), I know that a wedding gown needs to be ordered fairly early on in the wedding process.

I need to go back to basics. I need to go back to measuring/weighing food and counting calories. It is tried, tested, and true. It is also tedious, takes a bit of effort, and I need to remember!

Maybe I can put off wedding dress shopping till February and give myself till then to lose the weight I want?






Wednesday, January 18, 2012
Today I was telling my weight loss story to my fellow co-workers. I kind of wear it as a badge of honour that I used to weigh almost 200 lbs (195...but whose counting?). A woman was saying how much she hated pant shopping - i chimed in, that when you used to be a size 16, and are now a size 8, pant shopping can be one of the best things in the world.

We were discussing ways in which we stay fit, or try to stay fit - and I was telling them about my new, and hopefully stickable (knock on wood) routine.

It's day three, and so far, I'd say it's going well. It's really important to note, that I have been following a meal plan that was designed on Sunday - and am starting to eat "intuitively" - meaning I eat when I'm hungry! Therefore, this means that I am having dinner now at like 4:30. I then make sure between 5 and 6 pm I have a cup of coffee.

I am sure many of you are gasping right now (and by many of you - i mean none of you - because no one is really reading this blog). Coffee is a proven mood, and energy booster. It is actually a good thing to have a cup 30 mins before a workout. Maybe it's psychosomatic - but it seems that within 30 mins, I'm ready and pumped to go.

The stickers on the calendar are working well - I love going to my fridge and seeing the progress i'm making! Also, logging on regularly to spark and inputting my food. There is a reason why I was so successful in the past -and this is a huge reason why!

Day 3 and still going strong - that is something that I'm proud about. My only concern is that tomorrow my bf is coming up for a visit - and I am worried that he will throw a wrench in my plans and I won't want to workout. Maybe I can convince him to bring his workout gear and we'll pay the drop in fee and go to the community centre or YMCA.





Tuesday, January 17, 2012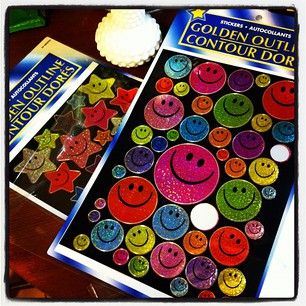 Last week, I started cooking 4 different meals on Sunday that I would eat as lunch and dinner through out the week. I figured, four different recipes would be just enough food to not get me bored, and also not make it so I had a ton of leftovers at the end of the week.

This week, I did the same thing, except I have started to create calendars that list what I will eat each day. I've never been one for meal planning, but I think the issue in the past was that I had A LOT of prep to do. Now, all my meals are pre-prepped (is that a thing?) and I also sliced up some veggies and put them in a tupperware container for easy grab and go snacks!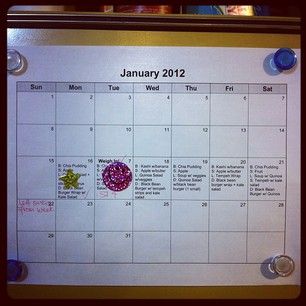 I decided that since it was working so well for me in my diet, maybe I needed to actually schedule in a workout routine. I knew I had to step up my workouts...as in more than once a week...every few weeks. By actually writing out the workouts, and ones that I think I will be excited to do, I will keep myself from getting bored and also maintain a healthy exercise routine.




Finally - a calendar isn't complete without recognizing when I've achieved a good day...STICKERS! Shiny, sparkly, bright! They light up my life...and my totally 70's avocado fridge.





1 2 3 4 5 6 7 8 9 10 11 12 13 14 15 16 17 18 19 20 21 22 23 24 Last Page

Get An Email Alert Each Time KALEIGH2010 Posts