| | |
| --- | --- |
| | JULESINVT's Recent Blog Entries |




Tuesday, April 19, 2011
Ahhh, the report is overdue. My race was 10 days ago. I'm sssooo happy to report the weather was great (by Vermont spring standards)..sunny, not too windy, and 40's.

I woke up in the middle of the night on the eve of the race with a wicked sore throat. My kids had been sick and I figured I was due. I went back to sleep.

My running buddy's husband and family took us to the start where we psyched ourselves up for 20 minutes. Hit the port-o-let once. Discussed wardrobe & bathroom psychoses. Pondered a repeat trip the the loo before race time, but figured it was a nervous pee and not worth the long line that built up after our trip (whew!).

We started out a little fast, but slowed a bit at my request. I just wasn't feeling it.

Our plan, as the last race, was to enjoy ourselves. No need to break records. It was about meeting the goal, training through god-awful late-winter and early spring, being together, and running the distance.

My partner developed plantar fasciatis a few weeks before the race day, so we'd check in now and then on her heel. I still struggle with pain in the balls of my feet, and by mile 7 they were hurting. By mile 10 they were screaming. Just the way it is.

We befriended some young college girls running their first half. We chatted it up. We screamed "More Cowbell!" to the very few and far between cheering squads on the sidelines who were also ringing cowbells.

There were not many mile markers and I didn't bring my own water. I wish I had. I just didn't get enough water on the course.

We saw a teacher from school rooting on her husband from the sideline. She was so excited to see us, but man, we needed her as it was at about mile 11 and a stretch I thought was shorter and flatter than it was. I actually surged early...around mile 11 not realizing I had a tough hill ahead of me. By the time I got to mile, I dunno, 12.5 I felt spent.

I kicked it up a notch, and ran through the pain in my feet and the tightness in my chest.

We crossed at 2:07 and some change. I think it was 3 minutes more than last November's HM. My running partner thought it was exactly the same. There was some confusion about the actual length of the race..13.1? or 13.4? that could make a difference.

After crossing the finish line, I felt nauseous. I was not. When I got home, I felt nauseous. I was not. I think I was super dehydrated. I also figured out I had a bad cold -- not just a sore throat.

Nonetheless...

We did it. I did it. I ran two half-marathons in less than six months.

And like the last one, I want to do another one. I learned a few things on this one!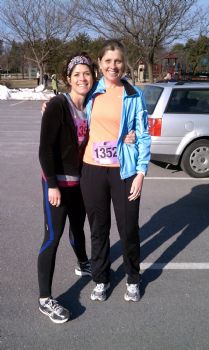 Monday, April 18, 2011
I read an interesting article today about sugar that has me rethinking food.

www.nytimes.com/2011/04/17/magazine/
mag-17Sugar-t.html?_r=1&src=me&ref=hom
epage

The timing of this is good for me. I've been noticing that 'sweets' is what derails my good eating habits almost invariably.

The article, which is crazy long -- 9 webpages -- gets into the biochemistry of nutrition but the long and short of it is, sugar can be clearly attributed to the many serious health conditions which our western society experiences in highest incidences: Type 2 diabetes, obesity, cancer. The evidence that refined sugars causes the body to pack on fat -- not just around the middle, but in our liver specifically -- is all I need to steer clear. While at 5'9 and 159lbs I don't think I need to worry about obesity, I do think that my body does seem to crave sugar the more of it I eat.

I was thinking about this today, and I thought with all the technology out there, wouldn't it be cool if we could step on our bathroom scale and see a scan of the fat in our bodily organs? And then I'd have another tool besides my weight to use to measure progress along the healthy living spectrum.

I'd like to say I've drawn a line in the sand and sugar is O.U.T for me, but I know it's not that easy. First of all, sugar is like sodium, in that it finds its way into the most unlikely of foods. Secondly, I know I can't kick a lifetime habit of eating cookies, chocolate, candy etc overnight. There is something about realizing that too much sugar is making my organs fat, that makes it lose it's taste for me. "making my organs fat" is my language, not the article's, btw. It's gross oversimplification.

I also think about my two children. They don't drink soda. They love my homemade cookies. They love a birthday cake. They love store-bought cookies and ice-cream. They get their candy at all the holidays (what's up w/that? Easter, Halloween, Christmas, Valentines Day). And someone's always bringing in cookies or cupcakes to school. The teachers even use candy in the classroom!

So, I can't eliminate sugar in my kids diets either. I don't want to be that black and white for them. But I will talk openly about sugar. And I think I will start looking at recipes that eliminate refined sugar and processed sugar substitutes. I think we can live with all the natural sugars like honey and maple syrup.

I'd like to think that focusing on my health will help me be more healthy. Yes, I meant that to be so redundant. Sometimes I tell myself that by watching calories and writing down my food I'm being healthy, but that is more about discipline. Caring about what I eat and its impact on my body's ability to function for a long time is what I call being HEALTHY.

As with so many things, it's just a day-at-a-time.









Monday, March 07, 2011
Today marks day one of week one of my food experiment. After all my talk about being sick of thinking, talking, shopping, cooking, planning, eating, not eating food, and with some suggestions from this faboo SP community, I decided to try planning ALL my meals ahead -- to avoid lingering in the kitchen too long. After yet more support from SP, I figured out I could use the meal planner to pick pre-set my meals and make tracking them easier. I think I tried this a year ago, when I very first tried the site but quickly abandoned. Now, after months and months of slacker journaling, I truly appreciate the preset meal and easy tracking. Ah, it is SO easy. I can't believe I hadn't considered this before!?

As I sat down Saturday night and began preselecting my menu choices I chafed a bit under some of the menu ideas. Yes, I knew I could change them out and even customize ingredients and I did that for some. I decided to go with the menus at least for week one -- knowing I'd tweak slightly -- because my experiment also involved trying to modify my eating habits.

So, how did today go? I am SO excited! I learned so much from just one day. First of all, I now see this weight loss attempt as completely doable. Secondly, based on today's experience, my protein intake was much higher and calories much lower than I have been doing. As I carefully measured and weighed my food, I noticed that compared to what I have been eating in my "casually trying to watch what I eat" mode, that the meal portions were LARGER than what I had been providing myself, that I had been UNDERestimating much of what I served myself. And this, I believe is why I found myself hungry and snacky! Today, not hungry. Not snacky.

As they say, I have seen the light. I ACTUALLY can't wait to try my experiment again tomorrow!


1 2 3 4 5 6 7 8 9 10 11 12 13 14 15 16 17 Last Page

Get An Email Alert Each Time JULESINVT Posts