Friday, July 09, 2010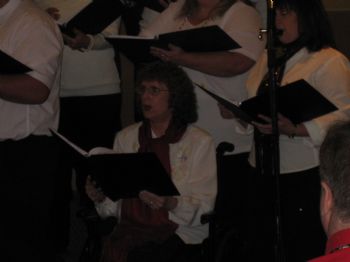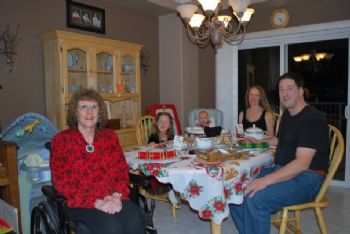 I shared in my profile that I have been a wheelchair user since 1995 due to a work injury. I have never let my situation get in the way of the things I enjoy doing. I lead an active life. I care for 2 grandkids, aged 1 and 4 years. I have looked after them since they have been newborns. I help my daughter and her husband by taking the children for a day or evening so they can have some time on their own. I have looked after my granddaughter on several weekends and had both grandkids when my grandson was 10 months, that was 2 days and 1 night, he did really well and so did grandma :)

I live independently in a modified suite to accomodate my wheelchair. I do all my own housework including laundry and shopping and keep busy with friend's and family. I have included a photo of me in my churches Christmas Choir and 1 with my daughter and her family at Christmas.

My interests include singing, crafts, computers and researching my family roots. At present I've researched my family tree back to the 1500's.

So now you know a little about me!