| | |
| --- | --- |
| | JOYINKY's Recent Blog Entries |


Wednesday, July 23, 2014
When you are busy, as I have been with the garage projects this past week, cats have a way of demanding your attention. My Warrior Princess is no exception!




Evidently, she liked the tiny prints on the pet throw on my sofa that she decided to extend the design up onto the white coverlet that was being protected. SHE was pleased with the results!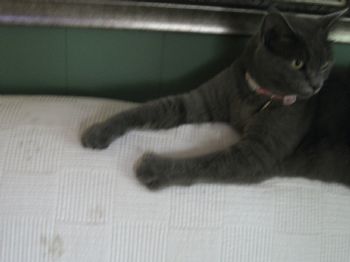 As a matter of fact, unashamed and with no regrets, she was downright protective of her artistry!




NOW? She cleans her paws??!

No matter, the coverlet washes up well and that's exactly why it's there. Works for grandkids too.

Enjoy your day! Smiles, Joy




Tuesday, July 15, 2014
The cooler temps made it so pleasant to be out there longer this afternoon!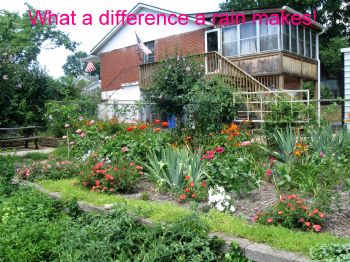 Sugar enjoyed just relaxing.
Sugar being Sugar . . .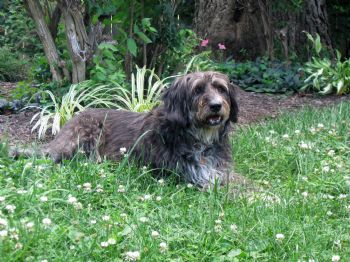 and watching . . .

. . . .

. . .

. .


Bear and Xena . . .

. . .

being . .


Bear and Xena!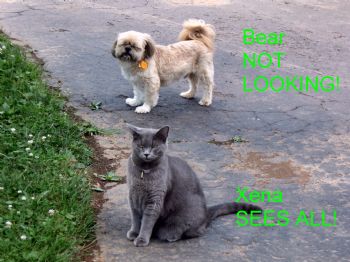 Gorgeous day!

Smiles, Joy






Monday, July 14, 2014
Well, it;s not really new; I had a 6 minute morning abs routine that I did for YEARS, then I added in some fitness ball exercises, then later some yoga, then topped it off with pushups and it was no longer and easy 10 minutes it had become a daunting 45 minutes that became a chore and I just stopped! I tend to do that, didn't cut back; just gave it up. Lesson learned.

Returning to yoga last week and buying a T shirt dress for a cool alternative at home yesterday both were wake up calls. No hiding a tummy bump in that dress! Even if no one else sees it; I do! Weight is fine, gardening has been a work out but my abs are not what they were. Gardening is great on my arms, legs and even my back but I'm not getting my stretching and ab work which also protect my back. So starting a new streak this morning with my 6 minute abs routine and 4 minutes of stretching. Streaks seem to work for me if I keep them to 10 minutes; I often go longer when hooping but this time I am keeping this one at 10 minutes! This one works for me as I can do it in my pajamas before I shower for the day. Yoga mat is still in my room, waiting.

Just making myself accountable by sharing and will add this streak to my page (which I also find to be a motivatior). Just part of the journey.

Keep moving!



Joy







Saturday, July 12, 2014
First, I want to thank CAZ for asking for some updated garden pictures. I have a tendency to look at my garden with an eye for work to be done! After walking Sugar and Bear this morning I decided to see if, in spite of the lack of rain, there was enough to do this. Pleasant surprise! Some plants are past their prime but others taking their place. I've really enjoyed my garden this year! Both photographing it and working in it. Good day to blog about it as it's in the high 90's now, critters are napping again and it's just too hot out there to do anything! Still hoping for rain.

I started early this spring with a smaller than usual deck garden. Lettuce and herbs. The lettuce is about done and I will clear it soon and replant for fall. It's kept me in salads for at least 2 months!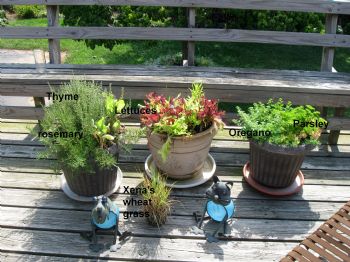 The side driveway is full sun all day. Daylilies past their prime as is the shower of gold, but the Rose of Sharon is just beginning and soon the lariope along the front will be sending up purple blooms.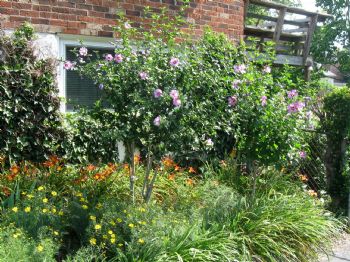 My gardens are Sun/Shade; very little in between. This is a little shade garden, started with spring crocus and daffodils now hostas in bloom.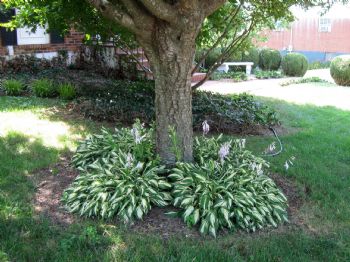 The lawn in the front sun garden is pitiful but the little garden is doing well. I recently removed the irises and new moss roses will fill in that spot soon. The little butterfly bush was needing more space.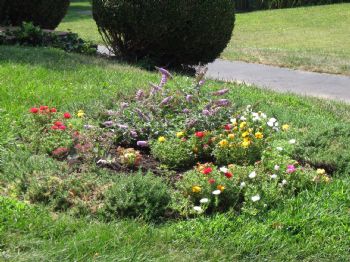 The front yard fence is bordered with daylilies, past their prime they were spectacular a week ago!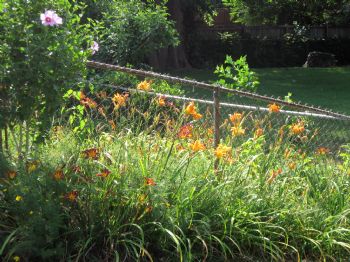 The yellow Knock Out Roses never dissappoint!




A pot of zinnias brightens the entry to the patio and provides cut flowers for the shady side.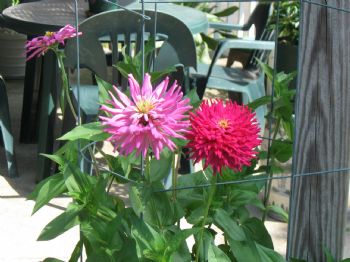 West end of the big side garden, the irises will be moved soon back to the fence and the daylilies in front will go in Sugars garden close to the wood fence now that I know they can survive back there! Both are crowding new Knock Outs I put in last fall.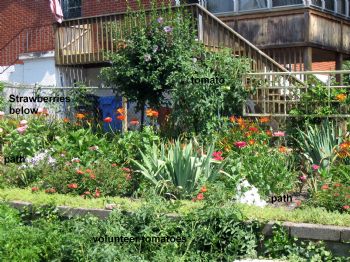 This is East in the big side garden, note; I didn't do a veggie garden this year. Strawberries, peppers, cucumbers and tomatoes are among the flowers. Getting cucs and peppers now and will have my first tomatoes in a few days.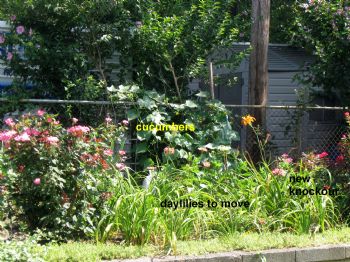 A closer look at the East End of the garden is a wall, well hidden compost pile, and the fence where Sugars garden begins.




This is the North entrance to Sugar's garden.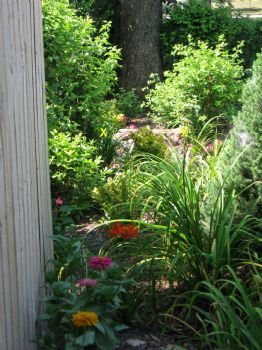 X's mark the stump of one of the trees lost last fall. There's also a view of Sugar's favorite shady nook.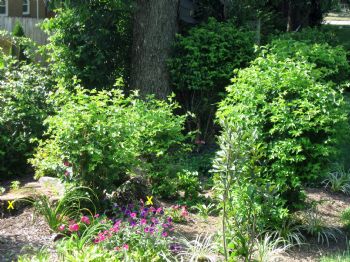 South yard side view of Sugar's garden and entrance paths.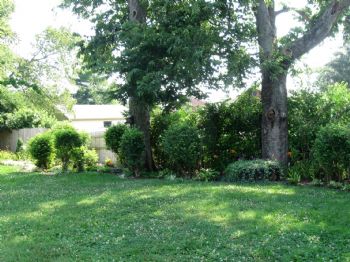 Far South in Sugar's garden is a big tire that served as a big grandkids sandbox for many years! Easier to make it another garden than try to get rid of it! :_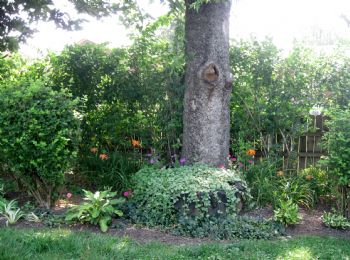 The South fencline is at the bottom of a slope and just a simple sun/shade garden.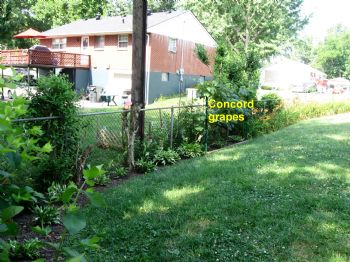 Rose of Sharon is peaking now! Spectacular now; but also a major weed for me! In MI I struggled to get it to grow!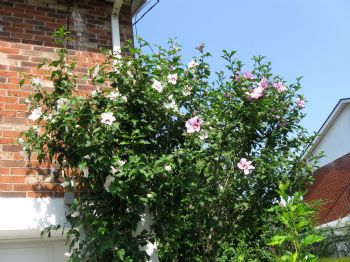 A little patio shade garden: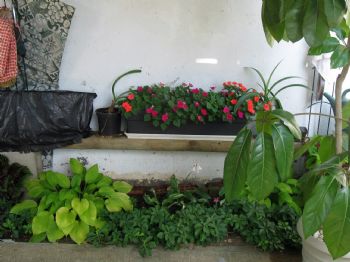 Ditto sun garden: the glider is a future project!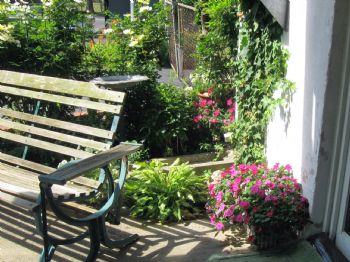 I try to plan the planting with the view from the deck in mind.
West end of the deck view; I'm told the Pack Rat is temporary: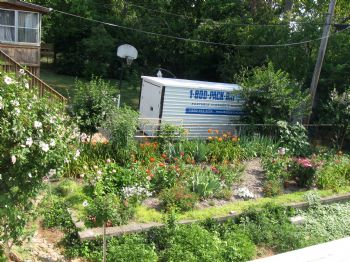 East view from the deck; Sugar's garden starts just past the wall: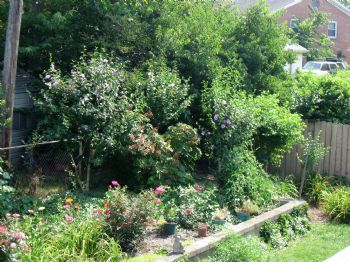 Finally, the South view of Sugar's garden from the deck: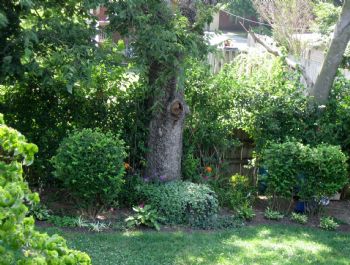 This has been a fun way to spend a HOT afternoon! I hope you enjoyed it. If not, blame CAZ!!

(Be careful what you ask for!)

Smiles, Joy








Thursday, July 10, 2014
Generally speaking July and August in Central KY are hot, hot, hot. For me and mine that means outdoor time is in the morning and evening. Errands and house activities mid afternoon. Today, after sparking with my morning coffee I walked Sugar and Bear then worked in the garden for 2 hours. All 3 of my housemates were in the yard with me.

I just now got back from my grocery shopping. This was my greeting (handiest camera was my phone, not good indoors; not that I should worry. I've unloaded and put the groceries away caught up with my friends here and no one has moved yet!)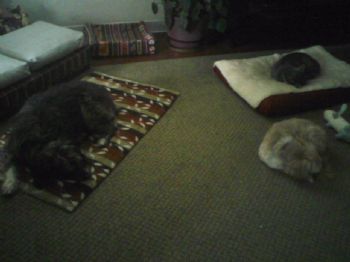 How's that for "in sync"? All curled up and facing the same direction!

Had to share. Stay cool and hydrate!! Smiles, Joy



1 2 3 4 5 6 7 8 9 10 11 12 13 14 15 16 17 Last Page

Get An Email Alert Each Time JOYINKY Posts