| | |
| --- | --- |
| | JOYFULJUDYLYNN's Recent Blog Entries |


Saturday, January 26, 2013
Pretty slight, right?

Seriously, though, today the thought, "is she smoking crack?" passed through my mind a time or two.

First, I let my 4 year old play with the camera today while I was prepping some veggies. She captured a few shots that I frankly thought were great photography for a little one! I proudly posted her work on facebook, and was shocked at how many comments I got from friends and family about how I look. Works like "tiny", and "thin" kept showing up. Words that have never in my life been associated with me.

Here's the shot that garnered so much attention: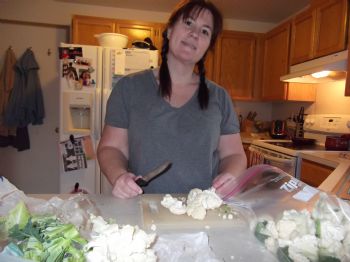 (pretty good for 4, right?!?!)

Later in the afternoon, a lady I've only talked to online stopped by to pick up some clothes I am selling. She told me she was worried about buying from me, because "I looked at some of your pictures on facebook, and you looked so tiny, I figured there was no way the clothes would fit me!"

Um, wait....... WHAT!?!?

I think sometimes I'm so overwhelmed by numbers related to my journey (highest weight 420, lost 170, regained almost 60, restart weight loss at 310. 78 lost again. 70 to go, etc., etc., etc) that I lose sight of what IS. I tend to think of myself as much heavier. I know I'm not thin, but I'm also not where I once was. So I forget that people who aren't seeing me day to day (or who have never met me) don't see me with the same baggage-filled filter with which I see myself.

I think I'm going to work on seeing myself with out that filter. I'm going to work on challenging the voice in my head that tells me how far I have to go rather than how far I've come. Besides... that voice in annoying. (No worries... I'm not psychotic. It's a figurative voice, not a literal one). I've always been a 'glass 1/2 empty' kind of girl. Maybe it's time to be a 'glass 1/2 full' type.

I'll work on it.

And just because turn about is fair play....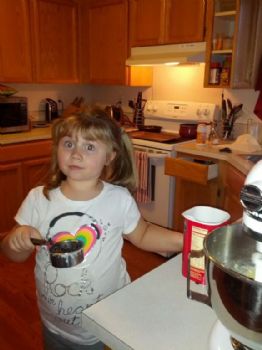 ... I had to take one of her working in the kitchen too. (We were making oatmeal-raisin cookies).







Thursday, January 24, 2013
For the past week or so, the serenity prayer has been going through my mind. A lot. At really random times. I'm not an alcoholic or drug addict. The only AA meetings I've ever attended were during college as requirements for my social work classes. The prayer has never had any particular meaning to me. Until this week.

"God, grant me the serenity to accept the things that I can not change.
The COURAGE to change the things I can.
And the wisdom to know the difference."

Wow. How powerful is that!?!?!

I have been focused on being courageous in the last 13 months, and changing the things that I can. I've changed how I eat, how I move, and how I talk to and relate to myself. Recently, I have begun the work of emotionally unpacking this... why I got to 420# in my twenties. HOW I got to that point. Why I spent the large majority of my life feeling worthless and unlovable.. which is requiring I delve into my adoption/abandonment issues.

"... Courage to change the things I can...."

I'm working on it. And it's terrifying. And exhilarating. And makes me feel more kick-butt than a the karate kid!

Then this week I went to see a plastic surgeon about my abdominal apron. This brought up all sorts of questions.... what is changeable? What is realistic? What is probable?

The truth is, that there are ALWAYS going to be things about this body that I'm not thrilled with. I have a 14" scar from my sternum to my bikini line (haha... that term always makes me roll my eyes b/c this girl hasn't been in a bikini since I was about 12!). I will *hopefully* be getting a new scar from hip to hip if my surgery is approved. I have no belly button. I have 3 meshes sewn into my abdominal wall, holding in my hernias. I have more stretch marks than unmarked skin. My breasts are obliterated. My arms stop waving about 45 seconds after my hand does. These things are a part of me. And I can't change most of them.

"... grant me the serenity to accept the things I can not change...." Amen to that.


"... and the wisdom to know the difference..." That's where I'm struggling right now.

There are so many changes I'm working on, and so many unknowns with my body. I have a complicated medical history and there are some questions about what will be resolved/improved with healthy eating, ongoing exercise, and more weight loss. And what is what it is.

Onward I go in my journey. Just had to put those thoughts in black and white.





Tuesday, January 22, 2013
I haven't been very good about taking monthly photos for the last 5 or so months, but I did take them today. And while looking at them, I couldn't help but compare it to a year ago.

At 310#, I was still quite a bit smaller than my highest weight of 420#. But I wasn't happy. I certainly wasn't healthy. And I definitely wasn't active.

On January 3, I was in line at McDonalds, and wondered if I made just one BETTER decision, if I could build on it and get back on track to losing more weight. My first act on my journey? I ordered an Egg McMuffin and diet coke WITHOUT hashbrowns. Yep, not exactly healthy fair. But it was better than it would have been. And I did build on it. The next day, after a lot of thought, I joined a gym.

I am nonathletic. I have zero balance. I had NEVER belonged to a gym. But even though I had lost WEIGHT, I didn't feel like I had made much progress toward getting FIT. That was one of the best decisions I could have made for myself and my family!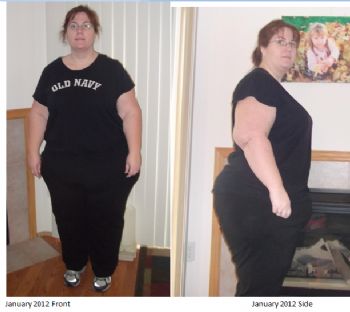 I think this was the third or forth day at the gym. I was still overwhelmed and my muscles were aching. But I was making progress. My good decisions were building on each other.

That first day, I decided not to eat the hashbrowns. Then I decided to give up my 10-12 diet pepsi per DAY habit (yes, I had a killer headache for about a week). I started drinking water (unheard of before that). I moved my body. I fed it healthy, nutritious food. I started educating myself on nutrition and fitness. I started getting honest with myself about why and how I let myself end up being 28 years old and 420#. Then I started being honest with others. These changes did not happen overnight. They were small steps that have led me down a road of progress. And the number on the scale.... I'm starting to see that as a side effect to the journey, not the main prize. The real prize in all of this is that I've earned back my self respect. I'm learning to love myself again. Not in a narcissistic way, but in a way that we were created to love, care for, and nurture our selves and our bodies. For years, I neglected and abused myself. This past year, I nurtured myself. And it hurt. There's the truth... this year was painful and hard and exhilarating and amazing. And it was one of the most worthwhile things I have EVER done. And I can not wait to finish this journey and begin the journey of maintenance.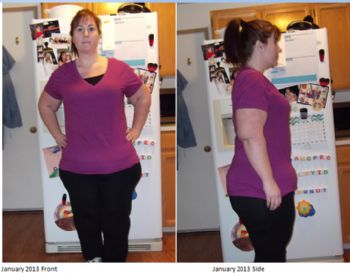 I still have about 70# to lose. To some, that may sound like an extreme number. To me, that sounds very do-able. I guess that changed this year too. I went from thinking "Maybe I can" to just "I can".

So can you. Make a good decision. One good decision for yourself. Then build on it.






Monday, January 21, 2013
This morning I met with a plastic surgeon regarding a pannectomy. I can not even express how anxious and nervous I was! After decades of feeling like people judge my physical appearance and find me lacking, I was a wreck about what this one man's opinion would be! Would he tell me I haven't lost enough weight? Would he tell me that he couldn't help me?

First.... I will say that it's pretty embarrassing to put your skin/fat folds and wrinkles out there for someone to see and photograph! BUT! The good news is that the surgeon agrees that the surgery at this point is medically necessary. Now it will be up to the insurance company to see if they will cover it. I have a few things in my favor for this: I do get rashes and infections under the skin fold. Also, I have a 14" scar that runs midline from a previous surgery. The scar is being pulled from the weight of the skin. It's VERY uncomfortable. Also, in spite of 4 hernia repair surgeries, and 3 meshes sewn in, I still have a bit of a hernia. The weight pulling down on the meshes/hernia is not good for long term repair. SO! We shall see.

Against me: Many insurance companies see this as a cosmetic procedure and just don't want to pay.

The doctor and I spent a long time talking about my expectations. And he agrees that my expectations are realistic. I already don't have a belly button (was removed during an emergency surgery), and he can surgically give me one! That was BEYOND my expectation. I expect a lot of scaring. I expect surgery will be painful. I have endured 7 abdominal surgeries in the past 10 years. After every one, I have been off ALL narcotic pain medications by day 5, and did whatever after care was necessary. My eye is on the long-term prize.

I have discovered an active life. I have worked to build muscles and coordination that make me feel athletic. I have increased my stamina to the point that I can jog and race my 4 year old across the park. I am not willing to let these things go.

I am not expecting perfection. I am expecting less pain from rashes and infections. I am expecting to jog without hearing the slap of my stomach skin hitting my legs. I am expecting to have reduced back pain so that I can push myself harder in the gym to meet my goals. I'm expecting that I will continue to do the work. I am expecting surgery to remove the excess skin.

So... now I wait. And continue to eat clean, and stay moving. And live my life. This is in God's hands. I am in God's hands. It is well with my soul.






Saturday, January 19, 2013
Yes. Today, for the first time since my teen years, I had FUN at the mall. I was excited to look at styles and colors. Happy to use my coupons to get some good deals. And a miracle happened.... I left the mall feeling FANTASTIC about myself.

To understand why this is such a big deal, we need to go back in time. At one time in my life, I went years without going to a mall. Frankly, there was no point. There was nothing in the mall that would fit me. Everything I wore was ordered from a catalog. Because even the largest sizes at the plus size stores were too small for me. Even the IDEA of going clothes shopping in a store would bring about panic. If I did get dragged along somewhere, I could / would only shop for accessories. Again... what was the point?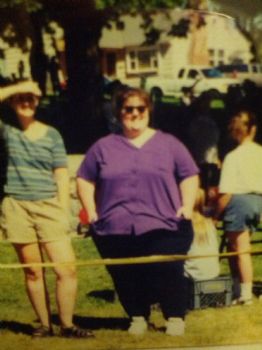 For years now, I've been able to wear the plus sizes carried in the mall, but even then I left the mall feeling awful about myself. My sizes kept creeping upwards, things didn't fit right, and I really only had a few store selections that carried my sizes. It was BETTER, but not what I was wanting.

Today, I did something I haven't done in 20+ years. I walked into a non-plus size store (Old Navy) and bought clothes. In my size. I bought an XL. This had me nearly giddy. I felt NORMAL. I didn't feel people staring at me rudely, wondering what I was doing in the store. I felt like I fit in. That was pure bliss for this girl, who has always felt like people were staring.

Then it got better.

I went to Lane Bryant to buy bras. A wonderfully sweet salesperson did a fitting and helped me.

(Let's take a break here for a public service announcement: GIRLS! As you are losing weight, make sure you get a bra fitting!!!! Do NOT just buy the next size down in whatever cup size/brand/style you are used to! Your body is changing, and your needs might too! I was SHOCKED to learn I was wearing a bra much too big, and completely the wrong style to flatter me.)

Anyway.... since I was in the store, I decided to try on jeans since my 18's are getting a bit loose. Guess what?!?! 16's FIT! I haven't been in size 16 jeans SINCE I WAS 16!



I was so giddy that I did a happy dance, then texted a picture to my trainer.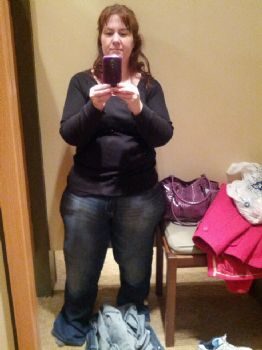 (horrible picture, but the jeans FIT!)

I practically waltzed out of the mall. I consider today a complete non-scale victory. I ENJOYED shopping for clothes. And I left the mall feeling better about myself than when I went in. Victory, people. It's not all about the number on the scale. In fact, the number on my scale was up 2# due to monthly bloat. It's about achieving experiences we were deprived of. It's about seeing the results of our hard work and feeling the freedom to feel proud of ourselves.

This girl is feeling proud. In my size 16 jeans.




First Page
1
2
3 4 5 6 7 8 9 10 11 12 13 14 15 16 17 18 19 20 21 22 23 24 25 26 27 28 29 Last Page

Get An Email Alert Each Time JOYFULJUDYLYNN Posts