| | |
| --- | --- |
| | JOYFULJUDYLYNN's Recent Blog Entries |


Sunday, January 13, 2013
I've never seen myself as a success story regarding weight loss. Never. Yes, I've lost 182#, but I tend to focus on the 70 or so excess pounds still to go. I'm kind of a glass half empty kind of girl.



However, my blog post "WHY I am doing this" received an unexpected and amazing response. And I have read and cherished every single comment. Every one. And I was shocked at how many times people called my story one of success. It gave me a lot to think about this past week.

But here's the deal... even those of us that have lost large amounts of weight successfully have bad days and struggle at times. Yesterday was one of those days for me. I did well in the morning, making smart food choices. But as the day wore on, my frustration with my husband and my unending "to do" list became overwhelming. Then he went to work for 10 hours and left me with our 4 year old (and my parents for a while). My dad was preoccupied with a game. My mom's dementia/forgetfulness was particularly trying, my 4 year old got ink all over her hand, etc., etc., etc. I felt like I was going to break.

I got my parents fed and sent back to their house across the street. I got my daughter fed, bathed, and in bed. I got the ink cleaned up from random places it had landed. I sat down and felt the overwhelming frustration.

And then I went to the kitchen and took my frustration out on myself with cinnamon rolls.

I read a blogger here on SP once equate these falls with getting a traffic ticket. If you get a ticket, do you spend the rest of the day running red lights and speeding? No. So why does a diet slip up avalanche into a full day/week/month/year of bad choices??? It doesn't have to.

Today I'm doing better. I have some spiced up veggies roasting in the oven for lunch as I type this. Hubby is home today and spending some MUCH needed time with the little person, allowing me a bit of time to decompress. And life goes on.

Without the cinnamon rolls.





Thursday, January 10, 2013
I get to the gym whenever I can make time in my day. It differs from day to day, unlike a lot of people at my gym who seem to have a routine. Yesterday I went in the late afternoon and it was BUSY! Nearly every piece of cardio equipment in the women's gym (where I hide out most days) was taken, as were a lot of pieces of weight equipment. There were also a lot of new faces, puffing ladies, and loudly clanking weights from inexperienced users.

This morning I went and it was just myself and 2 other ladies. I was chugging away on my elliptical (reading some sappy romance on my kindle) when the lady a few feet away spoke up.

"I'm so glad there aren't any "resolutionists" here today!" She said.

I just looked at her (a little annoyed because my hero had just met his brother's mail order bride at the train depot and sparks were flying - I wanted to keep reading, not talking). "Resolutionists?"

"Yes, those people who aren't really going to get healthy, they just made a resolution to lose weight. They join in January, come for a few weeks, hog the equipment, don't clean it off.... you know."

"You don't think people should set new goals to get healthy?" I was somewher between annoyed and confused (I really wanted to get back to my book!)

She huffed, and said, "I've just never seen one stick around!"

Now... usually this is where I would choose to be quiet rather than offend someone. But I remember that hostile feeling from fellow gym users last year. That feeling that I didn't belong. So I put my beautiful heroine and civil-war scarred hero on hold to say, "Sure you have! Last year I joined on the New years special. And then I lost 70# to give me a total loss of 180#."

Her face dropped a bit. "But I've seen you here before".

I just smiled. "Yep, I'm here a lot. But last January I was one of your "Resolutionists". "

She gave me a confused look, and I returned to my book.

This encounter made me wonder if I was welcoming last night. Did I smile at anyone? I know I didn't offer to help anyone struggling with the equipment. I should have. Next time I go I will if I have an opportunity. Every gym member had a first day, a first week, a first month. Heck! My first day I literally fell off the elliptical! Oh how this lady would have laughed and rolled her eyes at me.

So... if you are a "Resolutionist", GOOD FOR YOU! Keep it up! Ignore those of us that are rude, or oblivious to you as you learn the equipment. Some of us don't mean to be... we are just focused elsewhere. But go back tomorrow. And the next day. Ask a staff member to teach you about equipment you want to use. Because before you know it, you'll be a "regular", and no longer falling off the elliptical!

And if you go to my gym, and see me working away as I zone out in book, feel free to interrupt me and ask for help.

Just beware that I may feel compelled to share the plot of whatever trashy romance I'm reading at the moment with you.





Wednesday, January 09, 2013
A few days ago, I was working out with some AMAZING women I've been blessed to meet at my gym through my trainer, Sarah. And I have to admit... it is such a blessing to laugh at ourselves in an environment filled with love, support, and understanding.

Now, I met Sarah a year ago. I had already successfully lost a significant amount of weight, but was gaining it back at a rapid pace. And I had NEVER tried to incorporate fitness into my life. Diet, yes. Fitness, never. So my husband and I decided we would join a gym. I'd never been to a gym before and was TERRIFIED of it. My hubby was working, so I drove myself down there to join. And had a full blown panic attack in the parking lot. After the cold sweats and hyperventilating eased, I went inside and joined. The membership guy told me that hubby and I each got a "free session" with a trainer with our membership, and did I want a male or female? I told him I didn't care.

That evening, Hubby and I went back. I climbed onto the elliptical machine, thinking "How hard can it be?" I started pedaling.... then things just got jumbled up, and my un-graceful self literally fell off. Onto the carpet. In front of everyone. (Not one of my prouder moments). The membership guy I'd spoken with earlier came running out of his glass-enclosed office to ensure I was okay. He smiled and said, "I think Sarah would be the perfect trainer for you". Truer words were never spoken.

Sarah is the first person in my life who I've ever met and felt ZERO judgement from. Not even for a moment. She accepted my 310#, un-coordinated, un-athletic self completely. Instead, she just set about educating me. Teaching me how to use the equipment. Teaching me about my body and nutrition. Teaching me the basic math of weight loss and gain. And somewhere in the past year, we stopped being teacher/student and began being friends. When I ran my first race (a 1 mile fun run) last June, she ran beside me. When I had my miscarriage in August, she was the first person I texted after my husband. She is my biggest cheerleader while constantly pushing me to the next level. I think every single person should have a Sarah.

So anyway..... there I was in the gravity gym with a motley group Sarah has put together, grunting and groaning as she pushes us out of our comfort zones. We were talking about medical issues one of the ladies is experiencing and how it may be impacting her weight gain/loss. And I blurt out... "All my life I kept wishing for a thyroid problem. But darn it! My thyroid is perfect!"

And we all burst out laughing. Because it was so true. And so understood by this incredible group of women. We had all been there in our lives... actually wishing for a medical issue that would explain our weight issues. And for some people, it is true. For some people, there are medical complications. But for so many of us (particularly for me), it is not. I have endured some serious medical issues, and know the frustration and fear that comes with them. And my comment was rather flippant and probably disrespectful to those that do struggle with thyroid problems (although not meant that way!).

But for ME, it is another confrontation of the truth: My body is not broken. My mind was. For YEARS, I lamented, "I will do ANYTHING to lose this weight". Really, Judy Lynn? Anything? Will you consistently eat right? Will you stop the binge eating? Will you get off the couch and get active? Will you look your emotional demons in the eye and deal with them?

No. Those things I wasn't ready to do. My body wasn't the problem. It was the side-effect of the problem. My wounds weren't a problematic thyroid or gland issue. My wounds were emotional, and truer and deeper than anyone could have imagined.

Does my body have issues? Yes. Do I struggle to overcome things that are counter productive to weight loss? Yes. I've been struggling with PCOS since I was a young teenager, so I know how frustrating things like that can be. But I guess I'm ready to take responsibility for my weight, and the damage that I have done to my body. My PCOS is to blame for a lot of things.... but binge eating emotionally is not one of them.

I may be uncoordinated. I may be unathletic. I may be almost 39, and 80+# overweight still. But I am also capable. And I am determined. And I am worthy. Just as I am.

So with that thought..... I'm off to the gym! Look out elliptical! I'm no longer scared of you.





Monday, January 07, 2013
I have read and re-read my last blog entry several times. I find it amazing that this particular blog post received so much feedback, because it was an uncomfortable post to put out there. It was an acknowledgment of something I've been avoiding and denying for far too long.

For the past year, I have had my ticker set for my CURRENT weight loss (past years worth). When people asked me how much weight I'd lost, I'd proudly tell them the number of pounds I'd lost in 2012. At each 10# accomplishment, I'd post a picture stating that I'd lost that amount. Why is this significant? Because there was another 110# that had been lost. Another 110# of history that I was pretending didn't exist. I find that peculiar now that I think about it.

As I read and re-read yesterday's blog, and noticed my verbiage in conversations with friends today, I realize that when I think/talk about the time in my life that my weight spiraled to over 400#, I don't talk about it in the first person. I say "that girl", or "she". Never "me", or "I". I am separating myself from the person that I was. Separating myself from the place of self-loathing, sadness, and hopelessness. And in a way, it is separate. I have worked very hard for over a decade to fight my way out of that. HOWEVER! Something is screaming at me loud and clear today.

I hated myself 11 years ago. I hated what I had allowed to happen to my body. I hated the way I looked and moved. I hated the clothes I wore, and the way people stared at me in public. I hated that I didn't fit in normal furniture, and I hated how many pieces of furniture met their demise under the weight of my girth. I hated how I binged in private, as though the secret didn't show in every pound I wore. I hated myself for being weak. I hated myself for not being smart enough to find a solution. I hated myself. And worse..... I believed that because I hated myself, there was nothing lovable about me. I expected others to hate me, too.

Flash forward 11 years, and I realize that in order to get to my goal weight, I must learn to show love to myself NOW! Today! I must love myself enough to take care of myself. You destroy the things you hate. You build up the things you love. So was it any wonder that my hatred for myself continued to destroy me?

Oh, how I wish I could go back and talk to my 420#, 27 year old self! What a different experience I may have had.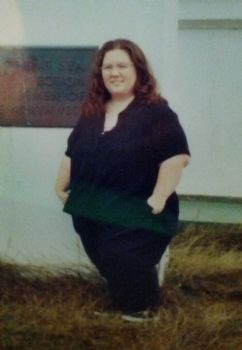 I would want this girl to stand proud! She is a survivor! No one else knows the path she has taken. The fire that God asked her to walk through. And she deserves to feel proud and worthy. I would love to tell her that her worth is not measured on the scale, but rather by her heart. I would tell her to try and see herself for just a moment as God sees her..... valuable beyond measure, created with unique gifts and talents, possessing an ability to love and heal people. I would tell her that this God-given gift she has of accepting people just as they are, in their darkest hour, is more than a career.... it's her path out of the dark. It's her ticket to freedom! But she must turn that grace on herself that she so effortlessly gives to others. I would tell her that one day she would have a daughter who believes she can do anything, and that she likely hung the moon and sets the sun to rise each morning.

And you know the coolest thing? I CAN talk to that girl. Because I am that girl. And her hurts and worries are still carried in my heart. Those old insecurities still sneak out and mess with my mind now and then. So I may try to separate myself from that time because in truth, I am ashamed of it. But I can't. It is a part of my journey. It is a part of who I am. It is a piece of what I've overcome.

So you will see that my ticker now reflects my total weight loss of 180#. In my own little way, it's a means of acceptance.



This is a picture of me about 11 years ago.



This is a picture of me last month. (No, that is NOT a color I chose for my house!

I was helping paint a sunday school room for our new church)

Guess what? I am no more worthy of love in the second picture than I am in the first. I may be thinner. I may have become more successful in reaching my weight loss goals. I may be happier with my life circumstances. But I am no more worthy of love and respect.

My point? I am forgiving "that" girl, and deciding to love her now. I'm sorry that I couldn't love her more at the time. And if you're reading this, and you feel like you can't get out of that pit, or feel like you aren't worthy of love, please, PLEASE reconsider. You are so unique and special. You are so worthy of love. And you deserve to meet your goals. You deserve to be healthy and enjoy life.

You deserve it all.

We all do.






Sunday, January 06, 2013
"I am not trying to be a super model".

I have said this so many times lately. In response to people's questions about my weight loss goals. In response to my physician's inquiry about why I want my excess skin removed from my tummy area.

Nope. I'm not trying to be a super model. It was never in the cards, and never a part of my aspirations.

11 years ago, this was me: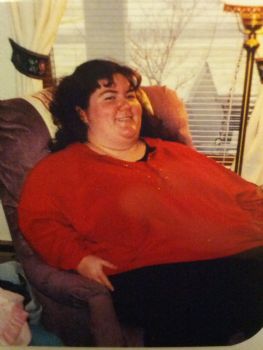 Behind that smile was more self loathing and hatred than any one person should ever tolerate. That girl prayed at night that she would die. That girl was miserable. That girl had ALMOST given up. ALMOST.

'Almost' has to be one of the most important words in the English language. It expresses the difference between what is/was and what COULD have been. That girl ALMOST ate herself to death. That girl ALMOST allowed her weight and food addiction to keep her from every good thing life has to offer. ALMOST.

But she didn't.

So why do I do this? I am doing this because I fought my way out of that place for a reason. I fought my way to this place: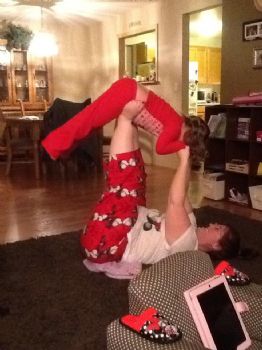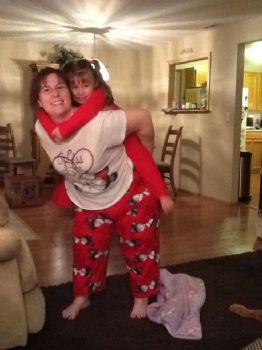 There is no self-loathing behind that smile. There is joy. My life has so much meaning, so much joy. Blessings that I couldn't have dreamed of 11 years ago. And I know that if I stick to it, it can only get better. I can only get stronger. I can only be a stronger role model for my beautiful, priceless daughter. If I do this, she will grow up saying "I can" rather than "I can't". I do this so that I can be the mom playing on the floor with my girl, rather than the woman who prays to die. I do this so that I can see beyond self-loathing to the beautiful blessings that God has showered on me. I do this to honor the God who created and loves me.

Nope.... being a super model has nothing to do with this. I am doing this for me. And because I NEVER want to go back to that dark, sad, lonely place. I want to live with joy.

And I am.




First Page
1
2
3
4 5 6 7 8 9 10 11 12 13 14 15 16 17 18 19 20 21 22 23 24 25 26 27 28 29 Last Page

Get An Email Alert Each Time JOYFULJUDYLYNN Posts