| | |
| --- | --- |
| | JOYCE12356's Recent Blog Entries |


Tuesday, July 10, 2012
...and not a good one!

OK, so 7/1 I started to put more focus on me again...getting more consistent and higher intensity workouts in, trying to eat better, etc. Soooo...it lasted until the 4th HAHAHA! Quite a record there, let me tell you.

And actually from the 4th - 8th it wasn't ALL bad. I was more careful about what I ate and how much I ate than I would have in the past. I didn't get as much exercise in as I had hoped...partly because of the heat and partly because I think I overdid it with the kettlebell workout. Honestly I think it took me 3 days to walk normally again! The other main reason for a lot of my lack of ambition was due to lack of sleep. Up late every night from Wedn through Saturday (4th celebrations Wedn; older daughter home from Jersey - pulled in around midnight Thurs; out with our other daughter for her 21st bday Friday; attempting to wait up for the same daughter to get home with her friends she went out with Sat), by Sunday I really started to feel like crap.

So...4 days of relative inactivity, hot, humid weather, going each day on 5-6 hours of sleep, eating too many carbs, drinking too many "adult" drinks = feeling tired, bloated, crampy - really just completely blah.

Sunday morning - even though it was still quite warm and humid out, I had to get out and go for a walk. It wasn't a fast-paced walk and we didn't walk as far as normal, but I had to do something. The only way I could explain it was that I felt like my body was just going to explode!

Monday morning, temps and humidity were much lower, so after 4 loads of laundry, I mowed the yard working up a good sweat! Monday evening, a nice walk with my hubby.

This morning - another nice walk with a friend.

I've also been more careful on the eating. Eating more fresh veggies, fruit and salad and less carbs and snacks. Plus, I've gotten between 7 and 8 hours of sleep the last couple of nights. And of course, a large reduction in alcohol intake!

I can say I'm feeling a WHOLE lot better today than I did a couple days ago. When I restarted this "me" focus last week, I thought I was really going to need some good motivation to get me through. I wasn't wrong. This past weekend reminded me how gross I feel when I do not treat my body well. I'm quickly re-learning how well I feel, when I do things that are good for me.

So, the next time you go on a binge or fall off the wagon or whatever else you want to call it, pay attention to how you feel. It makes getting back to the healthier choices a little easier knowing that you'll feel so much better overall.







Tuesday, July 03, 2012
OK, so kind of lame on the blog title, but whatever...I guess I'm not feeling all that creative at the moment. I just wanted to post a little update on how the first three days of July have gone.

So, I'll get the what I "didn't" do out of the way first...
1. I didn't log my food
2. I forgot to wear my pedometer days 1 and 2
3. I have not yet even picked up the Garmin. :/

BUT....
1. I did not intend on logging my food, so why did I even mention this??? I did do better at eating less and I'm working on choosing healthier snacks. I still struggle when I want something salty...my first turn is toward the corn chips (like Tostitos) and salsa...not terrible, but not great either. My next choice is crackers and I've really gotten tired of the Wheat Thins and other similar varieties and of course my hubby always has Cheez-its around. The good thing is that they aren't my favorite so I don't eat a lot of them. I have been eating a lot of trail mix...so while a little high in calories due to the nuts, at least I'm eating raisins (which makes all the girls at the Red Cross happy because they tell me to eat them all the time to help keep my iron up so I can continue to regularly donate platelets).

2. I didn't wear my pedometer, but it didn't keep me from exercising!! My hubby and I took about a 5 mile walk Sunday morning. Monday morning, my neighbor and I walked about 3 miles and then in the evening my hubby and I walked again, around 2 1/2 miles. This morning, my neighbor couldn't walk and my other friend is at the beach. I thought about walking by myself and maybe getting in some jog intervals, but instead decided to do the kettlebell workout. I did all three segments instead of only two. My butt and hamstrings are feeling it!!! Then, hubby and I did the same 2 1/2 mi walk this evening.

3. The Garmin...yeah about that. One of these days!

So, I'm working on a plan at least. Getting things in motion. I'm definitely in a more positive frame of mind at the moment. Life is good.

I also know that I have to do what I can to remain active and keep my eating (and drinking) in check this week. With the 4th tomorrow including a picnic at a neighbor's, my younger daughter's 21st birthday on Saturday, and my older daughter making it home from NJ this weekend...there will be lots of opportunities for less than healthy choices. As long as I minimize those and stay active, I'll be happy.




Have a wonderful, safe, and healthy 4th of July!







Sunday, July 01, 2012
First day of a new month. First day of a new me. Well, not really. I really started this journey several years ago. So it's not like completely starting over. I've learned a lot and maintained many things, but have let some things slip. The last couple of months have been like a whirlwind...busy with family stuff, two awesome vacations (two in one year is not common), and I just didn't focus much on me. Granted, I stayed active, but didn't do well at logging my activity and I haven't logged my food in a long time. I'm not certain I will re-start the food logging again - at least not right away. I know that if I try to do too many things at once, I let myself feel over whelmed and then quit.

So, I'm going to do better tracking my activity, using my pedometer, and figuring out how to use the Garmin heart monitor my hubby got me for Christmas. It's not the Garmin I would have gotten myself, but I know he wanted to try to get me something special and I feel bad I haven't used it yet.

Here's to a great July!





Wednesday, June 20, 2012
Today is the 25th anniversary of the day my hubby and I each said "I do"!



While 25 years sounds like a long time (and I'm sure there were times when it seemed like we'd never make it this far), sitting here thinking back...it sure doesn't seem like that long ago.

I guess the old saying "time flies when you're having fun" is true. Or maybe it's more, time flies when you're busy. Either way...if it's "busy time" or "fun time", I think the key has been making the best of it all. We've grown (getting married at almost 20 and 24 leaves a LOT of room for that), we've changed, we've been through good and bad, but through it all, we adjusted, accommodated, compromised, discussed, and yeah yelled and fought. I think it comes with the territory. I've also recently read that marriage counselors like to see you fight...that shows them that you still care about each other (because if you didn't, why bother wasting the energy to fight?).

We've given each other space and we've found activities that we like to do together - which is really important now that the kids are getting closer to the moving out stage of their lives. One thing we both like to do is travel...now only if we could afford to do it more often, lol! Anyway, to celebrate our first 25 years together, we went to the island of Kaua'i...the Western-most of the largest Hawaiian Islands. It was awesome and can be used to sum up some important things that have helped our marriage work.

Try something new...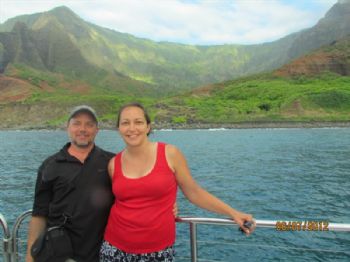 Napali Coast - no road access, only to be seen by boat or helicopter. Worth the trip even if you tend to get a little seasick. Word of advice on the dinner cruise: eat lightly and be careful with the free mai tai's. :) I didn't get sick...honest!!!

Stay active together and support each other over the rough spots...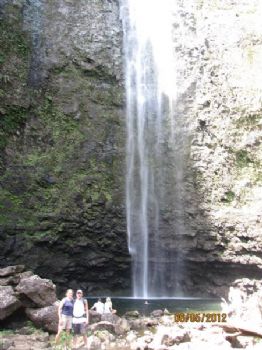 Hanakapi'ai Falls - only accessible by a hiking trail. It was 2 miles in to the beach and then 1.8 miles up to the falls. 7.6 miles round trip of fairly rugged hiking. It was hard but we had a blast.

Think big...you never know what you might find or accomplish...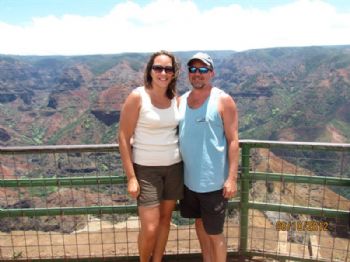 Waimea Canyon - this was just a drive up to this lookout, but well worth it. The pictures just don't do it justice.

Take time to relax and enjoy...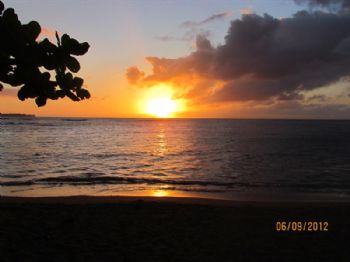 Sunset on the beach at our resort in Hanalei Bay on our last evening there. No real comments needed...just enjoy the beauty that life has to offer.

Cheers!







Tuesday, March 20, 2012
So, like I've mentioned to many of my friends and family as well as constantly remind myself...we need to pay attention to the small things while on this journey. So, I didn't have a big change on the scale...no "biggest loser" 5, 10, or 15 lb loss! I also had no changes in my measurements from Feb 1 to Mar2. Jan and Feb was dedicated to the C25K program...I did well until I got up to the last week and was supposed to do 30-35 min straight runs. I did 30 min. Two days later when I was supposed to do 35 min, I guess I just wasn't feeling well and couldn't last 10 minutes jogging. Disappointed yes, but I didn't give up. I just backed up...back to doing intervals unless I feel good during a run and then go longer. I really have learned to just listen to my body.

However, just the first week of this month, I re-started a strength training program. I chose the days and what type of workout and then I let Sparks decide the exercises I would do. Well, Tuesday is my core (abs/back) day. My workout includes modified planks (1 min hold, do 2) and side planks (30 sec hold, do 2 each side). Day 1 of this workout (Mar 6) found me huffing and puffing, whole body shaking, and me praying that the time would just move faster and be done already. Today, I held each plank, breathing normally, and just a little shaking - mostly just on the side planks at the end of the second set.

There was a time in my life where I wouldn't have accepted this as a moment of celebration. I would have thought that it was about time and that it was still weak - I should be holding a regular plank for 2 minutes and the side planks for a minute or more. Now I am realizing that all of these changes are worth celebrating.

So, since all my C25K training was done on the treadmill, am I angry or disappointed that when I ran outside today, I had to stop after 1/2 mile to walk? No way. The road isn't moving under my feet. I am supplying all of the power...and there are hills!!




Moving on and celebrating all of the successes along the way...no matter how small they may seem.





1 2 3 4 5 6 7 8 Last Page

Get An Email Alert Each Time JOYCE12356 Posts