| | |
| --- | --- |
| | JOHNTJ1's Recent Blog Entries |


Monday, March 07, 2011
The scariest part of my day comes when I find myself with nothing to do. There is a blank space on the calendar, the phone doesn't ring, and no one knocks on the door. There is no b log to write, no seminar to conduct, no client to assist. It is simply quiet and I am left looking at me. We've been taught, conditioned, use whatever word that suits you, that our worth and value are determined by how much activity goes on during the course of our day. "An idle mind is the devils work shop," and all that other hubris. Words like "stressed" or "worn out" are used as labels to evaluate the pecking order in our world.

I have tried and failed many times in my life to manage my health. It always seems that one area or the other is lacking and I always feel slightly off center. A good friend blogged the other day about abusing food when she was tired. I had to raise my hand and join that group of people. When I put ten pounds of sugar in a five pound sack it usually means I run out of gas earlier in the day then I'd like and I don't really care what goes in my mouth. Usually it's something, quick, convenient and not in my own best interest. But, hey, I'm a busy guy!!! I have things to do. I have to go-go-go!!! Right?

I was at the gym the other morning when I had one of these "Ah-Ha Moments." I was impatient. I needed to get going, get things done and the people using the equipment I needed were not cooperating with me at all. Suddenly, this little voice inside my head "Where are you in such a hurry to get to, John?" I'll cut to the chase. The answer was nowhere. Oh, I had things to do that day, but I was hell-bent upon getting them all done in an hour. I was in a hurry and the more I hurried the more tense I became. It's a vicious cycle most days. Being honest with myself means I have to look at how I manage my life, say good-bye to my excuses, and learn to manage my energy. It means I need to be okay with not being active and realize it is indeed a healthy practice and not some sign that I am some sort of slacker.

On top of being really good looking I also read minds. Some of you reading this are saying, "Yeah, but he doesn't know what my life is like. He doesn't know how really busy I am!!" I'll issue a bit of a challenge then. Sit down with a piece of paper and ask yourself how much of your "busyness" is necessary and how much of it is created to keep you from really getting a handle on you? The first time I did it I crumpled up the paper, and threw it in the garbage. Everything I did was necessary!!!! Well, I'll clue ya in on something. You can throw the paper away but you can't throw the thought or intention away.

What I came to realize is I put all my worth and value in being active. If I couldn't be liked or loved for looking good I'd be liked and loved for being a whirling dervish. I never saw that I was loved, respected and appreciated for who I was. I only learned it when I created time in my day for silence and balance and some days simply sitting and staring out my kitchen windows. I'm not suggesting you quit your job and abandon your family. I'm saying that when you look at those activities that keep you and me from looking at ourselves simply remove a few and use the time to improve yourself.

My favorite quote in the Bible goes something like this: "No person can serve two masters. They will love one and hate the other." I can't pursue a path to a healthier life as long as I leave room for unhealthy activity.

Have a great Monday.






Friday, March 04, 2011

Availible on youtube @
http://www.youtube.com/watch?v=NN54Figt5
p4





Thursday, March 03, 2011
Someone snapped this photo of me Saturday and found my email address via bib number and sent it my way. Just thought I'd share.......

My immediate reaction is I need running shorts that fit, LOL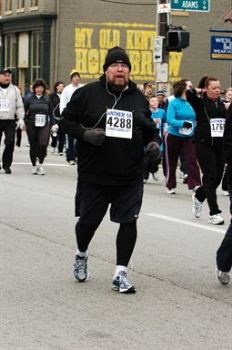 Thursday, March 03, 2011
If I told you I found the secret to success and happiness; if I told you that you could wrap up all of your self-help books and sell them at the book and music exchange; if I told you that you never had to track your food or exercise, ever again you wouldn't believe me, would you? You'd be anticipating that now famous line "But wait there's more……" Well, friends I found it, quite by accident, but I found it and it's as plain as the nose on my face. It's called honesty, more specifically being honest with myself. I can be honest with and about you until the cows come home. I can be supportive and loving and all that cool stuff but until I am honest with myself about who and what I am and how far I need to travel, then it's just a really nice exercise.

BTW: Honesty does not mean beating yourself up. It's why we are afraid to examine it. Some brilliant person many eons ago took the basic principle of physics and applied it to everything in God's creation: "For every action there is an equal and opposite reaction." We've taken that maxim and engraved it upon our souls altering it to mean "For every fault there should be an equal amount of guilt, pain and frustration and oh BTW I'll never into my dream outfit!!!"

So let me be honest

I abuse food. It's my drug of choice. Everything I have learned in the past fifty seven years tells me what is good for my body and what will ultimately harm it. I choose to ignore those warnings. I'd rather dwell on how difficult it is and give myself a pass. My grocery store has two entrances. The first leads you right into the produce and health food departments. That's where all the good stuff is. The second entrance barely allows you the opportunity to catch your breath when you are accosted by a display of cookies, cakes donuts, pies or candy, depending on the time of week or the season. I know when I walk through door two I am most likely going to grab something that isn't good for me. It may taste good. It may provide some gastric pleasure, but when I step on the scale every Thursday I really shouldn't be too surprised when the needle doesn't move, should I? If I walk through door number one I am more likely to get a more positive result. Door two tastes better but door one gives me a long term result…… one I am looking for.

Honesty drives everything about us. Only I know when I'm not telling you the truth but in short order it begins to show. When I am not honest with myself I get results because I can adjust the way I live to help me reach my goals and objectives. When I tell myself "it's okay to cheat," then as my trainer told me once when I wouldn't hold a plank correctly, "The only person you are cheating is yourself, John." Amen.

You don't need to take a billboard out on the interstate and advertise your flaws. Find out what's holding you back and come up with a plan to deal with it. Pat yourself on the back for being brilliant enough to think of it. Honesty has nothing to do with guilt. It has everything to do with seeing how far you've come and realizing how far you have to go. We treat it as a sad occasion but really, isn't it a cause to celebrate? You've found the secret of your success.






Tuesday, March 01, 2011
Opinions are like elbows, everybody has one. All you have to do is look out into the blogosphere and you will find that anyone with a lap top and an internet connection can espouse truths for all of creation, for all of time. Just ask me, LOL. I'm one of them. Who do you listen to? Who's right, who's wrong? Who do you listen to? I am learning that as I build my own self confidence that the person I listen most to is me. I have trusted friends, people who guide me and whose opinions I really respect but in the end, it's me I listen to, because I know me, love me and respect me better than anyone I know. I couldn't have said those two years ago. Like a lot of us I had a dark and dirty secret: I followed the crowd. I latched on to the trends and fads. I did it to be accepted and after all aren't "all of us smarter than one of us?" Not always.I am learning that while you and I are so much alike we are also so very different from each other. I am learning that I can gain wisdom from many sources and then patch it together like a beautiful quilt that will help me reach my goals. I make it mine.

Back in October, when I fell and injured myself, I did not want to run in that race. I didn't feel ready, but my son and daughter-in-law, fresh from their honeymoon and all of full of joy and bliss "really wanted to do this with me. It would be special." I didn't feel right about it. In my mind I wasn't prepared for it and even before I tripped and fell I just didn't feel like things were going very well. I should have begged out. Lord knows there are other races to be run, but I didn't and I suffered the consequences. I didn't want to hurt their feelings. That taught me a major life lesson. It taught me that in a really healthy way my well-being comes first. If you read my blog yesterday you know something good came out of that experience but I can't help but wonder, if I had went with my gut feeling, would I be a bit further along.

God often reminds me that He can't do the things I ask for until I get out of the way and let Him. I do them for the same reasons you do. I want to be liked, loved and feel a part of the group. I don't trust myself because in my deepest darkest soul all I can see sometimes is the flaws, and the mistakes. So I cling to other peoples thoughts at times and pray that if they worked for them they have to work for me. Wont I be loved then, just like everyone else?

Don't misunderstand. I have trusted advisors. I have people whose opinions mean a lot to me. Some of them are here at Spark, and what they have taught me is to value myself. What works for me isn't always going to work for you. I have to continue growing if my own faith and my own confidence in my ability to make the best decision for me.

In the end the long term gain far outweighs the short term pain. There is a lot to be said for the old phrase "To thine own self be true."




First Page
1
2
3
4
5
6
7
8
9
10
11
12
13
14
15
16
17
18
19
20
21
22
23
24
25
26
27
28
29
30
31
32
33
34
35
36
37
38
39
40
41
42
43
44
45
46
47
48
49
50
51
52
53
54
55
56
57
58
59
60
61
62
63
64
65
66
67
68
69
70
71
72
73
74
75
76
77
78
79
80
81
82
83
84
85
86
87
88
89
90
91
92
93
94
95
96
97
98
99
100
101
102
103
104
105
106
107
108
109
110
111
112
113
114
115
116
117
118
119
120 121 122 123 124 125 126 127 128 129 130 131 132 133 134 135 136 137 138 139 140 141 142 143 144 145 146 147 148 149 150 151 152 153 154 155 156 157 158 159 160 161 162 163 164 165 166 167 168 169 170 171 172 173 174 175 176 177 178 179 180 181 182 183 184 185 186 187 188 189 190 191 192 Last Page

Get An Email Alert Each Time JOHNTJ1 Posts