| | |
| --- | --- |
| | JOHNTJ1's Recent Blog Entries |


Thursday, March 03, 2011
Someone snapped this photo of me Saturday and found my email address via bib number and sent it my way. Just thought I'd share.......

My immediate reaction is I need running shorts that fit, LOL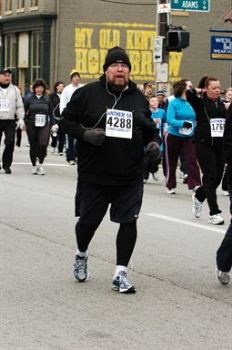 Thursday, March 03, 2011
If I told you I found the secret to success and happiness; if I told you that you could wrap up all of your self-help books and sell them at the book and music exchange; if I told you that you never had to track your food or exercise, ever again you wouldn't believe me, would you? You'd be anticipating that now famous line "But wait there's more……" Well, friends I found it, quite by accident, but I found it and it's as plain as the nose on my face. It's called honesty, more specifically being honest with myself. I can be honest with and about you until the cows come home. I can be supportive and loving and all that cool stuff but until I am honest with myself about who and what I am and how far I need to travel, then it's just a really nice exercise.

BTW: Honesty does not mean beating yourself up. It's why we are afraid to examine it. Some brilliant person many eons ago took the basic principle of physics and applied it to everything in God's creation: "For every action there is an equal and opposite reaction." We've taken that maxim and engraved it upon our souls altering it to mean "For every fault there should be an equal amount of guilt, pain and frustration and oh BTW I'll never into my dream outfit!!!"

So let me be honest

I abuse food. It's my drug of choice. Everything I have learned in the past fifty seven years tells me what is good for my body and what will ultimately harm it. I choose to ignore those warnings. I'd rather dwell on how difficult it is and give myself a pass. My grocery store has two entrances. The first leads you right into the produce and health food departments. That's where all the good stuff is. The second entrance barely allows you the opportunity to catch your breath when you are accosted by a display of cookies, cakes donuts, pies or candy, depending on the time of week or the season. I know when I walk through door two I am most likely going to grab something that isn't good for me. It may taste good. It may provide some gastric pleasure, but when I step on the scale every Thursday I really shouldn't be too surprised when the needle doesn't move, should I? If I walk through door number one I am more likely to get a more positive result. Door two tastes better but door one gives me a long term result…… one I am looking for.

Honesty drives everything about us. Only I know when I'm not telling you the truth but in short order it begins to show. When I am not honest with myself I get results because I can adjust the way I live to help me reach my goals and objectives. When I tell myself "it's okay to cheat," then as my trainer told me once when I wouldn't hold a plank correctly, "The only person you are cheating is yourself, John." Amen.

You don't need to take a billboard out on the interstate and advertise your flaws. Find out what's holding you back and come up with a plan to deal with it. Pat yourself on the back for being brilliant enough to think of it. Honesty has nothing to do with guilt. It has everything to do with seeing how far you've come and realizing how far you have to go. We treat it as a sad occasion but really, isn't it a cause to celebrate? You've found the secret of your success.






Tuesday, March 01, 2011
Opinions are like elbows, everybody has one. All you have to do is look out into the blogosphere and you will find that anyone with a lap top and an internet connection can espouse truths for all of creation, for all of time. Just ask me, LOL. I'm one of them. Who do you listen to? Who's right, who's wrong? Who do you listen to? I am learning that as I build my own self confidence that the person I listen most to is me. I have trusted friends, people who guide me and whose opinions I really respect but in the end, it's me I listen to, because I know me, love me and respect me better than anyone I know. I couldn't have said those two years ago. Like a lot of us I had a dark and dirty secret: I followed the crowd. I latched on to the trends and fads. I did it to be accepted and after all aren't "all of us smarter than one of us?" Not always.I am learning that while you and I are so much alike we are also so very different from each other. I am learning that I can gain wisdom from many sources and then patch it together like a beautiful quilt that will help me reach my goals. I make it mine.

Back in October, when I fell and injured myself, I did not want to run in that race. I didn't feel ready, but my son and daughter-in-law, fresh from their honeymoon and all of full of joy and bliss "really wanted to do this with me. It would be special." I didn't feel right about it. In my mind I wasn't prepared for it and even before I tripped and fell I just didn't feel like things were going very well. I should have begged out. Lord knows there are other races to be run, but I didn't and I suffered the consequences. I didn't want to hurt their feelings. That taught me a major life lesson. It taught me that in a really healthy way my well-being comes first. If you read my blog yesterday you know something good came out of that experience but I can't help but wonder, if I had went with my gut feeling, would I be a bit further along.

God often reminds me that He can't do the things I ask for until I get out of the way and let Him. I do them for the same reasons you do. I want to be liked, loved and feel a part of the group. I don't trust myself because in my deepest darkest soul all I can see sometimes is the flaws, and the mistakes. So I cling to other peoples thoughts at times and pray that if they worked for them they have to work for me. Wont I be loved then, just like everyone else?

Don't misunderstand. I have trusted advisors. I have people whose opinions mean a lot to me. Some of them are here at Spark, and what they have taught me is to value myself. What works for me isn't always going to work for you. I have to continue growing if my own faith and my own confidence in my ability to make the best decision for me.

In the end the long term gain far outweighs the short term pain. There is a lot to be said for the old phrase "To thine own self be true."






Monday, February 28, 2011
I fell down October 9. I fell down very hard, tore up my right knee and my left wrist. It took my knee over two months to grow new skin and if I hold my wrist the wrong way, a sharp pain shoots up my left arm. Thank goodness I'm still good looking. It was my second 5K. I'd run my first just two weeks earlier. I was full of enthusiasm, joy and determination; until I fell down. My daughter-in-law said that one minute I was right behind her and the next minute she thought, "Huh, John is flying past me. Wait a minute. He's really flying past me!!!" I tripped on an expansion joint in a bridge and fell in a most spectacular manner.

I was determined though. Two days later, arm all wrapped up and knee all bandaged I ran again. You can call me brave or bold or determined. I'll be kind to myself and call it a really bad error in judgment. It hurt, but I was scared, scared that if I didn't keep running I wouldn't be able to run again. It hurt a lot but I kept running. In early December I hurt my left knee. The doctor said it was similar to a race horse stepping the wrong way. He told me it was "bad luck," and to stay off of it for three or four weeks. I walked, pedaled a stationary bike and wondered if I'd ever run again. Mid-way through the month of January I started to run again. I'd run a mile and feel pain in the bottom of both my feet. Initially I wrote it off to not running for a month. The pain got worse. I talked to my doctor who uttered those two words no runner ever wants to hear "Planter fascia." I did what every reasonable person would do, I went home and Googled it. I had one symptom out of four and refused to believe that was the problem. I purchased new running shoes; the pair I was using was eight months old and a bit worn, still no relief. I got new inserts and listened to a small voice in my head that told me to take a week off.

Joan told me in all the years we had been married she had never seen me so frustrated. I would wake up in the middle of the night and lie there trying to figure out what to do. I prayed a lot. I got an answer through a Spark friend who had gone through some suffering and some frustration of their own. It was distilled into one word, repeated over and over," Persevere." I have to admit that when I first read their advice I was a bit disappointed. I was expecting some sort of magic formula. Each day was an exercise in perseverance. There were more dark days then sunny ones. There were days that everything ached. I have an issue where my right leg pronates and the tenser I get the more it pronates until I feel my whole gait falling apart. I consulted a running coach who told me that when I noticed the pronation getting severe to stop running and walk. That hurt my pride!!! My confidence went in the tank. It wasn't only my running, I was no longer sure of anything I was doing. My weight bounced all over the place. I wasn't very motivated, yet every other day I'd go out and run. I had registered for the Anthem 5K in Louisville back in November. It is the first major 5K of the year and usually draws well over ten thousand runners. I kept looking at the calendar and getting more worried. I wasn't sure I could do this!! What is I hurt too bad, what if I stumbled, what if………..?

I was glad Joan had to work Saturday morning. She would come to Louisville later in the day. I would be alone and I was grateful in a way. If I fell apart only a bunch of strangers would see it. I left my hotel and walked to the race sight, about six blocks. It was 35F and it was still dark out. I must have stopped to turn around five times. I could always say it was too cold, or I couldn't find the race sight, or I could come up with something. I was glad I didn't.

If you have ever been around the start of one of these events you know what the electricity is like. It almost crackles in the air. As I warmed up with fourteen thousand other people I started to feel that wonderful tingling in my tummy. It became clear why I persevered. All the aches, the pains, the doubts, the starts and stops were now worth it. I stood there getting ready to run and I can tell you there was no other place I would have rather been. It all made sense to me.

I ran my race, I persevered and as I made the turn to run the last half mile or so down Main Street I gave one of those Tiger Woods fist pumps to myself and yup there were a few tears in my eyes. I crossed the finish line and lifted my eyes towards heaven and mouthed the words "thank you." I have a habit of writing the names of some Spark friends on a piece of paper before I run. They are people who for whatever reason can't run right now. I run for them because frankly during the race I draw some strength from their support. I squeezed that slip of paper.

I persevered. My wise Spark friend was correct. Running is just like life. If you believe, if you want something bad enough you will endure and in the end you will be treated to a most wonderful feeling deep down inside of you. It's a feeling of pride, accomplishment and satisfaction that you did indeed persevere. It may have nothing to do with running but everything to do with you, what you are and who you are about.

If you are reading this and you are skeptical I can tell you six short weeks ago so was I. Then I learned to persevere.






Saturday, February 26, 2011

2



First Page
1
2
3
4
5
6
7
8
9
10
11
12
13
14
15
16
17
18
19
20
21
22
23
24
25
26
27
28
29
30
31
32
33
34
35
36
37
38
39
40
41
42
43
44
45
46
47
48
49
50
51
52
53
54
55
56
57
58
59
60
61
62
63
64
65
66
67
68
69
70
71
72
73
74
75
76
77
78
79
80
81
82
83
84
85
86
87
88
89
90
91
92
93
94
95
96
97
98
99
100
101
102
103
104
105
106
107
108
109
110
111
112
113
114
115
116
117
118
119
120 121 122 123 124 125 126 127 128 129 130 131 132 133 134 135 136 137 138 139 140 141 142 143 144 145 146 147 148 149 150 151 152 153 154 155 156 157 158 159 160 161 162 163 164 165 166 167 168 169 170 171 172 173 174 175 176 177 178 179 180 181 182 183 184 185 186 187 188 189 190 191 Last Page

Get An Email Alert Each Time JOHNTJ1 Posts