| | |
| --- | --- |
| | JOHNTJ1's Recent Blog Entries |



Tuesday, July 17, 2012
Jesus called them "walking graves." They say all the "right things." Reverent platitudes roll off their tongues but when it comes time to put their faith to a test, to do what they tell you and I WE need to do, they scurry into the woodwork like roaches exposed to the light. Maybe you know someone like them.

I walked into the grocery store last. There's a foyer of sorts where they store the grocery carts. Standing off to the side, struggling with a three wheeled bike, was a young lady. She was trying to get on her bike, turn it around and head for home. You could tell she'd been struggling for a while because sweat was pouring down her face. As people walked out of the store she'd ask them for help. I recognized a couple of those people. They sit in church with me every Sunday. They sing loud, they shout "amen," and are quick to point out everyone else's sins and shortcomings and why I'm going to rot in hell for what I believe. As the young lady asked for assistance they sped up, moving quickly towards the parking lot. One little boy asked his mom if they should help. She told him they were in a hurry and yanked him away. As I watched this unfold I walked over and asked if she needed some help. She smiled, brushed her hair out of her eyes and asked me to hold the bike steady so she could climb on the seat. She had a difficult time talking and her gait was stiff but between the two of us we figured out a way to get her on her bike. She couldn't get her legs over the bar in the middle of the bike. As she struggled, I made a couple of suggestions and in a few minutes she was ready to roll. While I was assisting her two employees asked me to hurry up so they could move the carts out of the way. No one, I mean no one, made a move to help.

Jesus called them "walking graves." They say all the "right things." Reverent platitudes roll off their tongues but when it comes time to put their faith to a test, to do what they tell you and I WE need to do, they scurry into the woodwork like roaches exposed to the light. Maybe you know someone like them.

When I was a freshman in high school there was a young man in my home room everyone made fun of. While the rest of us had started to mature physically, he hadn't. His voice was high pitched and he had a youthful chubbiness about him. He was teased mercilessly. The day after school finished for summer he walked into his basement and hung himself.

I never teased him. Quite the contrary, I stayed as far away from him as I could. When he was tripped in the hall I laughed. When people squashed his lunch I giggled. I'd walk real slow as we approached the bus stop. I didn't want to be put in the same group as him. When I found out he had killed himself I didn't really react one way or the other. It wasn't until I was in college that I started thinking about him or rather my behavior towards him. In a nutshell, I wasn't proud. I found his grave and every time I am in Milwaukee, I stop by for a visit. It's a painful reminder to me that my inaction was a harmful as all the teasing. Understand me; I am not one of those folks who believe he can save the world. I don't know if my actions would have made a difference or not, but ya know what? We'll never know.

God puts angels in our paths each day and those angels, whether they appeal to our private notion of what's right or wrong give us an opportunity to share some of our joy, our peace and our love. They are not always size zeros or 28 inch waists with rippling muscles. They have trouble getting on their bikes or can't quite seem to get the hang of making friends, but they are angels. They are our gifts from God Many of us utilize personal trainers to help us reach our fitness goals. Yesterday, I believe I was given the opportunity to "train" and practice what I really believe.

"Love one another as I have loved you." Unfortunately, I often reconstruct that line to read "Love one another as long as you live where I do, believe what I believe and think what I think. If you do, then I love you."

In our desire and zeal to become fit and nutritious we leave out the most important part. It's the part where we nourish our spirits and souls.

Namaste






Tuesday, July 10, 2012

2





Friday, July 06, 2012
Years ago, the motivational speaker and author Zig Ziglar defined commitment this way "When you want to understand committing yourself to something look at a plate of bacon and eggs. The chicken made a contribution, the pig made a commitment."

I met Kait Seyal in November of 2011. She waited tables at a restaurant I frequent and not only did she provide excellent service

we soon became friends. Kait told me of her love for animals, especially dogs, and her commitment to animal rescue and pet therapy for the sick, disabled and elderly.




She and her husband John were looking for a way to bring attention to abused and abandoned animals and the real value of using pets to aid people in their recovery. So they decided to do something small and insignificant (LOL) They quit their jobs, packed up their belongings and decided they and their two dogs would hike from Delaware to San Francisco. They began their journey in late March and as of yesterday had reached Iowa.

I could go on and on but I'd rather give you the link to their blog. It speaks to their journey and commitment to their cause more eloquently than I ever could. As I follow them on their journey I examine my own commitments. If you get a chance stop by and follow their journey.

Here is the Link

http://www.dogblogusa.com






Wednesday, July 04, 2012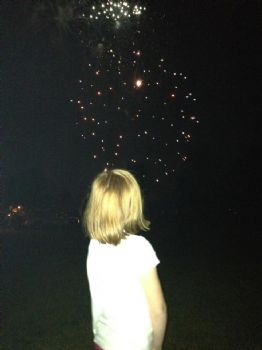 She looked up at the sky, eyes wide with amazement and awe. I saw the joy only a young child has for the simple and truly awesome things of life. As I watched her it struck me that she is the embodiment of this holiday we celebrate in the USA. She is independent to make any choice she wants for her life. She is free to walk any path she chooses and there is no retreating from the magical and mystical life she lives.

She is free and while she gazes skyward beside her stand thousands, nay millions of people, each who made a sacrifice, large or small, so she had the right to choose her own path; her own destiny.

Over two hundred years ago a group of men gathered to put their names to a document that read in part "We hold these truths to be self evident, that all men are created equal." There we no exceptions. Those independent men had the courage to separate themselves and define a new existence.

As she stood in the field commemorating that event, all those who came before her stood there also.





Saturday, June 30, 2012
Never Quit Pledge

Friday, June 29, 2012

Today, I promise I will not quit.
I pledge that no matter, how many ups and downs I pass through, I will continue on my journey.
I pledge to make a NEW START today, and forgive myself for my past, and to stop being so critical of myself.
I pledge to take control of myself, to stop making excuses, and stop blaming other people or situations.
I pledge to treat myself as I would my best friend, because that is who I am.
I pledge to stay in the race and to be a WINNER!

signed: Leisa (Sunflowergal40)
04/26/12

Signed: Chris (chriskenandkids)
04/26/12

Signed: Linda (scoutmom715)
04/27/12

Signed: Nancy (tedybear2838)

(from Linda S. Jayne (Geminisue)

Signed: Vicki aka VICKI-B--56


Signed; Pixie (Pixie-Licious)

Signed: Gloria (GloriaB73)

signed Fran

Signed Sarah (Millie 5522)

Signed Shelby (theshelbster)

Signed Beckie (BIRKIE528)

Signed Debaune (Doobie893)

Signed by Wallahalla on Friday, June 29, 2012

Signed by Karen (MAMAWALMART) on June 29,2012

Signed by Sibille (musolf6) Friday June 29,2012

Signed Shirley (Lookingup2012) Friday, June 29, 2012 who needs to do this because she quit SP three times in 3 years.

Signed Susan (catladyx8) Friday June 29, 2012

Signed John (Johntj1) Saturday June 30, 2012

Will you blog and post the Never Quit Pledge, today/soon?
Let's spread it through Sparks, so all can have the choice to commit!



First Page
1
2
3
4
5
6
7
8
9
10
11
12
13
14
15
16
17
18
19
20
21
22
23
24
25
26
27
28
29
30
31
32
33
34
35
36
37
38
39
40
41
42
43
44
45
46
47
48
49
50
51
52
53
54
55
56 57 58 59 60 61 62 63 64 65 66 67 68 69 70 71 72 73 74 75 76 77 78 79 80 81 82 83 84 85 86 87 88 89 90 91 92 93 94 95 96 97 98 99 100 101 102 103 104 105 106 107 108 109 110 111 112 113 114 115 116 117 118 119 120 121 122 123 124 125 126 127 128 129 130 131 132 133 134 135 136 137 138 139 140 141 142 143 144 145 146 147 148 149 150 151 152 153 154 155 156 157 158 159 160 161 162 163 164 165 166 167 168 169 170 171 172 173 174 Last Page

Get An Email Alert Each Time JOHNTJ1 Posts