| | |
| --- | --- |
| | JOHNTJ1's Recent Blog Entries |


Friday, July 06, 2012
Years ago, the motivational speaker and author Zig Ziglar defined commitment this way "When you want to understand committing yourself to something look at a plate of bacon and eggs. The chicken made a contribution, the pig made a commitment."

I met Kait Seyal in November of 2011. She waited tables at a restaurant I frequent and not only did she provide excellent service

we soon became friends. Kait told me of her love for animals, especially dogs, and her commitment to animal rescue and pet therapy for the sick, disabled and elderly.




She and her husband John were looking for a way to bring attention to abused and abandoned animals and the real value of using pets to aid people in their recovery. So they decided to do something small and insignificant (LOL) They quit their jobs, packed up their belongings and decided they and their two dogs would hike from Delaware to San Francisco. They began their journey in late March and as of yesterday had reached Iowa.

I could go on and on but I'd rather give you the link to their blog. It speaks to their journey and commitment to their cause more eloquently than I ever could. As I follow them on their journey I examine my own commitments. If you get a chance stop by and follow their journey.

Here is the Link

http://www.dogblogusa.com






Wednesday, July 04, 2012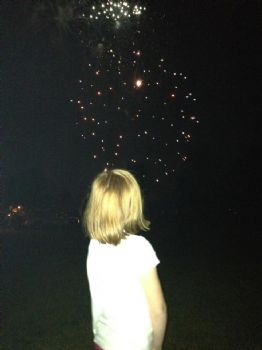 She looked up at the sky, eyes wide with amazement and awe. I saw the joy only a young child has for the simple and truly awesome things of life. As I watched her it struck me that she is the embodiment of this holiday we celebrate in the USA. She is independent to make any choice she wants for her life. She is free to walk any path she chooses and there is no retreating from the magical and mystical life she lives.

She is free and while she gazes skyward beside her stand thousands, nay millions of people, each who made a sacrifice, large or small, so she had the right to choose her own path; her own destiny.

Over two hundred years ago a group of men gathered to put their names to a document that read in part "We hold these truths to be self evident, that all men are created equal." There we no exceptions. Those independent men had the courage to separate themselves and define a new existence.

As she stood in the field commemorating that event, all those who came before her stood there also.





Saturday, June 30, 2012
Never Quit Pledge

Friday, June 29, 2012

Today, I promise I will not quit.
I pledge that no matter, how many ups and downs I pass through, I will continue on my journey.
I pledge to make a NEW START today, and forgive myself for my past, and to stop being so critical of myself.
I pledge to take control of myself, to stop making excuses, and stop blaming other people or situations.
I pledge to treat myself as I would my best friend, because that is who I am.
I pledge to stay in the race and to be a WINNER!

signed: Leisa (Sunflowergal40)
04/26/12

Signed: Chris (chriskenandkids)
04/26/12

Signed: Linda (scoutmom715)
04/27/12

Signed: Nancy (tedybear2838)

(from Linda S. Jayne (Geminisue)

Signed: Vicki aka VICKI-B--56


Signed; Pixie (Pixie-Licious)

Signed: Gloria (GloriaB73)

signed Fran

Signed Sarah (Millie 5522)

Signed Shelby (theshelbster)

Signed Beckie (BIRKIE528)

Signed Debaune (Doobie893)

Signed by Wallahalla on Friday, June 29, 2012

Signed by Karen (MAMAWALMART) on June 29,2012

Signed by Sibille (musolf6) Friday June 29,2012

Signed Shirley (Lookingup2012) Friday, June 29, 2012 who needs to do this because she quit SP three times in 3 years.

Signed Susan (catladyx8) Friday June 29, 2012

Signed John (Johntj1) Saturday June 30, 2012

Will you blog and post the Never Quit Pledge, today/soon?
Let's spread it through Sparks, so all can have the choice to commit!





Thursday, June 28, 2012
I'd been in a foul mood all week and it wasn't getting better. Starting today our temperatures are supposed to be in the triple digits. We had planned to attend a three day blue grass festival starting this evening and now are plans are in a state of flux. That makes me angry!!!!Does that rant make me feel better; hardly? I was investing in something I had absolutely no control over – the weather. Like everyone else in my neighborhood I took every opportunity to blame the woes of the world on something so inanimate it couldn't even defend itself.

I sat down and pulled out my frayed and dog eared legal pad to make a list of all the things I THOUGHT I could control but couldn't. It was pretty long. It's the proverbial flight of fancy. I asked myself how much time I devoted to things I had no control over. It was a lot more time than I had imagined. I started another list, the things in my life I could control. If I stopped stressing out over stuff like the weather maybe, just maybe, I could attack the real issues in my life, the beliefs that are barriers to my success. But, ah-ha, they have faces and names and OMG they can fight back and they require moderate to severe introspection and the dirty and nasty H word --- Honesty. There are three things I know I can control

1. I deserve to be successful.
Please note I am not entitled to be successful. My success depends on my perception of myself. Nothing about my age, my gender, my education, my race or sexual orientation has a hoot to do with my success. I can stand here all day and go toe-to-toe with you about people I know who looked at those things as being challenges to their success, not obstacles or reasons to give up. No one, parent, partners, friends or employers are going to believe in your value until you believe in it. What can I control? I can start with the perception I have of myself. No one owes me anything, except me. I owe myself the honor and dignity of believing I deserve.

2. I am worth all the effort I put into myself.
I have a nephew who runs in marathon races. He told me that just about anyone can run the first twenty three miles of a marathon if they train correctly. He went on to say that it is the last three miles or so that require maximum effort. How often do I reach the point in my development whether it's personal or professional and pull back in fear or anxiety? How often do excuses abound? Excuses like "lack of time," "bad weather," not enough support." What excuses do I use to not push those mental last three miles?

Don't believe me? Here's a challenge. The next time you walk into a bookstore notice how many books have been published on self-help and on dieting. Next time you clean out your spam folder notice how many "miracle weight loss" e-mails you receive. How often do we gravitate towards the quick fixes in lieu of the positive and often painful effort required to assure long lasting success?

3. You are who you hang around with.
Years ago a boss of mine gave, me a pearl of wisdom I've not forgotten. "There are two types of people in this world, People that make things happen and people that let things happen!"

There is nothing wrong with imitating positive, successful and healthy behavior. We are largely a "monkey see, monkey do" society. Imitating and mirroring positive behavior in another person only raises us to their level of excellence and performance. Who do you associate with and why do you associate with them? Coaching and mentoring professions are growing rapidly because we are identifying with people who practice positive behaviors that can help us reach our life goals. You can apply them to any aspect of your life. I use them with my coaching clients and now, I've found the magic of applying them to myself as I weed out the worries and cares I have no control over. It's a lifelong practice, but if I eliminate worrying about the things I can't control, I should have plenty of time.







Tuesday, June 26, 2012
I hung the phone up and smiled that smug little smile I have when I believe I am superior, not just to those around me, but to the entire universe. A friend had issued a challenge. He asked me to go an entire day, twenty four hours, without complaining about anything. I couldn't whine about how hot it was outside, the neighbor's dog, co-workers, children or friends…… Just go twenty four hours without complaining about anything. Turn all those negatives into positive possibilities!!! No problem, not for an amazing guy like me!!!I had some errands to run. I told Joan how wonderful she looked today, how great supper was last night and bounded out the door. "Gosh, I'm on fire!!! There is no stopping me now."

I unlocked the car and saw the seat had been pulled forward. Our son Tim had used the car and he likes to sit up further than I do. I pushed the little lever to move it back and muttered something to the effect of "You think the little so and so could have put things back the way they were. I got stuff to do!!!" The little voice, which I abhor at moments like this, said "Let's see, you lasted all of what, three minutes?" (I hate that little voice.) "That one didn't count. I wasn't ready." I started the engine and moved away from the curb only to travel about twenty five yards to a stop sign. In front of me was an elderly neighbor who was taking her time before proceeding through the intersection. You can only imagine what went through my mind.

As the day unraveled I found myself complaining about things I had no control over. It was way too hot for my taste, traffic lights took too long to change from red to green, and why did people with more than twenty items in their basket get into the express lane at the grocery? I worry and complain about the things I couldn't possibly change so I don't have to focus on the things I do have control over. Life doesn't mirror self-help books or fairy tales. We don't turn on a dime when it comes to modifying behavior. Usually I read a pearl of wisdom only to file it under "The World Needs This Not Me." I'm the coach. I'm the expert!!!

You have to start someplace and the thought struck me that right around the next corner is a person whose day may be affected by my attitude. I can greet them with hope and possibilities or I can be the proverbial downer. We all carry baggage around and sometimes we forget about a piece or two that affects our demeanor and interaction with other people. My complaints with another person have nothing to do with them. It easy to take those monkeys off of my back and put them on yours!!!

I have to start someplace, so I'll begin with ten minute increments. I have found that when I focus really hard on solving issues rather than complaining about them the load I carry seems lighter and I appear to smile more often. Least that's what I'm told

Namaste my friends.




First Page
1
2
3
4
5
6
7
8
9
10
11
12
13
14
15
16
17
18
19
20
21
22
23
24
25
26
27
28
29
30
31
32
33
34
35
36
37
38
39
40
41
42
43
44
45
46
47
48
49
50
51
52
53
54
55
56
57
58
59
60
61
62
63
64
65
66
67
68
69
70
71
72
73
74 75 76 77 78 79 80 81 82 83 84 85 86 87 88 89 90 91 92 93 94 95 96 97 98 99 100 101 102 103 104 105 106 107 108 109 110 111 112 113 114 115 116 117 118 119 120 121 122 123 124 125 126 127 128 129 130 131 132 133 134 135 136 137 138 139 140 141 142 143 144 145 146 147 148 149 150 151 152 153 154 155 156 157 158 159 160 161 162 163 164 165 166 167 168 169 170 171 172 173 174 175 176 177 178 179 180 181 182 183 184 185 186 187 188 189 190 191 Last Page

Get An Email Alert Each Time JOHNTJ1 Posts