| | |
| --- | --- |
| | JOHNTJ1's Recent Blog Entries |


Tuesday, June 12, 2012
I don't read the newspaper very often. I'll admit it makes me seem grossly uniformed, but if I'm looking to create negativity in my life I can do that without paying someone twenty dollars a month. In the past week our community has experienced an ex-high school principal being granted shock probation for having relations with an underage student, a Catholic priest being indicted and arrested for sexual molestation and a teacher aide/assistant baseball coach fired and arrested for having relations with underage, special needs students. As positive of an outlook as I have on life, these events strained my capacity to look for any goodness, kindness or; well you fill in the blank.


I was waiting for my water to boil this morning when I glanced at the sports headlines. A baseball coach at one of our high schools had turned in his resignation. That in itself wasn't surprising but his reason was. He wanted to spend more time with his four sons. They were reaching an age where they could be active and he wanted to be there with them ---- all the way. He'd remain a teacher and devote his coaching time to his kids. My generation would have cautioned him. We'd have told him he was letting go of an opportunity to advance, earn more money; you can fill in the blank here.

I don't know him or his dad, but I'll bet his dad had the same mindset we all did back in the 70's. Work as much as you can, make as much as you can and provide your kids with a chance to compete in this world. I worked as much overtime as I could and I believed that was how I showed my love and support. As that generation comes of age, they shake there head a resounding "No." They are giving their kids what many of us didn't recognize as pure gold, our time. I didn't miss everything my kids were into but I missed enough for them and many like them to identify the missing link, the lost piece of the map, you can fill in the blank here with your own experience.

In many ways it's like getting on the scale on weigh in day and finding the needle hasn't budged or if it has its budging the wrong way. You do all the right things and you do them consistently but no matter where you turn you run into a wall of frustration, anxiety or; well you fill in the blank.

Something good evolved. It took decades to gain shape and substance but the need to nurture, foster and appreciate the lives of our children pushed the need for material gain to the back. No matter how hard we try sometimes, no matter how frustrated we get, if we stick to what's right in our minds it bears fruit in the end. One thing usually leads to another, and so this morning my heart is a tad bit lighter. In the midst of all the swill, perversion and negativity there comes a beacon in the form of a coach who put the right things first.

Now, it's time for us to fill in the blank.






Friday, June 08, 2012
A few years ago when our son Paul was married I was asked to give the speech and toast at his rehearsal dinner. A number of options floated through my mind as I prepared and I decided to look back at my life with Joan and pull from the wisdom I'd developed over 36 years, at the time. One thing seemed to reoccur over and over and that was an amazing similarity between weddings and funerals. (No it's not what you think, lol.) In both cases, people are eager to rush forward and offer advice, support and in the case of a death comfort and a willing ear. Both events are surrounded by emotion and seem to pass so quickly that we hardly have time to take them in for what they are. A month or so later we blink our eyes, become infused with a degree of helplessness as we struggle with a new experience. As we look at the landscape all of those well-wishers and those shoulders to lean upon are nowhere in sight. We stand alone, forced to grapple with the changes.

Thirty eight years of marriage have taught me that's how it should be. The best lesson life has to offer us is the one we experience on our own. That is why we have so many diet books lining the shelves of our book stores. Every one promises us great things, mystical transformations and a fresh outlook on life. "Out with the old and in with the new." We plunk down our hard earned money, break the speed limit getting home, curl up in a chair and about three chapters in this sinking feeling slowly grips hold of us. Maybe it comes in the form of a little voice that whispers "This isn't gonna work!!!" We immediately lash ourselves for being weak, uncommitted, oh shoot your pick an adjective!!! It dawns on us after a bit that we are; like the newly wed or the recently bereaved, all alone. There are no landmarks or road signs to direct us.

If this is the point you expect me hail the virtues of Spark Teams and Spark Friends you are mistaken. I love them all dearly and they are an integral part of my life. The operative word is "part." When the dust settles on my weight loss journey and on my quest for improved fitness and health I know there is only one person staring in the bathroom mirror and that person is me. Only I know when I cheat or when I have those gray, forlorn days. I am learning that no matter how much support I can conjure up for myself when the dust settles on my life there is part of this journey I have to walk alone.

I believe God knew this when He created the Universe. In His infinite wisdom He knew there would be points points in our lives when we had to "go it alone." There would always be the loving and guiding hand of the Divine and yes all the scriptural promises still hold true that we would not be abandoned and we are indeed loved. Yet, I believe He lets us walk the tight rope now and then so that we learn, we grow and we develop. Somewhere in our pain, our indecision and our anxiety we find this glowing truth that surpasses all wisdom and knowledge we've learned to date. For that we are stronger and wiser. Yup we feel a bit beat up but we're fortified and renewed. Maybe battle tested is a better word.

My personal reassurance here comes from Jesus last words as he hung on the cross dying. "My God, My God," he cried out "Why have you forsaken me?" Crucifixion is one of the worst imaginable deaths and Christians believe that Jesus hung there for three hours to redeem the world. During his ministry he worked miracles, raised people from the dead and followed a preordained path that led him to that moment alone. In despair and with a twinge of fear he cried out those words and then completed his mission, alone. At that one moment of redemption God knew that He had to take a step back and allow Jesus to pass through all on His own. I am reassured by that passage. Hopefully I'll never be crucified or charged with the task of redeeming the world.

If my choice is health I will stumble, I will fall; I will despair and if I choose get up and continue my journey forward. My friends, my family can love me, encourage me and support me but there is always that moment, sometimes each day, that I step off the path by myself and make choices and decisions all alone, often feeling forsaken, that impact the rest of my journey. Only I know them for what they really are and that's as it should be.

Be blest today.







Monday, June 04, 2012
My job involves a lot of time in the car. What I value most is the time when all the technology is muted and I am left alone to think, to ponder, and to unravel life's mysteries. Friday afternoon while driving through a rather uninspiring patch of highway my mind wandered to the story of the prodigal son. Regardless of your faith belief, you have heard the story. The miscreant son demands his inheritance, runs off to the ancient equivalent of Vegas, and blows it all. He heads for home contrite and ready to live as his father's servant for the rest of time just so he has a roof over his head and a meal in his belly. Dad, seeing him walking up the driveway rejoices and throws a party. His lost son has returned. That leaves us with the "other son." He is the son largely forgotten in this parable of forgiveness. He is the son who has always done the right thing. He has always been there in a pinch. If anything, he has tried harder to make up for his knucklehead brothers behavior. So there he sits, cleaning the garage when he spies his brother sauntering up the driveway and utters an "Oh shoot," or a derivative thereof. Dad hugs the younger brother; he forgives his sins and failures, orders the older brother to fire up the Weber grill, and emails all their friends. "My son was lost and now is found." It's Miller time. There stands the good son, sweat, and grime pouring down his face, lower back twinging from all the lifting and moving and junior is being fitted for a Brooks Brothers suit. Life does not seem fair. The story is largely one of forgiveness so you do not make too much noise when you find yourself relating to the older brothers anger. Doing what is right just is not sexy. You joined Spark, you followed the process by eating within your calorie level, exercising, getting rest………. All the things you are supposed to do to be healthy. Some days it is no fun. Actually, it is rather boring. The weight slowly drops off, some weeks you can only measure it in ounces but you keep to the program.

There is satisfaction as your pant or dress size diminishes with time, until you read a blog about someone who held up a Cheesecake Factory, saw the light, and dropped thirty pounds in a month. You might sigh for a bit and wonder if it is all worth it. You struggle like everyone else; you just do not make a huge deal about it. You clean out the garage because that is what you are supposed to do. You have been exercising for years, it is what healthy folks do, and you do not always understand why people make a big deal about someone who finally walks a mile.

It is not fair, is it? Oh, you will not verbalize it too very often, will you? I have to be honest with you, I rarely find myself in the good sons shoes. That is a foreign perspective. Usually I am the person trudging up the driveway looking for one more chance to "get it right."

Take heart dearest ones. Your constancy, your often-overlooked consistency and your will to do the right thing is the backbone of our universe. It gets lost in the shuffle but without you, there are no landmarks for the journey. Doing the right thing isn't always fair but I'll hazard a guess that once you reach your goal weight you will stay there.







Monday, May 28, 2012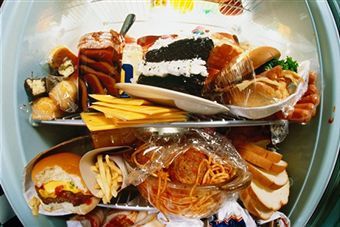 I am a visual person. You can talk to me all day about good, better and best but until I see a picture, image or example I am often clueless. I paint with words. I relate to images. The irony here is that a close friend, an artist in their own right, "tried" to teach me how to draw. She claimed her professors told her "anyone" could accomplish the task if they worked hard enough. (Thank goodness I am not just anyone.)My claim to fame is stick people. They are gender, race and culturally neutral, guaranteed to offend no one. But I digress.

I was reading an excerpt from a book on change (The Little Book of Letting Go by Hugh Prather) when the author compared our internal life and our self-effectiveness to a refrigerator. He asked "What's in your refrigerator?" I sat back in my chair, closed my eyes and immediately began to feel emotionally queasy. My "fridge," so to speak, resembled the above photo – crammed full of all sorts of things that are 100% guaranteed to throw me off track and keep me there. The more frustrated I become the more stuff I cram until a very unpleasant odor emanates from within.

Ever played a guessing game as to what a left over item might have originally been say three weeks ago? I hold mine out at arm's length and get a disgusted look on my face. It may be an old piece of cheese but allegorically it's an unhealthy behavior that's keeping me from stocking healthy habits. There is a whole refrigerator full of them. When I look at the picture I see where I've really short changed myself. I've hung on to old practices and beliefs and they left no room for newer, healthier ones. Literally I've thought of little else the past three days. I "willed" myself to lose weight. Fought all the urges and desires to drop an agreed upon number of pounds. I crossed the finish line, people cheered; I bowed and then headed for Mickey D's. Slowly the weight came back. I became frustrated. "This stuff doesn't work!!!" Ahhhhh here the siren song of behavior that never changed. Throwing out old beliefs and ancient practices is difficult. Some we've had since birth. Some we acquired and wear as a badge of honor. They define us. We chart calories and exercise and look at our lives through the same smudged glasses.

Hugh Prathers image shook me to my core. I have begged and pleaded for almost two years to try and understand why I lose a certain amount of weight and no more. Why does it all come back? Quite simply I haven't had the courage to change some things about me that prevent me from being more wonderful then I already am!!! In all honesty, this reality stuff frightens me. It means the definition of whom and what I am, what I REALLY is has to change. The outside is simply a mirror of the inside. It's easy to be the lovable fat guy who trips over his own initiative, the wordsmith who encourages……. The real change almost causes me to wet myself.

At least I got my answers. I feel fortunate in that respect. I know what you're thinkin' "Don't be too hard on yourself." It's not a matter of being hard. It's getting up every morning and looking at what has to happen to make my life a better. It means starting over one more freakin' time.

I sat back in my chair and lifted my eyes skyward. "I'm counting on you." I prayed. A silent voice bounced back. "I'm counting on you too."

What's in your refrigerator?






Thursday, May 24, 2012

If you cant view this here you can see it @
http://www.youtube.com/watch?v=v-0KQ9YoX
eQ



First Page
1
2
3
4
5
6
7
8
9
10
11
12
13
14
15
16
17
18
19
20
21
22
23
24
25
26
27
28
29
30
31
32
33
34
35
36
37
38
39
40
41
42
43
44
45
46
47
48
49
50
51
52
53
54
55
56
57
58
59
60
61
62
63
64
65
66
67
68
69
70
71
72 73 74 75 76 77 78 79 80 81 82 83 84 85 86 87 88 89 90 91 92 93 94 95 96 97 98 99 100 101 102 103 104 105 106 107 108 109 110 111 112 113 114 115 116 117 118 119 120 121 122 123 124 125 126 127 128 129 130 131 132 133 134 135 136 137 138 139 140 141 142 143 144 145 146 147 148 149 150 151 152 153 154 155 156 157 158 159 160 161 162 163 164 165 166 167 168 169 170 171 172 173 174 175 176 177 178 179 180 181 182 183 184 185 186 187 188 Last Page

Get An Email Alert Each Time JOHNTJ1 Posts