| | |
| --- | --- |
| | JOHNTJ1's Recent Blog Entries |


Monday, May 28, 2012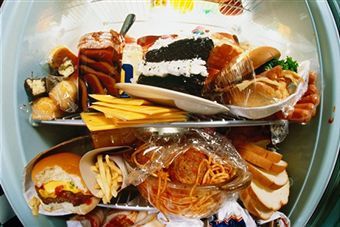 I am a visual person. You can talk to me all day about good, better and best but until I see a picture, image or example I am often clueless. I paint with words. I relate to images. The irony here is that a close friend, an artist in their own right, "tried" to teach me how to draw. She claimed her professors told her "anyone" could accomplish the task if they worked hard enough. (Thank goodness I am not just anyone.)My claim to fame is stick people. They are gender, race and culturally neutral, guaranteed to offend no one. But I digress.

I was reading an excerpt from a book on change (The Little Book of Letting Go by Hugh Prather) when the author compared our internal life and our self-effectiveness to a refrigerator. He asked "What's in your refrigerator?" I sat back in my chair, closed my eyes and immediately began to feel emotionally queasy. My "fridge," so to speak, resembled the above photo – crammed full of all sorts of things that are 100% guaranteed to throw me off track and keep me there. The more frustrated I become the more stuff I cram until a very unpleasant odor emanates from within.

Ever played a guessing game as to what a left over item might have originally been say three weeks ago? I hold mine out at arm's length and get a disgusted look on my face. It may be an old piece of cheese but allegorically it's an unhealthy behavior that's keeping me from stocking healthy habits. There is a whole refrigerator full of them. When I look at the picture I see where I've really short changed myself. I've hung on to old practices and beliefs and they left no room for newer, healthier ones. Literally I've thought of little else the past three days. I "willed" myself to lose weight. Fought all the urges and desires to drop an agreed upon number of pounds. I crossed the finish line, people cheered; I bowed and then headed for Mickey D's. Slowly the weight came back. I became frustrated. "This stuff doesn't work!!!" Ahhhhh here the siren song of behavior that never changed. Throwing out old beliefs and ancient practices is difficult. Some we've had since birth. Some we acquired and wear as a badge of honor. They define us. We chart calories and exercise and look at our lives through the same smudged glasses.

Hugh Prathers image shook me to my core. I have begged and pleaded for almost two years to try and understand why I lose a certain amount of weight and no more. Why does it all come back? Quite simply I haven't had the courage to change some things about me that prevent me from being more wonderful then I already am!!! In all honesty, this reality stuff frightens me. It means the definition of whom and what I am, what I REALLY is has to change. The outside is simply a mirror of the inside. It's easy to be the lovable fat guy who trips over his own initiative, the wordsmith who encourages……. The real change almost causes me to wet myself.

At least I got my answers. I feel fortunate in that respect. I know what you're thinkin' "Don't be too hard on yourself." It's not a matter of being hard. It's getting up every morning and looking at what has to happen to make my life a better. It means starting over one more freakin' time.

I sat back in my chair and lifted my eyes skyward. "I'm counting on you." I prayed. A silent voice bounced back. "I'm counting on you too."

What's in your refrigerator?






Thursday, May 24, 2012

If you cant view this here you can see it @
http://www.youtube.com/watch?v=v-0KQ9YoX
eQ






Monday, May 21, 2012
After a long drive Friday Joan and I stopped to see my mom and had a light supper. Dead tired we lay on the bed and enjoyed a rare luxury……… watching TV. We don't have a TV in our bedroom so it was a good change of pace. After flipping through the channels for five or ten minutes we settled on an interview with Dr. Oz. The interviewer asked him what HIS secret was to maintaining good health. (Have you noticed that everyone has a secret to good health?) His answer was simple: He did the same activity each day, seven days a week. He ate the same breakfast, and always engaged in exactly seven minutes of exercise each morning immediately after getting out of bed. He went on to say this was important to him because it relieved him of the stress and burden of having to decide what to eat each day. Life is full of too much unavoidable stress. We might as well get rid of the stuff we can. Well anyway, it made sense to me!!!I thought about it most of the weekend. (I get like that when I latch on to something. We're sitting at the wedding reception and I'm staring off into the mist trying to find a divine message in all of this.) It's probably not new to you but it was a bit of an "ah-ha" to me. When I am consistent in my thoughts, my action and behaviors I will ultimately be successful. It's not too terribly exciting or earth shattering, it's life. It's putting one foot in front of the other and marching to the same beat, YOUR beat, each day. Joan, (My wife of 38 years) has stayed within fifteen pounds of what she weighed the day we were married. She gained through six pregnancies, but each time she managed to drop back to a comfortable spot for her. No magic, no secret berries from an island in New Guinea, no home remedies. If you ask her about her diet she will tell you she is a "Plain Jane." She eats beef, and chicken with a baked potato and either corn or peas for dinner. Lunch is a ham sandwich or a can of tuna with an apple. Breakfast is coffee, cereal and skim milk or toast with a sausage patty. She drinks a lot of water but enjoys diet Pepsi. Holiday meals are ham or turkey. If you ever talk to her she'll tell you probably eats too many carbs. Her exercise regimen is walking three to five days a week or swimming in our pool when the weathers warm. Her guilty pleasure is butter and a brownie on occasion.

Driving home yesterday I started reviewing my mental food logs and realized that I had drop weight when I establish a consistent eating pattern . It was when I started chasing the exotic or trying to emulate someone half my age that my body started asking me what I was doing. I think it's where I get lost. The desire to sit with the cool kids gets in the way of plain old common sense and I go off chasing butterflies. Suddenly I wake up one morning and nothing fits.

Consistency equals success. It is often not inspirational; it's simply the everyday activities we discover and integrate into our life pattern that produce long term success. It's not chasing every fad and folly that rings our doorbell. I lost weight establishing a consistent pattern. I gained it all back when I deviated from that pattern. It's not very inspirational and maybe your scratching your head and saying "I KNEW that!!!" I guess I did also but I guess it took Joan and Dr. Oz to remind me.

Namaste dear ones







Thursday, May 17, 2012
I wasn't feeling it this morning. I looked at the clock and it was 5:45 AM. I WAS going to take a bike ride this morning. I have been trying to rotate my cardio to get back in the swing of things after convincing myself my life was over because I somehow injured my back. Rotation provided diversity. Slowly but surely things are coming around. I have to be patient. Cleaning up after a major pity party is never fun. I went through the motions, got dressed, looked out the window, hoped it was raining, snowing or there had possibly been an earthquake……… I opened the back door and hopped on my bike.

If this were a made for TV special we would now cut to the scene that says "3 Days Earlier….."

It's Monday morning and I am preparing to leave town to take my one man show on the road. I'm facilitating a seminar on The Law of Attraction and Business Goals. Fun stuff. The road that leads to the hotel I'm staying at is lined with restaurants and the only way" healthy" enters into the equation anywhere is their menus that say "Hope you have a HEALTHY appetite." Okay, I'm weak. It's hard to get past those greasy, sugary, carb loaded oasis. It feels so, so good going down……….. Somewhere in the garage is a nice cloth cooler. It waves at me and I pack three meals to take along. No, they won't be hot but they will be healthy. Some fresh fruit, a bit of yogurt and because I still haven't broke the habit of striking the rock more than once, a diet Mt Dew. I stuck with what was in my cooler, my appetite was satisfied and I had fashioned a small victory for myself. I was uber proud. After all I AM worth all the effort I put into being happy and healthy.

"The next evening………….."

It's Tuesday night. I am home from a very fulfilling but long day plus two hours in the car. I'm in my recliner, eyes closed and concentrating on relaxing when the patio door flies open and in walks my daughter Maggie. I knew what she had in her hand. My nose has been finely attuned to sniff out cake, on a dead run, from a zillion miles away. Just get in the way of me and cake…………. might as well start writing your obituary. I'm salivating………….. a lot! Maggie saved me a piece, let me stop here. Maggie saved me enough food to save a small nation. I looked at that sugary goo and felt my body moving forward………. "Really, John?" It's that da*n voice again. The voice that reminded me of my victories Monday and Tuesday. I sat for a moment, teetering back and forth and politely thanked Maggie and went back to capturing relaxation. If there hadn't been that small victory to build upon Monday, who knows? Wait, I do, there would have been a sugary moustache highlighting my mouth. The point is I found something really small to build upon and then added to it.

The camera cuts to Wednesday at noon………..

John is speaking at a luncheon and on the menu is the following: "Three sliders covered with caramelized onions, gouda cheese and a Dijon mayonnaise. They are served with a mountain of fries. It was the only option I had, or was it? I politely refused and toughed it out till I got home a short hour later. I made a salad and created another small victory. We all get stuck and we all feel like we are in a room that is exactly three feet square. We feel hopeless, helpless and throw our hands up. We begin thinking this "health thing" isn't for us!! In frustration we give up because we can't recapture our previous success. It's slipped through our hands. I am learning to find the small victories to build upon. We get so lost and we seem to have misplaced the map.

As the smoke clears we are back to John, his bike and a rather chilly ride this morning.

"Good goal setting is a balancing act between seeing the details involved in reaching a goal, while still being able to hold the big picture view of what those details will eventually create. Most of us have a natural leaning towards one or the other. Some people excel in understanding and ordering details and some people naturally understand and connect with the big picture. Both are incredibly valuable and complementary to each other. As we become more effective in goal setting we learn to balance our natural inclinations, we will generally play to our strength and find ways to build the weaker view. This is a neat and tidy little theory... until a really wound-up, tender and frustrating goal comes up. You know the one, the one that consistently befuzzles you? The good news is that this goal area is your "working edge" and this is the place bursting with the most growth for you; the steepest climb resulting in the most breathtaking view, if you will. And since we do tend to get the most turned around and frustrated in this area, we will generally fall back into (cling to :) what comes naturally. So, here's a thought, an idea that may work for you in unwinding this goal once and for all... if you are a detail person- is it possible that you have detailed this goal to death? Maybe you know each step, each milestone, each nanosecond of planning- but is it possible that you have lost your big view for this goal? Have you spent enough time playing and basking in the big picture to drive you forward? And if you are a big picture person- could it be that you are spending all of your time frolicking through the theoretic fields of the big view without dedicating time to working the details and creating doable systematic action steps? The answer for me is "yes!" this is exactly the case, so I am currently taking my working edge back to the drawing board for rebalancing. :)" This comes from a colleague and dear friend Kat Garrard. I couldn't have said it better (A tip of my hat to you dear friend.) Sometimes we lose our way and it's through the small victories that we find our course again.

Daily victories lead to weekly ones and then one morning when we start the engine, we find the trucks no longer stuck in the mud but careening down the highway.









Tuesday, May 15, 2012
Availible on YouTube @
http://www.youtube.com/watch?v=gou-ySEdw
PQ



First Page
1
2
3
4
5
6
7
8
9
10
11
12
13
14
15
16
17
18
19
20
21
22
23
24
25
26
27
28
29
30
31
32
33
34
35
36
37
38
39
40
41
42
43
44
45
46
47
48
49
50
51
52
53
54
55
56
57
58
59
60
61
62
63
64
65
66
67
68
69
70
71
72 73 74 75 76 77 78 79 80 81 82 83 84 85 86 87 88 89 90 91 92 93 94 95 96 97 98 99 100 101 102 103 104 105 106 107 108 109 110 111 112 113 114 115 116 117 118 119 120 121 122 123 124 125 126 127 128 129 130 131 132 133 134 135 136 137 138 139 140 141 142 143 144 145 146 147 148 149 150 151 152 153 154 155 156 157 158 159 160 161 162 163 164 165 166 167 168 169 170 171 172 173 174 175 176 177 178 179 180 181 182 183 184 185 186 187 Last Page

Get An Email Alert Each Time JOHNTJ1 Posts