| | |
| --- | --- |
| | JOHNTJ1's Recent Blog Entries |



Monday, May 07, 2012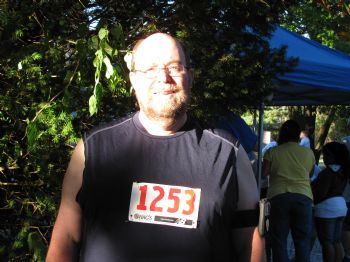 That's me, September 26, 2010, right before I ran in my first 5K. If you want to know more about that day I wrote a blog entitled "What I Learned Going Up the Hill." I was very proud, happy, emotional, yes all of those things, when I crossed the finish line. It was a major accomplishment in my life. I had only began running four months earlier. I was not the quickest and I'll have to tell you my form was not the greatest. Purists shook their heads a bit because I have to run with music in my ears. I can't keep a pace without it, lol. But I did it!!! I ran my very first 5K and I was on top of the world.

A month later I ran in another with my son and new daughter-in-law. You wont see any pictures, lol. That's the race where I tripped on an expansion joint in a bridge and according to witnesses, took an amazing and spectacular fall. In the process I banged my right knee up pretty bad. For the next month, even walking was a challenge for. My skin was scraped pretty bad. My trainer looked at my wound and proclaimed "Now we know you're a runner."

I rebounded, though. In February of 2011 I ran for the third time.




It was thirty seven degrees Fahrenheit at race time and I have never been that cold before or since. I thought of quitting at least a dozen times but I didn't. I made it.

A few months later I injured my back and legs in a fall leaving my back yard. It's been a long road back. I am at the point where I can walk comfortably for a half mile every day. Between us friends, I even jogged about twenty feet the other day. I found out I'm not quite there yet. I became depressed during that period of time. It seemed as if every movement produced pain. Honestly, I just had one huge pity party for myself on a daily basis. "Poor, John!!!!"

Thanks to the inspiration of three Spark friends I crawled out of my pity pot and gave myself a large kick in the posterior for good measure. I don't make it a habit of naming people for two reasons: I might leave someone out and I may embarrass someone. I am going to make an exception here. These are the kind of people you want to hang around with!! These are folks who will lift you up!!!

GIRANIMAL suffers from fibromialga, chronic back pain due to disk issues and a host of food allergies; yet every morning she hops on her bike and pedals through the labyrinth that is Chicago traffic. She does this rain, shine or snow. You never hear her cry or complain. BTW: She has been at her goal weight for some time now.

PRINCESSNURSE was a runner who was exposed to a type of hepatitis virus. Better safe than sorry she went through the painful treatment which produced a lot of nasty side effects. She continued running through the painful treatments. I had a habit of writing peoples names on a sheet of paper when I ran in a 5K. They were the people who for one reason or another weren't physically capable of running. A few months ago PRINCESSNURSE sent me a Goodie. It simply said "I ran with your name in my pocket this weekend." I have to tell you I got really choked up. She's been featured in some publications and has been at goal weight for some time.

MSSUNBUGG lost 145 pounds and developed an exercise program that has led her to participating in triathalons. She has gone through all sorts of physical and emotional challenges but hung in there to reach many of her goals. She has been so very kind to me. She will answer any Spark Mails I send her and you can tell she genuinely cares about other people. She has never given up despite the obstacles in her path. Recently she became a certified life coach.

There are more, many more, that help me make it through the soreness and pain. I'll run again someday. I don't have the date circled on the calender. I know my body will let me know. It will say "It's time John!!!" I'll be ready, through patience, perseverance and the inspiration of folks like you.






Sunday, May 06, 2012
The thunderstorm jarred me awake around 2:30 Saturday morning. After fifteen minutes, I was wide-awake. From experience I knew it would be a while before I drifted back to sleep. Rolling over on my back I listened to the thunder and lightning. It's when I started to think about Moses.

Of all the Old Testament personalities, Moses is a favorite. Moses took on the responsibility of leading a large group of people to the Promised Land, the home God had promised to them. It wasn't until a few years ago that I realized the forty-year journey the Bible talks about takes only eight weeks in a direct line from Point A to Point B. When you stop and think about it how many of us take a direct line anywhere? I have been on a fifty-eight year journey and I do not think I have rarely gone from Point A to Point B, paused, and said, "Boy you got that one right the first time!" Mostly I fumble around in the dark until I hit my head on the wall or the beam overhead and realize I might want to try a different way out of the room. That is where I can relate to Moses. He wandered around the desert for forty years and during that time, he relied on God to provide him with food, shelter, and safety. There was so much drama that this journey takes up four books in the Bible. When all was said and done Moses simply could not rely on the experience of faith that had guided him for close to forty years. We know tracking our food, staying within our calorie limits, working our exercise program, getting enough rest, all those real important things to creating healthy balance in our life; we know those things are critical, crucial, and important to us but how often do we go looking for other sources? How often do we go looking for "quick fixes?" When we can't get in shape quick enough, the pounds don't come flying off us quick enough, we lose faith, we become frustrated, and we begin looking for other alternative sources to. We who dwell in the 21st century are not about to put up with a forty-year journey towards anything. Shoot fire, we have a hard time putting up with a forty-minute journey. As the people who Moses led around the desert we periodically create those quick fixes, those idols that we believe are going to get us from Point A to Point B quicker. Maybe we starve ourselves or push ourselves to the point of injury because "skinny" is more desirable than "healthy." I have been there and done that.

Moses had a tough job. It seemed no matter what he said or what he did there were always a handful of people who seem to know better. It happens at the gym from time to time. The folks that come up to me and say, "If you did…"

Moses went up to the top of the mountain and during his conversation with God, he shared his frustration. The people were complaining that there wasn't enough water. Moses sat there at the top of the mountain venting. Maybe it's not an issue of water for us Maybe it's an issue of a weight plateau, or sore back or" I'm just plain tired and don't want to exercise." Maybe we lose our motivation from time to time. Like Moses, we get lost in the desert. Some of us are there longer than forty years. We know, intuitively, that if we have faith in the process we will ultimately achieve a healthy balance in our lives. God suggested to Moses that he go over to a formation of rocks, take his staff, and hit the rock one time and one time only. He would have all the water they needed. Moses gathered up his robes, picked up the staff and headed towards the rock. Moses lifts his staff and hits the rock one time. "If once is good twice must be better." Moses strikes the rock again. "Third times a charm," Moses must have thought, so he hit the rock a third time. As I said, I have never had a water shortage but I have started thinking what would happen if I cut even more calories from my diet. Wouldn't I lose weight quicker? What would happen if I exercise for an hour everyday rather than thirty minutes? Never mind that my doctor, my trainer, my beloved wife, and a host of other wonderful friends who have made this journey successfully have laid out a simple process "Hit the rock once John!!!.

The water started to trickle, Moses felt satisfied and turned to walk down the mountain, another crisis averted. That's when he heard God asked him if he understood the directions, and like us, when Moses kept trying to come up with an excuse for not following the plan he ended up seeing Gods wisdom. There is a consequence to not following our plan. There is a consequence to being impatient. It takes us that much longer to reach our destination and we begin to become self-critical and doubt the process itself. How often do you and I receive signs and wonders by the very people God has placed in our lives to share their journey, their wisdom and their experience? How often do we ignore them because we seem to know better. I realize how many times a day I hit the rock three times figuring something that is good has to be even better if I modify it. In Moses case, he wasn't allowed into the Promised Land because of his lack of faith.

It's the "P" word. Patience is such a hard thing to practice. It is why we have each other.







Wednesday, May 02, 2012
My sister told me I needed to hurry. She said dad was hanging on so he could say good-bye to me. Just an aside, the state police, especially the highway patrol don't grasp the concept of "having to hurry." Looking back, I was glad I had eight hours and four hundred miles to prepare. Aside number two: I hate hospitals, sickness and death. They create an anxiety attack in the pit of my stomach just waiting to occur. My dad had always been a strong person, both physically, and mentally. Until his vision left him he and my mom walked to Mass every morning, a round trip of over two miles. Likewise he took water aerobics well into his 80's. Yes, I know, I had an amazing gift in my life. I am 58 and until six weeks ago both my parents were alive, lucid, and relatively healthy. All this spun through my mind as I drove north. Aside number three: When you are really scared and feel extremely threatened deep inside counting your blessings isn't much of an antidote. I didn't want to go in alone. I don't know how to handle that stuff emotionally. I sort of freeze. I get tongue tied. Joan acts like she does this stuff every day so she went with me in case my motor skills abandoned me. My dad had an oxygen mask on so it was difficult to understand him. He reached for my hand and motioned for Joan to pull the oxygen mask away.

" I have no regrets, I've led a good life, but gosh it went by so fast."

We stayed with him for a little while longer and then we were told to leave. He looked up at me and squeezed my hand. The look said "Remember what I just said." Dad hung on another two days but that was the last lucid moment I had with him. In all honesty the next few weeks were a blur. There is disbelief, followed by numbness, followed by this over all deconstruction of your emotional self as you go to pick up the phone to share things with him and realize he won't be on the other end. Finally something that resembles resignation begins to build a place inside of you.

So I am driving down the road last Friday and suddenly there is this defined ray of sunshine in my soul. Aside number four: sometimes it takes a while for me to "get it." I realized that what he was telling me was to take advantage of every possible moment you have in your life and don't ever miss an opportunity to do something new or different. I thought about the stuff I wished I had done with the kids when they were younger. Aside number five: I have a 24 year old daughter who still reminds me I never took her fishing. But I have come to believe that regretting the past is like rocking in a rocking chair. It gives you something to do, but it doesn't get you anywhere. My dad was telling me to take advantage of every opportunity that crossed my path. I might not get a second chance.

Somewhere in this moment a lot of my anxiety disappeared. It was like the story in the Gospel, where Jesus healed the blind man, suddenly he could see clearly. Most of what we fail to do comes from some sort of inborn fear that we won't succeed so I mean why try. We who struggle with our weight carry an extra self-imposed cross. We hold ourselves up to ridicule because we believe the world is judging us negatively. So we stay at home and sit on the couch and munch on Cheetos and lament our fate. We never see ourselves as being inspiring to other people. We rarely take the opportunity to get out there and make our mark. We're going to wait until we get to that perfect pants or dress size. My dad pointed out in a most poignant way that waiting, is wasting time and resource.

Yup, I am over weight. Yup, I struggle and please don't consider me arrogant or self-involved, but I believe that my struggle and my journey can be a source of inspiration to other people. It CAN if I get off the couch, put myself out there and allow myself to experience life show other people striving for health can pay off. I haven't lost a hundred pounds and I never will as long as I limit the world before me. This is as much about what comes out of us as what goes into our mouths.

This blog is about me and about you. My dad, and possible many people in your life, may have pointed that out to us. It's safe to treat this as a heartwarming Kleenex moment. That's the easy road. The hard road for me is to go out and live his challenge.

Anyone want to take a walk?






Sunday, April 29, 2012

If you cant view the video here it is availible on YouTube @
http://www.youtube.com/watch?v=NeTDJeBH1
pA






Friday, April 27, 2012
Larry's been out of school for twenty years. He told me the last class he remembers was his PE class two days before he graduated from high school. You can imagine the adjustment. Larry was struggling with, English 101. Larry had to write composition after composition and it was weighing him down. As Larry told this story, I shared my philosophy of writing. I believe that writing is like any other process in our lives. It requires dedication and practice. I usually write for thirty to forty minutes each day. Some days I just don't feel like writing but I do it anyway. Larry looked at me and said: "Well you are a really good writer."

"Uh-oh," I thought. "Here comes the moment that involves the plastic smile and a modest thank you."

I was quite surprised, however. My reaction was genuine and sincere. I felt very calm, very peaceful, very focused; as if Larry's recognition validated many things I have been working towards. My" thank you" to Larry was a sincere one. I have a hard time accepting sincere and genuine thanks and praise. It makes me feel uncomfortable. I was raised in an environment that taught me to ferret out every bit of good and positive achievement and offer it up for some souls languishing in an alleged place between heaven and hell. Never mind that I was good at what I did, that was not the point. The point was that people who took credit for what they did were guilty of false pride and arrogance. I have to practice what I preach. I have to work very hard to live my mantra: "I am worth all the effort I put into myself." My confident acceptance was a validation of that effort and hard work.

How many of you, feel you're overweight, unhealthy, and unhappy because of something terrible you did earlier in your life? How many of you feel that no matter how hard you try you are never going to achieve and accomplish the things you really want to because unfortunately, you are just one of those people who's not supposed to get what they deserve? I am not proud of it, but I was one of those people. There was no sense, and there was no use in trying to improve myself because I just had the odds stacked against me. "Pity, party of one, your table is now available."

So often, people would genuinely complement me for something I had done well. My face would flush, my heart would beat rapidly, and I'd find some words to discount or negate the complement. After all, if they only knew all the mistakes I had made my life and all the attempts I had made to reach my goals, only to fail they wouldn't be heeping all this praise on me. That's a tough way to live your life. You work very hard, and truth be told you probably don't fail anymore or any less than any other person; it's just that your successes are so far and few between that you never seem to notice them.

Whether it's health and fitness, whether it's writing, knitting, hitting a golf ball or running a marathon if you don't believe you are worth all the effort you put in to your activity no matter how much you tangibly accomplish deep down inside you will never feel as if you were successful. My" thank you" to Larry yesterday was heartfelt and sincere and just between us friends it felt really good. I enjoy writing and I believe I write well. I am proud of my writing and I enjoy sharing it with other people. My writing in many respects may be considered my way of "paying things forward." There's no arrogance and conceit in what I say. My "thank you" to Larry was simply a beginning. That's where it all starts. I have a choice to build on that strong feeling or to simply replaying my mind repeatedly and let it wither on the vine.

What about you? What do you do well and how long have you kept the wonderful talents and amazing things you have to share a secret? You and I have heard repeatedly that a good house is built on a strong foundation. My health, my fitness, my overall sense of well-being doesn't come from a lot of self-discipline but from the pure, clear fountain deep inside my soul that tells me I'm worth all the effort I put into my success, and so are you. Some days it seems that the harder we work the further behind we get and then we have that moment when a Larry looks across the table and tells us something we know is true.

If I can do one thing really well then there's no limit to the things I can accomplish when I believe I am worth all the effort I put into myself. You see, my "thank you" was really just the beginning.




First Page
1
2
3
4
5
6
7
8
9
10
11
12
13
14
15
16
17
18
19
20
21
22
23
24
25
26
27
28
29
30
31
32
33
34
35
36
37
38
39
40
41
42
43
44
45
46
47
48
49
50
51
52
53
54
55
56
57
58
59
60
61
62
63
64
65
66
67
68
69
70
71
72
73
74
75
76
77
78 79 80 81 82 83 84 85 86 87 88 89 90 91 92 93 94 95 96 97 98 99 100 101 102 103 104 105 106 107 108 109 110 111 112 113 114 115 116 117 118 119 120 121 122 123 124 125 126 127 128 129 130 131 132 133 134 135 136 137 138 139 140 141 142 143 144 145 146 147 148 149 150 151 152 153 154 155 156 157 158 159 160 161 162 163 164 165 166 167 168 169 170 171 172 173 174 175 176 177 178 179 180 181 182 183 184 185 186 187 188 189 190 191 192 Last Page

Get An Email Alert Each Time JOHNTJ1 Posts