| | |
| --- | --- |
| | JOHNTJ1's Recent Blog Entries |


Wednesday, December 24, 2014
When I was a kid I hated Mass on Christmas Eve. At some point they would read what I called the "Begats" Gospel. It seemed like it took forever!!

Huh?

The passage is the first chapter of Matthews Gospel. It's official term is The Martyrology. It traces the genealogy of Jesus from Abraham up to Jesus father Joseph. In between you have your usual heavy hitters like David and Solomon, people who'd look impressive on anyone's family tree. Then you have a whole lot of people who woke up every morning and went to work whether it were in a market, a temple, on a farm or in a store. They were all shapes and sizes. They all shared one thing in common, none of them knew that over 2,000 years later people would remember the most important person dangling off that family tree. That person was Jesus.

They were people like you and I. They were people with great talents and faults and weaknesses. They often succumbed to their fears and temptations and in their darkest moments despaired. They persevered as well, they fought the good fight, did the right thing, besieged heaven with prayers and asked for forgiveness each night before they retired, right after they thanked God for the blessings he'd bestowed on him each day.

There were 42 generations between Abraham and the birth of Jesus. A generation in the bible is 70 years. That means 2,940 years passed after God appeared to Abraham and told him "I will be your God and you will be my people." That's a long time to persevere. (And I get upset when McDonalds takes 2 minutes to fill my order.)

God made a promise. He didn't say when that promise was to be fulfilled. He asked for patience and perseverance and in the end he kept his promise and bestowed to you and I and those 42 generations his greatest gift, crafted from love.

Maybe 2014 hasn't been your year. Maybe you cant sleep because you aren't quite sure how you're going to pay your bills or where the next business opportunity is coming from. Maybe you are struggling to keep your head above water or the relationship you have longed for so many years seems to have vanished and you feel you do not have a friend in the world. Maybe when all of that creeps up on you and chills you like a snow ball down the back of shirt on a January evening it would do well to remember what God promised Abraham close to 5,000 years ago. "I will be your God and you will be my people."

Many years ago a wise friend told me "Wherever there is hope, there are the people of God." For the people in Matthews Gospel that hope was fulfilled through Jesus.

So, that's my "hope" for me and for you that through your belief and faith, however you choose to express it, that you hang in there.

Better days are coming.

He promised.


Marry Christmas to all of you.





Sunday, December 21, 2014
"Well I guess we should enjoy the next week or so." The first voice said with a hint of resignation.

"Why is that?" Asked a second voice.

"The New Years Resolution people will be here soon. This place will be a zoo." Answered the first.

In the back ground the Greek chorus murmured their ascent.


I was standing in front of my locker getting dressed after my morning workout and those voices migrated over the bank of lockers in front of me.

I can't say I could argue with the guy. I've been part of that gym for five years now and I've felt the same frustrations. Every year around January 1 we sit down at our desks or in front of our computer screens and we promise ourselves that the next year will be different. We begin a new diet, join a gym, buy a pair of good shoes to walk in............. My gym will hold an open house, offer a reduced membership rate and dazzle you with the promise that come spring break you too will fit into your vacation clothing. And every year right around Valentines Day things go back to a normal predictability.

Why do you think that is?

It's not about your moral fiber or character. It has nothing to do with self discipline or will power. You are not a "bad person."

Simply put' you are over whelmed.

Think about it a minute. You and I have lived "one way" for a long, long time and all of a sudden, because of a day marked on a calendar, we begin to deny ourselves and somewhere deep inside our minds and our bodies say something like, "Whooooooooooa wait a minute here."

So, we listen to inspirational music, play inspirational videos and "gut it out," until finally one day our bodies say, "That's it, I'm through with this nonsense." Then the whole downward spiral begins. We look in the mirror and play the blame game.

What if there's another way. I mean, why wait?

That's what I asked myself the day after Thanksgiving when my I had a hard time buttoning my pants. Why wait until the new year?

On top of being really good looking I read minds. I know what you are thinking. "This is the holiday season. Too much temptation, too many parties, to little time."

They still sell bananas, blackberries, pineapples and grapes don't they? (Those are my favorites.)

Okay I'm not going to moralize just make a suggestion or two. Things that are helping me weather the storm and stick to my goal(s).

Start Small
The day after Thanksgiving I set a goal for myself to reach by January 1. It was challenging enough that I'd have to work towards it, but very reachable so while I am required to change my habits, I'm doing so slowly and with purpose.

Start Now
If I make the commitment to start small it's easier to start now. I eased into my goal. My trigger food is french fries. I know if I eliminate them from my diet things go much smoother. That's what I did day one. I could go on, but you get the point. Starting small means I can start now.

A healthier life style is one of my goals but I have found with the people I work with this process removes a major stumbling block for them. Take the bay steps and start small, start now and when you reach the first plateau, stop, and take a deep breath and ask yourself:

"What's my next success going to be?"






Thursday, December 18, 2014
I ended my blog yesterday with an inspirational posting from Coach Jim Valvano over 20 years ago. Jim passed away three weeks after he gave this speech at the ESPY Awards where he was honored with the Arthur Ashe Award.

I share this with you because it not only inspires me and motivates me

Here is the link

youtu.be/HuoVM9nm42E






Wednesday, December 17, 2014
The regulars at my gym are pretty much used to my off beat behavior. I've been known to burst into song on the recumbent bike or do a dance on the elliptical.

They've never seen me cry.

I don't mean the "Sniffle, sniffle dab at your eyes with a tissue."

I mean like full blown tears running down your face only instead of looking pain stricken you are smiling and talking to yourself while your Ipod is sorta blaring Jay-Z.

That kind of crying.

If you have been active and then suddenly injured and your activity is limited you know that sometimes your brain wants to do things your body isnt capable of doing and when you try to do them, well, you fail. When the injury comes suddnely it devestates you. You werent expecting it.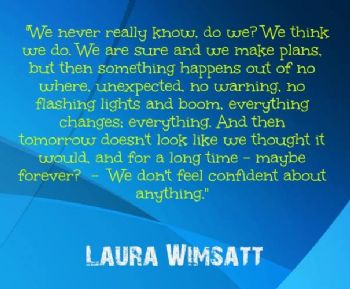 That injury sticks around for 3 years and it ambushes you when you least expects it. When all the weight you lost comes back with a vengence and when thinking that if your self confidence was in the gutter that would be a step up. You live in a jail of your own creation. No one gets it.

They get tired of listening to your misery and despair.

I get it. I really do. I get tired of listening to myself moan and complain but when your body wont obey one simple stupid freaking command............

Your excercise is confined to a warm water therapy pool and you look like a bloated plum all the time. When your sciatic nerve gets pinched between a disc or narrowed muscle mass your left leg suddnely looks up at you and says "Good-Bye" and you fall down.

You pray and you try to barter with God. You tell Him if He heals you you'll never do a,b,c ever agian or you will start doing d,e,f,g.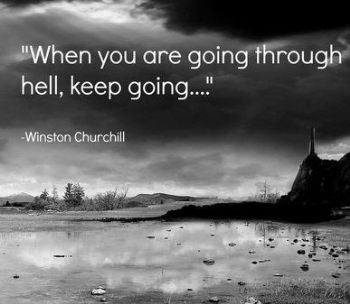 So, one morning after spending 30 minutes on the recumbent bike and feeling pretty good you decide to walk around the track for a lap or two, simply to cool down and stretch. You know you cant go much farther until things start to tingle or tighten up. You are beating yourself up a bit because two weeks ago you set a goal of walking in a 5K by the spring of 2015 and you have had a hard time doing 3 or 4 laps - not even one half mile.

You havent given up though. You've checked online for yoga excercises for sciatica. At 61 your body does not always bend that way but you give them a shot. You are not sure if they are helping or not.

You are listening to a Jay-Z medley while you walk. It's what you used when you could run and when you look down at the clicker in your hand it ways you've walked 6 laps which is a bit over a half mile.

Maybe?

You feel okay. No pain, no tingle, no numbness. You keep going.

7 laps. 8, laps, 9 laps

You wonder "Is this a cruel trick? Is my left leg going to abandon me with only two mealsy laps left?"

10 laps

I start the 11th lap that will make a mile and my heart says "If you have to crawl you are going to finsh this last lap." I am in the last straight away and its when the emotion starts to well up and spill over. I start to cry and it's the kind of crying where you're whole body shakes back and foreth and I am do damn happy and so proud and so.........

I cannot tell you what will happen tomorrow. I only know that today brought me a distilled moment of happiness that will carry me for sometime.

Small victories. They sustain us.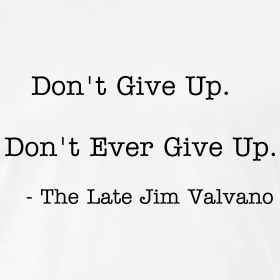 Tuesday, December 16, 2014
"Ya know, it took me five years to realize their were no absolutes in living a healthy life style. That's sorta sad."

"Well it could be," Joan said. "Or you could share that with other people just getting started and it might help them avoid the trap you fell into."

She's always been a glass half full type of person.

I'll admit it I am a "monkey see monkey do" sort of person. I'll latch on to something everyone else is doing and I'll use it until I realize it's not working for me and then I'll blame myself for the failure. -- The eternal character flaw and rot such as that.

I remember about 4 years ago another Sparker and I decide to challenge each other to see who could run 5 miles first. --- Me or them. To make a long story short they ended up almost passed out on their neighbors front lawn and I received one of those lectures from my wife about being too old to do that kind of crazy stuff --- Especially in 90 degree heat. She kept her cell phone in her hand for an hour convinced she'd be calling 911. Truth be told, I was convinced also.

I can smile about that today but at the time I'd felt I'd failed. you know? All the cool kids were dropping weight like it was tissue paper. Why cant you?

Because there are no absolutes.

Nothing works for everyone no matter how much marketing information and other propaganda that funnels its way to your inbox.

The real challenge to this journey we are on is finding what works for YOU and sticking to it despite the nay sayer's and conventional wisdom think.

I'm not suggesting you do dangerous or unhealthy things. I'm suggesting you plug in your inner head phones and listen to what your body tells you. When you do, and me also, the load is a lot lighter.

You may arrive at your goal quicker than I do but that just means you can stand and cheer for me when I cross the finish line.

And, oh yeah, that 5 mile challenge run?

I figure I won because they passed out on the neighbors front lawn and I made it to my doorstep

Just sayin'



1 2 3 4 5 6 7 8 9 10 11 12 13 14 15 16 17 18 19 20 21 22 23 24 25 26 27 28 29 30 31 32 33 34 35 36 37 38 39 40 41 42 43 44 45 46 47 48 49 50 51 52 53 54 55 56 57 58 59 60 61 62 63 64 65 66 67 68 69 70 71 72 73 74 75 76 77 78 79 80 81 82 83 84 85 86 87 88 89 90 91 92 93 94 95 96 97 98 99 100 101 102 103 104 105 106 107 108 109 110 111 112 113 114 115 116 117 118 119 120 121 122 123 124 125 126 127 128 129 130 131 132 133 134 135 136 137 138 139 140 141 142 143 144 145 146 147 148 149 150 151 152 153 154 155 156 157 158 159 160 161 162 163 164 165 166 167 168 169 170 171 172 173 174 175 176 177 178 179 180 181 182 183 184 185 186 187 188 189 190 191 192 Last Page

Get An Email Alert Each Time JOHNTJ1 Posts