| | |
| --- | --- |
| | JOELLEY23's Recent Blog Entries |


Saturday, June 08, 2013
It's been over a year since I made a blog entry. I've been trying to get the motivation...I used to find it therapeutic. Maybe this will be. I want to inspire people, and when I don't feel inspired or know what to do, it's disheartening.

The last year has sucked balls for me, healthy choice-wise. I used to be the queen of clean eating, exercise every day...sometimes I only exercise once a week now and even that is just a little S.T. to keep my muscle tone. Don't get me wrong, I haven't gained any weight back, but I've lost a lot of my healthy habits so it makes me feel like it's only a matter of time before I start to gain again. My whole life has been determined by the scale. It's my best friend and my enemy. Holler if you hear me cause I know there are a lot of ladies out there that feel the same way.

Drinking and eating out have been the 2 things that have been detrimental to my goals. My goal (with my friend, we had a workout plan) was to get down to 115 for bikini season. That didn't happen, not for me anyway. I started out strong, as I do, but fizzled after about 6 weeks. I lost 4 pounds and it was awesome.

Alcohol is a fiend, cause not only does it contain a lot of empty calories, but it makes you not care what your eating. It's an evil calorie two-fer!

Anyway I've done two very awesome things this year. I went back to school, and I became Vegan. I'm so proud of both those accomplishments :)

I just wanted to unvent my struggles and let my sparkfriends know i still love them! sorry ive been to out-of-touch, it's not easy to share failures.

Tomorrow i'm going to attempt a fresh -my last- fresh start. 30 min cardio 4 days a week, 3 days S.T, 1200-1400 calories per day, starting a streak of good days. Last but not least eliminating alcohol until I can learn to drink moderately. Go Me! Wish me luck!







Thursday, May 03, 2012
So I haven't written a blog in a long time. I've been struggling with maintaining a lot. Without the excitement of "oh! i lost another pound!" eating healthy and exercising become more difficult. I'm one of those people who does best when I have a goal, something to shoot for.

It started to go sideways when I moved. We moved into a bigger apartment and my stepdaughter moved in with us. Dinner became harder to eat healthy. I used to make myself something small and really low cal, but that's kind of mean to do to a 14 year old girl who is not trying to lose weight...but I digress...

Anyway with my whole schedule changing, I lost a lot of my healthy habits. Getting out of the habit of daily exercise is the biggest mistake i've made in a long time. Then to make extra money, I decided to start a home cupcake bakery. There are always cupcakes here now. FML. Well, after eating 3 cupcakes a day for like 5 weeks, I had no doubt gained back a couple pounds. I lost some muscle. I felt like ass.

The last 3 weeks have been good. Since I decided on my flavors and recipes, the cupcakes I make now are ones I have orders for (for the most part) so I don't get to eat them :) I started exercising again. EVERY DAY. I learned that I can actually exercise with my son in the room now, instead of getting in the way like he did at 10 months, he tries to do it along with me. Seeing a 18 month old boy trying to do mountain climbers is extremely cute.

I lost the weight I had gained back. I got my muscle back. I don't feel my butt jiggle when i walk anymore (although i suspect this was more in my head than an actuality) I feel really good.

So, lesson learned. I can't go back to the way I ate before just because I met my goal weight. I need to exercise, because I'm trying to maintain a relativity low weight. I don't want to be stuck eating 1200 calories a day for the rest of my life, and exercising is the remedy for that. I also learned that I need to track my calories. I've been doing if for so long, it kind of gives me peace of mind. So I'm off to make cupcakes. Lets just hope i don't eat them all!





Friday, January 13, 2012
Exercise is a battle. We all know this. Personally, my battle is with not wanting to "waste" what little free time I have with something that hurts. So I sit, and dwell, and procrastinate. That's ok though, because eventually I do get up and do it.
The rub is, that after I'm done, I know that it wasn't a waste of time at all but really the best thing I could do in that hour I had free.

But tomorrow I fight the battle again.

I guess I'm telling y'all this to let you know that you may never come to "love" exercise, but it can become a permenant part of your life anyway. You're not a failure if you don't live at the gym. Hell, I've never set foot in a gym. I really believe that the trick is to find a kind of exercise that you don't loathe. In all seriousness, try different things until you find yourself enjoying it.

I used to do all sorts of aerobics videos and I did not like them at all. I can't keep up with the choreography and I feel like an idiot. A rhythm-deprived idiot. I tried walking. It's just too boring. Strength training is one that grew on me, it's my true love when it comes to exercise.

For beginners in ST, I'd like to tell you the best benefits:
1) it builds muscle and gives you that "lean, athletic" look (while preventing the dreaded "skinny-fat")
2)it increases your metabolism
3)it's very yen. screw yoga. i like the counting and the breathing associated with doing a gnarly set.

Hopefully I've convinced a few of you to give it a whirl if you've been avoiding Strength training, or at least convinced someone to get off that elliptical that they're hating every second of and try something new.

Remember, you don't have to love exercise to be a fit and healthy person. You just have to do it...and try and make it as painless as possible.






Monday, January 02, 2012
2011 was the year I learned that exercise was not a punishment. When I was younger and more stupid, I used to force myself to run until I couldn't breathe, to wake up in the middle of the night and do situps and pushups. To run flights of stairs for an hour if I ate pizza. Yes, exercise and I had a dysfunctional relationship.

Starting in March of 2011 I decided to finally try and lose weight the healthy way, and joined Sparkpeople. I hadn't exercised in a couple years so I started Leslie Sansone's "Start Walking" videos. She has a 1 mile, 2 mile and 3 mile one, which are 15, 30 and 45 minutes. I used the 2 mile one mostly, every weekday. I did not do any Strength training. I bought into that BS that people say ST will make you all big and unfeminine. Total BS.

I followed Sparkpeople's guidelines on calories and lost 1-2 pounds per week. For anyone just starting out...Just track your calories and exercise and it really isn't that hard to lose weight. There is no BIG SECRET, no MIRACLE DIET. Just lower your calories and up your exercise. Eating clean also helps, but it can be a challenge.

In April I started doing Strength training. Now I love it so much but it took awhile to grow on me. Now, If I have to pick between cardio and ST, I will always choose ST. Muscle burns calories while you're sitting on your butt, who doesn't love that?

Throughout the months, I upped my cardio to more challenging videos and in June I started running. I was hooked. The hard part is you really can't run every day or you start risking injury. I also discovered Circuit training which is one of my favorite ways to exercise because you get your ST and cardio in at the same time. I have to admit the closer I got to my goal, the more I did exclusively circuit training because I had trouble getting up the motivation to put a lot of hours into exercise. Also, it's really cold and wet in Oregon during Fall and Winter, so running becomes a lot less fun



Anyhoo to make a long story short (too late!), on March 22 when I started this whole journey I weighed 170 lbs and on December 31st (good timing!) I weighed 125, which was always my ultimate goal. I learned so much about myself this year, how strong I am, how far I'm willing to go to succeed the right way.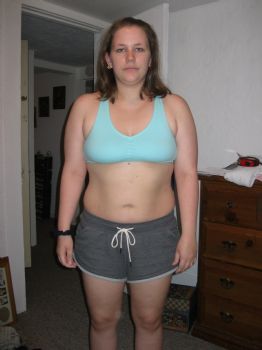 this is one of my earliest "before" pictures, taken in early June, I had already lost about 12 lbs.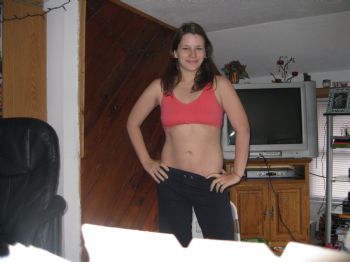 This was taken on Dec. 31st, 45 lbs gone and never coming back






Tuesday, December 06, 2011
Oh, my friends, how I've missed you. I've been around...slightly. I've logged in and tracked my calories and spun the wheel. But I lost my Spark briefly, and did not really talk to anyone for awhile.

So my best friend moved to Florida, and there is no cell coverage where she is (at a Primate Sanctuary) I've been kind of bummed so I drew myself inward. I don't want to jump on the word "depressed" because I've been that and this didn't feel that bad. Just...blah. My weight stuck in the same place for like 2 weeks and that didn't help either.

I was lying in bed the other night and my husband put his arm around me. Then he poked me, right in the ribs. I said "Ow! what was that for?" All he said was "Bones" and he kept poking me. On the hip, the ribs, the arm. "Bones!" he says. I don't know what is wrong with him because most the other guys I know would be so excited if their wife lost over 40 pounds. I can't get him to touch me with a 10 foot pole. I know...overshare. But I have to share with someone, and like i said...best friend...Florida. BLECH! Then today he says "Just don't go all Karen Carpenter on me." Really?!? I eat 6 times a day! I just laughed it off, but inside I felt like saying, "shut your damn face!" and choking him out. It's really not fair that he is making me feel all insecure about this now.

I mean, do I stop working out or losing weight because maybe he is insecure? Wouldn't gaining weight for someone be just as bad as losing weight for anyone but yourself?

Not too much else is going on, but I'm planning a big blog for when I get to my goal weight which is 2 pounds away. Wish me luck!



1 2 3 4 5 6 7 Last Page

Get An Email Alert Each Time JOELLEY23 Posts