| | |
| --- | --- |
| | JMERLAU's Recent Blog Entries |



Wednesday, April 18, 2012
The story behind the photo

I've had several questions about the new photo on my page so I thought I'd do a quick blog to explain how that came about.

My wife works for Texas Scottish Rite Hospital for Children and both my daughters are patients at the hospital. Needless to say, we are passionate about TSRH. They do orthopedic care for Children, regardless of their ability to pay, this has been the policy for 90 years now.

TSRH partners with Southwest Airlines to fly patients to Dallas for appointments if that is a necessity. This partnership just celebrated their 5 year anniversary and to help celebrate, they brought in a photographer named Robert Fogarty(he's a runner too BTW). Robert does the coolest photoshoots ever. My family was asked to participate in the shoot and we were to write things on our bodies that were inspiring.

Here is the shot of my family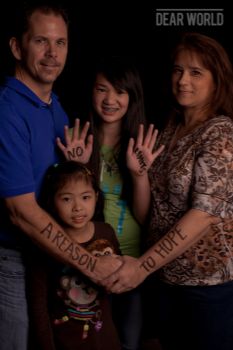 A Reason to Hope are words that my oldest daughter used to describe how she felt about TSRH. TSRH gives children a reason to hope. She also has a mind set of NO LIMITS, which is written on her hands.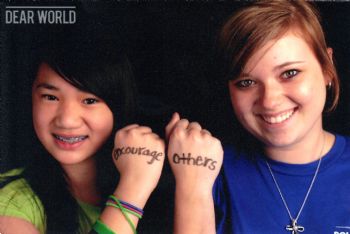 This is my oldest daughter and an employee of Southwest Airlines.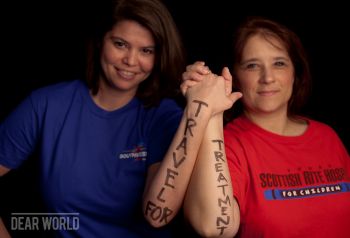 This photo bridges the gap. The lady in blue works for Southwest and is the person who actually books the tickets as needed for patients, my wife is the person who coordinates that ticket on the hospital side. They had never met until we walked into the shoot, it was really cool.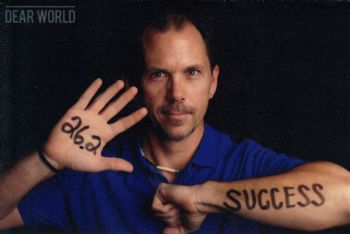 This of course is me. We were talking about my story and running with Robert. We came up with the idea to do a shot of me, I love this shot and I'm very proud of it. (I kinda think SUCCESS would make a cool tat, right? :-) )

The photos of my family and my wife were used by Southwest (along with other families) for a promo about the program.

SO there ya have it, the 'story behind the photo'.

Just wanted to share





Tuesday, April 10, 2012
Saturday April 7th, 2012
Dallas Running Club
Tal Morrison Classic 15K
White Rock Lake

This was the funniest race I think Iíve ever run and there is a very good reason for that.
I am a member of the Dallas Running Club due to the simple fact that I get 8 free races a year. These races are all at White Rock Lake, which is my favorite place to run in the area, basically it all works out perfectly.

Recently Iíve not ran many DRC races due to my group training sessions that I do on Saturday mornings. My fitness is important to me, but itís also very important to me to help others who want to be helped. We took Easter weekend off from our group training, which gave me the opportunity to run this race.

I had a friend/buddy/client David wanting to run something with me so this was a perfect chance to make that happen. This race was TOTALLY about David and getting him to the finish line.

He picked me up at 6am and we were off to White Rock. He confessed he was nervous and secretly had hoped Iíd cancel on him. I of course did nothing but encourage and reassure him that he would be fine and we would get through this. We had to park around a mile from the race site, so we power walked that distance as a nice little warm up, that was kinda nice. It was a beautiful morning and the lake was amazing!

There were other SparkPeeps there as well, which is always fun! Michelle, Shelly and Amy were all present and we had a good chat before we ran. Here is a pre race photo of the SparkPeeps present: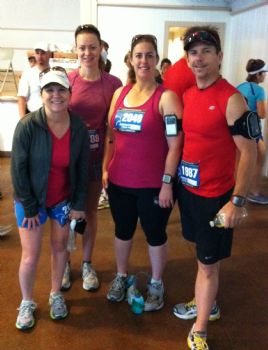 David is a very social dude and was talking to everybody possible, but I wouldnít expect anything else out of him really. We made our way to the bathroom line, then off to the start. After a short jog to get the legs going again, we hung out in the back of the crowd stretching etc. David looks at me and said ďWhy are we in the backĒ? I told him thatís where I always start for two reasons. The first reason is that I donít enjoy fighting crowds typically and secondly, it makes you feel good because I typically get to pass a few other runners that way.
Just before we started, I snapped a self shot of both of us: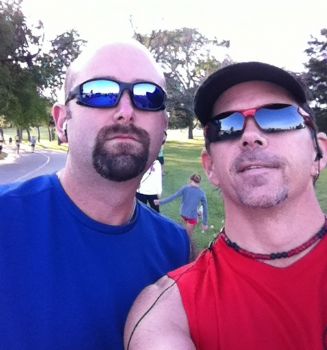 We started out around a 10 minute mile and I had to keep slowing him down, the adrenaline was raging and sometimes thatís hard to contain. As we were running, I saw a friend Kevin and was sure to acknowledge him this time, I failed to acknowledge him at the Rock and Roll half and felt bad about that. His wife Mimi was also there so it was good to see them for a moment.

David and I even had the opportunity to run up right behind Shelly as she had little incident. Her arm pocket fell OFF that held her music. Oh dear, that girl is a MESS! I was making funny comments as she fumbled with everything, but I did ask if I could help her. The whole thing was kinda funny and I got a kick out of it. :-0

We were doing great and I kept checking on David to make sure he was doing OK. At first the signs were great. Then they got to more of a Ďso soí, then they hit the ďI have to walkĒ. All good with that dude, this is about getting to the finish line, not about a time, not about a speed, itís all about finishing. We ran, walked, power walked, skipped our way through this course. Ultimately I threw out a challenge for him. There was one guy about a quarter mile ahead of us for quite a while. I told David ďIf you werenít hurting so bad, I was going to throw down a challenge for youĒ. Of course he bit on this idea(which I hoped he would) I told him I did not want that guy to beat him to the finish line! Davidís response to the challenge was two words, ďcome onĒ and off we went. This was about mile 7 or so that I threw this out there for him. David did a great job pushing himself to the finish. We passed the Ďchallengeí guy and never looked back. Ultimately finishing the run with Shelly who had finished her 5K and came back out to run in with us, that was pretty cool. Iím honestly not even sure what the time was and I donít even care really. The goal was to get David through the race and we did that. SUCCESS!

Postrace we had to take a photo ofcourse.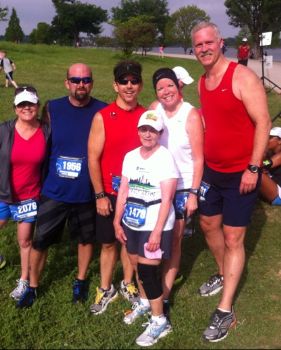 David and I didnít hang around long after the race as we both had family activities we needed to get home for. We were both looking for my favorite recovery drink, thankfully there was a Sonic between us and the car!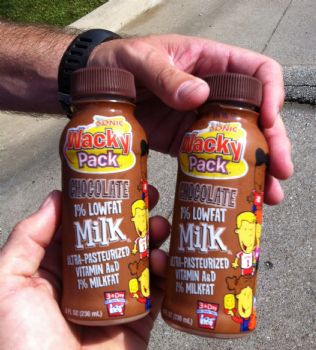 YesÖ.chocolate milk, the recovery drink of Champions.
BTW Ė PLEASE vote for my Team Refuel video here: http://www.gotchocolatemilk.com/applicant/
jerome-merlav

David Ė it was an honor to run with you and Iím proud of your progress my friend!






Thursday, March 29, 2012
Date: March 25th, 2012
Event: Rock and Roll Marathon Series Dallas

Race Length: Half Marathon Ė my 6th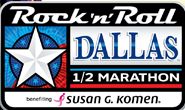 I have to start this blog by going back to my training run on 3.18.2012. I did a 10 mile training run that was the worst run Iíve had in a very long time. I ran the service roads in my area, like I do a lot when I need a nice long run with some hills. I didnít push my pace as it was probably around 9:40ish per mile or so. When I finished my run, my legs hurt so bad, I honestly did not think I would even finish this Half Marathon.

So, I did what I do, I kept training, kept pushing myself since I have the will, I had to find a way. (I rarely taper for half marathonís anymore BTW). I spent time with my roller. Not just any roller, not your typical foam roller, my 4Ē PVC pipe roller. I use this because itís hard and goes deep enough into the belly of the muscle and works! I rolled twice a day for 20 minutes or so each time. Here is a pic of my trusty roller: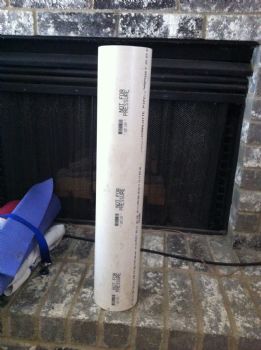 Fast forward to the weekend and Iím READY to run! My family had a great day Saturday at a golf event with my oldest daughter, then we went to the Rock and Roll Health and wellness Expo. We had a great time at the expo searching for bargains and checking out new things. I made a video for GotChocolateMilk as a recovery, that Iíll be asking everybody to vote for as soon as I get the email about it. My daughter and I took a picture together in front of the green screen. The funny thing about this is that we were both wearing green shirts. I thought it was funny.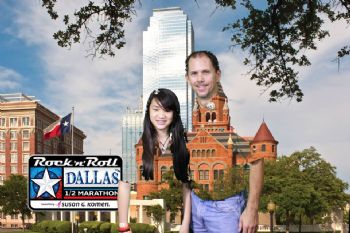 Fast forward to Sunday morning.
I was up at 4am to start getting ready. Typical stuff, quick shower and then I rolled for a while! Oh I love my roller, have I mentioned that. :-) Since I knew there would be large crowds and I do not like sitting in traffic, I left the house just after 5am for Dallas Fair Park. This was the finish line and we were bused over to the starting line. I relaxed in the car for a while, watching traffic pick up before my very eyes, thankful I was early.
I met a very nice lady named Joyce on the bus to the start village in downtown Dallas. We made small talk and I learned it was her first half marathon as a walker, and she was excited! I was excited for her of course. In the course of the conversation I learned she is 65 years old and had lost 75 pounds. She lost her husband years ago and they used to do 5kís together a lot, her husband enjoyed the tech shirts he got from the races. I shared my story and then I spread the SPARK and told her about Spark People. Here is Joyceís finisher photo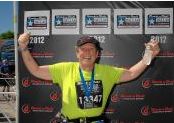 Can you tell she is excited?!

So now I am downtown at City Hall before day break and it is absolutely beautiful. I could feel a great day in the air and loved that feeling. I was really taken by how beautiful it was, so I snapped a photo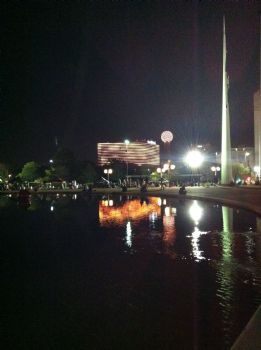 I found a spot to start warming up my legs again, then started texting Michelle who is a fellow SparkPeople member and we wanted to meet. I had a really nice warmup time and stretching to get my legs ready. Michelle had found me by now and we were getting to know one another more, then Kim walked up as well. Kim is another SparkPeople member who I was meeting for the first time. I love meeting SparkPeeps in person that brings me joy. Here is a picture of the three of us.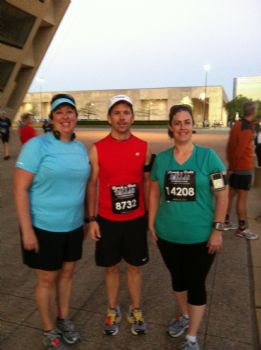 Finally itís time to get lined up. There were nearly 12,000 runners for this race so it was fairly crowded. I was lined up in corral number 8 and you will never believe who was also in my corral?!? Elvis was in my corral. Pfft, who knew?!

This is a picture of the crowd in front of me before we started: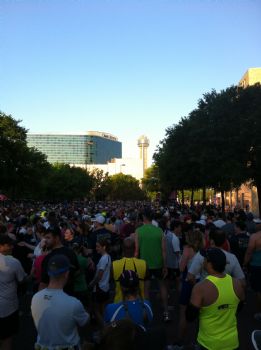 It took me about 20 minutes from my starting position to get to the start line because there were so many people.

Finally, weíre off. The course took us downtown Dallas to the grassy knoll where President Kennedy was assassinated, that was kind of cool to run down that area.

Mile 1-3 were 9:35, 10:00 and 9:38 pace per mile respectively. This was the Ďworstí part of the course really. The scenery wasnít all that great.

Miles 4-6 were 10:26, 9:33 and 9:49. I felt like I was right on target for what I wanted to try to do. I was feeling pretty good, not pushing the pace too much because I knew it was nearly all uphill for the first 7 miles. I hate it, but I had to stop at mile 4 and take a bio break, ugh. My legs donít do that well. The scenery was beautiful though, sometimes Iíd get caught up looking around and forget I was running. LOL

Miles 7-9 were 9:38, 9:30 and 9:14 per mile. Mile 7.5 is where the uphill climb stopped, thankfully! Somewhere around mile 7 we ran right past RunON, which is my favorite running store in Dallas.

Miles 10-12 were 9:00, 9:09 and 8:47 per mile. I remember thinking to myself that my plan had worked. I was able to go slow on the uphill climb, then speed up after that point. I felt good at this point too! This was the same route I ran on my first marathon with Nicholas, so thoughts of my bro came to mind and helped push me speed.

Miles 13-13.1 were 9:00 and 8:24 for the last little bit. I remember thinking as I entered the fair grounds that I was almost done. They had the finish line as far back as they could possibly get! We ran nearly all the way around the Cotton Bowl. I had stopped at the last water and walked through it just like I do every time I run a race, then something new happened. My calf muscles decided to start cramping, ugh, thankfully it was less than a mile or so from the finish line.

All in all, I surprised myself beyond belief! Here are my stats from the run




That time still blows me away. My 6th half marathon and itís my 3rd fastest time over all. I have to give credit to my roller for helping heal my legs the week before the race. I also give credit to my family and friends for posting comments as I ran that encouraged me to keep running strong. Seeing my wife and daughters at the finish line, priceless.
The after party was a hit as well. James Durbin from played and well, he durbinrocked! He is on stage over my shoulder when this photo was taken.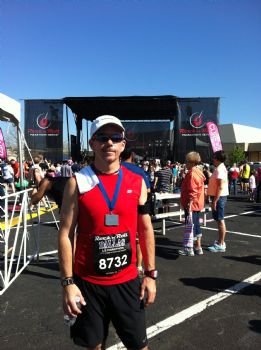 Couple photos shot around the post-race party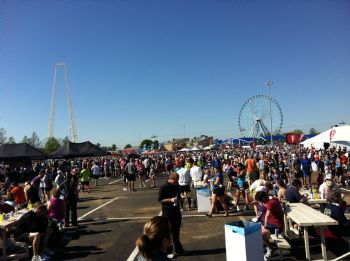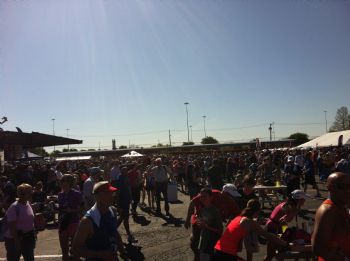 The bling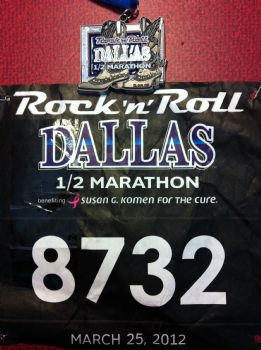 YES Ė I DO LOVE TO RUN! (taken during the half marathon)







Wednesday, March 21, 2012
I am feeling really blessed today and I wanted to share with you WHY that is the case.

Yes Ė Iíve lost 100lbs (maintaining at a 96lbs loss right now) and the benefits just keep coming. That is STILL amazing for me to say that. I am now honored to have the opportunity to help others to the same thing. Iíve never considered myself as ĎFITí, but I think the results below would qualify for that category.

Recently I had to have some blood work done. Iíve not had any done since mid-2010 and things looked decent then after about 6 months on my journey. This time the blood work results are remarkable! Absolutely everything they measured is perfectly in line(or on low side) for a man my age! From my LDL, HDL and Total Cholesterol to my total protein to my glucose, everything was absolutely awesome.

This blood work was done for a life insurance policy we just bought. There is apparently a huge advantage of being FIT when it comes to life insurance, because I came in at what they called a SUPER preferred rate, meaning I saved nearly $1000 a year, all because of my health these days! WOW that is absolutely amazing to me.

Iíve gone from the man on the left(yes, itís me) who weighed 264 pound at highest measure weight to the man on the right weighing 168 pounds at last weigh in. The picture is completely about UNHEALTHY vs. HEALTHY.




Yes FriendsÖ.there ARE many added benefits to taking your life back, and Iím still learning what they are.






Tuesday, March 13, 2012
Good Morning Spark Peeps!

I've recently heard about Cetyl Myristoleate

My question to you is:
WHAT IS IT
DO YOU USE IT
HAVE YOU SEEN RESULTS

Just curious and trying to educate myself more.

Have a SPARKtastic day



First Page
1
2
3
4
5
6
7
8
9 10 11 12 13 14 15 16 17 18 19 20 21 22 23 24 25 26 27 28 29 30 31 32 33 34 35 36 37 38 39 40 41 42 43 44 45 46 47 48 Last Page

Get An Email Alert Each Time JMERLAU Posts