| | |
| --- | --- |
| | JMERLAU's Recent Blog Entries |



Wednesday, January 11, 2012
December 31, 2011
Allen Texas
New Years Double

This was a brand new race to the area that included a 5K, Half and Full marathon on New Years Eve AND the same on New Years Days. I had several CRAZY friends who ran this on BOTH days. I only ran on December 31, but I had to get all dressed up to do it!

It was a beautiful day of about 42 when we arrived at race site and just over 50 when we finished. Absolutely beautiful New Years Eve day!

You MIGHT recognize that crazy man with me. YEP, That's SDJ himself, in ALLEN TEXAS of all places?!?! It was a GREAT honor to finally meet John in person and spend 13.1 miles talking. Yep, we were all dressed up and ready to run!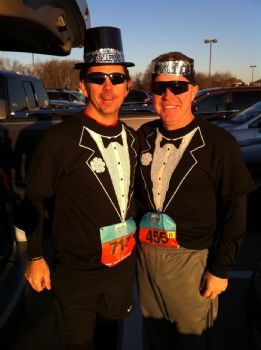 Of course there were more spark friends there as well. Lynette, Amy and of course Nancy all ran as well.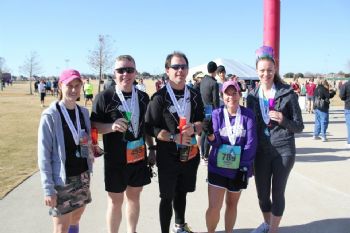 This pic includes my lovely wife and family as well as Nancy's husband. They were the support staff! Note the champagne bottle and glasses? :-)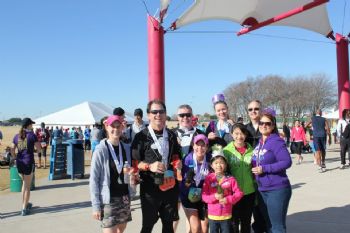 We saw this guy, Patrick, trying to take his own picture with his medal after the race. John and Nancy walked over and just took over for him, it was awesome. Told him where to stand, how to pose, etc This was his first half.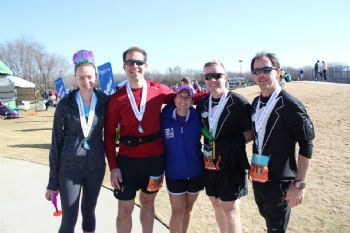 Yep - all dressed up and ready to run.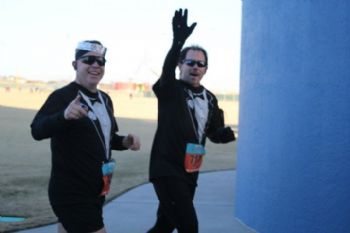 what?? we just ran 13.1 miles, we deserve to celebrate that, right?!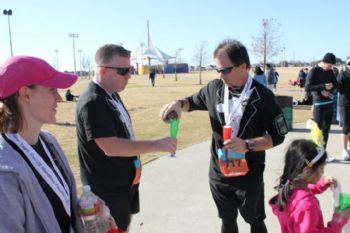 The champagne was first used to toast my lovely wife and our 21 years of marriage we celebrated on NYE. We also toasted an incredible way to end 2011 and begin 2012.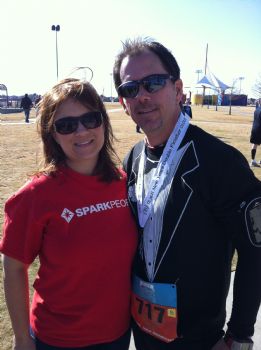 Monday, January 02, 2012
Why put my goals out in the public, to help hold me accountable, that's why. I'm pretty simple really, I don't have all that many and I'm certain these will adjust as the year progresses.

2012 Goals
January my primary goal is to HEAL my performers issue! Taking a little down time. This means I will continue to cross train, fewer (short)runs and add yoga to stretch and help the muscles in my butt heal!

Beyond January, my long term goals are as follows:
-Exercise my Spiritual Endurance

-House Chores Ė with wife in school, I need to step to the plate more
o Laundry
o Cooking
o Cleaning
o Girls homework

-Be a better Husband, father and friend

-Improve overall fitness
o Defined arms
o Defined core

-Practice Yoga as much as possible
o This is a step to help my performers issue go away!

-Grow my personal training client list by a few

-Run at least 15 races
o Focused training
o Fueling body correctly
o Varying from 4 miles to 26.2 miles in length.

-Attempt to eat more fruits and veggies
o (I donít eat many right now due to my pallet not liking texture)






Sunday, January 01, 2012

Count: 149 Activities
Distance: 1,001.22 mi
Time: 156:18:13 h:m:s
Elevation Gain: 15,438 ft
Avg Speed: 6.4 mph
Avg HR: 155 bpm
Avg Distance: 6.72 mi

All this come from countless training runs andÖ
1- 5 mile face
1- relay race (5.25 mile leg, I think)
4- 10K Races
2- 15K Races
5- half marathons :-)
1- FULL marathon

YepÖ.2011 was amazing. 2012 will be even better!







Wednesday, December 28, 2011
December 28th, 2011
2 year anniversary with SparkPeople.

As I sit here this morning thinking about the last two years with SparkPeople, I canít help but smile.

Iíve taken my life back
Iíve made some great friends
Iíve learned A LOT along the way.

Iíve handled myself very well most of the time and Iíve failed on more than one occasion as well. Iíve let outside influences control my habits, from my fitness training regime to my emotional eating.(There will be a DailySpark blog about this in February) This is called a journey for a reason, right? A journey will have ups and downs, turns, curves, changes, etc. I recognize all of this and welcome it with open arms.

I still have work to do, I know this to be true, and I will do the work, no question about that. I have gained a few extra pounds beyond my allowed 7 pound window, and I will lose that, SOONER than later! Iíve always said I wasnít after a given number for my weight loss goal, more of a range. Iím outside that range now, MY FAULT! I mentioned outside influences, training regime and emotional eating, well, all these affected me in the last 4 months of the year. I have all those emotions under control now and Iím working on locking everything back down to where I know it needs to be.

You can count on me to MAKE IT HAPPEN!

Chris Downie I know youíre way too busy to read these blogs, but I personally want to THANK YOU for changing my life. I mean, the decision was and is MINE, I own that. (#78 Ė weight loss struggles happens between the ears, right?) Without SparkPeople I would still be a fat, miserable, unhappy husband and father. THANK YOU Sir for making a difference. Thank you for making YOUR dent in the universe, because your dent is changing lives, every day!






Saturday, December 10, 2011

As I sat here enjoying the journey this morning, I felt like I needed to share this again.

Today is officiallly one year of maintenance! Oh sure, I've been up and down a litle with in the year, I've given myself a 7 pound window, and I've maintained that pretty well.

If you've seen it before, maybe you need to be reminded of what is possible.

If you've never seen it, I hope you find the Courage, Determination, Inspiration and motivation I tried to pack into this video.

If you enjoy this, please share the link with others who you think might also enjoy it. My goal is to inspire as many people as possible.

Here is another link to the video
www.youtube.com/watch?v=SjH49JhQ-uI



First Page
1
2
3
4
5
6
7
8
9
10
11 12 13 14 15 16 17 18 19 20 21 22 23 24 25 26 27 28 29 30 31 32 33 34 35 36 37 38 39 40 41 42 43 44 45 46 47 48 Last Page

Get An Email Alert Each Time JMERLAU Posts