| | |
| --- | --- |
| | JMERLAU's Recent Blog Entries |


Thursday, January 06, 2011
Personal Growth Goals:
Play as much golf with my oldest daughter as possible
spend as much time reading with my youngest daughter as possible
Enjoy side by side morning workouts with my wife
Become a better Father, Husband and Friend by communicating better

Fitness Goals:
Complete the following race schedule (it'll probably change a little)
January 8 - DRC Frigid 10K
January 15 – Hot Chocolate
April 2 – DRC April 5 mile
April 15-17 – Kansas Half Marathon
May 1 – OKC Memorial Half Marathon
June 4 – DRC Bloomin 4 mile
July 2 – DRC Independence 10K
July 10 – Too Hot too Handle 10K
August 6 – DRC Cross Country relay
Sept 6 – DRC 5 Mile Breakfast bash
Sept 25 – Heels Hills and Him 10K
October 1 – DRC The Look 15K
October 8 – Pumpkin Run 10K
November 6 – DRC Half marathon
December 4th – White Rock Marathon – 26.2 (with Nicholas)
This race is the ULTIMATE GOAL!!


Fully complete RevAbs and TuboFire for cross training purposes.
Firm and tone by body all the way around





Friday, December 31, 2010
BRING IT ON!!!

Bring on fun with family
Bring on the miles
Bring on the cross training
Bring on the weights
Bring on healthy meals
Bring on WISE decisions
Bring on great memories
Bring on fun with friends

you get the idea............

2010 has been an AMAZING year for me to say the least

2011 will be just as AMAZING!!!





Wednesday, December 29, 2010
So I got a gift card to a running store for Christmas, along with running tights, shirts, gloves, new warm up pants, arm warmers, and other running stuff.....anyway...that's not what this is about.

I got the card and I was SUPER excited. NEW SHOES was the first thing to enter my mind. I've never been fitted for running shoes and thought that sounded amazing to experience!

So I walk in and some English dude greets me, small talk about asked me what I'm looking for. I tell him about my gift card and I'm thinking I want to be fitted for shoes. He asked how much I run, etc. I told him I still consider myself a new runner, but I run 4 days a week. He asked me to take off my shoes and he starts looking at the bottom of both. He explained he was looking a the wear pattern and thankfully, it looks totally neutral to him. I guess the puzzled look told him I had NO CLUE what he just said. He explained the different running types and different types of shoes to support the different runners. I ran on the treadmill for him barefoot and then we looked at the video. This was amazing to me! He slowed it down to show me how I run and then told me that my gate is totally neutral. This means that I run with my weight right down the middle of my foot and I don't roll my ankles in either direction. I told him I was surprised this was the case as I'm totally self trained and self taught.

He showed me the two rows of neutral shoes and explained one had more cushion than the the others did. I want cushion ofcourse, so I tried on the Asics Gel-Nimbus 12 shoes. Immediately I could tell a difference. Then I ran on the treadmill again and holy cow what a difference a good shoe makes!!! I went ahead and tried on one other pair, but don't ask what they were, I can't remember, LOL. I LOVED the Asics!!!! I loved them so much I bought them!

The experience was very cool and his knowledge of running, shoes, etc blew me away. Ofcourse I sparked him and told him my story and he told me congrats! He said if I can run a 10K in 53 min and change, that I'm doing great!

Anyway.......I just thought I'd share the experience. If you've not had your gate analyzed and been fitted for a shoe, it's worth the experience!

This is the shoe I got: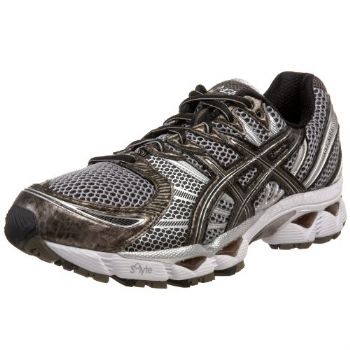 Thursday, December 23, 2010
"It will happen not because of where you've already been or what others have told you. It will happen when you decide to make it happen."

Did you read that carefully??

Not because of where you've already been
Not because of what others have told you
but when you DECIDE to make it happen!!

HOLY COWABUNGA!! Just DECIDE you're going to do it....then DO IT!!

SO simple really when you think about it. How many of us have 'made a decision' about something material, maybe a new car, maybe a new purse, maybe a bigger home, could be anything. We made that decision and you got 'it', whatever 'it' is. How many have done that with silly stuff, but we won't make that decision with our own lives??

I gotta wonder what would REALLY happen if we MADE THE DECISION to take our health back?? For some of us it can be a life or death decision and we chose not to make it happen. For others it could be simply setting a goal to become more fit and maybe run a marathon. Others might make the decision to make it happen for very selfish reasons, that's ok too! MAKE THE DECISION..........

Can you imagine what we are capable of doing if we REALLY set out minds to something??

MAKE THE DECISION already.....stop floundering.......MAKE IT........DO IT.....

If you've made that decision, CONGRATS and welcome to the rest of your life.





Wednesday, December 22, 2010
"Make it Meaningful, and the focus will be there. Make it meaningful, and it will happen"

I LOVE this statement!

As I reflect on this statement, I think about my own journey. One of the reasons I may be so successful is that I make it meaningful. I am 100% serious about taking my life back; I have a wife who deserves an active husband, rather than a sleeping time bomb. I have two beautiful girls who deserve an active/healthy Daddy who plays with them, who has then energy to keep up with them. (They have a hard time keeping up with me now) I made it meaningful by knowing that I am becoming more healthy every single day and with every single day, I work even harder. Every single step I take is meaningful toward my goal of being healthy. Every mile matters, every calorie matters, every bottle of water matters. IT ALL MATTERS!! Everything I'm doing MEANS something! I have been very focused for the last year and I pray that I remain as focused going forward. I deserve to be healthy, right? You deserve to be healthy, right?

I think this is a piece of the journey that people don't think about much. We tend to think, "I need to lose X number of pounds". You fill in the X, whatever that number is for you. There is SO much more to this journey than simply dropping a few pounds. Each journey will be different. Each step of the journey will be different. Every person will have their own meaning and 'things' that they need to learn while on their journey.

So I ask you dear SparkFriends, does your journey have a meaning or are you floundering in an unsuccessful attempt? Is the focus there? Is it happening for you?

What would happen if you made your journey meaningful?




First Page
1
2
3
4
5
6
7
8
9
10
11
12
13
14
15
16
17
18
19 20 21 22 23 24 25 26 27 28 29 30 31 32 33 34 35 36 37 38 39 40 41 42 43 44 45 46 47 48 Last Page

Get An Email Alert Each Time JMERLAU Posts