| | |
| --- | --- |
| | JMERLAU's Recent Blog Entries |



Friday, June 18, 2010
I've been wanting to do this for quite some time, I've just not taken the time to do it honestly.

This was taken May 18th, 2009 - HAD to be my peak!! I've hated having my picture taken for years, and now you see why. I'm scared of this picture. I look at this and I see a very unhealthy, out of shape, unhappy man. I see a man who needed to make changes for along time, I just didn't have the energy or drive to do anything about it.



This was taken November 5th, 2009 at American Airline Center in Dallas. Yes I was at at KISS concert(GREAT show too!!). Seeing my swollen face still freaks me out a little.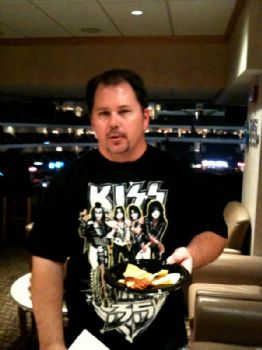 This was taken January 30th, 2010 - just over 30 days into my journey and I'd shed just over 20lbs at this point, somewhere in the neighborhood of 243 lbs. I'm starting to see a difference. I'm having some success and at this point I want MORE success, so I start pushing harder.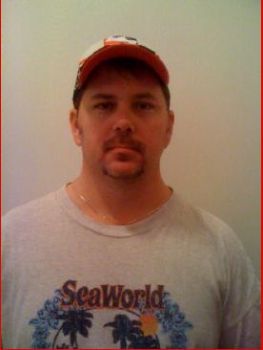 SELF PIC ALERT!!! I took this at my desk at work. Sad, I know. February 25, 2010 and I'd lost around 38 lbs and weighed about 226ish at this point.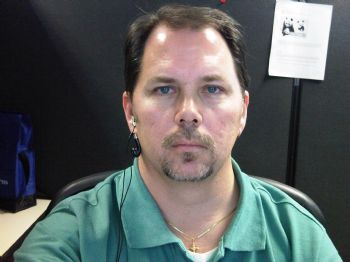 YEP - another self pic. Taken March 23, 2010 at home. I'd lost around 50ish lbs at this point. I was feeling really good!!!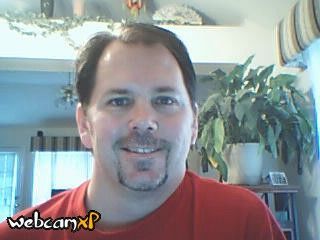 Birthday Pictures - April 15, 2010 is when these were taken, yes, my birthday. I'd lost 60lbs weighing 201!!! I'd dropped my BMI from 39.13 on Dec 28th, 2009(my start date) to 29.73 making me officially overweight, no longer obese, never to be obese again!!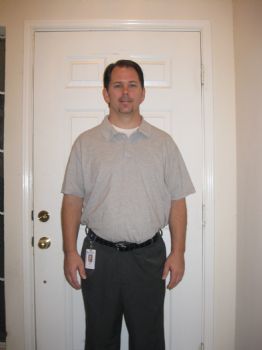 Taken May 2nd, 2010 while getting ready to run my first race, The Warrior Dash. Did you read that right, I said my first race?!?!?! I'm RUNNING??? WHO IS THIS GUY?? Holy cow what a difference!!! I'd lost around 70lbs at this point and weighed around 192!! WOO HOO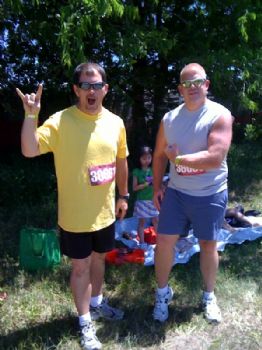 Here I am in my Warrior Dash t-shirt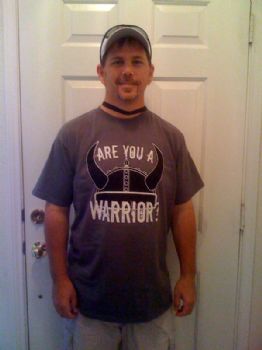 Taken June 11th, 2010 at work. At the time of this picture I'd lost 84.4 pounds officially and weighed 179.9 lbs. My BMI was 26.64 on that date.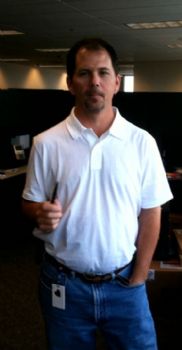 I don't have a picture today, but not much has changed from last weeks picture. I have officially lost 85.5 lbs now weighing in at 178.8 this morning6.18.2010!! I've officially enter a maintainenace stance at this point. I'm no longere pushing to drop weight, I simply want to maintain anything under 185-190 and I'll be happy with that. I'm still training hard however, that's critical to anybody doing this journey, you've gotta train!!!

I've now completed two extreme races, The Warrior Dash and the Caveman Crawl, I'm scheduled to run in the Too Hot to Handle 5K in Dallas on July 18th, running The JailBreak on September 18th, 2010 and the Turkey Trot (8miles) on Thanksgiving morning this year. I feel better than I have in years....YEARS! I think my wife and daughters see a big difference in my attitude, my energy, my eating, my everything. I love hearing from my oldest daughter "Dad, you're not fat anymore", brings tears to my eyes just thinking about it.

I encourage anybody who has thought about starting a journey like this to DO IT!! Work hard, eat right and do it every single day, it's not rocket science!







Tuesday, June 15, 2010
http://www.sportsauthority.com/product/ind
ex.jsp?productId=3902117&cp=3077568.69
3945&parentPage=family

I did NOT pay as much as the website lists





Tuesday, June 15, 2010
Caveman Crawl recap
June 12th, 2010

What a day!
Started at about 4:45am alarm to get up and start the day. We needed to leave the house by about 6:15 in order to give ourselves plenty of time to drive the 1.5 hours to Bridgeport, TX and not be rushed. Got the girls up, breakfast all the way around and left by about 6:30am I think. Everything is going along just fine, then we hit traffic in north Ft. Worth. Discovered a mustang on it's side up against the guard rail, not a pretty site, rescue workers were trying to cut the person out of the car. Between the car wreck and two potty stops, we were late….almost. We arrived at the race site and checked with bout 15 minutes to spare, not what I'd visioned would happen. I had to get my bib on, my contacts out, hit the bathroom and stretch, get my gloves on and at the starting gate all in 15 minutes!!
I made it!! Off we go…..
First obstacle was less than 50 yards into the race, through the mud, into the pond of about 25 yards about 4 feet deep, can you say COLD water?!?! So we climb out of the muddy bank and we're off and running, sort of. I'd told a co-worker that I wouldn't run off and leave him, and I didn't, I stayed with him the entire time! Second obstacle was over some old wooden cable spools, had to climb over three of them, then off and running again. Next we came to a 'mountain of Styrofoam bricks' we had to climb over. Next we encounter a small hill of very loose sand probably about 4 feet high, then stand in line to climb the big hill, very slick, rocky, probably 20 feet up, fairly steep. Right around the corner at the top we had to climb down, very small path cut into the nearly straight down cliff that one foot at a time would fit into. The drinking water at the bottom was a welcome drink for my running mate, I told them I'd had a drink in the pond, I was fine thanks. So now we're running through the woods a while. From this point I think we ran to the lake and had to run through a small portion, shin deep portion of the lake. Then we hit a mud slick that had a 'shower' at the end of it, actually kind of refreshing at that point. Keep running round the lake to the make made slide INTO the lake. There was a line of people here so we got a little break(my heart rate hadn't got up much yet). This slide was probably 30 feet long, down huge hill into the lake. I took about three steps back, hit that thing running on my belly and flew down that slide! It was GREAT when I hit the water, I lifted up my chest and just slide across the water. It was then that I realized that my bib had come un safety pinned from my shirt, I just rolled over on my back, kicked across the lake and pinned it back in place, very relaxing. HA Big mud slick coming out of the lake that was kinda rough, but we survived. From here, I can't remember exactly what was next, I'll tell you that we had a pool of mud/very very cold water, then straight up another huge slick hill, across a little ledge about a foot wide with drop offs on either side, across the gully on logs, slide under the orange fence through the mud for about 20 feet, into the next chest deep mud hole that had a pipe over it, we had to go under the pipe in the mud/water hole, run through the HUGE pipes, then down and round the 'mountain' to the rope climb. This rope climb was probably 30 feet up, it was greatness to climb up that thing! Once again down the mountain and into the last lake for about 50 yards of water before the end. I told my buddy Bryan, I won't leave you until the very end, once the crowd is within eyeshot, it's all about a show for them! So as I came out of the lake, another buddy who'd already finished was telling me the last mud hole was thigh high, I thought to myself, ok Jerome…here we go! I hit that mud pit on full blast, for about three steps then I hit the deck because I fell. Water and mud went flying!! I got right back up and did the same thing again, dudes and dudettes, it was great!! I finally crawled out of that pit and ran to the finish line about 20 yards beyond. My wife and daughters right there to greet me was awesome!
I'd done it, I'd completed my second extreme obstacle course type race!!!

I'm sure I didn't list all the obstacles, there were 22 in all!!

Then about 45 minutes after I finished, I did another 1.5 or so with my 10 year old, partially the same course, just shortened.

All in All – I had an absolutely GREAT time, very fun course that I will do again one day. My ankle held up GREAT and that's probably the most important thing to me right now!! I'm able to train 100% again!








Tuesday, June 08, 2010
possibly this treadmill.....anybody have personal experience with this baby??

http://www.sportsauthority.com/product/i
ndex.jsp?productId=3812760&cp=3077568.
693945&clickid=topnav_fitness_14&paren
tPage=family





Monday, June 07, 2010
I am working on a full schedule between now and end of year.

I will post when done for some feedback.



First Page
1
2
3
4
5
6
7
8
9
10
11
12
13
14
15
16
17
18
19
20
21
22
23
24
25
26
27
28
29
30 31 32 33 34 35 36 37 38 39 40 41 42 43 44 45 46 47 48 Last Page

Get An Email Alert Each Time JMERLAU Posts