| | |
| --- | --- |
| | JLDACQ's Recent Blog Entries |


Wednesday, July 09, 2014
I'm on a bit of a rant today. And it's not directed at the linesmen/women and tree cutting crews, but rather the upper crust of the corporation.

It's Day 5 since I've had no power. No one other than an assessor has been on our main road, never mind my dirt road. I now drive in fear all the way to work and back home, because the trees are still hanging over so many power lines.

It's not the power I'm worried about, since there is none going to those lines, but the fact these trees need to be cut down so they don't come crashing down on an unsuspecting motorist.

I'm not going to cut the branch that's laying on the power line in front of my house, and I'm not asking any of the neighbours to do it either. But if someone doesn't come soon, something will break. I'm hoping it would be just the line, and not the mast & box being yanked out of my house.

NBPower, you have been negligent in your commitment to keep power running, including the rural areas. There were many, many, MANY trees that have been threatening to fall since last winter, when Fredericton had another power outage in the middle of a snowstorm. I called in 3 of them, you've only cut down one. The other 2 are now laying across wires on my street. Thanks a whole fr!ggin' lot. I'm sure my neighbour, whose power box was ripped out of his house because a big tree that you were supposed to cut fell, would also appreciate that. Because of your sloppiness at head office, not having enough crew available to ensure the lines were free of trees and other debris, and generally not following through on your promises, he now has to pay an electrician to hook him back up. He's on a fixed income, and honestly, I don't know if he'll be able to afford it before winter.

I'm upset. Yes, I know it was a choice to live in the country, but I'm so tired of feeling like a 2nd rate citizen to NBPower and BellAliant.

You don't want to hear the decade-long battle I've had and still have with Bell. Really, you don't. Because their incompetence isn't worthy of more time.

On a better note, I picked up my generator at Home Depot this morning. When I get home later tonight, My Gal & I will set it up, and hopefully have it running for a bit tonight. I won't plug in the fridge right away, because I don't trust NBPower's notice that I should have electricity by Friday night. We'll live off food we can keep in the cooler, and purchase meals one day at a time at the grocery stores. At least this way, I can't hide any more cheesecake in the house. :-P

These past few days have been quite stressful, to the point where I couldn't even focus on getting a workout. Today was my first one since last Thursday. Now to remember to ease into it before I hurt body parts, again.




Tuesday, July 08, 2014
For those of you wondering, My Gal & I are ok, as are house, garage & both vehicles. So far.

The storm started in the early hours of Saturday morning, while we were still on vacation in PEI. We opted to end our vacation early, so we could be home and keep assessing damages as they happen. On the last third of our trip home, it was raining sideways, and by the time we got to the edge of the city, we doubted we could even make it to the house, there were so many trees down.

We eventually made it home, knowing there would be no power. As a reminder, we're on well-water, which means an electrical pump. Yeah, no water really sucks.

We were home about 2 hours, with the car unpacked, and taking a break in the garage, when we heard a crack that sounded like wood. We rushed out to see what it was, but we couldn't see anything. Within 10 minutes, 2 more cracks, and a large branch from a yellow birch in the front yard is lying across the line, between the house and the pole. The branch hasn't snapped anything yet, and the power was already out when it happened. Phone lines were also down earlier that day, and cellphone service is spotty at best at my house. But My Gal & I both started calling NBPower to let them know about the branch on the line, and we actually got through. Mind you, I chose the French line, in the hopes it would be a shorter wait. And it was. Within 30 minutes, someone finally came on the line and took our info. I was afraid the cell phone might cut out before the end of the call, but obviously we were standing in the right spot.

So we have no water. On Sunday, we headed to My Gal's old workplace, Circle K Big Stop, since they were on generator and had hot water, including showers. Yep, that shower felt AMAZING. So she had to do some paperwork to pay it off *smirk*, but it was well worth it.

Because we were on vacation, there wasn't much left in the fridge to spoil. I've already thrown out some food, and more will follow tonight, most likely. Eggs, some salad dressings, frozen veggies, and a few odds & sods have already been chucked out. The deep freezer, however, isn't fairing as well. It was barely 1/4 full when we left. I've thrown out a little bit of meat so far, but there are 2 turkeys frozen at the bottom, and I've surrounded the rest of the food around them. Still, I'm likely to lose a little more food before we get power restored. At best, I'll have lost maybe $100 worth of food, and that's a cost I can easily handle.

I've got 2 coolers in the kitchen, and 4 bags of ice, that are helping to keep things cool. The almond milk and most of the eggs will have to be tossed out when I get home tonight, however, the Sara Lee cheesecakes are holding up well, especially since we polished one off last night. :-P

Yesterday, the highlights of my day were to find a laundromat and some ice. On my way in, I stopped at My Gal's store. She and another cashier were so busy they couldn't even get to the coffee machines to make more. So I stuck around and kept filling up the coffee machines for a couple hours, and kept the area clean. At that point, I don't think she cared if her store got a Mystery Shopper, she was more concerned about having enough product to sell. I was happy to help, since there was nothing more I could do at home. After that, I found a laundromat that wasn't too busy, and did 3 loads of wash. Oh, clean undies & socks!!! :-D Then I headed for home, without any ice. On the way, I swung by my office, and lights were on. Oh yeah, I thought... generator. Then I noticed the grocery store (Sobeys) also had lights on. And a huge freezer. I went in, and the ice chest was about 1/3 gone already, and going fast. 4 bags, please & thank you! :-D

I also heard that Home Depot had a waiting list for generators, and they were receiving shipments often between now and the weekend. So I called this morning, and I'm on the list -- #90. That's ok, since I also learned there were 80 in this morning's shipment, and there's another load coming later today or early tomorrow. My credit card is pretty much empty of debt and my debit card can handle up to $1000 per day. And then the work AMEX has no limit. I have the money for this generator that I should have bought this past winter.

I never expected this much hurricane to hit our area. I'll be ready next time.

So today, I'm at work. We have showers here, so My Gal & I were able to freshen up for the day early this morning. (The gym committee that I chair has decided to leave the doors open for shower access. More good PR for us.) Home Depot will call when a generator comes in. And my Uncle Gus the Electrician will come out and hook it up to the water pump, and hopefully the generator will be powerful enough to also run the fridge and maybe the wood pellet stove (for winter outages).

The worst part was the deafening silence in the house, without any electronics on. It creeps me out a bit at the beginning every time it happens, but now that I'm at work, I'm not as freaked out. Stress makes me eat, but so far, I've only polished off half a cheesecake, and that's only because I didn't want to throw it out before it spoiled. Veggies, however, don't seem to be my priority, so I have to change that soon, too.

Oh yeah... the week's vacation was awesome, and I have another 2 weeks worth in about 4 weeks time.

Counting my blessings.





Thursday, May 29, 2014
This morning, Sky crossed the Rainbow Bridge. For the last 3 weeks or so, she hadn't been eating very much, and it was difficult to coax her into eating even her favourite foods. At first, I thought it was her regular Spring Fasting, something she did every spring, to help shed her winter weight. That usually lasted 3-4 days, but after those days passed, I knew something wasn't right. Last Friday, I decided to call the vet, and I brought Sky in on Tuesday to see what was wrong. She was losing so much weight, and she wasn't a big dog to start with. The vet said the prognosis wasn't good, that she had fluid in her belly. I decided to get some blood work done for her, knowing that her days with me were numbered. Yesterday, I called to get the results. There was something wrong with her liver, most likely scar tissue that hadn't healed well, and it was causing her stomach to bloat. That's why she wouldn't eat.

This morning, at 8:45, Sky crossed the Rainbow Bridge, quietly and painlessly. For those who knew her, you also probably know she was prone to wandering on the Hurlett. The biggest fear that My Guy & I always had was that she would die alone in the woods. I prayed to My Guy to keep her near the house, so she would die with dignity and not alone. She was on her bed this morning.

Sky, you were the best Puppy Dog Ms. Doggie Do I ever had. Yes, even compared to my childhood dog Candy, you were still the best Puppy Dog I had. You had a wonderful long life, over 15 human years, which made you nearly 100 in doggie years. You've had your share of bumps & bruises, and some pretty close calls over the years. You surprised us every time by coming back to us, usually limping or nearly crawling, but in no time, you were back to your excited self. The last couple years have been hard on you, especially after My Guy passed away. I worried more for you than for me during those first few months, hoping that you wouldn't run away in search for him.

My Guy had done the best thing in the world by rescuing you from that house. You weren't a year old when he brought you home. So many memories of you run through my head, in both snow and green grass activities. The best memory is the day we brought you home, to the Hurlett, where you finally had enough room to run, to move, and to chase rabbits. Today is a sad day because I will never get to watch you chase another rabbit, guard the house, or see your wagging tail again. But there is a sense of happiness too: you will get to leap like a gazelle like you used to do, when you see My Guy today. You loved him as much as he loved you. Sky, walk by his side, along the wooded areas of heaven that you and My Guy loved so much.

I miss you, and I love you, Sky My Puppy Dog Ms. Doggie Do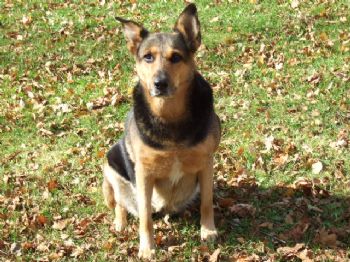 Wednesday, April 23, 2014
I've been struggling for quite some time since My Guy passed with getting my eating patterns under control again, and using the self-discipline I've taught myself over the years. I know it's emotional eating, and this isn't new; I've been an emotional eater for a very, very long time.

My preferred comfort food is chocolate.

Last winter, I noticed I was having problems with my blood sugar in the mornings, and after a little research, I discovered that I can't digest cow's milk properly.

Guess what kind of chocolate I prefer?

Yep, milk chocolate.

I've had a several weekends in a row where I've binged on chocolate on a Sunday, and by Monday, I feel like crap. I mean really sluggish, takes a couple days for the bloating to go away, that sort of thing. And let's just keep the guilt out of this blog for now.

Knowing that I tend to binge on Sunday afternoons & into early evening, I purposely bought 3 things of chocolate, so I would only eat that, and not half the house too. It was a small amount, and I hoped it wouldn't upset my innards.

Uh-huh.

Monday, I felt like a Christmas Parade float: slow moving, big, chunky, and having a hard time maneuvering corners (lack of balance).

The last 2 days, I've been coming to terms that I just can't eat chocolate, especially milk chocolate. Yeah, yeah, I can hear some of you now suggesting dark chocolate. It's not the same, and it never will be. On the flip side, I don't eat a lot of white chocolate, either. And knowing that chocolate is a gateway to a binge, it might not be such a bad thing that I can't eat chocolate as much as I want to.

This just reinforces that I have a lot more inner soul work to do, and to find better coping tools when the mood strikes to binge.





Monday, January 06, 2014
The more I stay in our house, the more I discover things that need to be done, that can be done, and that there's an easier way to do it than My Guy used to do.

Enter The Snow Rake.

Last week, I bought a snow rake. I knew it wouldn't reach the very top of the house, but at least it would help. Yesterday, the raking started.

The roof isn't very slanted, and there was so much snow on the roof that My Gal & I had to team up to get just the house done. She climbed up on the roof with a push shovel, while I was down below with the rake. She pushed snow to where my rake would reach, and that was with me standing on the snow banks in my new snowshoes, making me 4' taller. We spent 4 hrs just doing that one roof, but it was also our first time doing it.

My Guy used to spend a whole weekend doing what we managed to do in an afternoon, so I figure that's an improvement. Now that we know how this thing works, and that the roof will hold both of us up there, even with snow, the next time will be considerably easier. We still have the Lean-To and the Garage & the little Lean-To to finish up, but with warm temps & rain today, then back to freezing tomorrow, I'm not sure how soon we'll get back up there.

Thinking back to how My Guy did it, I remember asking him repeatedly about a snow rake. He would shrug it off, saying it was a tool we didn't need.

What I discovered yesterday is that if I had insisted much earlier to get one, and to get at least one pair of snowshoes, I could have been helping him all along to get the rooves cleared off.

There aren't many regrets I have after My Guy passed away, but this is one of them. It's not a big regret, but it is one that I wish I had known about before last weekend.

Next major purchase for the yard: wood splitter and a more powerful chainsaw.

I miss you, SweetHeart.



1 2 3 4 5 6 7 8 9 10 11 12 13 14 15 16 17 18 19 20 21 22 23 24 25 26 27 28 29 30 31 32 33 34 35 36 37 38 39 40 41 42 43 44 45 46 47 48 49 50 51 52 53 54 55 56 57 Last Page

Get An Email Alert Each Time JLDACQ Posts