| | |
| --- | --- |
| | JILLYBEAN25's Recent Blog Entries |


Monday, May 09, 2011
This week was definitely a struggle. Not to find motivation necessarily, but to find the time to squeeze in all my exercise and get in 5 servings of fruit and vegetables. And I will confess here and now. I was not always successful. Recap:

The goals for the week were: 1) add 10 minutes to cardio for 5 days or increase intensity. Since I workout at a high intensity to begin with, I opted to add 10 minutes to cardio. 2) Make sure to get 5 servings of fruit & veggies every day. Yikes! 3) Continue doing 1 toning video daily, as per the bootcamp.

Day 15, Monday- This was probably the only day I got in all 5 servings of fruit and vegetables. Its not that I don't like eating them, but honestly, that's a lot for me to eat! I need to find ways to get in those servings that won't feel like I've eaten a mountain of food. I wish I had a juicer. I could just drink half my servings! Someday... Anyway, I did 40 minutes of exercise. The Day 1 video for the bootcamp is cardio, and I also did the treadmill. No problems there, except that I was still tweaking the treadmill programs to find the one that closely resembled the interval training of the old one.

Day 16, Tuesday- I got 4 servings of fruit & veggies in today. Just one short, but I couldn't fit it into my tummy! I tried. I did my Day 2 video with no problems, which was a lower body workout. :-D I like working out my lower body since I'm disproportionately bigger on bottom than on top. It was almost too easy by this point, though. I also did 40 minutes of cardio- 30 minutes on the treadmill and 10 on the elliptical. I'm excited for the cross-training aspect of it. I want to do a 5k (probably walking) in November, so cross-training cardio is perfect to gear up for it.

Day 17, Wednesday- Is my work day, so I only opted for the 10 Minute Cardio Kickboxing workout instead of the treadmill/elliptical combo. Got that done along with my toning video for the upper body. I hope to finally see that "second wave" under my buff biceps go away soon. No woman likes that and for some reason immature jerkface boys always like to flick that fat. Few survived the knuckles to their face when doing it to me... I digress. I also got in only 4 servings of fruits and vegetables this day. I came so close! But, man, trying to get more food in me like that is not gonna happen. Even a simple orange is too much. But, at least I got close.

Day 18, Thursday- I did the worst of all as far as fruits and veggies go. I got in 1 serving. Yeah, just one. I don't even recall what I ate that day (I didn't track my food that day). Pathetic. But, exercise for the day was fun. I went for a walk at Mission Bay. They have markers on the ground measuring the distance for you. I did 2.5 miles walking a 20-minute mile. I'm prone to shin splints, so I didn't push myself too terribly hard. I also had the pleasure of running into a friend of mine whom I've known since the 6th grade. The funny part is, neither one of us are from San Diego. It was just the most outrageous random occurance! We were excited, exchanged phone numbers, and we're having dinner to catch up on Thursday. I came home and did my toning video- core day!

Day 19, Friday- I was having a miserable day. My granny was in the hospital and my mom was flippin' out. I was dealing with my family emergency all day. I managed to get in my toning video for the day, but I didn't get any cardio in. And I only got in 2 servings of fruit & veggies. To be honest, I didn't eat very much all day.

Day 20, Saturday- took a mental health day. See my other blog to learn ALL about it. I didn't exercise at all. Hell, I didn't even get out of bed. I did somehow manage to get in 3 servings of fruit/veg, but that was it. It was a struggle to even do that, as I had literally NO appetite at all. I was so stressed out. I made a resolution to catch up and start fresh on Sunday.

Day 21, Sunday- Well... I did get to do my 40 minutes of cardio. I got my 30 minutes of interval training on the treadmill, now that I've figured out the closest program. And I did 10 minutes on the elliptical. I increased the resistance on the elliptical for a little kick. There was a dude in the gym, and I've seen him there before, who likes to bang the weights at the end of his set on the weight machines. There are signs ALL OVER THE GYM saying not to do it. There were 4 other ladies in the gym, besides me and this dude, on the treadmills and other elliptical. Every time he'd bang the weights, all of us would jump. It would scare the heck outta us each time. And it was starting to be REALLY irritating. So, I had to tell the guy to knock it off. I don't like being "that guy", but I had enough... and I could tell the rest of us did, too. I only got 1 serving in of fruit and vegetables yesterday, which is a little odd. I was still not very hungry, but my friend and I went to a restaurant in North Park for some pozole. I ate about half my pozole, which I loaded up with cilantro, avocado, cabbage, and radishes. And that was all I ate. That half of the soup filled me up the entire day! I'm amazed. And sorta disappointed. And because I was out studying and running errands and going to church, I missed out on catching up on my toning videos. I didn't make it home until almost midnight. I figured that was probably not a good time to do some workouts. So, I'll do those two videos on Monday, which starts week 4.

This is a difficult week to assess success-wise. I mean, I didn't start "screwing up" until the end of the week. I was more successful with exercise than with the fruit/veggie goal. I'm going to call it complete (as soon as I finish the videos) and mostly a success. I don't feel like I need to go back and repeat it to improve it. My circumstances changed at the end of the week and I couldn't adjust. It happens. I can say that I will improve for next week, the final week of the challenge and call it a day.





Sunday, May 08, 2011
Well, it would have been Day 20, I think... maybe 19?, for me on the 28 Day Bootcamp Challenge. And you know what? I just couldn't do it today. I decided I wasn't going to even get out of bed all day long... well, except for some food and using of the facilities. I didn't brush my teeth, I didn't change out of my pajamas, I didn't bother tracking my eating or liquid intake. I just stayed in bed with my computer, t.v., DVD player, and a stack of magazines. I didn't do homework (not that I have much to do, since I'm so far ahead in all my classes) and I didn't do the dishes. I stayed in bed. I needed it.

My beloved grandma, the woman who in conjunction with my mom, helped to raise me, has been in the hospital since Tuesday... or Monday... the details are a little fuzzy. Either way, on Thursday she had "emergency" surgery to remove her gallbladder because she was experiencing pain that was making her violently ill. (Not gonna lie, little jealous she doesn't have to deal with that stupid organ anymore and I still do.) BUT, it turns out the "damage" was a bit more extensive than originally thought and she had stones from her gallbladder all through the ducts/tubes leading to just before her liver. So, the surgery went from routine to complicated. They ended up having to cut her open and remove all the stones. It was pretty invasive and probably fairly risky for a 76-year-old woman. She's been in recovery in the ICU since then. I got to talk to her briefly on the phone the day after the surgery and it SCARED THE LIVING HELL OUTTA ME! She sounded so frail and sick... not at all like the grandma I'm used to talking to. It took every ounce of strength I had to not break down on the phone. My grandma has always been a strong, spry lady. She's perfectly mobile. Her biggest health problems are mild hypertension and arthritis in her hands and hips. She takes pretty good care of herself- eating right, taking her vitamins, getting exercise. For her to sound the way she did was just awful. As soon as I hung up the phone I sat on my bed sobbing and shaking.

That's not the worst part of this whole thing, though. The worst part is my mom. I'm not sure why in my late 20's, after a quarter of my life has already passed, that self-esteem issues have suddenly surfaced in my 50-year-old mom. She suffers from bipolar disorder and anxiety disorder. Lately she's added this sort of persecution complex to the mix. She somehow convinced herself that my grandmother didn't want her at the hospital. Then, when her brother told her to stop being a child and to grow up, and that's why my grandma SUPPOSEDLY didn't want her there, she convinced herself that he was totally 100% correct! This is a man who's opinion she's never respected and has always considered him and his wife selfish people. And to an extent they are. Not to mention, that does not sound like something my grandmother would say to anyone. And my mom hasn't a bit of evidence that she did. She's just taking his word for it for the first time ever.

I don't have a problem with anyone in my family. I think feelings like that are a waste of time. We're put on this planet for only so long- so why waste my time having ill feelings toward people? Especially my family/loved ones? I'm fairly quick to forgive and move on. But, I digress. So, my mom had convinced herself after the first day that my grandma really did want her there at the hospital, so my mom spent most of the day there. She lotioned her feet and gave her some chapstick. Watched out for her when the nurse brought in some crappy and WAY too acidic food for her to eat. After she left and got home is when I called my granny. While I was talking to her is when my uncle texted my mom to tell her to grow up. I'm sitting, shaking and in tears, when my mom texts me and starts to dump ALL OF THIS ON ME! "I'm a 50-year-old child! I won't be going back to the hospital cuz no one wants me there! I'm the worst person ever! I'm a terrible daughter! I've always been a terrible daughter! My mom doesn't love me! I'm the laughing stock of the family! Etc, etc." And everything I said to the contrary she didn't listen to. I may as well have been talking to a brick wall. I was infuriated. This time should be focused on my grandma and getting her healthy and out of the hospital. NOT sibling squabbles and self-esteem crap.

So, that was my afternoon. I had tickets to a Padres game, so I went with my friends. I spent the first half of the game still in tears and completely distracted. I'm the type baseball fan that will scream my lungs out and jump up and down and get super into the game. It took me well into the fourth inning to turn my phone off, push all the bs outta my mind, and get into some fun game time. Padres won by the way, in the 11th inning.

So, today, I get to wake up to the same ol' crap. I'm so stressed out and drained, mentally and emotionally. I had ZERO energy, ZERO appetite, and ZERO motivation to participate in life. I spoke briefly to my mom and told her the stress was making me ill. She said sorry and that I didn't have to talk to her the rest of the day, or the days that follow. Well, it's Mother's Day, so I can't very well not talk to her. But, in light of everything going on, I just couldn't do Day 20. I've made a resolution to catch up tomorrow with my exercises and to keep chugging forward until I complete the challenge. Today, it was just not meant to happen.





Tuesday, May 03, 2011
I started week 3 today. As each day passes, I'm gaining more and more confidence that I can (and will!) get through this challenge successfully.

I'm more or less keeping the same schedule as last week. 7 days of Toning Videos as per the Bootcamp challenge. I'll be keeping the cardio kickboxing video on for the days I need a quicker cardio session than my usual 30 minutes.

The additional challenge is to add either 10 minutes more to the cardio routine (for example I could do 40 minutes instead of 30) or to increase its intensity. Well, when I'm on the treadmill I already do a fairly high intensity workout, as I do interval training. So, I guess I'll have to do 40 minutes instead. I'm not really looking forward to that to be honest, since I tend to space out or get bored by the last few minutes of my cardio. I'm considering doing cross-training instead- 30 minutes on the treadmill and then 10 minutes on something else, like the elliptical. I'll see about giving that a go. Today I tried a different setting on the treadmill and it was intense, but I'm not sure I would consider it more intense than what I've been doing.

The hardest challenge for this week is to get 5 servings of fruit and vegetables every day. As a healthy eater and part-time vegetarian, this should be an easy task for me, but I am surprised by how little fruit/veg I eat in a given day. I can easily get fruit into my diet no problem, as I always keep apples and some sort of citrus in the fridge (and I went strawberry picking on Saturday, so I have a TON of berries!!!). Its vegetables that I have a struggle with. I get burned out super easy on things, so I always need a variety of veggies to keep it interesting. Unfortunately, I don't always get to them all before they go bad, so I don't keep as many around as I used to. This week that'll have to change. Maybe tomorrow I can squeeze some free time to write out a tentative dinner menu.

As for stats, I did great last week! I'm super excited! I can't wait to see what this week holds.

Weight: 191.0 (Down from 192.5)
Waist: 36.25" (Down from 37.5")
Hips: 45.5" (Down from 46.5")

I've stopped measuring my neck (I don't carry my fat there) and added two new measurements starting today:
Thigh: 28.5" (Right)
Upper Arm: 14" (Left)

I did Day 15 successfully. On to the rest of the week!




Monday, May 02, 2011
First of all- HELL YEAH AMERICA!!! Take that terrorist jerkface out of this world and give the surviving loved ones of those lost in the attacks on 9/11/01 some justice and maybe some peace. Thank you to our military for making our country great and giving us our lives and protection at a cost of your life. Your sacrifice does not go unappreciated by me!






Secondly, I finished week 2 of the 28 Day Bootcamp tonight. Here it is:

Day 1 (Monday)- no problems! I felt good going in and felt good coming out of it. Whooped my butt on the treadmill and felt myself stronger with more stamina with the video. I did do the video and modified the exercises to keep me from disrupting the neighbors below. Still got a good workout in, dripping with sweat.

Day 2 (Tuesday)- this day presented an unexpected challenge that I managed to tackle head-on with a fair amount of success. I had to cook my Thai Red Lentil Soup (see 4/18 blog for an idea of how complicated it is) for class. I volunteered to do it solo to see how long it would take the average cook preparing this dish on any given night for dinner. Turns out it takes 1 hour 20 minutes. Not bad, really, but a lot of labor for a soup... albeit a soup that is SUPER good for you! So, I had to rush off to the store to pick up the remaining ingredients and get crackin' on the soup. It needed to be ready to go in time for my ride to pick me up for class. I started some prep work and then got busy with my bootcamp workout. Video then treadmill. Hit the shower and started cooking ASAP. The soup came out great, and everyone in my class loved it! I also tracked my meals for today, which was pretty difficult and tested my patience, but I did it.

Day 3 (Wednesday)- Since I get home from class pretty late at night and have work fairly early in the day, I did my bonus video, 10 Minute Cardio Kickboxing, this day instead of my normal cardio on the treadmill. I also did my bootcamp video. No problems again. I could feel myself building up more endurance this time around, so I was pretty happy.

Day 4 (Thursday)- Did my video and my treadmill workout. I blew it this night regarding food. I tracked my food, but ate out at a restaurant that I did not pick, and ordered food that I only ate half of, but still came in over my limits for the day. Disappointing, but I moved on and made sure my Friday workout was boomin'.

Day 5 (Friday)- Once again, no problems. The gym at my apartment complex upgraded 3 of the 5 treadmills to brand-new ones! It was pretty sweet. Like walking on the Cadillac of treadmills. I'm going to have to mess with the settings a bit, though. Find one that is equivalent to what I was doing on the old ones. Did my video with no problems.

Day 6 (Saturday)- Was sorta starting to be challenging. I had plans to be in Carlsbad by 11:30-ish, so I did my usual workout, switching my treadmill session to the bonus video (cardio kickboxing) so I would be set to go in time. Then I spent the day picking strawberries! Well, I spent 45 minutes picking strawberries... This day was supposed to be a food tracking day for me, but my eating habits were so erratic and inconsistent, to be honest it would have been impossible to track. Two bites of a hamburger from In n Out, a few french fries, homemade soul food all deep fried (once again, not my choice in restaurant!) that I only ate bits and pieces of. So, I didn't track...

Day 7 (Sunday)- I tracked today instead. Because I've eaten so little. My tummy has been in pain since last night... I haven't wanted to move, let alone eat anything. It made getting any sort of workout in a challenge. I somehow sucked it up to do my bootcamp video, but I could not get any cardio in. It didn't help that the video for today was a core-focused video. I still hurt. I hope this passes soon. I don't want to be derailed at the halfway point of this challenge. I hate to think I have to work through the pain. :-( I don't want any pain at all.




Monday, April 25, 2011
I start week 2 tomorrow. I've chosen to do the 10 Minute Cardio Kickboxing video as my bonus. I'm planning on doing it the days I don't have my regularly scheduled cardio, just to give those days a bit of a boost.

I'm also planning on tracking my food Tuesday, Thursday, and Saturday of this week. I know I should track my food already, or more often, but I lose patience with that very easily as I make a lot of homecooked meals with many, many elements and tracking them individually is a pain. I think tracking food will be the biggest challenge of my week!

Tomorrow I plan to take measurements and do a weigh-in. This is something I should have done prior to beginning this bootcamp, but I completely forgot all about it. So, we'll see how transforming the last 3 weeks of this are.

Those are my goals for this week.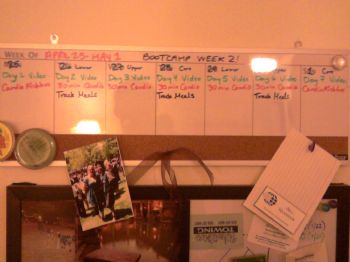 EDIT:
In the picture, I have cardio kickboxing scheduled for Monday. I'm switching it to Wednesday instead, since I go into work a little earlier that day. 20 minutes of exercise vs. 40 minutes will be easier to accomplish that day.

Also, here are my measurements:
Weight: 192.5 (I kinda screwed this up and drank about 12oz of water just before hitting the scale, but this is the number I'll go with.)
Hips: 46.5"
Bust: 42"
Neck: 13" (this never has changed)


First Page
1
2
3
4
5
6
7
8
9
10
11
12
13
14
15
16
17
18
19
20
21
22
23
24
25
26
27
28
29
30
31
32
33
34
35
36
37
38 39 40 41 42 43 44 Last Page

Get An Email Alert Each Time JILLYBEAN25 Posts