| | |
| --- | --- |
| | JILLYBEAN25's Recent Blog Entries |




Monday, May 02, 2011
First of all- HELL YEAH AMERICA!!! Take that terrorist jerkface out of this world and give the surviving loved ones of those lost in the attacks on 9/11/01 some justice and maybe some peace. Thank you to our military for making our country great and giving us our lives and protection at a cost of your life. Your sacrifice does not go unappreciated by me!






Secondly, I finished week 2 of the 28 Day Bootcamp tonight. Here it is:

Day 1 (Monday)- no problems! I felt good going in and felt good coming out of it. Whooped my butt on the treadmill and felt myself stronger with more stamina with the video. I did do the video and modified the exercises to keep me from disrupting the neighbors below. Still got a good workout in, dripping with sweat.

Day 2 (Tuesday)- this day presented an unexpected challenge that I managed to tackle head-on with a fair amount of success. I had to cook my Thai Red Lentil Soup (see 4/18 blog for an idea of how complicated it is) for class. I volunteered to do it solo to see how long it would take the average cook preparing this dish on any given night for dinner. Turns out it takes 1 hour 20 minutes. Not bad, really, but a lot of labor for a soup... albeit a soup that is SUPER good for you! So, I had to rush off to the store to pick up the remaining ingredients and get crackin' on the soup. It needed to be ready to go in time for my ride to pick me up for class. I started some prep work and then got busy with my bootcamp workout. Video then treadmill. Hit the shower and started cooking ASAP. The soup came out great, and everyone in my class loved it! I also tracked my meals for today, which was pretty difficult and tested my patience, but I did it.

Day 3 (Wednesday)- Since I get home from class pretty late at night and have work fairly early in the day, I did my bonus video, 10 Minute Cardio Kickboxing, this day instead of my normal cardio on the treadmill. I also did my bootcamp video. No problems again. I could feel myself building up more endurance this time around, so I was pretty happy.

Day 4 (Thursday)- Did my video and my treadmill workout. I blew it this night regarding food. I tracked my food, but ate out at a restaurant that I did not pick, and ordered food that I only ate half of, but still came in over my limits for the day. Disappointing, but I moved on and made sure my Friday workout was boomin'.

Day 5 (Friday)- Once again, no problems. The gym at my apartment complex upgraded 3 of the 5 treadmills to brand-new ones! It was pretty sweet. Like walking on the Cadillac of treadmills. I'm going to have to mess with the settings a bit, though. Find one that is equivalent to what I was doing on the old ones. Did my video with no problems.

Day 6 (Saturday)- Was sorta starting to be challenging. I had plans to be in Carlsbad by 11:30-ish, so I did my usual workout, switching my treadmill session to the bonus video (cardio kickboxing) so I would be set to go in time. Then I spent the day picking strawberries! Well, I spent 45 minutes picking strawberries... This day was supposed to be a food tracking day for me, but my eating habits were so erratic and inconsistent, to be honest it would have been impossible to track. Two bites of a hamburger from In n Out, a few french fries, homemade soul food all deep fried (once again, not my choice in restaurant!) that I only ate bits and pieces of. So, I didn't track...

Day 7 (Sunday)- I tracked today instead. Because I've eaten so little. My tummy has been in pain since last night... I haven't wanted to move, let alone eat anything. It made getting any sort of workout in a challenge. I somehow sucked it up to do my bootcamp video, but I could not get any cardio in. It didn't help that the video for today was a core-focused video. I still hurt. I hope this passes soon. I don't want to be derailed at the halfway point of this challenge. I hate to think I have to work through the pain. :-( I don't want any pain at all.




Monday, April 25, 2011
I start week 2 tomorrow. I've chosen to do the 10 Minute Cardio Kickboxing video as my bonus. I'm planning on doing it the days I don't have my regularly scheduled cardio, just to give those days a bit of a boost.

I'm also planning on tracking my food Tuesday, Thursday, and Saturday of this week. I know I should track my food already, or more often, but I lose patience with that very easily as I make a lot of homecooked meals with many, many elements and tracking them individually is a pain. I think tracking food will be the biggest challenge of my week!

Tomorrow I plan to take measurements and do a weigh-in. This is something I should have done prior to beginning this bootcamp, but I completely forgot all about it. So, we'll see how transforming the last 3 weeks of this are.

Those are my goals for this week.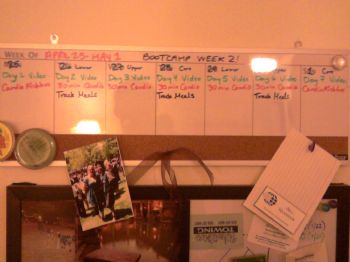 EDIT:
In the picture, I have cardio kickboxing scheduled for Monday. I'm switching it to Wednesday instead, since I go into work a little earlier that day. 20 minutes of exercise vs. 40 minutes will be easier to accomplish that day.

Also, here are my measurements:
Weight: 192.5 (I kinda screwed this up and drank about 12oz of water just before hitting the scale, but this is the number I'll go with.)
Hips: 46.5"
Bust: 42"
Neck: 13" (this never has changed)




Sunday, April 24, 2011
I'm so excited to have met a mini-goal today. Especially considering all the obstacles and challenges to complete it this week. And there were a few...

As I said on my blog the first day of this bootcamp, I opted not to do the first day video and do my own cardio in my usual fashion. Things like jumping jacks and marching in place are not very nice to inflict on the people that live below me (I'm on the second floor of a 4 floor building). Especially since they are one of the few neighbors that are actually fairly considerate of others. I did 32 minutes on the treadmill set on interval training.

Day 2 of the bootcamp was my first challenge. I had a friend visiting from out of town, but she wasn't staying with me, and she was supposed to come by to hang out in the morning and for the rest of the day. I didn't work out that morning because I wasn't sure I'd be done before she got to my place. Well, 2 hours after that, she showed up and apologized for being so tardy. And it was- get this- because her sister wanted her to go to the gym with her! The situation is so hilarious, I couldn't even be angry. The irony was too delicious. Anyway, I'm lucky enough to have my friend be very supportive of my decision to exercise, so she said "Pack up your stuff and come work out at my sister's place!" since we had plans to go out with a bunch of folks that evening. So, I did get my workout in after all. I did the toning video and the cardio video, since I wasn't going to be around a treadmill, and got my stuff done! I was sweating up a storm, too. The lower body workout left me sore for a few days (a good sore). Lots of squats and lunges (which I hate but are oh so good for you!) I find that for now, the 10 minutes is a good start back into the consistent fitness world!

Day 3 was an upper body workout and I had no challenges getting it done. The biggest problem I had was this video calls for a chair for triceps dips. My chairs have a sort of narrow seat to them, so it was not conducive to doing these correctly. In addition, my right wrist has been problematic for the last few years and I found the triceps dips to be rather painful. So, I did maybe 2 or 3 before I convinced myself a wrist brace was not worth it. The rest of the exercises were amazing, though! I have a weak upper body and that "second wave" under my arms is so annoying, so I quite enjoyed giving these guns a run for their money. Soon ya'll are gonna need a box of band-aids 'cuz I will be CUT!!! I also got on the treadmill for my cardio sesh.

Day 4 was a core workout day. I loved it! My friend came over that morning to work out with me which was mega fun. I'm usually a solitary exerciser (I need to concentrate on what I'm doing), but having her there made the time fly by! I especially loved that this video works your core in a non-traditional way. Most of it is done standing, which I love. Laying down to do crunches can hurt my hipbones, so standing and doing these things was very low impact. Then we hit the gym for some treadmill action! Interval training for the WIN!

Day 5 was back to a lower body training session. I was nervous because this was the first day that I wasn't sore in my glutes and quads. I was sure I'd be sore all over again! I'd been watching the videos the night before so I would know what I was in for in the morning and this one looked like it was going to be a little beyond my capabilities. But, I totally surprised myself and was able to do the whole video! And with very, very little modification! Yay me! This video worked the outer and inner thighs as well, and one of my goals (I probably forgot to write it down, but it has always been a goal of mine) is to slim down enough so my thighs no longer rub together. I want there to be space there! This vid has me on my way to that one. Also got on the treadmill for cardio.

Day 6 was another challenge... but, not really. I stayed over at my friend's sister's house because we were heading out early in the morning to go visit another friend an hour away. In the morning my friend and I did the toning video and the cardio video. This was a challenge in that the night before I only slept 5 or 6 non-continuous hours. I woke up freezing. I woke up unable to breathe out of my nose. I woke up coughing. I've been suffering from some mean allergy stuff for a few weeks now and it is wiping me out! So, I didn't have the most energy that morning, but we got in our exercise! Woo! We both love working our upper body since we're so weakified. It was a good workout. And the funny, somewhat ironic part is, the friend we were visiting was having a house painting party, so I basically ended up working my upper body ALL. DAY. LONG. I apparently have "mad skillz" at cutting in the wall color to the ceiling in a straight line, FREEHAND, without making a big mess. So, for the kitchen, family room, hallway #1, hallway #2, and bedroom #2, I had my right arm above my head, my left arm with a can or cup of paint, and my back/head/neck slightly back so I could see what I was doing. Thought I was going to get whiplash! Plus I was going up and down a ladder and up and down stairs the whole time. Probably a good thing since I ate a ton of junk food that day...

Day 7 was completed a short time ago. It was a core workout as well, which was very good. I'm still sorta feeling it. It was a HUGE challenge to get it done today. I'm the type of person that has to exercise first thing. If I don't do it right away, I can easily talk myself out of it. So, I woke up this morning, coughing and sniffling and basically feeling miserable. Jill=0, Allergies=1. They were (and still are) definitely winning. I think I've been through more than a dozen Kleenex tissues already today. I dug around for my asthma inhalers since my chest feels tight and this cough is dry, but chesty. Puffed on those. I don't have much in them and I cannot remember if I have a refill or not. I hope so, even though it'll cost me my soul to get them. Anyway, I laid around for a long time, took a little nap, got up and put something in my tummy. That was enough to get me going on my toning for the day. I figured I could breathe poorly for 10 minutes to get it done. And I enjoyed every minute of it!

So, week 1 is done. On to week 2. :-)







First Page
1
2
3
4
5
6
7
8
9
10
11
12
13
14
15
16
17
18
19
20
21
22
23
24
25
26
27
28
29
30
31
32
33 34 35 36 37 38 39 Last Page

Get An Email Alert Each Time JILLYBEAN25 Posts