| | |
| --- | --- |
| | JILLYBEAN25's Recent Blog Entries |


Monday, April 18, 2011
First of, I joined this challenge for several reasons, the biggest one is that I was looking for a way to transform my body in any way I could without too much pressure due to a time frame or weight goal before I go on a cruise to the Mexican Riviera at the end of May. I want to see what I can do in the time I have to do it, and someone (Sparkmember MANDYISFITAT40) suggested the 28 Day Bootcamp. I also want to use this opportunity to kick-start a regular workout schedule and push myself passed the two-week mark I seem to get stuck in (two weeks of regular exercise and then I stop).

My goals for this challenge are (in order of importance to me:)
1. Complete the 28 Day Bootcamp Challenge
2. Lose some weight/inches
3. Gain some physical endurance/stamina
4. Gain some physical strength
5. Transform my body in any way this challenge will allow

I completed my exercise for the day. Day 1 has a video done by the lovely Coach Nicole for a 10 minute cardio & stretch routine. I actually opted to skip this video and do my own cardio on the treadmill. I live in an apartment above people, so I don't feel comfortable jumping around or stepping too loudly out of courtesy to the folks below, so I hit the treadmill for 32 minutes of interval training. I got my @$$ whooped, too! I was dripping with sweat and huffin' & puffin' (in a good way) as my 'mill increased and decreased the incline. I quite enjoyed it. I look forward to tomorrow to start the strength training videos in addition to my usual cardio.

Also, another important step: I have declined to go to lunch with my friend because I know I struggle with not only money, and I am broke, but with making healthier, sensible choices when eating out. I don't want to ruin the good thing I did on the treadmill today with a handful of greasy fries or a fatty burrito. FOR THE WIN!




Saturday, April 16, 2011
Due to some unfortunate circumstances, I am now going on a cruise through parts of the Mexican Riviera. My best friend bought tickets to the cruise and charged them to her credit card with the expectation that everyone who said they were going was to pay her back. I told her that I could not make it on this cruise (even if the cruise was my idea in the first place, due to money and timing circumstances), so I was not included in the list of folks that was to pay her back for the tickets. Much like plane tickets, cruise tickets are non-refundable. Well, I guess two people have totally flaked out on her. So, she's got $1,000.00 worth of tickets for a cruise and no one to fill those spots. In steps me. Unfortunate for her and those flaky tools, but pretty sweet for me.

This also means one more thing... I need a swimsuit. Which means I have to go through the worst experience in the world for a fat person (any person really, but especially for the very overweight set). I have to go swimsuit shopping. I would also love to slim down a lot more before the cruise, which is in about 5 weeks. I'm not expecting miracles, and I expect to do this in a very healthy way, so I have 5 weeks to see how I can transform my body.

One major obstacle is in my way at the moment: allergies (I hope). I'm assuming its allergies just based on the fact that I don't "feel" sick. I haven't slowed down much, save for the fact that I am not sleeping very well and I'm definitely not getting enough oxygen into my bloodstream! I am soooooooooooooo congested, though. I can't breathe out of my nose, period. Its stuffed or running 24/7 since Tuesday. Everything that's been coming out has been clear, for the most part, but there have been a few times that things have been extra thick and definitely colorful. That's making me a little nervous. Its also making things like walking short distances and exercising (and obviously sleeping) very difficult because I can't breathe. AT ALL. Ugh!!!

Anyway, back to the cruise. To give myself a visual reminder, a la motivation board style (since I missed the Spark Rally where we made them all together- MEGA SAD ABOUT THAT!!!!) I made some and hung them where I could see them every day. And here they are: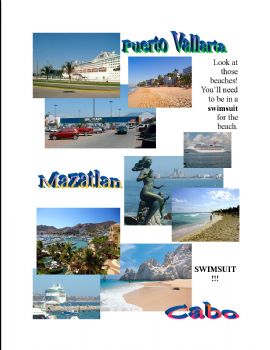 For reminding me where I'm going and why I'll be in a swimsuit- lots and lots of beach time!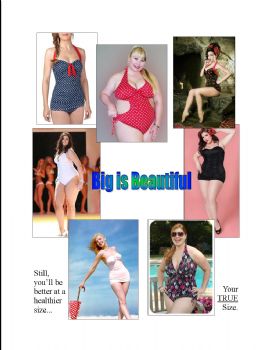 For reminding me what I'm working for. While also reminding me I'm beautiful at any size.

I'm a huge advocate for accepting the body at any size and finding beauty where most people see ugliness or unhealthy or otherwise unattractive bodies. I don't believe you have to be a size 2 to be considered beautiful and shame on the people that do! I also recognize for myself that this body is not a healthy one. (If you have Facebook, you should go read and "like" the page titled Any-body, link at the bottom) I have medical issues that could potentially be resolved with some weight loss. I have medical issues that began because of my weight. I have self-conscious issues with only one body part, really, and that's my legs. I do not like my legs. But, that does not mean they are not beautiful. They get me where I need to go and I am grateful to have them. It does not mean I think they are fabulous looking... and that's something I need to work on.

Sorry about this blog. It kinda went everywhere, didn't it? Anyway, to anyone who read, if anyone actually has, thank you. I appreciate your taking the time to read something a lowly stranger has written. If you leave a comment, thank you. Its nice to know I'm not just sending this out into the ether.


Any-body Facebook Page:
https://www.facebook.com/pages/Any-B
ody/110917209795





Friday, March 25, 2011
I'm hoping by writing down all my reasons, big and small, vain and humble, that it'll give me a boost of motivation.

I'm a little concerned with my lack of energy for the last two weeks. I don't think I'm deficient in any nutrient and I'm taking additional B12 daily. I am not sure it could be anemia as I've been taking back-to-back birth control to stop my periods (until my ovaries can prove to me they can handle a cycle!), but maybe that's a reason... I've been doing this since October/November-ish. Over the last few days I've had more allergy or cold symptoms start to flare up... maybe I've slooooooowly been catching something? I've stopped eating red meat, so maybe I'm not getting enough protein in my diet. But, ever since I started getting super tired I've also gotten much less hungry. I don't know what's going on, to be honest. I wish I had health insurance so I could go get checked out by doctor. Anyone else have any possibilities? I feel like I just can't sleep enough.

Anyway, on to the REAL reason for this blog:

Why do I want to lose weight?
*To reduce the recurrence of the cysts on my ovaries.
*To strengthen my immune system.
*To have an easier time clothes shopping.
*To put less strain on my knees, hips, and feet.
*To walk up the stairs without losing my breath.
*So my arms can fit into tight sleeves without looking like stuffed sausage.
*So people can stop thinking I'm unhealthy just because I'm fat.
*So I can walk/jog a 5K in November.
*To reduce my risk of diseases, illnesses, and issues that occur due to being overweight.
*So I can be buff enough to open my own jars and take out the trash without struggle.
*So my butt can look good in a pair of jeans.
*So my whole lower half can look good in a pair of skinny jeans!
*So I can dress like the women from Mad Men.
*So I can go back to ballet and not feel self-conscious squished into a pair of tights and a leotard.
*So I can climb around like a monkey in a theatre to do electrician work (should I finally get a job doing so).
*So I can fit back into my favorite black cocktail dress. And red cable knit sweater. And green corduroy jacket. And ball gown that I made myself.
*So I can hate my legs less.





Saturday, March 19, 2011
... at work yesterday.

I go in to work, like I normally do, and the Boss Lady asks me, "So, do you want one of the wedding dresses hanging in the bathroom?" And I say, "Sure!" I left with a free wedding dress.

When the store first opened back in November 2009, a customer came in to ship some items overseas. So, Boss Lady gets a box and delicately packs up three exactly identical wedding dresses for shipment. The customer seemed a little sketch, not willing to completely fill out paperwork for the shipment, etc, so the next part of the story is no surprise.

A few weeks go by and lo and behold the box gets sent back to the store. (They put it on our DHL account, so the shop's address was the return address.) So, Boss Lady gets on the phone and calls the man back. Well, she was never able to get ahold of him. The box of brideless dresses sat in the back of the store for about a year. She finally sent him a certified letter a few weeks ago, using the address he used to fill out the paperwork, and said if we do not hear from you by such and such a date, we will dispose of the package.

I procured one of the dresses. It seemed like a waste to just toss 'em. And since they're brand new, it would be a little odd to just donate them to Salvation Army or something. I think I'm going to look for a specific charity that takes wedding dresses to donate to. Or I may keep it. I was quite surprised to discover that in losing 13 pounds since December/January (I wasn't really keeping track) that I've dropped a dress size as well. So, I took the dress thinking it was too small. Out of curiosity I tried on the dress and it fit. In fact, its almost too big on top. Fits just right on bottom... which has always been a thorn in my side finding nice dresses/clothes to wear. Not equal proportions on top and bottom!

So, for the curious, here is me in this lovely, but not my style, wedding dress.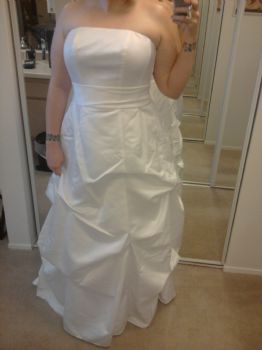 Front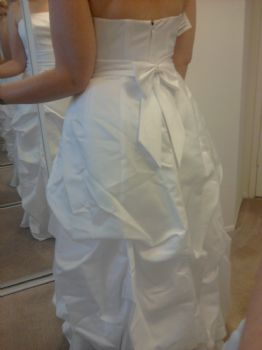 Back






Sunday, February 27, 2011
Thanks to another Spark member Wolfkitty (http://www.sparkpeople.com/mypage.asp?id=
WOLFKITTY) I was inspired to make a playlist (or three) for workouts. I found myself at the bottom of a steep-ish hill ready to start the climb when my iPod started a new song... "Blackbird" by the Beatles. Not exactly the sort of song to get the blood pumping and lead the charge. So, it became apparent to me that I needed to create some playlists that motivate me. Here are the three I've compiled so far: (BTW, I have the musical tastes of a 50 y.o.)

30 Minute Workout #1
Start Me Up- The Rolling Stones
Jet Airliner- Steve Miller Band
For Those About to Rock (We Salute You)- AC/DC
Helter Skelter- The Beatles
Under Pressure- David Bowie/Queen
Paranoid- Black Sabbath
Proud Mary- Creedence Clearwater Revival
Touch Me- The Doors

30 Minute Workout #2
Loser- Beck
Neighborhood #2 (Laika)- The Arcade Fire
Where It's At- Beck
Moneygrabber- Fitz & The Tantrums
Under the Gun- The Killers
Dashboard- Modest Mouse
Sabotage- The Beastie Boys
Naked Sunday- Stone Temple Pilots
Postcards from Italy- Beirut

40 Minute Workout #1
Gimme Shelter- The Rolling Stones
Any Way You Want It- Journey
Love Gun- Kiss
Immigrant Song- Led Zeppelin
You Shook Me All Night Long- AC/DC
Rock and Roll- Led Zeppelin
Sweet Home Alabama- Lynyrd Skynyrd
Rebel Rebel- David Bowie
Abracadabra- Steve Miller Band
American Girl- Tom Petty & the Heartbreakers
Touch Me- The Doors

More to come! Takes me back to compiling CDs for my personal training sessions "back in the day" with my friends... Good times!



First Page
1
2
3
4
5
6
7
8
9
10
11
12
13
14
15
16
17
18
19
20
21
22
23
24
25
26
27
28
29
30
31
32
33
34 35 36 37 38 Last Page

Get An Email Alert Each Time JILLYBEAN25 Posts