| | |
| --- | --- |
| | JILLYBEAN25's Recent Blog Entries |


Wednesday, March 10, 2010
My wonderful, awesome boss Lorna gave me this incredibly delicious salad last week. I've been hooked on it ever since.

Dark, leafy greens
Garbanzo Beans
Grape Tomatoes
Fresh Raspberries
Fresh Blueberries
Fresh Sliced Strawberries
Blue Cheese Crumbles
Your Favorite Dressing (She uses Pat n Oscar's House dressing; I've been using Grasso's!)

This salad is so yummy. I've eaten it every day. And I can't get enough of it.

Let's break down the nutrition of this salad:

Leafy Greens: Contains iron, calcium, potassium, magnesium, vitamins K, C, E and most B vits. Contain also beta carotene and lutien. They protect our cells from damage and our eyes from age-related problems. They regulate blood clotting, protects bones from osteoporosis, prevents diabetes, and may even help prevent inflammatory diseases like arthritis. Also helps clean out them arteries!

Garbanzo Beans: Contain fiber (lowers cholesterol), prevents spikes in blood sugar, contain protein with almost no fat, contain free-radical fighting antioxidants. Prevents loss of iron. Aids in blood flow, oxygen flow, and nutrient flow throughout the body. Contains magnesium, which prevents free radical damage to the heart (thus reducing risk of heart attack).

Grape Tomatoes: Blood purifier, improves skin texture and color, dissolves gallstones, prevents cirrhosis of the liver, reduces cholesterol, prevents heart disease, natural antiseptic (fights infections), prevents hemorrhaging, and fights free-radical to prevent cancer.

Raspberries: Contains phytonutrients for antioxidant, antimicrobial, and anticarcinogenic protections. This means it fights cancer and prevents the overgrowth of bacteria and/or fungi in the body (like yeast in those pesky yeast infections). Contain fiber, minimal impact on blood sugar, vitamin C, manganese (antioxidant). Protects against macular degeneration (loss of eyesight).

Blueberries: Fights free-radicals, prevents diseases associated with aging, contains vitamins C and E, multiple antioxidants, helps with memory and motor skills, anti-inflammatory properties, promotes urinary tract health and prevents UTIs.

Strawberries: Antioxidant, anti-inflammatory, protects the heart, anticarcinogenic, prevents macular degeneration, protects against rheumatoid arthritis. Contains fiber, manganese, vitamin C, potassium, and B vitamins.

Blue Cheese: Calcium, protein, protects tooth enamel and prevents decay, contains zinc, vitamin B12 (good for energy!), vitamin A.

So, plate up a batch of this amazing salad- nutritious and delicious! Don't drown it in fatty salad dressings (although vitamin K is fat soluble, so you need a little bit of fat to reap its benefits) and enjoy some of this wonderful salad! Thank you Lorna!





Wednesday, February 10, 2010
So, I had a revelation last night...

I'm so stressed out and under so much pressure, from others and from myself, there's no wonder I've been gaining weight instead of losing it. Hell, I'd even go so far as to say its possible I'm depressed.

I'm only 4 months away from graduating with my first Bachelor's Degree. In theatre, with limited experience in lighting design, which is what I'd love to do with my career. I'll be done with that in June. In August I plan on going back to community college to study nutrition. I hope it doesn't take me forever. Its really only something I want to do for myself. I wouldn't even get a degree in it, just a certificate of achievement. And then there's the issue of finding a job. I'm not sure what I can do with what I've gotten so far in regards to theatre. I just have no idea, really. So, I'll probably have to settle for something that has nothing to do with my chosen career path until after I get a Master's Degree... whenever I decide to do that.

Then there's my personal life. Someone whom I love very much, and would love to spend my life with, told me last night that I am selfish, self-centered, self-absorbed, and apparently not very intelligent when it comes to being in/nurturing a relationship. Somewhere in the same conversation, it came up that I should probably consider not having children because I'm "emotionally frail" or something to that effect. For the last month or so, this is has been the nature of the conversations we've had. Part of me knows I need to let him go, that there's NO WAY this is healthy... but, its hard to let go of someone whom I've "been with" for 6 years. I've imagined this person as THE person I'd be growing old with, having children (apparently not), traveling... basically sharing my life, turning my life and his life into "our" life.

He'd like it if I was much thinner as well. I want to be much thinner. I don't feel healthy. I'm tired all of the time. I have little motivation to do much of anything, including exercise. I manage to eat healthy 75%-80% of the time... I've binged or knowingly over-indulged during times of high stress and emotion. No wonder!!! NO WONDER I'm GAINING weight. No wonder I'm not losing it! How on earth am I supposed to do it with all this coming at me all the time?

I have no self-esteem (which, according to the earlier mentioned person, is for teenagers), very little feeling of self-worth, inferiority complex. I feel so... not smart. I feel like a fat loser. Not smart enough to ever have children (even though I badly want[ed] to be a mother someday). Barely able to survive adulthood successfully. Getting to be healthy again. I feel like I barely have a chance.





Thursday, October 01, 2009
Boy oh boy, when it rains, it pours... as per the usual law of nature. I had such high hopes for this upcoming quarter. It was to start the final year of my UCSD career. Good things were supposed to happen. I was taking a class that I was excited about... hell, more than excited about! I was praying for another lighting design class. Two days before school started, I got word that it had been canceled. You know how many lighting design classes have been offered at UCSD since I began attending? One. And I took it when it was offered. It was a basic class, but I learned a lot. I worked seriously hard in it, too. Sometimes our lighting projects would require 3-5 hours outside of class time to complete. And I loved it so much. This class was the next step- advanced lighting design. It was meant to be small. No more than 10 or 12 students MAX. I guess everyone decided it didn't fit into their schedules anymore. So, they dropped it. And f***ed over the few of us that were left. So... I want to be a lighting designer for the rest of my life. And I've taken one 10-week basic class to date. That ought to be enough, right?

I applied to be an assistant lighting designer, ASSISTANT lighting designer for a student run production on campus. The Muir Musical has a lot of esteem, held in high regards, and is quite impressive for a student production. Faculty and staff and students alike all enjoy and are awed by the work and talent and dedication that goes into producing the musical. And I only wanted to be an assistant- NOT primary- lighting designer. And I didn't even get that chance. If I wasn't going to be able to take a class, then I wanted the opportunity to learn more through this (although I didn't know at the time that the class had been canceled).

I have asked several people several times if I can be an assistant for one of the graduate lighting designers who are working on projects at the Playhouse. I'm never told 'no', but I've also never been told 'yes'. I'm waiting for the opportunity to learn. I want to be taught how to be a designer. I know the basics. I've known the basics for quite some time. I need to know more. I can't get by on the bare minimum. And no one seems to want to help me. I am by no means a popular student... because I'm not an actor. I'm older. I'm inked. I'm pierced. I'm not a naive kid that can be ordered around. I am nice. I can be asked to do things. I usually don't even need things explained to me in detail. But, it seems like I'm getting overlooked.

Don't get me wrong. I'm grateful for the opportunity I got to be a part of "The Savannah Disputation" at the Copley (Globe theatre complex). But, I wasn't a designer. Hell, I didn't even have a hand in the design at all. I created a few pieces of paperwork and basically sat around as quality control. I watched the rehearsals and the previews. I was the liaison between the designer and the tech crew. I stayed for notes, I took notes, and I payed close attention to what was going on. But, essentially, I was an assistant TO the designer, not an assistant designer. Which is fine. I learned a lot. But, once again... not enough to really put it on a resume. I can't put it on a resume... My name isn't even in the program.

I want the chance to be a designer and it seems like every door is being closed on me. Am I following the wrong path? Am I doing something wrong? If I am, what am I supposed to do that's right, that's correct? I don't even know. I've said it once before and I'll say it again: UCSD's Theatre and Dance Dept. hates their own students. Well, their non-acting, non-playwriting undergrads anyway. They love their grad students. They love their actors and playwrights. Us designers... we get the shortest end of the stick. Usually the piece of stick that got stuck in a giant pile of poo first.

If I don't do anything design-wise to design a show, then I have nothing to put in my portfolio. If I don't have a portfolio, there's no way in hell I'm getting into grad school. And if I wanna focus my education solely on lighting design, grad school is where I do it. But, not if I can't get there. If you want to be an actor, and a darn good one, go to UCSD and be a theatre major. If you're an undergrad and you want to be a designer, go somewhere else. If I had known, I would have gone to a specialty school. And focused my BA as narrowly as possible on lighting design.

And in the meantime, I'm enrolled in a theatre history class that I specifically remember saying I didn't want to take. And another history class that I do want to take, but is going to be a ton of work... more than MMW ever was. Same goes for the theatre history class. I may never have a spare moment between the hundreds of pages of reading a week complete with written responses for each assigned reading, the presentations (for each class!), the 10+ page research papers (that's one for each class, folks!), and the department productions I'm required to watch (all 5 of them).

For some bizarre reason, my wrist feels infinitely better today. I hate my wrist. WHY oh WHY does it gotta be a b****? I need it. It's my righty. I hurt it the other day turning the steering wheel. That's all. Its such a wussy wrist!! It can't even TURN a STEERING WHEEL without failing epically. What is wrong with it?! Why can't someone tell me? I really have to pay $500 out of pocket for an MRI before I get an answer? For reallies? I just want to scream. "I'm sorry Steve... that wrist is gonna have to go..." *sawing motion*

I just want to scream. I am so jaded right now.

AND!! Since when do I have to censor myself on a blog?!?! Free speech, yo! First Amendment privilege AND right!





Sunday, May 31, 2009
How to Dog Whisper Your Food Cravings

Warm, fudgy chocolate cake.

Melt-in-your-mouth fettuccine alfredo.

An icy flute of champagne.

Gee, thanks a lot, MDA.

Whether it's for garlic knots or a tuna melt, the temptation to indulge in delicious but unhealthy fare catches up with even the most disciplined among us from time to time. (Except Mark. He's immune. It just took a lot of ice cream to develop.)

The body tends to crave what it is used to, which is why breaking out of the chips 'n cookie regimen foils so many folks. There is a silver lining, however: given enough practice, you'll actually miss brussels sprouts and feel sickened by ice cream. You just have to habituate your body. Many times, "cravings" that we experience are not indicators of any real nutritional need the body has, but simply a powerful psychological response to a habit gone cruelly unfed.

That said, sometimes a strong craving for a certain food (coughchocolatecough) can signal that you may be in need of a particular nutrient. Mark's Daily Apple to the rescue: when you feel the urge to nosh on something you just know you shouldn't, there's guaranteed to be a healthy alternative. Take charge of those cravings and make them work for you, not against you!

When you are just about ready to kill for:

Salty foods like chips and pizza - you may just need some tryptophan or chloride. Try organic cheese, unsalted cottage cheese, fish, sweet potatoes (or yams), spinach, and authentic sea salt.

Chocolate - you may be in need of magnesium. Instead, eat…chocolate! Yes! (Or nuts. But chocolate is actually healthy, if it's dark and eaten in small doses.)

Sugary snacks and starches such as donuts and bread - you might be dehydrated. Drink some water and get a little nutritional acid by way of a piece of fruit, such as an apple.

Carbonated beverages - you might need to up your mineral intake. Try spinach, kale, collard greens, and legumes.

Fatty foods - some sources will tell you to drink water and eat fruit, but we say eat that fat! Fat is nutritious: it aids digestion, improves vitamin absorption, and can even boost brain health. Just watch the salt. Good fats: fish, olive oil, nuts, butter, cream, eggs.

Are you overeating or feeling general cravings? You may need tyrosine, found in citrus fruits. You might also be in need of a shot of zinc, so have a grass-fed steak or shellfish such as shrimp or oysters.

Craving candy? You may need sulfur, you inflammatory little nugget, you. Try garlic, onions, and cruciferous vegetables like broccoli or brussels sprouts. And pineapple works wonders.

Outsmart your body. You are the alpha, so you best be dog whisperin' those wacky cravings!

Whether your specific craving signals a nutritional deficiency, hormonal imbalance, or simply a pesky bad habit you went and taught yourself, choosing healthy alternatives will satisfy your body's needs and retrain your brain to get excited about things like lettuce. Which really isn't so bad, now, is it? As Mark always says, vegetables don't meow, people.

Source: www.marksdailyapple.com/food-craving
s/





Sunday, May 03, 2009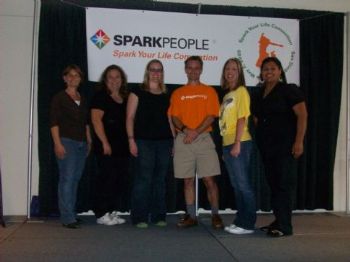 Wow, what can I say about the Sparkpeople Convention that hasn't been echoed by everyone else who attended? It was an amazing experience, with so many great lessons to be learned from the people there!

I got to meet up with the volunteers and staff members the day before the convention. Spark Guy Chris, Coach Nicole, Dietitian Becky, Expert Jenny... these people were wonderful, warm, and genuine. It was like meeting Spark Celebrities! It was so great to get a chance to hear them and converse with them for a few moments before the hectic race got under way. It was also super to see familiar faces from the message boards at Spark San Diego Team- Leah (how I missed her!), Diane, Felicia, Violet, Jocelyn... Awesome ladies!

The next day was convention day! I'm glad the media-induced hyper-panic about the swine flu couldn't keep these fellow Sparks away! Spark Guy Chris started off the morning with his story. It was a great story to hear... truly inspirational. Start with 10 minutes of activity a day... It was the birth of the Spark Streak! :-) After that we had the real-life member panelists do their presentations. This was particularly touching. They told us their stories- from their weight gain, to feeling terrible about themselves, to doing something about it, to their successes, triumphs, setbacks, etc. There were more than a few tears shed! The audience was given an opportunity to ask questions for tips and advice. The ladies shared some truly invaluable ideas with the crowd- Jocelyn's (Wolfkitty) point about holiday eating not being "special" eating was right on! There will always be another holiday, another opportunity to eat those foods. Is Thanksgiving going to be the last time you'll have your turkey, mashed potatoes, stuffing, etc? NO! It won't be. There will be a Thanksgiving every year. Dana (Zircadia) emphasized portion control awareness and self-control during holidays. Don't deprive yourself of holiday foods, but be aware of your hunger level. If you're full, stop eating! If you want a piece of pecan pie, eat it! Just eat one piece. And everyone on the panel emphasized not beating yourself up for your "bumps in the road". Everyone is going to mess up. Don't dwell on it. Just move on. Don't convince yourself that you have already screwed up once and justify letting yourself screw up the rest of the day. Jocelyn said "I'm not a member of the Start-Over Club. I don't have do-overs." Just accept that you are human and prone to human compulsions. Don't fix the situation later. Fix it now. No do-overs, just keep going. Leah's (Spring4Fal) enthusiasm is so contagious! She wants to see everyone succeed and she puts herself out there to help you! Just take the first step if you need it and reach out!

The next speaker was Fitness Maven Nancy Howard. She was a bubbly, warm woman with a cheery Texas accent! She's an avid runner. She gave us tips and ideas about working out. Her message of "something is better than nothing" fits perfectly well with the idea of Spark Guy's streak. If all you have time for is 10 minutes of exercise, it's better than doing nothing with those 10 minutes. So, do something! Each time, do something! She said that we are all athletes. We just need to channel our inner athlete and get moving! Also, she said when it comes to working out on a treadmill, never run/walk on less than 2% or 3% incline. She indicated that studies have shown a 0% incline is equivalent to walking DOWN a hill! That leaves you more susceptible to injury like shin splints and whatnot. Also, alternating inclines and speeds during your workout is more like walking naturally outdoors.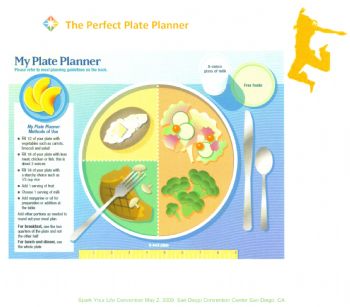 After Nancy's presentation was Food Guru Becky Hand. She had lots of fun handouts for us to do during her presentation. Obviously, I've scanned one of them. I have it hanging on my fridge! (Which was her intention, I'm sure!) Anyway, aside from some obsessive-compulsive kitchen ideas ;-) (alphabetize and mega-organize your spices and pantry by building your own specialty shelves!) she had several good points regarding eating and nutrition. Canned and frozen items are just fine! It doesn't always have to be fresh! Sit down and plan out a weekly dinner menu. No joke! It helps not only the organization process, but it keeps you on track and makes sure you make healthy, good decisions regarding meals instead of leaving it up to chance at the last minute. Reduce the junk! My eating style (as per the results of the quiz) is "Scratch is where it's at!" meaning, I make most of my meals at home and try new recipes, have several spices in my spice rack (20 or more), and sit at a table to eat. I don't usually practice a grab and go lifestyle, with ready made meals and I was almost borderline "Mix it, Fix it" where I do a combo of eating out and eating in. In general I'm a home meal type of gal. Lately, thanks to my lack of groceries, I'm a mixed eat in/out gal. My eating personality scored high on both Emotional and Relationship eater, but wasn't too far off for Stress and Pleasure eater, either. Almost even across the board, actually. Also, I think I spaced out what a "Food Phantom" was... can anyone fill me in? :-S Her next message was 4 mindful bites. Take your time with eating those first four bites of food. Pause and savor each bite. Put down the fork. Close your eyes. Focus on what is in your mouth- taste, temperature, texture. Eat to live, not live to eat. Also,

The next presentation was from Life Coach Cheryl Richardson. As rousing and important as all the presentations were this day, I wish hers was longer. She had so many great things to say about "Toxic People" in your life. Even if they aren't directly derailing your success as a new, healthy, maybe skinny person, they can inadvertently do so. Especially for stress/emotional eaters! Toxic people don't make you feel good, so why keep 'em around? They "puke" their stress and toxin on you, and you take it in and turn it into your own. Its hard to tell these people, especially if they're family, about their behavior and how it affects you, but it is highly super important that you do! Its YOUR LIFE. They do not get control or power over you! That's no way to live! If its too difficult to talk to them because they drain you of your life force, something needs to change. Don't give them attitude, don't give them excuses, don't explain yourself, don't dismiss their behavior (whether they claim to be joking or not). Be neutral, but be firm. The less words you say to them, the better. Anything you say beyond "I do not like it when you do/say/act like this" is more fuel for them to come back at you with the same thing or something worse. Keep it short and sweet. And give them three small chances. If they say it again, gently remind them you do not appreciate their behavior/comments. If they do it a third time, walk away. Let them know you will not be victim to their spew/puke/toxin any more. Its not fair for you to have to accommodate them when they make you feel so horrible. They aren't accommodating you and they get to make you feel horrible while they still feel good. F*** that!!!

Spark Guy ended the day for us by previewing the new Sparkpeople book, entitled "The Spark" due out December 29th of this year! How awesome is that?! Finally, a book! Its got great stories from people, as well as tips, advice, etc. It looks like it'll be a must-read! I'm very excited about it. I wish I could remember more, but there was sooo much information, and it was the end of the day, and I was simply exhausted by that time. A final guest speaker, who's name I regret I do not remember, came up and briefly shared her story. Then, Spark Guy said his good-byes and that was it!

It was an incredible day. I just felt empowered and blessed and part of a big family of people with similar health/fitness goals as I did. It was amazing!!! I left there with lots of goodies! A sweet tote bag, 3 shirts (gratis), a calendar, a water bottle, one of them cute technical shirts!, SparkGoodies from a few people, and lessons, tips, and advice I can and will apply to my own journey.

Feel free, for those who have actually read this far, to add your favorite lessons learned, correct anything I got wrong, or share your favorite memory. Put up your pics of the convention and be sure to upload them to the Flickr group! (See convention team page for the link)

Side note:
I lost 3 inches in my hips, waist, and neck this month. I gained??? 1 inch in my bust! Woo!




First Page
1
2
3
4
5
6
7
8
9
10
11
12
13
14
15
16
17
18
19
20
21
22
23
24
25
26
27
28
29
30
31
32
33
34
35
36
37 38 39 40 Last Page

Get An Email Alert Each Time JILLYBEAN25 Posts