| | |
| --- | --- |
| | JILLYBEAN25's Recent Blog Entries |


Sunday, February 27, 2011
Despite one pretty upsetting blip in my week this past week, I had a much better week than I did at the beginning of this month. Lemme talk about the blip and get that out of the way:

On Wednesday afternoon, I went in to work like I always do. My boss tells me that someone tried to call me at the shop the previous day! I work there 5.5 hours a week, unless I'm called in, so to me the shop is the worst place to try to contact me. And, since it's not my business and I'm just a clerk there, I felt that it was highly inappropriate for someone to try to call me there. The woman trying to reach me wouldn't tell my boss what the call was regarding, as she only wanted to speak to me, so Boss Lady took a message. Apparently this lady was calling from the California Business Bureau, so my boss (and myself) were concerned that maybe somewhere on this years tax forms or W-2's or something that she had listed my name as like a co-owner or that something got messed up, so I told her I'd call back and find out what the deal was. WELL... It was a busy day and I didn't get to make that phone call until I had closed up shop and signed out for the day. Turns out CBB is a debt collection agency! I was in the hospital twice this summer, one visit covered by insurance, one visit not... So, I was receiving bills and statements and surveys and tons of stuff from each of these visits. With my current employment situation, I cannot make payments on these, so I made arrangements with everyone. Unfortunately, one slipped under the radar. It happens. Ever happened to you? It happened to me. So, this woman proceeds to have a conversation with me. I have to tell you, this is one soul-less, heartless B**** with a capital B! I have never been treated so miserably by someone before! By the end of the conversation, this woman called me a liar and loser... in the same sentence. I realize these people are allowed to use whatever tactics they can to get people to pay up, and I'm sure this shell of a person with no soul has been given every excuse in the book, but being rude and calling me a liar/loser makes me want to cooperate less. I don't feel like she's bullying me into paying, I feel like she's bullying me into NOT paying because I don't want to help out a total @$$hole. The really infuriating part is, I told her the absolute God's-honest truth about my financial situation. So, in the meantime, she can suck it. I was so angry with her, I was in tears. Eff that B. Fo real.

But, that was the biggest blip of my week. The rest went pretty well. I got up 3 days this week and went for a walk around my neighborhood. It takes about 30 minutes or so, depending on the route I take. I feel great after. But, Friday and Saturday had weather that was looking unpredictable, so I went to my apartment complex's gym instead. I did some walking on the treadmill (which in many ways I felt was better than my outdoor walks) and then a few reps on some of the weight machines in there. So, 5 days of exercise. It felt great! I hope to keep up the momentum into next week. I set a goal for myself, that I'm tracking with Spark Streaks, to go for a 30 minute walk at least 3 times out of the week. That's my minimum. I'd like to do more than that each week.

I also had a job interview on Tuesday afternoon in downtown La Jolla. It went very well, but I've got a lot of competition, so we'll have to see. Apparently they received some 200 responses to their ad on Craigslist! I sure hope they aren't planning on interviewing ALL of them. I also hope that I beat out a lot of those 200. I sure need another job. I want to keep the one I have- I'm in too deep! They're paying for me to go to a notary public seminar to get my license this coming Saturday. I can't leave them after that. The job I interviewed for would let me stay there. I sure hope I get it. Keep fingers crossed and prayers going, please! In the meantime, I'm still applying for jobs. I have a lot of office experience and some food experience. I just want to be working. Please!




Thursday, February 03, 2011
I'm stressed out. I think I'm more stressed out than I should be. I'm letting little things stress me out way more than they should. I'm going to list this week's stresses, how they are making me feel, and why they are stressing me out (in my mind):

1) Maintenance emergency in my bathroom yesterday. Which is still not resolved. Leaving me without a shower. A leak in a unit above mine has caused a rather large chunk of drywall to be torn out of my shower, so I can't hang a shower curtain. So, I can't use my shower. I can use my bath, but I'll have to clean it a total of 3 times during this "repair", if I want to take a bath to get clean: #1 clean it after they knocked the drywall out, #2 clean it after they install the drywall, whenever that'll be, and #3 clean it when they paint the drywall, texture, plaster or whatever it is they'll be doing! That's a heck of a lot of cleaning that I was really hoping to do only once... maybe twice tops. Now that there's going to be a delay, and therefore a delay in me getting to take a shower, I'm going to have to do it. LAME!

2) Chauffeuring my friend around. She severely sprained her ankle, and I'm a good friend and a nice person, so I offered to help her out when she needs it. Her biggest need is being driven to school and being picked up from school. I don't have kids, I'm not a mom, but I'm starting to really feel like one at a point in my life where I'm totally not ready to feel like one. Its not that its a huge deal, but it does mean I have to schedule my activity for the day around her schedule. During yesterday's maintenance emergency, I had to leave to take her to school at 8am. When I got home from my night class at 11:00pm and needed to unwind and eat something still. I slept 4-5 hours and then drove several times behind the wheel and went to work that afternoon... Its stressing me out.

3) Speaking of my night class... Its 3 hours, once a week. Not a big deal. From 7-10pm. I can handle that. The content of the class, however, is BORING. Its a nutrition class titled "Foods for a Healthful Lifestyle". This week's lecture consisted of "Tour the Grocery Store!" These are dairy products:.... These are meat products:.... These are fruits:.... Here's how you select a ripe fruit:.... For two hours. Even an 18 year old should have SOME idea of what's in a grocery store by now! I get the feeling this class is going to be like that all semester. One assignment we'll have later is to take a recipe and make it "healthier". I do that every day. I compiled/wrote a whole cookbook for my baby brother doing exactly that! Another assignment is to do a recipe demonstration. Super, I cook and cook VERY well. Found out its a group assignment. I don't know anyone in my class, I don't care to, and I certainly hate working in groups... LIKE THE REST OF THE WORLD! Why do instructors still make you do group work? Its just awful in every way.

4) Work. Since the holidays are over, my hours consist of 1 day a week for 5.5 hours. And on-call on an as-needed basis. I get paid $8/hr which I've never been paid so low (except for my very first job ever). That barely buys me groceries. I need a better job! I wish I could get one that's closer, too, cuz paying $5 for a bus pass to/from work hardly makes that $8/hr worth my time. Especially if I do get called in, cuz that's usually for only 2-3 hours.

5) I'm waiting for the UPS guy. Well, that just always sucks, really. He's delivering my textbook for my online class. I'm already two weeks behind because I couldn't find that stupid book anywhere! So, I'm going to have to rush to get caught up this weekend. Even though its already affecting my grade. Awesome.

6) Food. By this, I mean groceries. My roommate and I split everything 50/50. Its easier that way and neither of us is so anal that "you can't touch my stuff!!!" It works for us very well. Besides, we have similar tastes and its easier to cook for multiple people than just one. But, he's been so busy at school lately, that we haven't gone grocery shopping in a few weeks. Our cupboards and fridge are looking pretty bare. I'm running out of creative things to cook with what we have. Also, we need to fill up our 5 gallon water jug since it's been empty for a few weeks, too. We have a Brita pitcher as a back-up luckily, but roomie is not in the habit of filling it up when he's emptied it. So, if I'm thirsty, I have to wait to get some filtered water to drink.

7) The upstairs neighbors. I hate them. Period. They have no respect or consideration for us living below them. They stomp all day and all night, every day and every night. I wish I was exaggerating, but unfortunately, I'm really not. They consistently wake my roommate and I up at all hours of the early morning. They stomp so heavy all the things in our cupboards in the kitchen rattle. We've complained about them numerous times, formally, and once informally, and nothing's been done. And the last time we complained, we were essentially told that nothing could be done. I've scoured the property's website and info for an address to send a letter to someone higher, but have been so far unsuccessful. This summer, my roommate and I have decided to break our lease and move. And they can suck it on any fees they think they'll be charging us for living in such a stress-inducing miserable place!!!

Well... I wish I could say it felt better to get that off my chest, but not really. It just made all my stress more solid. I know how to manage stress, I've attended workshops and whatnot to learn how to do so, but I am so far not implementing any of those strategies into my life! Why?!?! Why not?!?! Well, for one, exercise is a good stress reliever, but makes you sweaty, and I don't have a shower. And that's my preferred method of stress-relief. Which means I need to clean my shower. Which is what I'm stressed out about! Its a vicious cycle!!! AGGGHHHH!

Okay, time to implement other strategies. I have to do something. I'm so easily irritable and snappy this week. That's not me. I'm better than that. Time to kick some stress @$$. Any suggestions?





Saturday, January 01, 2011
For years I used to list a set of goals for myself that I wished to accomplish for the year. I never called them "resolutions" because I think that word carries some sort of evil curse or something. When you call it a "resolution" it never gets accomplished. When its a "goal" you have a better chance. At least in my experience. I usually have a pretty decent success rate, too! At least 95% by the year's end most years. I even print them out on stationary and post them somewhere I can see them on a daily basis. So, this is the next set of goals I have for myself for 2011:

UPDATED:
1. Actively engage in a healthier lifestyle! Exercise more, eat less, eat healthier, get more sleep, and keep learning (to exercise my brain). I won't always succeed on a day to day basis, but as long as I keep working at it, I know I'll reach my goals.

2. Get another/better job. I know this one isn't necessarily in my control, but I believe with persistence, dedication, and hard work, that I can reasonably accomplish this sometime in the next 365 daysÖ right?

3. When I finally have that job, start paying off my credit card. I'm able to make just above the minimum payments most of the time. I'd love it if I could start paying off bigger chunks and bringing my balance way, way down. It'll take a few years to get it down to nothing, but paying off at least $300 this year would be great!

4. Save some money. I'm not talking anything huge, but putting away $10 or $20 a month is better than putting away nothing.

5. Secure health insurance. Well, that's just self-explanatory. And also something that isnít necessarily in my control.

6. Do some volunteer work. Iíve been wanting to do something for quite a while. I need to find a way to be able to do so.

7. Move to a townhouse, house, or condo with a little bit of a yard that also allows pets. I can't live in my apartment in University City anymore. The neighbors above me cause me untold amounts of stress. Also, this area is pretty pricey. Aiming for a move this summer. The money I save can be spent on a cat, which I desperately want. I also want a little bit more yard space to grow some herbs, fruit, and/or veggies.

8. Learn to knit/crochet. I know I've set this goal for myself before and didn't get it done, but I've been inspired recently, so I'm planning on getting back to this. Maybe I can find a class or a club to join.

9. Sew more. I got a new sewing machine a few months ago and I would love to work on more projects! I'd like to go to Comic-Con this year, hopefully, so a costume project would be awesome!

10. Read for pleasure more. I got a few books coming in April. I have a book to read now. I can start on Sherlock Holmes. I have magazine subscriptions, but I need to make sure Iím reading good books, too.

11. Scrapbook! I have many supplies and things to put in a scrapbook. I just need to sit down and actually do it! I have friends that scrapbook, too, so I could invite them over for a scrapbooking party and just be creative for a day.


I may add a few more goals to this list once I have time to sit down and think about them more. But, these are just fine for me for now. *** I think 11 is a good number to accomplish for the year. These are my final "official" goals!

Good luck to everyone else on their goals!




Wednesday, June 09, 2010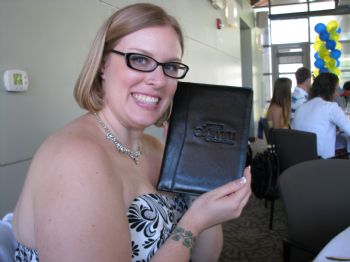 Me with my UCSD Alumni mini padfolio! 6/5/10 (205lbs)

This Sunday, June 13th at 5:00pm, I will walk across a stage in a black cap 'n' gown, with my blue and white tassle swinging back and forth as it hangs from my mortar board, and I will be handed a piece of paper telling me that my diploma will be mailed to me later in July. But, that piece of paper represents the final step in 3 years of blood, sweat, and tears (and as God as my witness, there were LOTS OF TEARS!) as I made my way through the bachelor program in theatre at the University of California, San Diego. I have been humbled by the experience, so it is difficult to say that I'm proud of myself. Yes, I worked hard... really, REALLY hard... and yes, after three long years of tests, hundreds of thousands of pages read, hundreds of pages written, and countless hours sitting through lectures exciting and stimulating... or extremely boring and uninteresting (as was the case this last quarter), I deserve to recieve a Bachelor's of Arts Degree. However, its almost 2:00am and my insomnia has control of this moment. I finished my last final as an undergrad at 2:00pm (almost 12 hours ago) and I'm both physically and mentally exhausted. I suppose I'll be more excited and appreciative when I've gotten a good night's rest and participated in the graduation ceremony.

In the meantime, I'd like to reflect on the one thing I wish could have been a little different. I think it will help me to learn from those "mistakes" so that I can prevent them in the future, and work to correct them. In January of 2008, I joined Spark People. I didn't want to gain the "freshman 15" and was participating in a program meant to teach good fitness, nurition, and stress management habits. Now it is June 2010. The "freshman 15" turned into the "super senior 40". I had no idea how huge of a toll 3 years of major university would take on my weight. Like all college students, I ate horribly. I over ate. I ate at really bad times. I "dieted". I did all the things that one shouldn't do in regards to nutrition. About the only thing I did right was take vitamins regularly (which I still do!). I considered working out to be very time consuming, when that hour or hour and a half, or hell- that 10 minutes!- could be spent reading that article, or typing a page of a paper, or memorizing those lines. I always managed to find an excuse not to exercise. Besides, I told myself, I walk and/or jog that campus every day. It's got hills (some of them pretty steep), stairs everywhere, and is 1.25 miles long from end to end, which I'd walk most of the time if I wasn't rushing from class to class. Not traditional exercise, but at least its movement.

It wasn't enough. I need to fix that. Exercise absolutely has to be a regular part of my life. This 70lbs of excess fat isn't going to come off going up and down stairs or walking up a hill for 1 minute. I need to do more for my health. This excess poundage has slowed my metabolism to the point that it won't come off if I take 25 minutes to walk a mile across campus. I need a good, healthy, kick-in-the-pants dose of cardio and some weight training. Assuming I'm able to procure a job in this horrible market, I'd like to join a Curves or take some fun fitness classes. I'd love to do "alternative" exercises. I've been dying to go kayaking again. I'd like to slim down enough to smash back into some pink tights and take a ballet class. Regardless of what I do, I can't convince myself any more that these tiny amounts of exercise are going to add up enough for me to drop the equivalent of a 4th grader. Its time to do better for myself.

As for my eating habits, those kinda worked themselves out naturally. Over this last quarter I've been interested in joining a CSA, but have yet to be able to afford it. But, I do have a friend who has done so, and she gives me extra fruits, veggies, and fresh herbs that come in her box. Also, while working on a few theatre productions this quarter, I'd notice after 6 hours of eating crappy junk food, like Cheez-Its, chips, candy, and more, that I'd go home feeling miserable. My body hated me! I'd be popping Pepto or acid reducers all night. I'd feel sluggish. I was just all around icky. So, I changed my tactic after a few days of that... I went ahead and splurged on those pre-cut apple slices snacks (with the caramel dip) already portioned out, as well as the cut veggie snacks that come with a light ranch dip. It was well worth the extra money for the convenience!!! BEST DECISION EVER! I'd eat healthy fruits and veggies during the tech rehearsals instead of that junk and I felt so much better. It was almost like a mini-detox. When tech was over, I found myself craving fruits and veggies over snack foods. So, starting then, and continuing on today, I've been home cooking my meals and buying fruits and veggies to cut up and snack on. I've eaten out maybe 4-5 times in last two weeks- which is a HUGE improvement for me! We're talking 5-7 restaurant/fast food meals per week. I cut that by more than half. And I'm already feeling better. I have, however, splurged on my gourmet coffee... but, it was finals week. I had to do something to stay awake after marathon study sessions! I hope to keep these new habits well into the future, build on them, and change them as it becomes necessary.

In the meantime, I need to figure out how to get to sleep... :-)







Wednesday, March 10, 2010
My wonderful, awesome boss Lorna gave me this incredibly delicious salad last week. I've been hooked on it ever since.

Dark, leafy greens
Garbanzo Beans
Grape Tomatoes
Fresh Raspberries
Fresh Blueberries
Fresh Sliced Strawberries
Blue Cheese Crumbles
Your Favorite Dressing (She uses Pat n Oscar's House dressing; I've been using Grasso's!)

This salad is so yummy. I've eaten it every day. And I can't get enough of it.

Let's break down the nutrition of this salad:

Leafy Greens: Contains iron, calcium, potassium, magnesium, vitamins K, C, E and most B vits. Contain also beta carotene and lutien. They protect our cells from damage and our eyes from age-related problems. They regulate blood clotting, protects bones from osteoporosis, prevents diabetes, and may even help prevent inflammatory diseases like arthritis. Also helps clean out them arteries!

Garbanzo Beans: Contain fiber (lowers cholesterol), prevents spikes in blood sugar, contain protein with almost no fat, contain free-radical fighting antioxidants. Prevents loss of iron. Aids in blood flow, oxygen flow, and nutrient flow throughout the body. Contains magnesium, which prevents free radical damage to the heart (thus reducing risk of heart attack).

Grape Tomatoes: Blood purifier, improves skin texture and color, dissolves gallstones, prevents cirrhosis of the liver, reduces cholesterol, prevents heart disease, natural antiseptic (fights infections), prevents hemorrhaging, and fights free-radical to prevent cancer.

Raspberries: Contains phytonutrients for antioxidant, antimicrobial, and anticarcinogenic protections. This means it fights cancer and prevents the overgrowth of bacteria and/or fungi in the body (like yeast in those pesky yeast infections). Contain fiber, minimal impact on blood sugar, vitamin C, manganese (antioxidant). Protects against macular degeneration (loss of eyesight).

Blueberries: Fights free-radicals, prevents diseases associated with aging, contains vitamins C and E, multiple antioxidants, helps with memory and motor skills, anti-inflammatory properties, promotes urinary tract health and prevents UTIs.

Strawberries: Antioxidant, anti-inflammatory, protects the heart, anticarcinogenic, prevents macular degeneration, protects against rheumatoid arthritis. Contains fiber, manganese, vitamin C, potassium, and B vitamins.

Blue Cheese: Calcium, protein, protects tooth enamel and prevents decay, contains zinc, vitamin B12 (good for energy!), vitamin A.

So, plate up a batch of this amazing salad- nutritious and delicious! Don't drown it in fatty salad dressings (although vitamin K is fat soluble, so you need a little bit of fat to reap its benefits) and enjoy some of this wonderful salad! Thank you Lorna!



First Page
1
2
3
4
5
6
7
8
9
10
11
12
13
14
15
16
17
18
19
20
21
22
23
24
25
26
27
28
29
30
31
32
33
34
35 36 37 38 Last Page

Get An Email Alert Each Time JILLYBEAN25 Posts