| | |
| --- | --- |
| | JILLYBEAN25's Recent Blog Entries |




Wednesday, June 09, 2010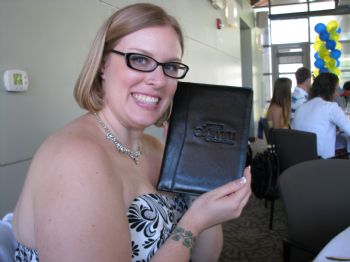 Me with my UCSD Alumni mini padfolio! 6/5/10 (205lbs)

This Sunday, June 13th at 5:00pm, I will walk across a stage in a black cap 'n' gown, with my blue and white tassle swinging back and forth as it hangs from my mortar board, and I will be handed a piece of paper telling me that my diploma will be mailed to me later in July. But, that piece of paper represents the final step in 3 years of blood, sweat, and tears (and as God as my witness, there were LOTS OF TEARS!) as I made my way through the bachelor program in theatre at the University of California, San Diego. I have been humbled by the experience, so it is difficult to say that I'm proud of myself. Yes, I worked hard... really, REALLY hard... and yes, after three long years of tests, hundreds of thousands of pages read, hundreds of pages written, and countless hours sitting through lectures exciting and stimulating... or extremely boring and uninteresting (as was the case this last quarter), I deserve to recieve a Bachelor's of Arts Degree. However, its almost 2:00am and my insomnia has control of this moment. I finished my last final as an undergrad at 2:00pm (almost 12 hours ago) and I'm both physically and mentally exhausted. I suppose I'll be more excited and appreciative when I've gotten a good night's rest and participated in the graduation ceremony.

In the meantime, I'd like to reflect on the one thing I wish could have been a little different. I think it will help me to learn from those "mistakes" so that I can prevent them in the future, and work to correct them. In January of 2008, I joined Spark People. I didn't want to gain the "freshman 15" and was participating in a program meant to teach good fitness, nurition, and stress management habits. Now it is June 2010. The "freshman 15" turned into the "super senior 40". I had no idea how huge of a toll 3 years of major university would take on my weight. Like all college students, I ate horribly. I over ate. I ate at really bad times. I "dieted". I did all the things that one shouldn't do in regards to nutrition. About the only thing I did right was take vitamins regularly (which I still do!). I considered working out to be very time consuming, when that hour or hour and a half, or hell- that 10 minutes!- could be spent reading that article, or typing a page of a paper, or memorizing those lines. I always managed to find an excuse not to exercise. Besides, I told myself, I walk and/or jog that campus every day. It's got hills (some of them pretty steep), stairs everywhere, and is 1.25 miles long from end to end, which I'd walk most of the time if I wasn't rushing from class to class. Not traditional exercise, but at least its movement.

It wasn't enough. I need to fix that. Exercise absolutely has to be a regular part of my life. This 70lbs of excess fat isn't going to come off going up and down stairs or walking up a hill for 1 minute. I need to do more for my health. This excess poundage has slowed my metabolism to the point that it won't come off if I take 25 minutes to walk a mile across campus. I need a good, healthy, kick-in-the-pants dose of cardio and some weight training. Assuming I'm able to procure a job in this horrible market, I'd like to join a Curves or take some fun fitness classes. I'd love to do "alternative" exercises. I've been dying to go kayaking again. I'd like to slim down enough to smash back into some pink tights and take a ballet class. Regardless of what I do, I can't convince myself any more that these tiny amounts of exercise are going to add up enough for me to drop the equivalent of a 4th grader. Its time to do better for myself.

As for my eating habits, those kinda worked themselves out naturally. Over this last quarter I've been interested in joining a CSA, but have yet to be able to afford it. But, I do have a friend who has done so, and she gives me extra fruits, veggies, and fresh herbs that come in her box. Also, while working on a few theatre productions this quarter, I'd notice after 6 hours of eating crappy junk food, like Cheez-Its, chips, candy, and more, that I'd go home feeling miserable. My body hated me! I'd be popping Pepto or acid reducers all night. I'd feel sluggish. I was just all around icky. So, I changed my tactic after a few days of that... I went ahead and splurged on those pre-cut apple slices snacks (with the caramel dip) already portioned out, as well as the cut veggie snacks that come with a light ranch dip. It was well worth the extra money for the convenience!!! BEST DECISION EVER! I'd eat healthy fruits and veggies during the tech rehearsals instead of that junk and I felt so much better. It was almost like a mini-detox. When tech was over, I found myself craving fruits and veggies over snack foods. So, starting then, and continuing on today, I've been home cooking my meals and buying fruits and veggies to cut up and snack on. I've eaten out maybe 4-5 times in last two weeks- which is a HUGE improvement for me! We're talking 5-7 restaurant/fast food meals per week. I cut that by more than half. And I'm already feeling better. I have, however, splurged on my gourmet coffee... but, it was finals week. I had to do something to stay awake after marathon study sessions! I hope to keep these new habits well into the future, build on them, and change them as it becomes necessary.

In the meantime, I need to figure out how to get to sleep... :-)







Wednesday, March 10, 2010
My wonderful, awesome boss Lorna gave me this incredibly delicious salad last week. I've been hooked on it ever since.

Dark, leafy greens
Garbanzo Beans
Grape Tomatoes
Fresh Raspberries
Fresh Blueberries
Fresh Sliced Strawberries
Blue Cheese Crumbles
Your Favorite Dressing (She uses Pat n Oscar's House dressing; I've been using Grasso's!)

This salad is so yummy. I've eaten it every day. And I can't get enough of it.

Let's break down the nutrition of this salad:

Leafy Greens: Contains iron, calcium, potassium, magnesium, vitamins K, C, E and most B vits. Contain also beta carotene and lutien. They protect our cells from damage and our eyes from age-related problems. They regulate blood clotting, protects bones from osteoporosis, prevents diabetes, and may even help prevent inflammatory diseases like arthritis. Also helps clean out them arteries!

Garbanzo Beans: Contain fiber (lowers cholesterol), prevents spikes in blood sugar, contain protein with almost no fat, contain free-radical fighting antioxidants. Prevents loss of iron. Aids in blood flow, oxygen flow, and nutrient flow throughout the body. Contains magnesium, which prevents free radical damage to the heart (thus reducing risk of heart attack).

Grape Tomatoes: Blood purifier, improves skin texture and color, dissolves gallstones, prevents cirrhosis of the liver, reduces cholesterol, prevents heart disease, natural antiseptic (fights infections), prevents hemorrhaging, and fights free-radical to prevent cancer.

Raspberries: Contains phytonutrients for antioxidant, antimicrobial, and anticarcinogenic protections. This means it fights cancer and prevents the overgrowth of bacteria and/or fungi in the body (like yeast in those pesky yeast infections). Contain fiber, minimal impact on blood sugar, vitamin C, manganese (antioxidant). Protects against macular degeneration (loss of eyesight).

Blueberries: Fights free-radicals, prevents diseases associated with aging, contains vitamins C and E, multiple antioxidants, helps with memory and motor skills, anti-inflammatory properties, promotes urinary tract health and prevents UTIs.

Strawberries: Antioxidant, anti-inflammatory, protects the heart, anticarcinogenic, prevents macular degeneration, protects against rheumatoid arthritis. Contains fiber, manganese, vitamin C, potassium, and B vitamins.

Blue Cheese: Calcium, protein, protects tooth enamel and prevents decay, contains zinc, vitamin B12 (good for energy!), vitamin A.

So, plate up a batch of this amazing salad- nutritious and delicious! Don't drown it in fatty salad dressings (although vitamin K is fat soluble, so you need a little bit of fat to reap its benefits) and enjoy some of this wonderful salad! Thank you Lorna!





Wednesday, February 10, 2010
So, I had a revelation last night...

I'm so stressed out and under so much pressure, from others and from myself, there's no wonder I've been gaining weight instead of losing it. Hell, I'd even go so far as to say its possible I'm depressed.

I'm only 4 months away from graduating with my first Bachelor's Degree. In theatre, with limited experience in lighting design, which is what I'd love to do with my career. I'll be done with that in June. In August I plan on going back to community college to study nutrition. I hope it doesn't take me forever. Its really only something I want to do for myself. I wouldn't even get a degree in it, just a certificate of achievement. And then there's the issue of finding a job. I'm not sure what I can do with what I've gotten so far in regards to theatre. I just have no idea, really. So, I'll probably have to settle for something that has nothing to do with my chosen career path until after I get a Master's Degree... whenever I decide to do that.

Then there's my personal life. Someone whom I love very much, and would love to spend my life with, told me last night that I am selfish, self-centered, self-absorbed, and apparently not very intelligent when it comes to being in/nurturing a relationship. Somewhere in the same conversation, it came up that I should probably consider not having children because I'm "emotionally frail" or something to that effect. For the last month or so, this is has been the nature of the conversations we've had. Part of me knows I need to let him go, that there's NO WAY this is healthy... but, its hard to let go of someone whom I've "been with" for 6 years. I've imagined this person as THE person I'd be growing old with, having children (apparently not), traveling... basically sharing my life, turning my life and his life into "our" life.

He'd like it if I was much thinner as well. I want to be much thinner. I don't feel healthy. I'm tired all of the time. I have little motivation to do much of anything, including exercise. I manage to eat healthy 75%-80% of the time... I've binged or knowingly over-indulged during times of high stress and emotion. No wonder!!! NO WONDER I'm GAINING weight. No wonder I'm not losing it! How on earth am I supposed to do it with all this coming at me all the time?

I have no self-esteem (which, according to the earlier mentioned person, is for teenagers), very little feeling of self-worth, inferiority complex. I feel so... not smart. I feel like a fat loser. Not smart enough to ever have children (even though I badly want[ed] to be a mother someday). Barely able to survive adulthood successfully. Getting to be healthy again. I feel like I barely have a chance.



First Page
1
2
3
4
5
6
7
8
9
10
11
12
13
14
15
16
17
18
19
20
21
22
23
24
25
26
27
28
29
30
31
32
33
34
35
36 37 38 39 Last Page

Get An Email Alert Each Time JILLYBEAN25 Posts