| | |
| --- | --- |
| | JILLYBEAN25's Recent Blog Entries |


Wednesday, February 20, 2013
I thought ya'll would like to see what I have been learning in PhotoShop. I borrowed the quote from Be My Anti-Valentine, but I 'shopped it all by myself!

I didn't finish it in time to post on Valentine's, otherwise, that's when you'd be seeing this.







Tuesday, February 19, 2013
Today I figured out how to get in a good workout without having a gym, having to go outside, or resorting to drastic measures (like getting rid of my bed to make room for a treadmill that would double as my bed

). Sunday I finally lit a fire under myself and my brother, and finished organizing and cleaning my room. I stuck in my all-purpose book shelves that will hold my linens and a few misc items that have no "home" (like my first aid kit and tool kit). That cleared my desk and desk chair to actually be used for their intended purpose, but more importantly, cleared a lot of floor space. Now, I actually have a piece of floor real estate to do some working out. Granted it's not a big space... maybe about 6ft by 4ft (or about 7ft x 5ft at its widest points, which isn't all that helpful). Think you can't work out in that amount of space? THINK AGAIN!!!

Today I did my favorite thing: got on YouTube. I have a bunch of the SparkPeople videos by Coach Nicole jammed into a playlist, so I always know where to find them. I did a 10 minute cardio vid, an upper body vid, and a lower body vid. All are part of the bootcamp series- New You, Swimsuit, 28 Day... They don't require much equipment and best of all, they don't require much space. You basically do all the moves in one place! Luckily I have a thick, cushy yoga mat (for the lower body vid) and several free weights (1.5lb, 3lb, 5lb, and 10lb) for the upper body. Cardio didn't require anything. Got hot, sweaty, and winded, and I know I got a pretty decent workout for just 30 mins of my time in the tiny space I have.

BOTTOM LINE: If I can do it, you can do it!

Just get 'er done!

Best of all, I can do this any time during the year in my nice air conditioned home. Which will be really good come summer time when the temps soar into the 110s+. Death weather.

So, cleaning up my room was my Sunday. On Friday I lit another fire under myself, my bro, and my sis-in-law to clean up the kitchen. I believe I've mentioned previously that my family is not known for their housekeeping skills. So, the kitchen was quite the project. Luckily with 3 people working on it, it went pretty quickly. We got pretty much everything cleaned, counters cleared, and a few things organized. Things are put away, but our cupboards and extra storage spaces could be better organized. Alas, that is a big project for another weekend. In the meantime, there is clean, uncluttered counter space in which to prepare healthy foods. That's good enough for me (for now). And I was able to photograph a new meal for my blog. I just need to edit photos and write. Which brings me to...

The saga of PhotoShop 6. The PS class I'm taking is using the latest Adobe products... which is 6. On my computer, I have version 2. WAY WAY WAY outdated, let me tell you. Unfortunately, the only computers at school that have CS6/PS6 are the ones in the classroom in which my class is taught. Which is the classroom that every computer class is taught. So, I can't just go in and use a computer any time to get my homework done (and this week, I have a lot of it!). Unfortunately, most Adobe/PS products aren't compatible with each other. So, even if I had PS4, I wouldn't be able to go back and forth with PS6 with it. Confusing isn't it? Well, PS5 is compatible enough, so now I have several folks working on getting me a copy of PS5 to use on my home computer. Basically cross your fingers and/or pray that I get SOMETHING so I can do my homework before it's due.

P.S. EDIT: I should mention that a student discounted rate for getting PS5 or 6 on Adobe's website is $350. So not affordable!

My stats class... oh, stats. How I loathe you. Math in general, really. That test I was worried about failing? I failed it. Well, I "university standards" failed it, which is to say I got a D. 69%, even. If I had just answered 1 question right I would have had a C. Seriously, and I knew what I had done wrong when I got my test back. Stupid mistake, too! Of course. That's how it always happens. My teacher is really cool, though. He spoke to me after class about it (he even approached ME!) and said he thinks I'm still capable of doing well in the class. I told him I would try harder and study more. I also told him that when it comes to math, I don't test well. I freak out and get nervous. So, he said we'd work on that. It's the first of 4 tests this semester. I do have a chance of doing well, but I really do need to apply myself. I think I really can do better.

A few weekends ago I went to the Carrot Festival in tiny little Holtville, Ca. Carrot capitol of the state or country or world... I dunno. I grew up there, sorta. Moved away in the 5th grade. The majority of my family still lives there. The day started with an adorable parade down the main thoroughfare and ended with a little festival in the park. Lots of food booths, merchants, and a small carnival. I spent the day with my mom, cousins, grandma, and aunt. We had so much fun! I had delish fish tacos from one of the church's booths (these are usually fundraisers for local orgs) and homemade ice cream. There is an entry in the parade that is usually decorated with produce from the Holtville FFA (I think). This year it had a merry-go-round made of different colored cauliflower. Anyway, its covered in all kinds of veggies, and at the end of the parade, you pay $5 and they give you a standard sized plastic grocery bag (I know, I know, so not eco-friendly) and you can fill up the bag with however much you can fit in (and it HAS to fit in, no overhanging food!). Luckily, I'm a master at this, so I came home with a metric f***ton of produce! 2 napa cabbages, 1 bok choy, 1 purple cauliflower, 2 broccoli, a bunch of carrots, and something else I think I'm missing... :-S Anyway, here's a photo:


Courtesy of my cousin Olivia.

We're still working our way through all those veggies! The cauliflower was awesome and I used a napa cabbage in my latest blog meal, which I promise to get around to posting. I was able to get my container garden going yesterday. The bro, sis-in-law, and I tackled part of the backyard that has been looooong neglected. We cleared the patio, cut down some branches on our big mesquite tree, and just did some general maintenance. I was able to set up a few of my pots and fill them with soil and fertilizer. Then, I ran out of time and daylight. We set up the BBQ so we could cook some dinner. I wasn't able to sow any seeds yesterday, but was able to this morning. It was really super windy, though, which made it difficult. But, I wasn't planting much- a few beets, carrots, radishes, and spaghetti squash. We'll see how any of it does... with sweltering heat, I'm not sure. I may have to shade my thangs. Growing in the desert is hard due to heat and the dreaded white fly. Those lil' b@st@rds eat EVERYTHING. Literally.

Well, that's it in a nutshell. Today the wind has not only blown me and my seeds, but my allergies into a tizzy as well. I can't breathe through my nose. I've been through ridiculous amounts of kleenex since about 2am last night. I woke up unable to breathe and had to take a Benedryl. So. Lame. And despite my inability to use my sinuses properly, I STILL WORKED OUT FOR 30 MINUTES! WOO!






Saturday, February 02, 2013
Well, one month of 2013 has come and gone. That month was interesting, to say the least. I am curious to see what February will bring.

First of all, thank you to all who voted to make my 5 year look-back blog a featured post! I am not sure I ever said out loud anywhere, but secretly I've always wanted a blog to be featured... I wanted to have something be inspiring to others. It was a great way to celebrate my 5 year milestone. I didn't expect it at all, honestly. And I couldn't believe I'd ever be inspirational to someone (or many someones!) else considering my journey has been more of the "slow and [sorta] steady" variety. 45lbs in 5 years doesn't seem like much to celebrate, but then I have to remind myself (because you wonderful SparkFriends remind me!) that everyone's journey is different. And it's true. I wish my journey would have seen more success in a shorter time, but that was not the way it was meant to be. And that's perfectly okay. When it seems like the journey is taking too long, remember what the destination will ultimately be. And I discovered a long time ago that my journey was less about weight loss and more about good health. I want to be healthy and happy... weight loss is just a bonus side-effect.

I noticed since moving away from San Diego that my blogs have more or less a "negative" tone to them. Yes, I am struggling to find my place here and I'm struggling to feel okay about this move. I hate it in my hometown and I really didn't want to ever have to move back in with my parents (especially right as I turned 30!). It's also natural and okay to be feeling those feelings. But, I can't let them take control. I'm working on being more positive. That saying "fake it 'til you make it" apparently has some merit... I've read if you don't feel happy to just smile anyway. Eventually that smile will be genuine and lift you out of your mood. That's kinda the approach I'll be taking. If I need to get something off my chest, I will, but otherwise, I'm really going to try to focus on the positives that are happening in my life.

Starting with school. Miraculously I was able to get into the statistics class I was crashing. Not that I want to be in that class since I'm terrible at and really hate math, but I need it to apply to a grad school, so I'll do it for the greater good. And at least its something to occupy my time. :-) I'm also in a Photoshop class, and so far I'm enjoying it. I've learned quite a bit already! Not anything of professional caliber, but that might come as the semester wears on. So far I can change eye color, lip color, add a window where there wasn't one, and change the background of an image. I'm hoping it'll help make my photos for my other blog better... speaking of which...

potatoestopeaches.com/fff/avocado-eg
g-salad/
Feast your eyes and bellies on this! (I should mention I didn't Photoshop this photo, so don't judge too harshly...)

Also, this:
potatoestopeaches.com/fms-photos/feb
ruary-day-1-fork/
That one I did do a little bit of the ol' 'shoppin'... Just a touch, though. Like I said, I've learned a lot, but not enough to have pro-caliber photos.

Secondly, I have a tentative workout plan. I have to say this because it involves working out outdoors, which as I've mentioned before, won't fly come March or April when the temps go above 90*F. Daily. Even more so when they go above 110*F. DAILY. I'm going to check to see if my school's weight room/gym thingy has open gym hours. I'm not going to hold my breath, but it won't hurt to ask. My grandmother has offered me the use of her treadmill, but I have no way to get it to my house and no where to put it if I did get it here. Maybe I don't need to sleep on a bed... A pillow and some blankets could make the TREADMILL comfy to sleep on, right? HA! I kid. In the meantime, on Tuesdays and Thursdays when my brother goes to class, I can go walk on the track next to the school. Its one of those ones that has the lanes nicely painted and it's all squishy 'cuz it's made out of chopped up rubber tires or something. Anyway, I walked 2 miles on it on Thursday and had no problems with shin splints! However, it turns out 2 miles was a little much considering I haven't worked out in a REALLY, REALLY long time. I stretched after walking and even did a short warm up beforehand, but maybe a 16 minute mile walk was WAY too much for me. I should have started small and begun working my way back up to that level, but I figured time was of the essence. Also, it's not like I'm not active. Today, though... DOMS for the lose! As the day wore on, I became less and less able to function normally. Then I was unable to walk for more than a few steps at a time. So, I had to give myself the day off. Not like I had a plan anyway... no one was heading out to the school so I could walk the track. I need to figure out something else... and quick.

Well, I hope ya'll will consider following my other blog. I'm trying to reach more people so I can get more feedback on it. I'm going to be posting something small weekly, something big monthly (I hope), and photos for a little challenge I'm doing daily. All in an effort to keep positive.

Hmmm... I can't have a blog without a photo in it...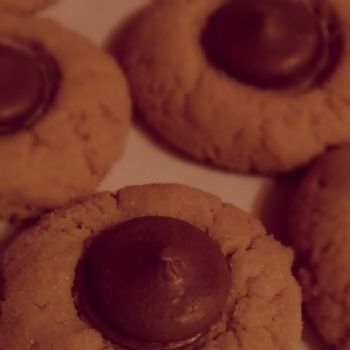 Some terribly unhealthy, but sinfully delicious, peanut butter cookies with a couple of melting chocolate chips on them.






Saturday, January 26, 2013
I can't believe I hit my 5 year SparkVersary! Like, wow.



There are so many things that Spark has helped me with in the last 5 years, I can't wait to see what the next 5 Spark years bring!



SparkPeople helped me [slowly] lose 45lbs. Thanks to the holidays, I'm sure I've gained some of that back, and I certainly put on weight from my starting weight before I began losing, but overall, I'm happy with what I've achieved with Spark.



SparkPeople helped me realize one of my passions is helping people through better nutrition. I've been studying nutrition at community college and am looking into graduate programs to become a Registered Dietitian.



With that realization came confidence to actually pursue it. I mean, in my mind, once I got my Bachelor's Degree in Theatre, that was it for me... That's what my life was going to be about. Even before I had finished that part of my schooling, I was having some doubts about how viable that was going to be. But, knowing I could be healthier and utilize tools and resources left me believing I can change the course my career was to take.



I made wonderful friends who are health-minded like I am. Sure, we may have different goals, body types, fitness levels, starting weights, goals weights, diet needs, etc. But, having the support and friendship of people who are as conscious about their health as I am is a key to my success! And I'm especially glad I got to meet a lot of these wonderful people in person... and I hope to meet more in the future!



Spark has kept me accountable for every bite, whether I've tracked it, admitted out loud I consumed it... or none of the above. Thanks to Spark, I know that the slice of cheesecake I'm eating is MY choice and I will also have the choice about what to do about it. Am I going to be self-loathing and ashamed? Am I going to get on the treadmill for an extra 15 or 30 minutes to work it off? Am I going to adjust the rest of my intake for the day? Each bite means something and I am aware of it going in. But, I'm not obsessing over it either.



I have a healthier outlook regarding diet and exercise. I don't feel shame/secretive/etc for indulging once in a while. That's not healthy to believe you've blown it and allow yourself to screw up more. Nor is it healthy to think that cupcake won't do a little bit of damage, either. Knowing there's a yin and yang to this whole journey is important for me.



I know what works for my body and what doesn't when it comes to exercise. My body burns fat really efficiently from doing a lot of cardio- usually in sessions lasting around 60 minutes. I don't strength train often enough to know if it burns fat, but I do notice my strength and definition improving when I do it fairly consistently. That's fabulous for me!



Thanks to Spark I'm exposed to all sorts of different exercises and ideas for exercises. I'm not sure I would have ever tried kayaking, stand up paddleboarding, hiking... All these activities that I absolutely love to do! Without this site, I think I'd still be on the treadmill, trudging away day in and day out. It also gave me the confidence to do these things, knowing there are other people at my level that have tried them too and lived to tell about it!

So, that's my 5 year look back... there are so many things I feel like I'm missing. Like this is so short for 5 years. But, the bottom line is Spark has truly, really, honestly changed my life for the better. I can't imagine what life would be like without this site, and most of all without all the wonderful people that are part of this community with me. I have the most amazing SparkFriends a girl could ask for! Seriously! They always lift me up when I am down. I can only hope they feel like I do the same for them! So, I am looking forward to what life with this site will bring me. With any luck, another 30lb loss, stellar health, and an M.S. in Nutrition/Food Science!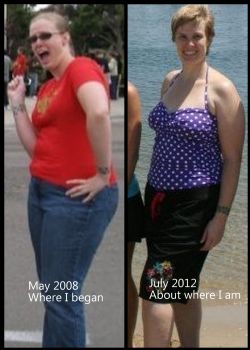 It might not be too much difference, but it certainly is from my highest (around 2010-ish):







Tuesday, January 22, 2013
Man, I think I have a few things going on with my body at the mo'. I've been on my irritating and uncontrollable sleep cycle where I get stuck on REM and dream vividly all night, and fail to cycle through the rest of the sleep steps needed for quality, restful sleep. So. Awful. It's been almost a month at my estimation and finally I am to the point where I'm always sleepy. But, if I try napping during the day, the same thing happens. Stuck on REM. No real benefit.

Also, about a week ago... or maybe 5 or 6 days ago... I ended up hitting the back of my calf on a heavy object and it hurt. So I figured it would leave a bruise. Boy, did it ever! I looked at it today (back of my calf, so not readily visible!) and it is UGLY. Purple, black, yellow... hideous! I'm surprised it still looks the way it does and is still the size it is after all this time. Which leads to me believe...

...I may have a bit of an iron deficiency right now. It could also explain my total lack of energy and strength (ya know, aside from the lame "sleep"). I don't eat very much red meat, liver, shellfish, or vegetables that are full of iron. Not that it matters. Your body only absorbs less than 12% of non-heme (vegetable sources) iron at a given time. Heme sources (animals/meats) get absorbed better at about 20%. Eating iron with vitamin C ensures your body absorbs that iron. So, what I need is a big thing of beef liver covered in strawberries. Yum.



Tomorrow is the last day (I think?) that I can find out whether or not I've gotten into that stats class. I really need to get it. For one, I am terrible at math and having a fun class (photoshop) and a hard class will make this semester bearable. Secondly, all the classes I have to take are going to be hard, so I don't wanna take a million hard classes each semester. This would help to lighten my load. Third, if I drop below half-time status I have to start paying back my loans. With what money? Yeah. Exactly. Not a good situation. Since I enrolled at the college so late, there weren't many classes that were open, so I've literally signed up for all that I could that was still available. There were many, many empty seats in my class on Thursday, I'm now #3 on the waitlist, and if there are still empty seats Tuesday night, I get to be in the class. I'm hoping that's how it goes. Keep those fingers and toes crossed!

I have some disappointing things already going on. Thanks to these classes, I won't be able to sing this semester. Before I moved to SD, the choir I sang with met on Sunday nights at my old high school. Sometime between then and now, they changed that. They now sing on Monday nights at the community college. Unfortunately, at the exact same time as my photoshop class. Then, my old theatre teacher sings with the other group, which is smaller, more "elite" so to speak, with more advanced singers. This group very often sings with the choir at concerts and whatnot, as they both used to be under the direction of one person. The group used to meet at the community college on Thursday nights. Now, it meets at my old high school! Unfortunately, at the same time as the stats class. I really wanted to get back into singing since its been about 5 years. It was something I enjoyed doing as a hobby and wanted to get back into while I'm here. So, boo on that.

I haven't heard about a job. I've sent my resume off to a few places, but without a car, I'm really limited to where I can apply. Especially when the summer hits and the temps soar to 110+ degrees outside. Not really a walkable temp. People die in that kind of heat. Also, there isn't much out here. This area has one of the highest rates of unemployment in the state. I don't know much Spanish, which already puts me at a huge disadvantage. This is the sort of place that you need to know people to get your foot in the door. It's been so long for me, I don't know anyone anymore. I'm still going to try, not giving up... its just discouraging, as it has been so far. Also, I found out I have to go to my previous school IN PERSON to apply for and pick up (when it's ready) my DSS certificate. Really?!?! REALLY?! That is going to constitute taking a trip, on a weekday sometime, and coordinating a ride or a car rental... So seriously disappointed to hear that.

In the meantime, this tiredness and weakness has prevented me from starting on some things I've been wanting to start on, namely finishing up my room organization and such and getting the kitchen up to my standards. Also, figuring out a fitness routine. So, either I gotta get a steak and some oranges, figure out this chemical imbalance effecting my sleep, or I gotta suck it up and prepare to fall on my face to get ish done. Word.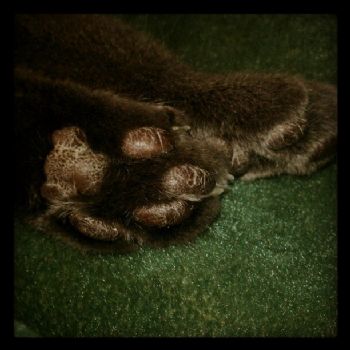 Here's some cat feet. She's still not adjusting well here.



First Page
1
2
3
4
5
6
7
8
9
10
11
12
13
14
15
16
17
18
19
20 21 22 23 24 25 26 27 28 29 30 31 32 33 34 35 36 37 38 39 40 41 42 43 Last Page

Get An Email Alert Each Time JILLYBEAN25 Posts