| | |
| --- | --- |
| | JILLYBEAN25's Recent Blog Entries |



Saturday, January 26, 2013
I can't believe I hit my 5 year SparkVersary! Like, wow.



There are so many things that Spark has helped me with in the last 5 years, I can't wait to see what the next 5 Spark years bring!



SparkPeople helped me [slowly] lose 45lbs. Thanks to the holidays, I'm sure I've gained some of that back, and I certainly put on weight from my starting weight before I began losing, but overall, I'm happy with what I've achieved with Spark.



SparkPeople helped me realize one of my passions is helping people through better nutrition. I've been studying nutrition at community college and am looking into graduate programs to become a Registered Dietitian.



With that realization came confidence to actually pursue it. I mean, in my mind, once I got my Bachelor's Degree in Theatre, that was it for me... That's what my life was going to be about. Even before I had finished that part of my schooling, I was having some doubts about how viable that was going to be. But, knowing I could be healthier and utilize tools and resources left me believing I can change the course my career was to take.



I made wonderful friends who are health-minded like I am. Sure, we may have different goals, body types, fitness levels, starting weights, goals weights, diet needs, etc. But, having the support and friendship of people who are as conscious about their health as I am is a key to my success! And I'm especially glad I got to meet a lot of these wonderful people in person... and I hope to meet more in the future!



Spark has kept me accountable for every bite, whether I've tracked it, admitted out loud I consumed it... or none of the above. Thanks to Spark, I know that the slice of cheesecake I'm eating is MY choice and I will also have the choice about what to do about it. Am I going to be self-loathing and ashamed? Am I going to get on the treadmill for an extra 15 or 30 minutes to work it off? Am I going to adjust the rest of my intake for the day? Each bite means something and I am aware of it going in. But, I'm not obsessing over it either.



I have a healthier outlook regarding diet and exercise. I don't feel shame/secretive/etc for indulging once in a while. That's not healthy to believe you've blown it and allow yourself to screw up more. Nor is it healthy to think that cupcake won't do a little bit of damage, either. Knowing there's a yin and yang to this whole journey is important for me.



I know what works for my body and what doesn't when it comes to exercise. My body burns fat really efficiently from doing a lot of cardio- usually in sessions lasting around 60 minutes. I don't strength train often enough to know if it burns fat, but I do notice my strength and definition improving when I do it fairly consistently. That's fabulous for me!



Thanks to Spark I'm exposed to all sorts of different exercises and ideas for exercises. I'm not sure I would have ever tried kayaking, stand up paddleboarding, hiking... All these activities that I absolutely love to do! Without this site, I think I'd still be on the treadmill, trudging away day in and day out. It also gave me the confidence to do these things, knowing there are other people at my level that have tried them too and lived to tell about it!

So, that's my 5 year look back... there are so many things I feel like I'm missing. Like this is so short for 5 years. But, the bottom line is Spark has truly, really, honestly changed my life for the better. I can't imagine what life would be like without this site, and most of all without all the wonderful people that are part of this community with me. I have the most amazing SparkFriends a girl could ask for! Seriously! They always lift me up when I am down. I can only hope they feel like I do the same for them! So, I am looking forward to what life with this site will bring me. With any luck, another 30lb loss, stellar health, and an M.S. in Nutrition/Food Science!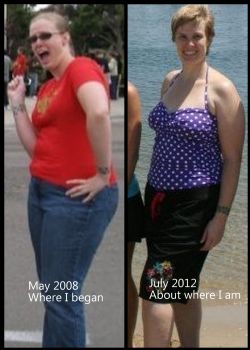 It might not be too much difference, but it certainly is from my highest (around 2010-ish):







Tuesday, January 22, 2013
Man, I think I have a few things going on with my body at the mo'. I've been on my irritating and uncontrollable sleep cycle where I get stuck on REM and dream vividly all night, and fail to cycle through the rest of the sleep steps needed for quality, restful sleep. So. Awful. It's been almost a month at my estimation and finally I am to the point where I'm always sleepy. But, if I try napping during the day, the same thing happens. Stuck on REM. No real benefit.

Also, about a week ago... or maybe 5 or 6 days ago... I ended up hitting the back of my calf on a heavy object and it hurt. So I figured it would leave a bruise. Boy, did it ever! I looked at it today (back of my calf, so not readily visible!) and it is UGLY. Purple, black, yellow... hideous! I'm surprised it still looks the way it does and is still the size it is after all this time. Which leads to me believe...

...I may have a bit of an iron deficiency right now. It could also explain my total lack of energy and strength (ya know, aside from the lame "sleep"). I don't eat very much red meat, liver, shellfish, or vegetables that are full of iron. Not that it matters. Your body only absorbs less than 12% of non-heme (vegetable sources) iron at a given time. Heme sources (animals/meats) get absorbed better at about 20%. Eating iron with vitamin C ensures your body absorbs that iron. So, what I need is a big thing of beef liver covered in strawberries. Yum.



Tomorrow is the last day (I think?) that I can find out whether or not I've gotten into that stats class. I really need to get it. For one, I am terrible at math and having a fun class (photoshop) and a hard class will make this semester bearable. Secondly, all the classes I have to take are going to be hard, so I don't wanna take a million hard classes each semester. This would help to lighten my load. Third, if I drop below half-time status I have to start paying back my loans. With what money? Yeah. Exactly. Not a good situation. Since I enrolled at the college so late, there weren't many classes that were open, so I've literally signed up for all that I could that was still available. There were many, many empty seats in my class on Thursday, I'm now #3 on the waitlist, and if there are still empty seats Tuesday night, I get to be in the class. I'm hoping that's how it goes. Keep those fingers and toes crossed!

I have some disappointing things already going on. Thanks to these classes, I won't be able to sing this semester. Before I moved to SD, the choir I sang with met on Sunday nights at my old high school. Sometime between then and now, they changed that. They now sing on Monday nights at the community college. Unfortunately, at the exact same time as my photoshop class. Then, my old theatre teacher sings with the other group, which is smaller, more "elite" so to speak, with more advanced singers. This group very often sings with the choir at concerts and whatnot, as they both used to be under the direction of one person. The group used to meet at the community college on Thursday nights. Now, it meets at my old high school! Unfortunately, at the same time as the stats class. I really wanted to get back into singing since its been about 5 years. It was something I enjoyed doing as a hobby and wanted to get back into while I'm here. So, boo on that.

I haven't heard about a job. I've sent my resume off to a few places, but without a car, I'm really limited to where I can apply. Especially when the summer hits and the temps soar to 110+ degrees outside. Not really a walkable temp. People die in that kind of heat. Also, there isn't much out here. This area has one of the highest rates of unemployment in the state. I don't know much Spanish, which already puts me at a huge disadvantage. This is the sort of place that you need to know people to get your foot in the door. It's been so long for me, I don't know anyone anymore. I'm still going to try, not giving up... its just discouraging, as it has been so far. Also, I found out I have to go to my previous school IN PERSON to apply for and pick up (when it's ready) my DSS certificate. Really?!?! REALLY?! That is going to constitute taking a trip, on a weekday sometime, and coordinating a ride or a car rental... So seriously disappointed to hear that.

In the meantime, this tiredness and weakness has prevented me from starting on some things I've been wanting to start on, namely finishing up my room organization and such and getting the kitchen up to my standards. Also, figuring out a fitness routine. So, either I gotta get a steak and some oranges, figure out this chemical imbalance effecting my sleep, or I gotta suck it up and prepare to fall on my face to get ish done. Word.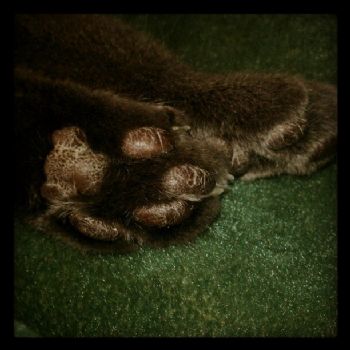 Here's some cat feet. She's still not adjusting well here.





Friday, January 11, 2013
Well, I seemed to think I had a semi-interesting or relevant blog to write. Instead, I've been staring at the screen for 10 minutes trying to remember what it was I had to say. Or thought I had to say.

So, I guess I'll just backtrack a bit. My 30th birthday was on Sunday (the 6th). It was a nice day, but almost didn't turn out that way. My sister-in-law ended up coming down with this horrible, miserable cold (maybe even flu) and my brother was afraid he was getting it, too. Well, he was the one that was to cook my birthday dinner. And my mom needed to go to the store to get ingredients for my birthday cake, but wasn't sure she'd have time. So, already off to a bad start. And totally reminded me of why I hate celebrating my birthday. Miraculously, though, my family managed to pull it together and make my day enjoyable.

I requested homemade lasagna with BEEF in it (hey, it's my birthday, I'm worth a splurge!). I don't really like cake, so I requested a cheesecake. The kind with the sour cream layer on the top!!! MMMMM!!! Once again, it's my birthday, I can splurge. I also asked for my favorite salad from a local restaurant that I really adore. It's just a simple green anti-pasto salad with beets, smoked salami, pepperoni, black olives, and pepperoncini. But, the real treat is their vinaigrette. It's super secret. I've tried replicating it before and for the life of me I can't! When my mom was a teenager, she worked as the "salad girl" at this restaurant. Even then, she was not privy to the ingredients in the dressing. Someone would come in overnight to make it, so it was ready for her when she came in during the afternoon to prep salad. Anyway, it is so delicious. They sell it by the quart/pint, so we got an extra quart of it for salads for the remainder of the week/month. Too awesome!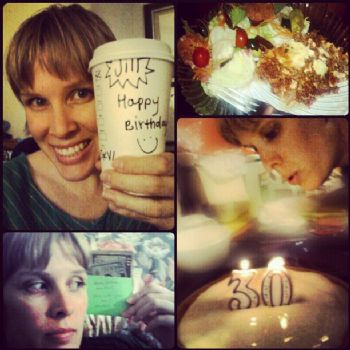 I also remembered to go to Starbucks and get my free birthday drink. Since it was about 6pm when I went to get it, I got a decaf skinny vanilla latte. I gotta say, my Starbucks has been out of the Tazo Vanilla Rooibos tea for a long time. Even in San Diego, I was unable to get my ultimate favorite drink, which is the Vanilla Rooibos tea latte. 6 times in a row, at a few different Starbuck's I have been unable to get this wonderful concoction. Disappointing? In every single possible way.



My parents gave me money for a haircut (what I asked for), but my stylist down here (who is a wonderful friend of my family) gave me my haircut as a birthday present. She did a fabulous job. Not since my other friend, back in MAY, cut it have I been as happy with my hair. She took her time, listened to what I had to say about my current cut and expected from my newest one, and the result was wonderful! I posted this pic on Facebook and the next day one of my friends commented that her pre-school aged daughter saw my picture on her feed and she said, "Mama, I didn't know you were friends with Tink! (Tinkerbell)" Seriously, that was so adorable and such a unique compliment, it made my day! And I knew the haircut was the right way to go.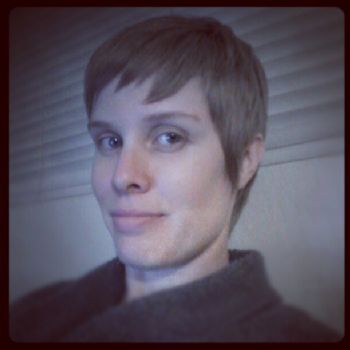 I've been cooking and re-arranging/cleaning my "new" kitchen lately. Since California finally pulled its head out of it's own rectum, kitchen cooks are able to produce artisan "cottage" foods for sale to the public. There is a little farmer's market here once a month where I would love to be able to sell some goods. I'm planning on checking it out this weekend (it's the second Saturday every month). Even if it isn't such a great venue, and knowing this region there's a strong possibility that it isn't- also it's fairly new so it's building itself up- I'd still like to be able to produce goods for sale in the kitchen. You're subject to health inspections, though, so you've got to be maintaining a pretty darn clean & efficient kitchen, which I'm sad to say has not occurred here for some time. Probably not since I left the first time around. My family are not known for their housekeeping skills, I'm sad to say. How I managed to be so clean, organized, meticulous, and efficient is really beyond my understanding. So, that's going to be a work in progress and a medium-term goal.

I sorta start school on Monday. Ugh. The college I just came from doesn't start until the very end of January, so I feel like I'm losing two solid, valuable weeks of rest by having to start in mid-January at this school (my old/new school!). I'm waitlisted for a stats class, and am number 14 on that list, so we'll see if I get in. I also enrolled in a Photoshop class, but really am not all that interested in it. I know I should be so I can improve my blog, which is something I plan to do for a long time, but even with my simple Picasa, I hate editing photos. A lot. A lot a lot. So, trying to learn a program that may actually need me to think about it a lot does not sound like a good time. So, we'll see if I stick with it.

No news on the job front. That potential job is still jammed squarely in the potential category. So, the hunt for something in the meantime continues. My DSS Certificate is jammed up in the bureaucracy of the college, so while I've completed all the requirements and it's pending, I don't have the thing in my hands yet.

I really need to get back into an exercise routine, but I'm faced with something I didn't have to worry about previously: lack of space. At my apartment previously and in the house I just moved out of, there was plenty of room to do at-home exercises. Maybe not a full-on step aerobics routine, but enough to do some moves in place (crunches, push-ups, Wii Dance). Here, I don't have that space at all. So, I'm not really sure what to do. I can't go for outdoor walks because I get shin splints from walking on sidewalks. Yes, I even have really good shoes... I just get them due to the surface rigidity. Another hazard will be the heat. Not a problem now, but come March it will be. The summers here get hot, starting at about April/May. I mean like... 118* outside in the shade hot. You trip and fall on the sidewalk and get 2nd degree burns. The news cooks an egg on the sidewalk every year to show how it is outside. Essentially, I'd die working out in the nature. Literally die. Plus, this place is soooooooooo dusty (gee, it is a desert) and pollen-y and air polluted that deep breathing the outside air would send my allergies into a frenzy and probably send me to the ER with an asthma attack. So.......... what do I do? I seriously don't know. I gotta think about that one.

At least now that the holidays are over, I can start going back to eating somewhat healthy. It's going to be a transition to healthy eating since I'm not in charge of grocery shopping (he who has the grocery money gets to buy the groceries- and I don't have ANY money) and I'm trying to teach my family good, healthy eating habits and simple choices to make with ingredients to make things "better" or "healthier". I figure I've put on a few pounds since the holidays, but I'd really like to NOT put any more on... and go the opposite on that and lose more... so it's going to be a huge challenge while I adjust and figure things out. I know it can be done. I just hope it can be done fairly quickly before doing too much damage.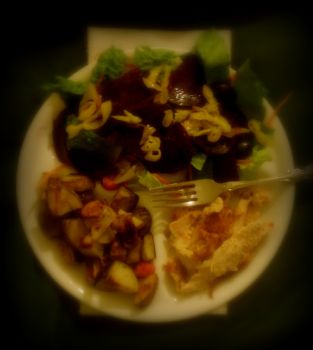 Leading by example. I roasted a chicken for dinner and while that was doing it's thing, roasted some veggies and prepared a salad. The ideal dinner plate: 1/4 lean meat, 1/2 vegetables, 1/4 starchy something (in this case more vegetables).






Tuesday, January 01, 2013
Well, it's January 1st. I came under my goal for fitness minutes, although the reality is I probably met them with my move. It was only about 300-some-odd that I was under, which would have easily been covered in the whole day of moving. That's like, what... 5-6 hours? Yeah, I started at 7am and didn't sit down until the drive home at 8pm, then unloaded the entire 14' UHaul when we got home at about 11pm. More than enough. I just don't care to track it.

I have yet to fully settle and unpack. I've either lacked motivation, muscle, or have slipped into a depression of sorts. I'm thinking it may be a combo of them. I did have a day where I didn't get out of bed all day- no shower, no brushing teeth, no nothing- just a few bathroom trips and a kitchen trip or two. I'm just already unhappy here. I'm glad I'm with my family and I care deeply about them and I know they need me here, but I'm sad that I'm not in San Diego, living the life I want to live. Doing the things I want to do. Having access to all sorts of products, businesses, activity, etc. I feel suffocated and confined here. And I have to just deal with it for the next few years.

That's not to say I want to let myself wallow in this muck and icky feelings while I'm here. I'm trying to put together a plan, however tentative, short-sighted, basic, vague, whatever it is. I'm waitlisted, still, for that stats class. I really hope I get it. I'm considering taking a Photoshop class because this computer will not support my previous photo editing program. That will definitely make it hard to continue with my food blog. Which I want to continue doing. Which will also mean doing a major kitchen overhaul in this house. I want to get a job. Somewhere. Anywhere. I want to get a car. I want to either join a gym, take a fitness class somewhere, or something! I haven't heard of anyone doing any boxing training in this tiny part of the world, which is something I've always wanted to do (just the training, not the sparring). It's too late now, but in summer I want to re-enroll in ballet and/or tap dance. And I want to go back to my old community choir. So, I've got things in mind to keep me busy and from completely falling off my rocker. Just need to implement these things.

There are several things that need to be done around this house, too. Everyone needs to get used to having more personal responsibility with the things that happen here. I know it needs to be done and will take some time to do. Just need to do it. Maybe formulate a plan for that, too.

I'm turning 30 on January 6th. Ordinarily birthdays don't bother me. I don't talk about them much. I don't care if my birthday gets celebrated or not. I don't care if I get presents for my birthday or not (usually I prefer NOT to get things!) This time, though... I just feel awful. Not that I'm turning 30. It's that I've lived 3 decades and I thought I'd be further along in my life than I am. I mean, I gotta say... it feels really terrible to be turning 30 and to have moved back in with my parents. To still be in school. To be single. To not have a job or a car. To not be independent. At 30!!! I expect those things in my 20's, but I definitely did not expect them in my 30's. I feel like a failure or a loser or somehow defective. I see people I went to school with who are exactly where I thought I'd be (maybe not the same job, but the same station or level or whatever). Living their lives, working at good jobs, and doing all the things I want to do, like travel because their job allows them to afford it. And to not live with their parents. I just don't feel like I've accomplished much, hardly anything I wanted to, before I turned 30. It feels low.

So. Here I am. Hoping to just make the most of things for the next chunk of life. We'll see.

As I previously stated, I can't do any photo editing, so this was all done on my phone, which is why it appears a bit pixelated. But, maybe you can see a difference in me? It definitely wouldn't have happened without Spark.


We always have family portraits taken at Christmas. I hope Christmas 2013 sees even more of a difference!





Sunday, December 23, 2012
So, I'm in El Centro now. 90% of my possessions are in the garage (unfortunately that includes my clothes!) and a few things are scattered between my room and the living room. It was a hectic move and a very, VERY long day. It ended with many, many tears shed saying good-bye to my BFF for the last 5 years.

Now, MeowMeow and I are working on settling in to our new/old home. She's doing okay. I haven't introduced her to the other pets in the house, although she knows they're out there. She's only been in my room so far, so she hasn't explored the rest of the house, which is in shambles at the moment anyway. I don't believe this will be an easy transition for her. She's never had other pets around and was pretty territorial at the SD house. She's been able to go inside and outside, but here she'll be strictly indoors. We'll see how this goes. I think I'm in for a loooooong adjustment.

As for me, I'm already registered and waitlisted for one class (stats, yikes!) at the community college down here. That starts in mid-January. I haven't heard from the job I applied to, but it's also not as though I've had the time to follow up. I've just now gotten a computer that works. My old laptop that was a lemon from the moment I took it out of the box 5 years ago has been given a bit of a makeover. My brother wiped it clean and installed a new operating system- Ubuntu. Thank goodness it's user friendly 'cuz it's not like Windows at all, which is all I've ever used (I'm not a Mac person at all). Now I can continue on my job search.

For the rest of the day I want to move some furniture into my room, as all that's in here is my bed and nightstand. And find my clothes for goodness sake! Also the Christmas present I bought for my brother (I'm his secret Santa this year... again...) as it needs to be wrapped and, ya know, given to him on Christmas!

That's it for me in a nutshell. Lots left to do.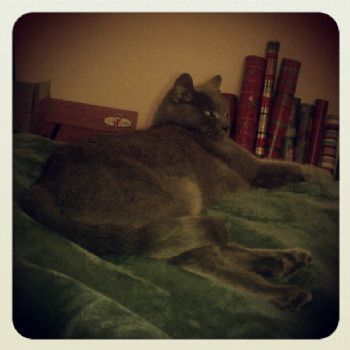 This is baby on our first night at "home".



First Page
1
2
3
4
5
6
7
8
9
10
11
12
13
14
15
16 17 18 19 20 21 22 23 24 25 26 27 28 29 30 31 32 33 34 35 36 37 38 Last Page

Get An Email Alert Each Time JILLYBEAN25 Posts