| | |
| --- | --- |
| | JILLYBEAN25's Recent Blog Entries |




Friday, October 31, 2008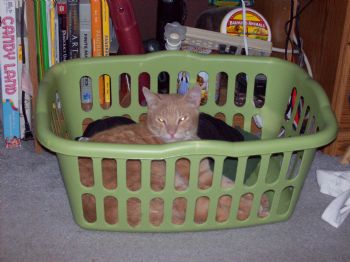 So... I got a great phone call this evening as my student council meeting was wrapping up.


Some stupid, speeding motherf*cker hauled ass down my residential street in El Centro...

... and killed my cat.


I now have no more cats. Mart was the last surviving feline. He may have been a little bit of an asshole, but dammit, I loved that cat! He was beastly, but he loved.


Thank you to my neighbor Tony, who was kind enough to bury him in the backyard next to Poodie (my cat I buried 2 years ago.)


RIP Elroy "Mart" Fitzpatrick

I had you 9 years. I already miss you.
:,-(






Wednesday, October 29, 2008

Getting my wisdom teeth out was simultaneously a huge pain in the ass and a ginormous blessing. I was so ill for two weeks. But, I lost 14lbs. (I've gained some back, as I should expect for a body going into starvation mode.) I've been eating very well as of late. I've resisted temptation, as posted on one of my team message boards:

"I am soooo proud of myself! I went to a costume party last night, and I was the designated driver, so I drank water all night long. Then, the people I was with were hungry, so we went to a sort of fast food style Mexican food place at 2am... a place that serves almost nothing light or healthy- carne asada burritos, rolled tacos, french fries smothered in cheese, carne asada, and guacamole. Yeah, that last one was tough to resist. But, I didn't order anything. At all. I watched my 4 friends eat amazing looking, delicious smelling food, and I didn't have a bite. I looked on the menu and there was not one thing that could have been even remotely healthy, so I opted out."

The biggest challenge I've faced with having my teeth yanked outta my skull (oh, they let me bring them home, too!) was getting energy back. UCSD is not an easy campus to get around. Its all hills, nothing is close to each other, and I don't have a car so I walk to a shuttle that takes me to campus... with my nerdy wheelie backpack in tow. I've been extremely motivated to get this weight off and get some exercise. That 14lbs and being holed up in bed for my recovery did wonders for my stupid broken feet! I know I would be so much better without all this extra fat hangin' off these bones!

So, I went to a gym two days in a row- Sunday and Monday. Today I took a break because I'm a little too sore and I didn't get any sleep last night. I was up late doing homework. Tomorrow I will make it back to the gym! I've been going with one of my best friends, and he's a karate instructor, so he kicks my butt! Its awesome!

I've also been making very health conscious decisions regarding food. I had a little disappointment, though, yesterday at lunch. There's a Subway on campus, so I wanted to get a $5 Footlong, and one of them happens to be the under 6g of fat (per 6" inches) and I figured I could get two lunches out of it. I got my roasted chicken breast on wheat bread, all veggies, no cheese, no mayo, extra mustard, and I requested vinegar, NO OIL! For some reason, the opposite happened before I knew it. She put oil and no vinegar on. So, my 5g of fat chicken breast sandwich jumped to about 15+g! Unfortunately, it was during the lunch rush. I was in line for almost 15 full minutes, there were literally about 25 people in line behind me, so I didn't feel like I could request a new sandwich. I was super frustrated. I know it was a mistake, but I was deliberately trying to be healthier and good. I also forgot to eat breakfast today, too.

I was reading something recently that made me feel a little better about the decisions I make regarding this health journey I'm on. Sometimes people can be more successful if they are doing it for someone else. I know everyone always says "you should do it for you!" Well, ya know what... eff that! So far, "doing it for me" isn't working. I'm doing this for the man of my dreams. I'm doing this for my waaaaay in the future children (which I've been informed could be twins, as that gene runs in his family... fabulous. :-| ). And at the tail end of it, I'm doing it for me. Maybe that's the kind of motivation that will work for me. At least for now. I'm okay with that. I'll change that should the need arise later.





Thursday, July 24, 2008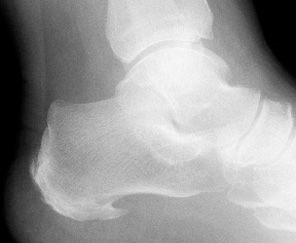 So...

Bad news at the doctor today. I finally got my poor broken pata's under an x-ray machine. The miracle of technology- it only took 10 minutes for me to view my foot pics. So, my doc shows me the top shots of my feet, which look fine. But, the profile shot (side views)... well... let's just say you don't need to be a doctor to see that there was something abnormal. The part that I was trying to avoid, the one thing I *didn't* want to happen did indeed happen- both my feet have spurred.

For those not in the know (I really didn't have a visual until today), when the injury- which is located in the tendon in the arch- is untreated or continues to be in its injured state, the point at which the tendon adheres to the heel bone becomes strained. The straining begins to cause the bone to calcify... in other words, the bone grows outwards, into a weird looking point. Thus the pain.

My doc told me (and I quote) "You have the feet of a 40-year-old." He went on to say that I must have been in extreme pain this whole time. Which is true more or less... but, I consider myself such a "badass" that I laugh in the face of pain! Not really, but I think I just got used to it after a while.

Now the "real" healing shall begin. I'm to see a podiatrist asap. I will most likely begin a regimen of light physical therapy, injection therapy (I dunno what they'll inject), and have some specially made orthotics/insoles for me to wear. If the above treatments aren't successful, I'll have to have surgery to remove the calcification/spur. I hope it doesn't come to that.

Oddly enough, out of all this, I have not been told to stay off my feet. I told the doc I was going on a hike this Saturday with my San Diego Sparkteam and he said awesome times... Told me to take some pain meds before heading out the door, and then take some more when I get back and soak my feet in ice water (or just ice them down).

Now, I'm just frustrated. I'm scared that if I do keep on my feet and exercise and such, that I'm going to be making this injury worse. But, if I don't exercise and lose some weight, I'm still going to be straining my broken feet! What's a girl supposed to do?

The x-ray above is NOT my foot, but shows you what I'm talking about. Obviously that point is NOT supposed to be at the bottom of a normal heel bone. But, I've got one on each foot! Hooray for me!!!



First Page
1
2
3
4
5
6
7
8
9
10
11
12
13
14
15
16
17
18
19
20
21
22
23
24
25
26
27
28
29
30
31
32
33
34
35
36
37
38 39 Last Page

Get An Email Alert Each Time JILLYBEAN25 Posts