| | |
| --- | --- |
| | JENSFITJOURNEY's Recent Blog Entries |


Friday, May 07, 2010
Ring the bells, sound the alarms, raise your hands and cheer because my little girl slept from 10 pm - 5 am and then from 5:30 - 7:00 am!!!! This was her first time sleep for 6 hours at a time with NO feeding in between and she is 4 weeks, 5 days old! I am SOOOOO happy!!!

I know that things could change and tonight could be another story but for now I am rejoicing in my baby's progress! When I picked her up this morning to feed her after her long night of sleeping, I kissed her cheek and she greeted me with the BIGEST smile! It melted my heart.....

What a wonderful Mother's day gift she has given me!! Here are some more photos of my girl...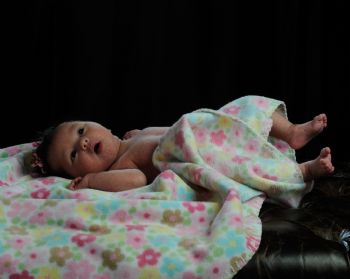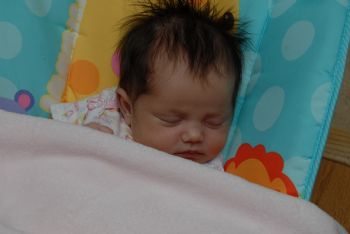 Thursday, May 06, 2010
Oh the good old days where I could wake up, watch the Today show while making my protein shake, log on to spark, then head out for a long bike ride followed by a run or swim. Those days are now gone and instead are replaced with far more rewarding moments, but there are times where scheduling ones day can be a problem. This morning I woke up at 7 am as my little girl was hungry and so I fed her from 7 - 8 am. She drifted off to sleep but it did not last long. At 8:30 am she started to stir and so I decided to take her out of our morning walk. Usually she sleeps through the walk but today she was WIDE awake, looking at the sky and all that was around her. After about 15 mins I noticed she was getting fussy and even though it has only been 4 weeks, I am starting to recognize the signs of hunger and overstimulation. I turned around to head back home and that is when she really started to cry. Now I must say that my angel is precious but when she gets hungry YOU KNOW IT!!! She can be totally peaceful one second gazing up at you and then all of the sudden cry out so strong, then when she is fed or changed, she goes back to the little quiet princess she was before.

As my girl was crying this morning on the trails I decided to stop at one of the parks along the way and nurse her. I found a park bench and for the first time breastfed in a public park off the running trails. It worked! I was so happy! I am learning more and more just how much she is calling the shots these days. Over the weekend my husband and I were walking along Market St. which is an area where we live with shops, cafes and close to the river walk. It had been about 3 or 4 hours since her last feeding and she started to let me and everyone around us know that it was time! So we sat under some shade and I fed her in public and it went quite well. Before I was pregnant I never really understood how anyone could breastfeed in public, I mean I did not have a problem with it but I always thought I would be too embarrassed. NOPE! Not the case now. When she is crying, and so hungry you have to do what to need to do. How things have changed for me!

Michaela is now sleeping and I think I am going to try and get some rest as well before the next feeding which should be in about one hour or so. You know it is funny, this time last year I was blogging all about my triathlons and the races I was training for and now I am blogging about breastfeeding in a park of all things. I would not change one moment of this. I love the challenges of being a new Mom. It gives me such a sense of purpose in my life. I have been blessed to be responsible for the little life we created, and I would not have it any other way. There will be a time years from now when I have time to go back to my old schedule but for now I want to try and stop each day to savor each wonderful and yes sometimes difficult moment.

Here is a photo of my girl on our walk yesterday. It was sunny out so I had her wearing this hat that our friend gave us at the shower, but it was too big! This photo just makes me laugh, she was sound asleep and too cute!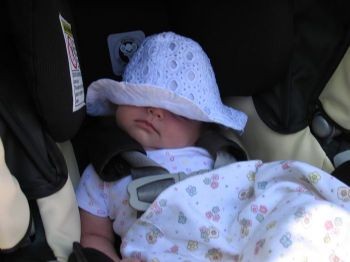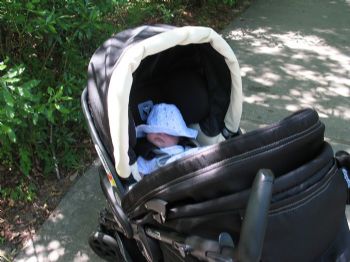 Here is a photo I took last night of my husband having some Daddy time with his girl. SO precious!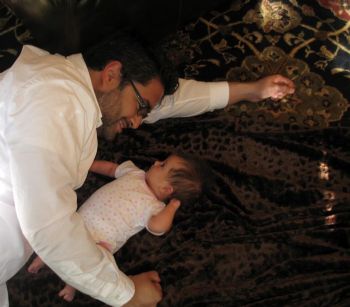 Wednesday, May 05, 2010
You guys should know me by now that I thrive on challenges. I posted my goals yesterday for this week but I want to reach just a bit more this month. My birthday is May 27th and I want to try and be in the best shape that I can by that time. Now, yes, 4 weeks ago I gave birth to my little girl so this birthday I will not be in the shape that I was last year or even the year before but I want to try to be the best that I can at this moment.

My challenge to myself is to walk a total of 60 miles for this month. It is not a hard challenge, it averages out to only 15 miles per week which is more than attainable. In addition I want to do a total of 400 military or "boy" pushups this month. The other day I did 5 incline military and 2 standard military and about died! LOL! Lets just say my arms are OUT OF SHAPE and it is time to take them back to where they once were.

So here are my stats so far this month for my challenge....

Miles - 5.3/60
Pushups - 22/ 400

I need to remember this....

"You will achieve your grand dream, a day at a time, so set goals for each day / not long and difficult projects, but chores that will take you, step by step, toward your rainbow. Write them down, if you must, but limit your list so that you won't have to drag today's undone matters into tomorrow. Remember that you cannot build your pyramid in twenty-four hours. Be patient. Never allow your day to become so cluttered that you neglect your most important goal / to do the best you can, enjoy this day, and rest satisfied with what you have accomplished." - Og Mandino















Tuesday, May 04, 2010
How time flies. My little girl is now 4 weeks old and it is time for Mommy to get back to running/walking and lifting weights. I am going to have to start off slow but doing something is better than nothing! I have been walking most days and doing well with my recovery. Now, it is time for me to kick things up a bit.

Goals for the week -

1. Daily walk - 3 miles
2. Drink 128 oz of water a day (or more)
3. Stay within calorie range and log foods
4. Vitamins/ Mother's milk tea
5. Stretch/ITB exercises for knee 3 times a week
6. ST with light weights/ high reps 3 times a week

My little angel and I just came back from a wonderful 3 mile walk and now she is sleeping and I am going to get in some ST while I can before she wakes up! I am going to try and post a 4 week blog some time this week with photos from her birth until now.

She truly is the love of our lives! Motherhood is the best, and because I cannot resist her is another photo of our girl, taken when she was 3 weeks old......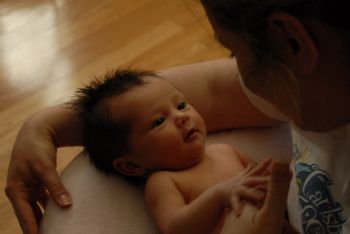 Wednesday, April 21, 2010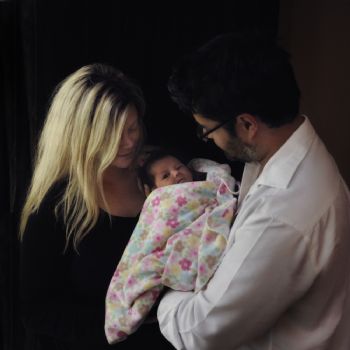 Mommy, Daddy and Michaela, 2 weeks old.

Good morning all!! I am one happy Momma today! Last night my angel did SO well. She slept from 7:00 - 11:00 then fed, then went back to sleep and slept all the way until 3:00 am. At this point she was WIDE awake and it took me until 4:30 am to get her back to sleep. She was not crying, just totally awake and looking around. At 4:30 am she finally drifted off to sleep and so did I. She slept until 7:30 am fed once again and then slept another few hours until 10:00 am!!! WOW!! I am so happy!! I was able to get some good rest and it feels fantastic. I am hoping for another good night, we will see!

Right now she is resting in her bouncing chair next to me while I take a moment to get back to blogging my goals and so on. I NEED to get back on track with my daily goals. I have to get in my vitamins, water and such as I have been so focused on doing everything for her that I have neglected my own needs.

I am going to try each day to post my calories, water and so on just as I did throughout my pregnancy and during my weight loss years. I went the doctor yesterday for my postpartum checkup and all is well. I am healing well but I still have some soreness especially when sitting down. He cleared me for weight training and light walking when I feel I am ready. I also can try to jog SLOWLY when I feel better too. I need to wait a few more days until the soreness improves but I am looking forward to hitting the trails again soon.

The BIGGEST thing I need to make sure I am doing each day is getting my water in. You guys know that I am a big fan of water and during pregnancy and well before then I would get in a good 128 oz a day, some times more. Now that I am breastfeeding, I need to make sure I continue this as it will help maintain my milk supply. In terms of my caloric intake I am aiming for 1500 - 1800 calories a day for now but when I start working out I will increase it to probably 1700- 2000 per day depending on how hard I am able to workout.

I am SOOOO happy with my weight loss so far. I was shocked how fast the weight came off. I know these last 5 - 6 pounds will come off before I know it, IF I do my part and get back on a routine.

So here are my goals for today -

1. Get in at least 128 oz of water
2. Log foods and stay within caloric range
3. Walk at least 30 mins tonight
4. Make sure I take all my vitamins and supplements

Now for the fun stuff!! Here are some photos of our Michaela with her grandma who is TOTALLY in love with her little princess girl!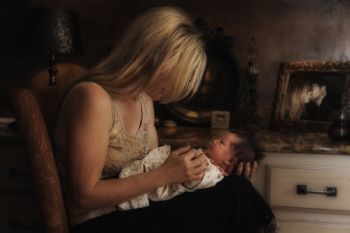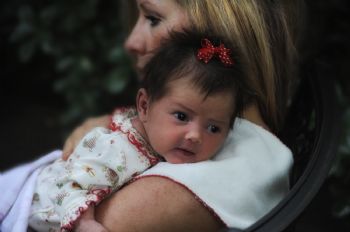 First Page
1
2
3
4
5
6
7
8
9
10
11
12
13
14
15
16
17
18
19
20
21
22
23
24
25
26
27
28
29
30
31
32
33
34
35
36
37
38
39
40
41
42
43
44
45
46
47
48
49
50
51
52
53
54
55
56
57
58
59
60
61
62
63
64 65 66 67 68 69 70 71 72 73 74 75 76 77 78 79 80 81 82 83 84 85 86 87 88 89 90 91 92 93 94 95 96 97 98 99 100 101 102 103 104 105 106 107 108 109 110 111 112 113 114 115 116 117 118 119 120 121 122 123 124 125 126 127 128 129 130 131 132 133 134 135 136 137 138 139 140 Last Page

Get An Email Alert Each Time JENSFITJOURNEY Posts