| | |
| --- | --- |
| | JENNY160's Recent Blog Entries |




Saturday, May 25, 2013
I was driving into the HyVee (a grocery store) parking lot one early evening, and I saw a very large group of people gathered with their bicycles (some outfitted with saddlebags) on the huge, plush, shaded grassy side lawn next to the liquor department. They looked as if they were having a grand ol' time, laughing, kicked back, some lying on the grass, some drinking what looked like beer in bottles, most dressed in cyclist's gear. It looked like the beginning or ending of a very nice day of bike riding with buddies and gal-pals. I kept observing them as I lugged my 235 lbs of lately laziness into the store. I just kept thinking, "They look like they're having a whole lot of fun." And lately, I have not.


On my way to the baked goods (shut up--I know, I know--I was on my way to the donuts--gah!), I came up on a 50-ish guy headed down the deli aisle toward the exit. He was in biking "getup" (tight shirt, tight shorts, clicky shoes). So I stopped him and asked him if he was with the troupe outside. He was. I kept asking questions--what was the organization, how do they organize their get-together, why were they at HyVee, etc.? He was really nice and explained they are a big group of friends who all like biking and get together once a year for a "HyVee Run". They organize it via Facebook messaging to get the word out about starting day/time and which particular HyVee lot is the starting point. Then they go buy their food and drink supplies (HyVee has the best "adult drink" selection of the various grocery chains, he informed me), and they bike from Hyvee to Hyvee (for bathroom breaks and provisions replenishing) throughout the city, stopping at bike path underpasses to rest and "party" with said provisions. We parted ways, and as I was checking out, I kicked myself for not getting the group's Facebook info, or whatever, to maybe get involved with this.

In my car, on the way home, I tried to figure out how I would transport a bike to trails, the damage it might do to the trunk of my beater of a car, would it get stolen, etc. What did I have that I could wear for bike riding that wouldn't be grossly tight/uncomfortable or get caught in the chain, where could I ride safely since I'm scared to ride on streets, etc. I was really getting caught up in this and excited, but still scared because of my bad knees and being so out of shape cardio-wise.

And then I realized, "Oh, yeah, I don't own a bike!" Hello-o






Saturday, April 06, 2013
There is a division within my household when it comes to food. Three years ago, I decided to try a vegan diet. After about two months, I found myself becoming dissatisfied and craving cheese and salmon. So I decided to "go pescatarian". Three years later, I am still living the pescatarian lifestyle.

To my family, this translates as "greens and tofu". Or in other words, "Ick."
(Note that I have not eaten tofu for months, but no one seems to notice that).

So a few weeks ago, I saw a new recipe I decided to try, as I have entered into this weird, lime-and-cilantro-lovin' phase. It is pesto made with bunches of cilantro, fresh lime juice, garlic, salt, shredded parmesan, and olive oil. Oh. My. Goodness. Yuh Uhm.

I tossed some hot linguini and shrimp with this delectible pesto and was transported to 6th heaven (7th heaven would have included chocolate fudge cake, so 6th heaven is pretty dang good). Coupled with a cold light cerveza, it was like sitting on the beach in Mexico.

As I was eating my newfound wondermeal, my daughter walked by and wrinkled her nose.

"Are you kidding? Even your *pasta* is green now?"

So much for shattering the stereotype. Guess I'm still going to be known for eating nothing but "greens and tofu".

Here's a pic of the finished product before being divided into 4 portions (which, for lunch, was even better the day after). I also shredded some quality parmesan on top.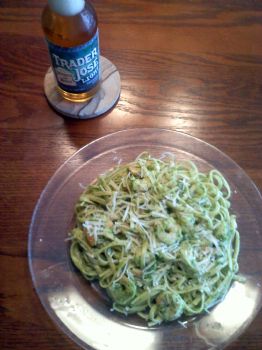 Wednesday, March 13, 2013
On a more serious note (and contrary to my last blog, I take the need to aid (dare I say, cure) those with Alzheimer's very seriously), I *am* starting to worry about my memory issues. I find myself borderline ADHD lately--easily-distracted focus, short attention span, "flitting" about from task to task leaving most incomplete. And my OCD tendencies are at odds with that because it drives me crazy to leave anything unfinished. And then I find myself suddenly 'drawing a blank' as to what I was doing, or what I was about to do...

I really look forward to sleep. It seems so organized and contained. My OCD likes it, too. But instead of lying down, I get on Facebook and flit around, there, too. No plan, no focus. Like channel surfing on the computer.

I suppose now would be a good time to go to bed. Dang that tablet I got for Christmas...it's too tempting to take that to bed with me.

Maybe it's time to make the bedroom an electronics-free zone. Except for the TV. I need that for the soundscapes music channel that I can play in the background to mask my tinnitus. And my smartphone that serves as my alarm clock. That has a browser. That I can use to surf Facebook. Argh!

I don't think I'll be getting up at 5 tomorrow.



1 2 3 4 5 6 7 8 9 10 11 12 Last Page

Get An Email Alert Each Time JENNY160 Posts