| | |
| --- | --- |
| | JENNSWIMS's Recent Blog Entries |


Tuesday, May 17, 2011
I'm wearing my concert t-shirt from The Who.

See, this is me wearing the shirt, with the ubiquitous me, my phone and my mirror Spark shot: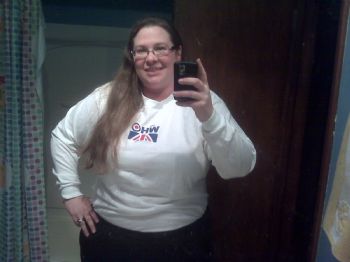 The story doesn't really start there, it starts in October of 2006. That's when the announcement that The Who was touring again after 17 years was made. That's when I found out that they would be traveling to my fair city.

Seeing The Who play live was on my bucket list for a decade, back in the days before there was such a thing as a bucket list, and I called it the less romantic name of "Things to Do Before I Die List". The list also included things like, find a man who can tolerate me enough to marry me, visit all 7 continents, own my own home, write a book and a variety of other things.

Anyway, I had actually taken seeing The Who off the list, that whole 17 years without touring thing made it seem highly unlikely to ever happen.

So when the opportunity arose, when I actually had the chance to see them, had great seats (13th row, WOOT) I HAD to get a t-shirt, I mean, you don't want something like that for that long and not get a concert tshirt, that would just be redonkulous. So, I bought a t-shirt in the largest size that they offered, a t-shirt that I could not wear, with a faint spark of hope that maybe, one day I would find something that works for me and lose enough weight that I could wear it.

Flash forward to today. I'm still about 5 pounds heavier than when I went to that concert on December 11, 2006, but the working out must be reshaping my body because it fits. Not gross sausage fit, it actually fits.

It would fit better if I wasn't wearing a look-at-my-girls-all-hoisted-upward bra and was wearing a normal-girls-at-half-mast bra, but that is just fine by me.

So what's your concert T-shirt? What will you pull on one day that will make you want to do back handsprings and cartwheels?

Edit: I think anyone who reads this should be feel completely obligated to take a picture of themselves wearing their "Who Concert T-shirt" clothing, no matter how old or out of date they are, whilst standing in front of a mirror, using a cell camera whenever possible!







Monday, May 16, 2011
My primary job is an amazing gig. Every time my electronic leash rings, it is because someone, somewhere, is doing the right thing and trying to save a life. It rings all day and night when I'm on call. It knows when I'm in the shower, pooping and making the two-backed beast, because it likes to ring more then.

My job is also rewarding in the extreme. My very first week, my preceptor and I were responsible for saving 7 lives. Them's not bad bananas. Flip side of the coin: I did a 37 hour shift earlier this year with a one hour nap at about the 20 hour mark. That is the very definition that I have granted Webster's permission to use for the word I made up "sucktacular".

Bear with me here, I have a point, really. I'm just really slow getting, well, everywhere, today.

So, in a nutshell, my job pays well, is rewarding, is intellectually stimulating, my boss is the best boss I've had in my life, and every time I get called in to work, I know that the likelihood is that someone somewhere is feeling like they won the lottery. I've been doing it for four years and I plan to do it for another three until I finish my Masters program.

That doesn't mean that when I had to leave the house yesterday, on my only real day with my workaholic husband (pot, this is kettle, you're a workaholic) that I didn't unleash a string of F-bomb conjugations that would shock a sailor who rides with the Hell's Angels while on leave. I was pissed to the point of being in tears. Angry and sad and just irritated. We had plans to plant the garden, to snuggle, to take a nap, to eat at a restaurant of some variety and to just chill out together. I deserve a life, don't I?

See, sometimes it doesn't matter that your job is rewarding, saves lives and pays well. You just don't want to do it. There are days when, at four am, I don't give two *insert dirty words* that lives are being saved or how much money I'm making. I want my bed. (It's ok if you want to judge me for that, give me a call the next time you are 2/3 through a 24 hour shift and we can discuss your feelings.)

All the same things are true of diet and exercise. I did not want to go to the gym today. I was awake 26 straight hours yesterday ending at 0930 this morning. I have raging bilateral ear infections making me feel like crusty kitten barf PLUS, yet again, I can't get in the pool. I think I should change my name to JennNeverSwims. The fact that these ear infections started 7 days into a 10 day antibiotic regime started for Evil Toe is not a good sign.

I only slept four hours because Scooter, the great dane--allow me to remind you that great danes were bred to be fierce and hunt wild boar--was dissatisfied with how he was covered with his blankie. After making sure his preciousness was covered, I couldn't get back to sleep.

So I forced myself to go to the gym and I did my 65 minutes on the treadmill. I was pathetic. I was slower than I have been in weeks and I turned off the incline half way though. My heart was not in it. I bitched internally for the entire thing, but I did it because it is my job.

I consider my weight loss plan to be a job. Why? It isn't always fun, but it pays rewards that I require. I just get good health instead of health insurance, I get thinner instead of a paycheck, and just like my real job, I do it sometimes because it is the right thing to do, not something I want to do.

Exercising and packing my lunch every night and counting calories isn't always the kind of thing that makes sunshine, hearts and flowers burst forth from my body cavities, but sometimes you get the highest of highs, just like you would from any job well done.

There is no substitute for clothes getting too big, for getting on the scale and doing the happy dance afterward, for eliminating harmful food from your life and feeling so healthy that you shock yourself. There is no substitute for treating it like your job. You wouldn't call off work indiscriminately, so you don't get to do it with your exercise either.

You don't have to have some job that sounds exciting (believe me, there are times when my job is the most boring thing on the planet and the furthest thing from exciting) to draw the parallels between work and weight loss. Being a parent is rewarding, painful, irritating, time consuming and wonderful from what I hear. Sounds like weight loss to me.









Sunday, May 15, 2011
BBW. Big Beautiful Woman. Give me a freaking break!

Do not call me a BBW. I'm not a BBW. You know why? Because fat isn't sexy. Fat isn't beautiful. Fat is a risk factor for diabetes, stroke, heart attack, infertility, high cholesterol, sleep apnea, and the list goes on and on. Let's be clear... being fat means you die a lot younger than your body intended.

You want to know what's sexy? Being able to bounce quarters off your mega toned butt, being able to run a 5k, having abs that you can actually see and having legs that look fantabulous in high heels because of squats.

No, I'm not coming to your flippin' BBW dance party where chubby chasers get to drool on all the mounds, ripples and rolls of adipose tissue in one room. No, I will not join your Facebook group dedicated to making fat women feel like it is ok to be fat. No, I'm not loud and proud to be a BBW. Call me fat and angry, call me pissed off at the food establishment that pumps us full of high fructose corn syrup, or call me militantly anti-companies who make billions on weight loss solutions that make people FATTER.

I'm fat. I have sleep apnea. I have high cholesterol, or at least I did, it may be better now. My fasting blood glucose was 148 a few months ago, it is below one hundred today. My body aches and my joints hurt and I have plantar fasciitis. These things are NOT sexy. Improving is sexy, the problems, the fat, the double chins, the skin problems and the pain is not.

I'm all for women having good self esteem, one day I'd like to be one of those women, but I'm not going to become one by pretending that being morbidly obese is OK because a local club makes big money having fat night and calling it a BBW Club Party.










Saturday, May 14, 2011
What is a fatmare? It is a nightmare about being fat. Like the reality of being a fatty isn't bad enough, I get to dream about it too!

The most recent fatmare:

I'm in a sinking ship and all of the skinny people escape from the little round porthole, but I get stuck like Winnie the Pooh.









Saturday, May 14, 2011
I completed a 5k today, and I have NO idea how long it took to finish. I think I started 2 blocks before the start line, and it was the most outrageous mass of pink people you can imagine. They estimated 52,000 people did the walk. This is great for fundraising and awareness, totally a craptastrophe for walking fast, getting timed, and finding out how quickly you can do 5k somewhere other than a treadmill.

I have no idea whatsoever what my time was, best laid plans of mice and men and all that literary stuff. I finished, and that's enough for today. When you pass the starting line 15 minutes or so AFTER the start, you just know that this will not be your fastest time.

I saw people who used canes doing the 5k, I think that means I need to not bitch about working out. EVER.

I no longer hide from cameras. I am all about having all of these photos where I look ginormous (it's officially a word now, WOOT!) so I can be all look how much improved I am in the future. Here we are before the walk: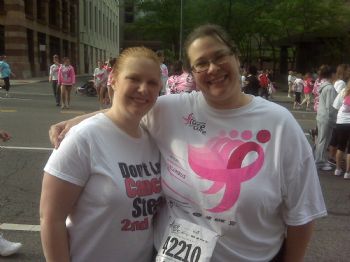 I'm totally ok with the "race" being a "stroll". I ended up walking 4 miles and I got to yap with a friend the entire time, and it was a good start to the day. It's 4 miles more than I was doing PER MONTH earlier this year, so victory is mine.

I almost teared up a few times. The first time was when I saw a girl who was probably six wearing a sign that said "In memory of my Mom." That just plain sucks. There are no words.

There were a lot of people walking for "Mom".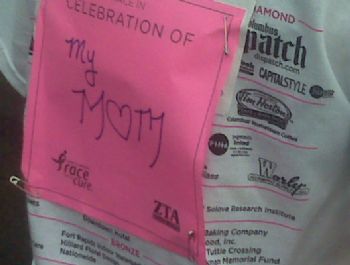 So, if you are wondering why I strolled instead of raced here is the view ahead of me: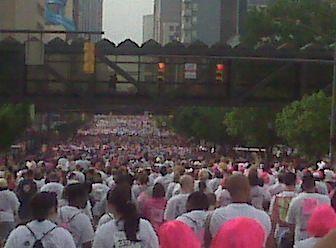 Here is the view behind me: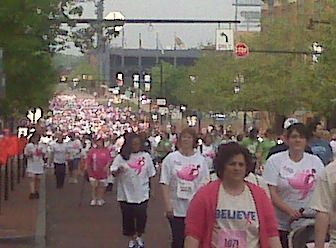 Seeing that many people out for the cause made me start to tear up again!

This is my friend's 3 month old, supporting the cause: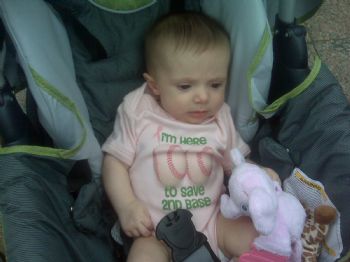 You finish the race by walking the last few blocks with the streets lined by motorcycles, revving their engines and honking their horns... the street is lined with really big buildings, so it's really loud in a cool way. I wish I had a photo of the biker dudes wearing their black leather, straddling their bikes, revving their engines--with pink goatees!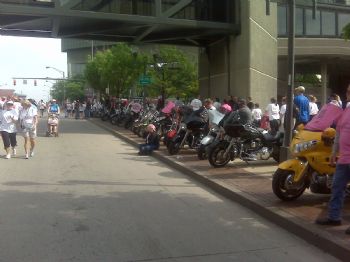 The men were not forgotten!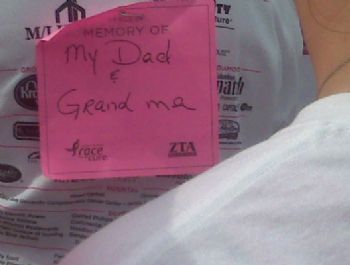 Best shirt of the day "Yes, they ARE fake! My real ones tried to kill me!"

In other news, I'm still not doing a good job with making smaller plates, but I'm doing great with stopping when I'm full. Here is today's plate, I made it pretty just for you!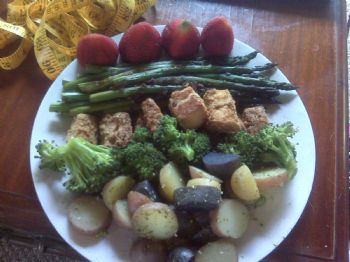 Actually, there is a lot of merit to making your food attractive, pretty food tastes better. FACT.

My husband is a chef and when a restaurant that he worked at changed hands, the new owners bought new tablecloths, new plates and nicer silverware. The hubs kept getting comments like "wow, these crabcakes are so much better than anything you served before, those old ones were not nearly this good." Same crabcakes, same cooks, same recipe, same everything, but the plates looked nicer. End result? My hubby was totally pissed off, but people perceived that their food tasted better because it was more attractive.

Last night, same deal. Too much food. I seriously had a pound of strawberries here. Needless to say, I had some for breakfast this morning.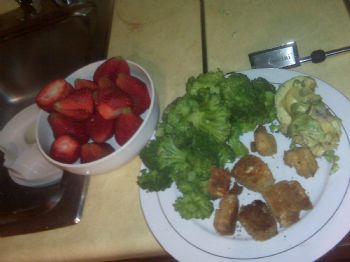 First Page
1
2
3
4
5
6
7
8
9
10
11
12
13
14
15
16
17 18 19 20 21 22 23 24 25 Last Page

Get An Email Alert Each Time JENNSWIMS Posts