| | |
| --- | --- |
| | JENNSWIMS's Recent Blog Entries |


Monday, May 02, 2011
Jenn's Low Fat Vegan Bean and "Ham"... basically I threw together a soup yesterday and in the process of entering all the data it seemed just as easy to enter the recipe and share it.

Lemme know what you think, if you try it. :)





Monday, May 02, 2011
I'm so freaking impressed with this woman, makes me proud to be a nurse... and makes me want to be doing triathlons too!

From The St. Petersburgh Times (tampabay.com)

Teresa McCoy, 37, was just about to finish the bike portion of the Meek and Mighty Triathlon, part of the annual St. Anthony's Triathlon events, when she saw two police officers huddled over a fellow rider along Bayshore Drive.

McCoy, a nurse at Tampa General Hospital's cardiac lab, steered her bike to where the man was down. The officers thought the man might be having a seizure, but McCoy checked for a pulse. "I didn't feel one at all," she said. "He wasn't looking good."

McCoy began CPR, then yelled for someone to find a defibrillator. One of the officers had one in his trunk.

"As soon as we shocked him, he came to," McCoy said.

IT GETS BETTER.... This woman is a rock star!

As paramedics arrived and loaded the man into an ambulance, McCoy got back on her bike and finished the race.







Sunday, May 01, 2011
So we went to brunch today, as has been our habit for the past few weeks. We go to this place called the Northstar Cafe, which is known for being all granola-ey and healthy and organic and all the buzzwords that make me spend my hard earned money. Eggs laid by chickens that were massaged by geisha while listening to Liberace CDs blah blah blah. It is fantastic. I get food glow from this place. Usually, I have half of burrito sub tofu for egg and cheese. Today, I tried the veggie burger. Num. The bread it came on isn't worth it, but it was quite tasteylicious.

Northstar Cafe: www.thenorthstarcafe.com/shortnorth_
togo_sp10.pdf

Unfortunately, it sits right next to Jeni's Ice Cream. Now this place isn't your normal Baskin Robbins kind of joint, this place is famous across the country for the insanity that is the flavor profile of this cream based crack. Dean and Deluca even carries it. It's the kind of place that makes foodies shiver and shake with anticipation. My husband got some, my friend got some, and dammit, I got a scoop too. I got the pepitas and olive oil ice cream in a waffle cone.

Send an addictive 9 pint pack to someone you don't like today: jenisicecreams.com/

The bad: ice cream is NOT on my plan. The good: I threw that tasty poison away without eating half of one of the two scoops. I was disgusted with myself and just couldn't justify it. That shit is so not on my plan that I can't even see it from my plan. Organic heavy cream my left butt cheek, I don't care, it may taste like happy tears from cherubim and it still isn't worth it.

Me, after getting mad at myself and throwing away the devil's ice cream. 293.8 today. Such an astonishingly unflattering photo, but probably more accurate than I would like. Note the lack of a smiley.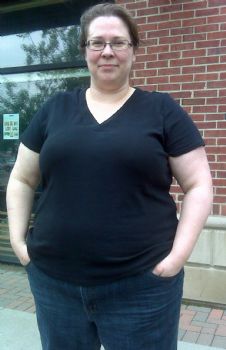 On a more positive note, the jeans that I couldn't get the zipper to come within two inches of meeting at the beginning of April actually zipped today. I looked like someone in the 1980's who had to use pliers and lay down on a bed to get into their Jordache jeans prior to going roller skating, but those bad boys zipped by god.

So all of that, the jeans, the ice cream, the post nasal drip that started as soon as I ate dairy :( that got me thinking about what I'm going to do better this month, and I can assure you that the rest of May will be ice cream free. I do need some goals though, so here we go.

May 2011 Goals:

*Eat in restaurants no more than twice a week (major issue for me).
*Lose a total of 40 pounds by the cruise (June 5th. Aim high I say, aim high).
*No processed foods whenever humanly possible. That means you, devil bread and satan tortillas.
*No more than one food with a label each day.
*Eat the one cup of beans per day that my plan prescribes.
*At least ten different fruits and vegetables in my daily diet. Eating across the rainbow and all that happy crap.
*Continue to support the newbies on the site by saying supportive things to first time bloggers. Aim for 10 per day, more when bored at the workplace.
*Exercise no less than 300 minutes per week.
*Pool no less than twice per week.
*Quit being a sissy and go to at least one swim team practice as a trial run by the end of May.
*The barely zipped jeans will be loose.
*My largest pants will be too large to wear and will have to be given away. Even the four new pairs, including the spiffy navy pinstriped ones.
*Work on my Paul McKenna steps (which seem deceptively simple, but none of us would be here if we did them each and every day) each and every day. They are as follows:

1. When you are hungry, eat.
2. Eat what you want (not what you think you "should".)
3. Eat consciously and enjoy every mouthful.
4. When you are full stop.

and last, but not least,
*no freaking excuses. Shut up and do it.






Saturday, April 30, 2011
It just makes sense to me that I have a reason for each and every pound I lose on my way to my dream weight. Each individual pound is important, and considering how much work it is to drop some tonnage, I thought it was worth my time and energy to come up with a list.

So here it is, in all of its not politically correctness.

P.S. Please take this idea and run with it. Come up with your own list! Whether it is ten reasons long or two hundred, I think you will find this extremely motivating. If you do make a list, and you have a moment, tell me about it so I can read your list!


176 Reasons to Lose 176 Pounds


So I appreciate sweets as treats, not as an every day food

I hate Clomid, and my research indicates that if I lose 50 pounds or more I may not need it.

Size 10 clothes are far more stylish than 24s.

I want to be able to shop in all of the clothing stores, not just Lane Bryant.

I like feeling in control of what I consume.

The meat packing industry grosses me out. *Thank you Food, Inc.*

Plantar Fasciitis-aka my feet frackin' hurt!

Heel spurs--The little boney daggers that are making my feet hurt even more.

My skin is clearer when I am thinner

Having a pannus is horrible. Pannus=Dun Lop Disease=Gross overhang of my gut.

I want to run again, without fear of breaking myself or the treadmill.

To look good in a bathing suit. (I realize this may require plastic surgery to remove skin)

To make my husband proud

So being the published author of a weight loss surgery book doesn't seem like a sick joke. (I have not had surgery, my side gig is writing about surgery)

High cholesterol

My fasting blood glucose was 148 the day I started this journey. It is now 98. It still needs to be lower but I'm no longer prediabetic.

I like swimming, even though it requires me to wear that horrible thing called a swimsuit.

I'm too young to ache like I do.

So I can quit envying everyone else's beautiful baby. Or saying someone else's baby is beautiful when it really is a funny looking kid. Oh wait, I will still have to do that if I have my own.

When I fold my pants I am horrified by how huge they are. Seriously. I practically need bigger hangers.

When I eat better I feel better. Understatement of the century.

Rude comments and looks of disgust. (From people raised without manners)

I have nice legs when I'm thin.

I'm NOT big boned! I'm medium boned at best. I'm fat people. FAT. No bones about it.

I'm pretty under the fat. I'm not quasimodo right now, but I am much cuter when defatted.

Green poop is quite funny. At least it is if you are a 38 year old overgrown child.

Stinky skin folds and skin yeast. The constant battle of the powder, and drying, etc.

So I can swim around Liberty Island in NYC.

Smart and pretty is much more fun than smart, I remember what that was like.

I've always wanted to try yoga.

I'm putting running a 5k on my bucket list.

So if I don't get pregnant I will know I did everything possible and will quit beating myself up.

Fluevog boots will fit my calves and Fluevog boots are the sex bomb.

Organic and unprocessed tastes better.

So I quit spraining my ankles over and over.

So I don't feel trapped in my job, which is largely a desk job.

Double (triple?) chin.

Cellulite.

I enjoy life too much to die young.

I want to grow old with my husband, so I can continue to irritate him for decades to come.

I want to be a spry old person. Hell, I want to be a spry 30 something.

To reverse the heart disease I probably have.

To never again fear an airplane seat or seatbelt.

I want to ride roller coasters again. Cedar Point, baybee!

So I'm not the fat one. Anywhere. Ever.

More energy and stamina.

Never break another chair.

Movie seats won't hurt anymore.

Clothes that are too big are lots more fun than ones that are too small.

I deserve better than a 311 pound body.

For the day when 4 mph seems slow.

One size fits all does not fit me.

So I don't have to say, "Do as I say, not as I do."

Adventure vacations.

To be significantly smaller than my husband.

Better sex.

Reverse cowgirl.

Girl on top!

Agent Provocateur lingerie. (I'm detecting a theme here)

So I can wear The Who concert tshirt I bought (seriously, they hadn't toured for 17 years, I HAD to get the shirt) knowing it wouldn't fit, because it was the largest size they had, hoping to one day fit into it.

In case I ever get to work on a LifeFlight helicopter, I will meet the weight requirements. They don't let fatties fly on those emergency medical choppers. 150 lb weight limit for most.

So going hiking in the Hocking Hills doesn't sound like work.

To get rid of my giant ass. Seriously, if it gets any bigger I will trigger seismographs.

Because boobs can be too big.

So shoveling snow doesn't give me a massive heart attack.

So I don't feel like I'm going to have heat stroke all summer long.

It is expensive to run central air all summer long.

Quitting smoking does not mean I must gain weight.

I'd like to ride a bike and not look like my ass ate the seat.

Wiping one's ass should not be the first challenge of the day.

I have features that are attractive other than my hair!

I work too hard to die too young to enjoy retirement.

So I quit loathing stairs.

So I am fit enough to use machines other than the bike and treadmill.

No food will make me feel the way weighing #135 does.

Never paying a surcharge for XXL clothing again.

Sexy bras instead of sturdy ones.

So getting my hair done doesn't seem like a waste of money, since the rest of me is so unsightly.

Because I wasn't always a frump.

To wear one of the cool Speedo suits in fun fabrics instead of the black ones they make for fatties.

So I am not an embarrassment to my future children.

We can show our friends how good organic food can be.

To avoid hip replacement, knee replacement, gall bladder and heart bypass surgeries.

Gastric bypass is not an option.

For the first (and the twentieth) time someone says, "Have you lost weight?"

So people don't recognize me since I've lost so much and become so small.

To regain the self esteem I once had.

People really do treat fat people differently.

So I have more job options while I'm working on my master's degree.

To encourage my husband in his journey to health.

So I can wear shorts instead of jeans in the summer.

So I can complete a sprint triathlon.

Because foodie doesn't have to mean fattie

I am proud of myself when I meet goals I set for myself.

Spandex

So I actually look like I belong at the gym.

So I can quit wearing CPAP at night.

My stomach will keep shrinking!

So my dogs get more exercise, which they love.

I can give my entire wardrobe away and start fresh.

Underneath the fat I have an hourglass shape.

People judge fat people and believe they are fat and lazy.

So one person says, "you are thin enough, you should stop losing weight." After which I run to the bathroom and cackle maniacally.

Tiny, narrow bathroom stalls.

So I'm not the fattest person at work. I think I'm in a tie right now.

So people aren't surprised when I finish 5ks.

So I quit avoiding having my photo taken or hiding behind others when I have my photo taken.

So I'm not the fattest one in my family.

To be smaller than my senior year of high school.

So my risk of heart attack and stroke are nearly non-existent.

I can grow much of my own food.

Exercise is a great way to reduce stress, and I have lots of stress.

Cool 5k tshirts.

Earning an "Alcatraz Swim Team" tshirt.

To look better than I did 10 years ago.

Because it will help fix my ugly toenails.

All of the cool rewards I will buy myself for major milestones.

So I can write about weight loss without it seeming like a farce.

Because no one should ever be told the celebrity they most resemble is Camryn Manheim.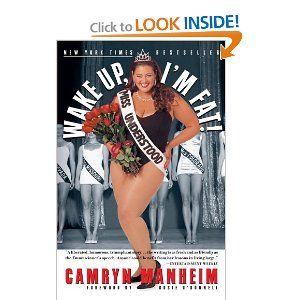 So I can wrap a towel around me that is smaller than a beach towel.

So I can justify buying more workout shirts with the super cool thumbholes. I have an unnatural amount of love for the super cool thumbholes.

So I can trust myself around tempting food and become far more selective about what is tempting.

So my thighs don't rub together until they are raw.

Not having to wear two jog bras to smash the girls flat to keep them from bouncing up and giving me a black eye.

Never wondering if I will fit in the booth at a restaurant.

Levi's.

So I can cross my legs easily and not look absurd.

Serious abs!

So I don't feel sorry for the other people in the row when I need to go to the bathroom during a movie and I have to wiggle past them.

So I can wear high heels without feeling like a Weeble.

It is time to stop having an internal monologue that is filled with hate and disappointment.

J. Crew, J. Jill, Ann Taylor, Dior and Chanel clothes. Not that I will buy them, but I COULD.

Walking into a dressing room feels like walking to a punishment.

To be happy to be weighed at the doctor's office.

So I can jump instead of little tiny hops.

So I quit thinking my husband was dumb for marrying someone as gross as me.

So I look lean, strong, powerful and curvy.

To get rid of my gut that is so big I don't have a lap.

So I quit sounding like a broken record, "I need to lose some weight".

Because my 20 year class reunion is in October.

To feel sexy!

To conquer food addictions. Thank you Dr. Fuhrman for Eat to Live and detoxing my body.

So I learn my trigger foods and how to avoid them.

For the first time that I've lost so much weight that my underwear falls off. Hopefully, this will be in the privacy of my own home.

So I can do a pull up, or maybe even two pull ups.

People respect you when you lose weight, not when you gain it.

The process of losing weight and getting fit is half the fun.

Trying pilates, yoga, kickboxing, boxing and racquetball classes.

So our bathtub doesn't seem too small to soak in.

No one takes advice from a morbidly obese nurse seriously, no matter how good it is.

So my husband can pick me up, throw me on the bed and ravish me without risking back surgery or death.

So socks quit leaving deep grooves in my ankles.

To make me read menus in a totally different way, looking for the healthiest thing available.

Because food is fuel and I need to view it more that way than as a treat.

So I can quit envying the people I see outside running and become one of them.

So that my thighs are muscular and strong, not bumpy and rippled with fat.

So my fingers and hands don't look all chubby and stubby.

So I can put photos of myself looking impossibly cute on Facebook.

Because it is hard to find XXL and XXXL gym clothes.

Not feeling the need to avoid mirrors like a vampire.

So I can be ankle behind my head flexible like I was years ago.

I can stop avoiding necklaces because they make my neck look fatter.

Working in the garden won't make me feel like I'm going to pass out.

Sleeveless shirts. Not that I will wear them, but I COULD if I wanted to.

Losing weight improves hirsutism, which may mean no longer having to have the 'stache waxed.

So oversized chairs feel oversized, not normal.

For the 176 times I will get on the scale and feel happy about my progress.

Because it feels good to get sweaty during a serious workout.

So I can wear those cute tights that the thin girls wear at the gym.

Short skirts.

Vacationing in warm places and locations with beaches.

To feel energized and ready to go when I wake up in the morning.

Never again saying, "maybe we can do that once I lose some weight."

To be "height-weight proportionate".

To qualify for life insurance.

Because there will never be a feeling like the one when I get on the scale and it says 135.






Friday, April 29, 2011
Today was supposed to be my day off from the gym AKA the day I get to sleep in. So I slept in, went to work, then felt guilty because I hadn't worked out. That and I had a bounce on the scale (up 1.8 pounds BUT I usually weigh in the AM) and I feel decidedly swollen, thick fingers, whole nine yards. So I went to the gym. Full disclosure: I still have residual onion ring guilt from yesterday, so I needed to go.

I didn't want to take a class. I've taken one class at a gym in my life, approximately 19 years ago when you could bounce quarters off my ass and I could swim 2oo lengths of the pool for giggles. You know the days... I had this awesome neon green leotard I wore over black biker type shorts. I was styling. I have digressed. Oops. Somehow, I had convinced myself that I couldn't possible try a class alone, I had to have a buddy, etc etc.

So I did 25 minutes on the treadmill. Then, after 25 minutes of psyching myself up, I decided it didn't matter if I was the fattest person in the class, I would give it a whirl. If I hated it or thought I was going to keel over from a massive MI, I would stop. Oh, wait, I also did a 45 second run at 5.5 mph and a 30 second run at the same speed. I felt some bad pain (the kind that makes you think you need surgery, not the kind that says, wow, you're working hard) so I think running may wait for another 20 pounds or so.

So I went to class. I was in the very back of the room... hiding... next to this tiny little 125 poundish hardbody. First class for both of us. We get started, we both look kind of silly, but the dance moves weren't THAT hard. After five minutes, I caught on. After five minutes, she LEFT. The instructor even tried to help her and I heard her say in a vaguely whiney kind of way, "I can't, this is my first class, I don't know what to do."

So the fat girl wins. It turns out I'd rather be fat and fearless than a skinny sissy. I wasn't the biggest person in the class either! Dance on fat girls, dance on!

So, in the interest of being honest and conquering my fears, here are my fitness fears:

Yoga
Pilates
Kickboxing class
Dance! Dance! class (today's class, woohoo!)
Real stairs and Stairmaster (HATE stairs, have always hated stairs--a nasty fall down stairs led to broken bones when I was a kid, besides, they hurt and I hate them, so there!)
Running
Elliptical machines (I feel like I'm going to die after thirty seconds. Like call the squad, this girl needs CPR, we will need 15 people to carry her down the stairs to the ambulance kind of die)
Weight training
Planks (ouch!)
Boxing
Spinning (the vomiting stories don't help)

Here's some more honesty for you. The treadmill I work out on every morning is on the third floor of the gym. I'd rather do 65 minutes on the treadmill than do those two flights of stairs. STAIR HATE!!! Every single day I'm at the gym I have to resist the urge to use the elevator that is conveniently located next to the stairs.













First Page
1
2
3
4
5
6
7
8
9
10
11
12
13
14
15
16
17
18
19
20
21 22 23 24 25 Last Page

Get An Email Alert Each Time JENNSWIMS Posts