| | |
| --- | --- |
| | JENNSWIMS's Recent Blog Entries |



Thursday, January 12, 2012
It is bad enough that I am doing a sprint triathlon at the gym tomorrow and harassing others to join me, but I had signed up for a yoga class with a friend prior to that proclamation, so now she insists I hurry up and finish so we can make it to our 11:30 yoga class. Insult, meet injury.

For those who are wondering, join us, do 1, 2 or 3 legs of the sprint tri, at home or at the gym or upsidedown on the moon.

You can chose from:
750 meters in the pool
20 kilometers on the bike
5 kilometers walk or run

Anyway, for the benefit of those who yoga in New Albany, Ohio, I have acquired Beano. May they never know that they should thank me for that kindness or that people (Cheffrey) are considering calling me Captain Fartypants.

Yoga class means that means I'm getting up early--on a day off--to go to the gym and hurry through a sprint triathlon so I can go do an exercise class. I'm suspecting that I've sustained a traumatic brain injury and no one bothered to tell me. This is level 5 fulminant mind-has-been-lost-call-for-the-funny-whit
e-coat stuff.

I better lose weight this week or whoever dreamed up triathlons is in deep doodoo.

The upside is that I have been promised lunch at my favorite vegan joint if I hurry my butt up in time for yoga. That, my friends, is some serious motivation. Do triathlon, get vegan "chicken" nuggets and "pepper steak." Seems fair to me.

In other motivational news, my mom managed to figure out how to get Cheffrey to start taking weight loss seriously. Seriously. My Mom. Who knew?

She could write a lovely book with only one chapter, and it could sell bazillions of copies, and it would be called, "How To Encourage Your Loved Ones To Get Healthy With Well-Chosen Christmas Presents."

She got us packages for the Mario Andretti Driving Experience! WOOT WOOT WOOT! Basically, she gifted us with Indy car racing lessons, followed by driving Indy cars at high speed, followed by riding in an Indy car with a professional driver at full performance speeds at the Atlanta Motor Speedway.

Yes, my mother is a goddess. For a variety of reasons--which happen to include Indy car driving Christmas presents--that I won't bore you with today.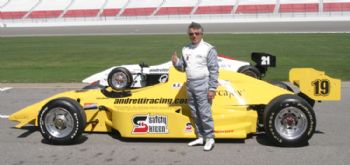 Cheffrey would tell you that a person who purchases vehicles based on whether or not they have Bose or an equivalently awesome booming sound system and how fast you can blow through turns may not need such lessons, (who on earth might he be talking about???) but I believe that is not the case. *looking innocent*

Anywho, Indy cars have a weight limit, or, more specifically, a girth limit that is enforced with a weight limit. We are both currently over this limit, and Cheffrey is now extremely motivated to lose enough weight to squish himself into an Indy car. Lose weight, get healthier, drive very fast, have healthier husband. Win, win, win and win.

His ticket to driving school may be the best Christmas present I received, more so than my own ticket to driving school, because it is really hard to work at getting healthy while the person you love the most is headed for an early grave.

WOOT!

Since the sprint triathlon is going to a be regular occurance in my world, (I'm aiming for monthly, and maybe even moving outdoors at some point) it only seems right to ponder starting a team, making custom tshirts (Blame SOUTHPONDCAMP for the tshirt business) and that sort of thing. Not that I'm actually going to start a team or design tshirts, I'm just going to talk about it.

I figure that if I'm going to go through the joy that is completing a tri (sarcasm font), then I deserve a tshirt, even if it is a tri of my own devising and indoors. I refuse to do 5ks that don't offer shirts, because there is no other good reason to do a 5k other than the crappy shirt, right? Same principal applies here. I do it for the stupid shirt that rarely fits well. The weightloss, pride I feel and amazing feeling of accomplishment is just a bonus.

I suppose we should come up with a name for the 2012 triathlon series, but I've totally bypassed that and headed right into fun and witty slogans. Or at least I've been attempting to find fun and witty slogans, I don't feel that I've been tremendously successful.


After much googling, I've come up with some slogans that might work:
**Swimming and Biking and Running, Oh My! (I happen to like Wizard of Oz references, so this is my contribution)
**Dare to Tri!
**Pain Heals, chicks dig scars, but glory lasts forever. (stolen movie quote uttered by Keanu Reaves in The Replacements)
**We did a tri and we didn't die!
**Pool, Bike, Treadmill--2012 Indoor Sprint Triathlon Series
**Triathlon: Where your competitive juices overcome your excuses
**Challenge accepted, triathlon completed
**Tri this on for size
**Runs on clean energy--burned fat!
**You never know until you Tri
**Triathlon. If it were easy they would call it a couchathlon. (That was me, I admit it, I came up with that)
**Pain is temporary, pride is forever
**I did a triathlon do get this freaking shirt (me)
**how about a chubby girl emoticon followed by an arrow that says triathlon pointing at a thinner girl icon?

What I learned from this is that I'm not very good at this slogan stuff and that advertising people really earn their money doing it.












Tuesday, January 10, 2012
So it's been 10 days of on-plan eating with regular exercise and I'm starting to feel great again, aside from the copious farting. It's time to ramp up my exercise, quit making excuses and being afraid of stupid things. I need to kick things into gear and catch up on my mileage for the 2012 team.

I'm starting to get that old Jenn feeling back. I'm remembering how it felt to be hardcore, to accept no less than 6+ hours of cardio a week, doing kickboxing, swimming, eating super clean, weight training, C25K training, etc. I'm remembering what it felt like to be losing weight each and every week and moving forward like a weight loss machine. I remember, I'm almost there again and I like it. I like it a lot. It's a lot more fun to walk the walk and not just talk the talk.

I'm feeling motivated. I'm feeling higher than a kite on veggie fuel. No more "this is your brain on drugs" it's now "this is your Jenn on exercise and freggies!"

I'm so energized that I'm kind of twitchy and my podmates would tell you that I'm kind of having this ADHD level energetic, spazzy/ twitchy and extremely annoying thing going on. That is in addition to the revolting farts that keep sending me out of the cube to avoid gassing my peeps out. I'm a freaking merry ray of sunshine delight to be around today. WOOT WOOT!

I'm doing a gym-based sprint triathlon on Friday.

What's that, you may be asking?

Technically speaking, it's the "starter drug" of triathlons that gets people headed toward a life of freakish physical fitness like full length triathlons and Ironmans.

A sprint triathlon is, according to Livestrong.com:
750 meter swim followed by a
20 kilometer bike followed by a
5 kilometer run

So that's what I will be doing on Friday, except not in that order and inside a gym.

You can too. Want to share the pain? Find two friends and do a virtual relay. Or just pick a leg and do it, but I hear that misery adores company.

I feel a Princess Bride quote coming on.... "To the pain!"


Here are the rules:
**Show up at some point this weekend.
**Do the stuff listed above, alone or with others. Outside or in a gym. On Friday, when I post about this again (if I'm not dead) you tell the world all about how awesome you are (or your team awesome) as a comment... or tell the world how awesome you are on your own page... or both.
**Feel the awesome welling up within you and bursting forth in the form of a tri-awesome-sauce.
**Tell the world how awesome you are.


Since I'm doing it at a gym, I'm not going to count transition time. I will be transitioning in a locker room and that seems kind of silly and not at all like the fairly cool and frantic shucking of clothes/application of shoes that happens during real tri transitions.

The facts:

**I'm going to be kinda slow and that's OK, cuz I'm going to be way faster than the lumps watching TV on the couch.
**I'm going to be using a stationary bike and a treadmill instead of the great outdoors and that's ok, too.
**I'm going to whine a lot. Luckily, it will be silently in my own head, because no one wants to hear it.
**I'm swimming last because the last time I got on a treadmill while moist I ended up with 3rd degree inner thigh skin removal due to massive chafing. (I made up that 3rd degree thing, there is no such chafing rating system, I just say these things to amuse myself).
**I will share my times. Not because I think I will be fast, but because I think I will be faster next month when I do it again.


So, who is with me this weekend?

I know SOUTHPONDCAMP is in... who has a few hours they would like to spend exercising this weekend? Who is willing to do a leg as part of a cyber relay? Wave your hand if you want to be part of a relay!

Before you tell me how you are too fat, too old, too PMSy, or too something else, please keep in mind that I was 287 at my last weigh in. Preacher, this is the choir.

Pretty please don't make us suffer alone. Sniffle. Whimper. Surely you can swim, or maybe bike, or perhaps a quick little jaunty walk or maybe a nice perky jog? Maybe you're a full-blown nutbag like me and you are willing to give it a whirl?

Maybe you already the awesomesauce and this will be no big deal for you, and that's not just ok, that's freaking righteous!

It's not like you have to be in the same gym with me while I have brussel sprouts farts, it isn't THAT bad! So spread the word. Push your limits. Earn the official Spark 2012 Gym Sprint Tri Team Shirt. Oh wait, there isn't one. Oops.

Drumroll please!!!!


I now declare the Spark 2012 January Cyber Sprint Tri Open. Spread the insanity. I mean word. Spread the word.












Wednesday, January 04, 2012
So December was horrific. Sucktacular. Truly awful. Poopy. How awful you ask? Well, the suckage included 3 trips--2 alone-- from Ohio to Iowa and back which equates to over 4,000 miles driven and over 66 hours driving in 14 days. I'm up 12 pounds for those 14 days. Christmas was... well, it wasn't. I sat at home alone and opened Christmas cards. I've never appreciated Christmas cards as much as I did this year. I may actually send some next year.

Unfortunately, that was the good part of December, being alone and driving and all, and I'm not kidding.

I've always wondered if I would be a decent hospice nurse. What I found out is that I do have what it takes to do hospice. I just wish I didn't have to find out that piece of information while taking care of my MIL. I've never wanted my Mommy so much in my life, and not because she is the knower of all things hospice, but because she is my Mom.

So, in summary, December stunk. December stunk like an Iowa pig farm in July (it smells bad enough in December, I'm guessing about summer).

I could feel my ass spreading as I drove. 16 days with nary a single treadmill, yoga class, spinning workout or swim. I ate whatever was available along the route and food that women bearing casseroles provided when I was stationary. I ate fudge. I ate dairy and Iowa corn fed pork and some monstrosity called a tenderloin that is really really big on a wee little bun. I had Starbucks every day I could because that Venti No Foam Soy Earl Grey Tea Latte tasted like home.

My body is, for lack of a better word, pissed.

At one point I was rolling on the floor in tears because I was so constipated from the terrible food, lack of exercise and stress. Stress-induced constipation happened to me once during finals week and it was so bad I almost took myself to the ER for an appendicitis workup before an instructor told me I was "literally FOS."

TMI Warning

Poor Cheffrey. Defenseless, sweet, kind Cheffrey. He went somewhere he had never gone before, and hopes to never go again. He bought enemas. Poor guy. His Mom was so sick and his wife, the only one who was comfortable with the meds and such, was flopping around on the floor like a fish, desperate for pain relief, writhing around in poo-filled pain. Yup, he went into the drug store and scored some enemas for me. Then, god help me, I had to use them. What a bloody freaking nightmare of humiliating proportions. Insult, meet injury... the bleeping things didn't work.

End of TMI warning

My joints ache from not eating clean. I feel like old Fat Jenn. I went to yoga last night and it's like the last 6 months of yoga never happened. It feels like back to square one. I've lost a mile per hour on the treadmill. My downward dog feels like someone is trying to break my wrists. I could only run for a minute or so on the treadmill. I feel old and fat and gross and tired and my pits stink like they do when I eat a standard American diet. I'm disgusting.

I was doing spinning, and doing it well, a mere three weeks ago.

I'm in this strange place where I'm really upset with myself about my total December failure versus feeling like hey, I did what I had to do, now I can get back to Operation Defattening. I'm still on the horse. I'm still fighting the battle. I lost December. I'm still here. I'm still fighting the good fight. I will admit to being somewhat emotionally, spiritually and physically tired.

I cannot deny that I stress eat. I knew it when I was doing it that I wasn't feeling tummy hunger. I noted it and moved on, moved forward.

I know that being exhausted makes me eat badly. I was awake for 32 straight hours at one point.

I know that stress makes me eat and there was enough stress for a mall full of people.

I know that crying makes me dehydrated. I also know that Coca Cola is a poor beverage to hydrate with. End result is that I drank a lot of it and was still really thirsty.

The good news is that last December I would have chowed down and not cared or even been cognisant of these issues. This December I knew it was happening, noted it, and actually said these words out loud and meant them, "I cannot wait to get home and eat vegan and eat clean and exercise every day and do yoga."

That, my friends, is progress.

What else is progress? I'm far smaller than I was when I weighed this much last year. The exercise is paying off.

I've been 100% on plan since January 1st. I know that if I keep it up I will feel better. It's an act of faith right now.

On to the fun...

Resolutions. Goals. Are they they same thing? I decided that they aren't. I think that a resolution is a behavior you want to change. A goal is something you want to accomplish. Something you WILL accomplish.

My resolution this year is to not text and drive. I've taken care of three people who became organ donors because they--or another driver--chose to text and drive. I strongly encourage you to be part of my no texting resolution.

I don't usually tell people what to do with their lives. I share my experience. I offer support. I offer free advice that is worth what you pay for it. I'm telling you that nothing is important enough to text and drive. Pull freakin' over. Wait for a light.

Seriously. You owe it to yourself and the people who love you to not text and drive. I expect lots of comments stating that you solemnly swear you are up to no good. Errr sorry, got carried away with the Harry Potter for a second there. I expect lots of comments saying, "I would rather live than text, I'm with ya!" or a variation on that theme.

Spread the No Texting Revolution Resolution!

2012 Goals!!!!!

Goals. I need goals. Lots of goals. I require them. Loads of goals.

I will get back to my low weight of 265, and keep on trucking from there. Life is too short to be obese. Life is too short not to respect good health.

Half Marathon, one, preferably more. I want to do The Pig in Cincy. Ohioans call Cincinnati "Cincy" because they can't spell it, FYI.

Maybe Rock N Roll Half Las Vegas with HeatherStew next December, it has to be better than this December! I wanted to do it this year, but I'm a poor saver, so now I have more time to save.

July 28th. Escape From Alcatraz. Me, some other crazy people, a ferry and some sharks. Woot! I think I'm going to harass my mommy until she goes with me and cheers for me.

Mudman Triple, Gambier, Ohio

365 hours of cardio. That's 21,900 exercise minutes people! WOOT WOOT!

I'm also signing up for Fittingin130's 2012 miles in 2012 challenge team. I will be converting my non-walking/running exercise into mileage for that. It's going to be tough and awesome. If you want to join the team take a look at my page and click on it. There is a shorter option as well, 201.2 miles, for the sake of being inclusive.

I expect to be able to do 5 mph for an entire hour by the end of the year. I met my2011 goal of 4 mph for an hour. I have to get back to 4, since I've totally decimated my cardio ability this last month, then move forward to 5.

Be able to run 5k without stopping. Slowing fine stopping not fine.

Lose 100 pounds this year. One Zero Zero. No less.

Weight that starts with a 1 by the end of the year, kind of goes along with the 100 pounds thing.

Smaller belly that allows far more yoga poses.

Gym sprint tri. Basically, bikes are so expensive that I would feel like this goal was "to hemorrhage money" if I set a "do sprint triathlon" goal, so I will do a sprint tri at the gym. Using their bikes. :)

Lose so much weight that I have to literally get rid of my entire wardrobe except shoes. I'm keeping the angora sweater thingie... it will be big enough to roll up in before I'm done.

Yoga goals:

Attempt to like hot yoga again. I loathed Bikram. LOATHED. But I will give it a second chance this year.

Be able to do these poses:

Eka Pada Koundiyanasana---try saying that five times fast!



Also, Natarajasana: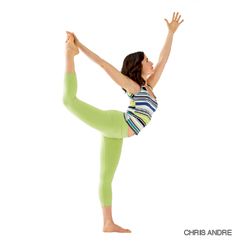 I had said earlier this year I was going to set a 2012 goal of doing an inversion. That goal was a total fail the next day when my favorite yoga instructor laughed at me (kindly) and informed me that I already do inversions. It was her idea to choose goal poses. :)

So, are you giving up texting and driving? What are your goals? I want to hear your goals so I can steal them and make them my goals. Errr, no, I mean, I want to hear your goals so I can encourage you and support you in your achievements!




















Tuesday, December 13, 2011
There is this thing we do where we tell ourselves we deserve something.

I've worked hard, I deserve a new car.
I've finally graduated, I deserve a nicer apartment.
I'm cute, I deserve the $17 lipstick from MAC.
I'm the best great dane mommy ever, I deserve a third great dane. Nevermind, scratch that last one.

When I'm at the mall shopping with my husband and I admire some fabtastic, gourmet swanky thing, like an obscenely expensive purse, or a light fixture (I have an obsession with light fixtures it seems) or something else that I don't need, deserve, haven't earned and will never be on a "need" list, my husband is incredibly helpful. He says, "buy it, you work hard, you deserve it."

So when I say my husband is helpful, I really mean that he isn't.

The same thing happens when I am all gooey at the idea of macaroons (the French kind, not the coconut kind) or cheese, or naughty food in general. Go on, you've worked hard, you've lost lots of weight, indulge... you deserve it.

I'd like to say that it's always my husband telling me I deserve the naughty food, but the reality is that it's usually my internal Jenn muttering in my brain, "you deserve those 100,432,224 fat grams, you've worked hard. You DESSSSERRRRRVE it!" It's like the damn basilisk in the wall, and I'm the only one around who can speak Parseltongue. Or maybe it should be called FatTongue. (For those who don't know what Parseltongue is, get thee to a Barnes and Noble posthaste and buy all 7 Harry Potter books immediately, start at page one book one and read until there are no pages left.)

When it's a $500 dollar purse, smart Jenn kicks in and when hubby says I deserve it, my response (unless I want it, covet it, can't live without it, refuse to go on with life without acquiring it) is this: "I deserve to retire one day too." Too many expensive purses, lights, itunes songs, whatever... they all add up to me having less money in the bank for retirement.

Have you ever noticed when we start to use the word "deserve" we are usually talking about something that is not a need, but a want?

I deserve a piece of birthday cake, I've been good.

I deserve some fried chicken, I've lost five pounds.

I deserve dinner in a restaurant, I haven't cheated all week.

Just to clarify, all of the things we "deserve" seem to be contrary to our overall goals, desires and wants. Well, I speak for myself really, royal we and all that crap.

Right now, I deserve a nice freaking vacation. I haven't saved up for one, but dammit, I deserve one. I need to work at earning that vacation, so that deserving it is a moot point.

Anyway, as per usual, I digress.

Deserving it thinking is dangerous thinking.

I did an hour on the treadmill, I deserve cheesecake.

I stayed within my points all week, I deserve some movie popcorn. And Milk Duds. And a leaded soda.

I didn't overeat this week, I deserve pizza.

For me, when I start to hear NaughtyJenn or someone else talk about deserving things, it's time to run. Run far away. Run like a sissy girl, run like a marathoner, doesn't matter, just run.

Deserving is code for "I know better" and "I should not, but I will" and lots of other things. Not good things.

Now to be clear, when you start to get in shape and get your sh*t straight, you will have moments of "I DESERVE BETTER!!!" and you do. You may deserve a better person in your life than the one you have. You do deserve to be treated with respect. You do deserve to have a spouse who loves you. You do deserve to be healthy. You deserve a normal BMI. You do deserve to have an hour to yourself to work out.

You deserve good things for yourself, things that make your life better. Absolutely. without a doubt.

So, how often are the things you "deserve" things that will actually improve your life, and how often are they things that are standing between you and your goals?













Tuesday, November 22, 2011
Yup. 39 days until there is no more 2011.

That's not quite 6 weeks.

There is a lot of potential left in 2011. LOTS. Heaps. Loads.

That's two food snarfing holidays (maybe more, if you have a birthday coming up). For me, that means the green bean casserole will be whispering dirty words in my ear, "jennnnnnnn, we have fried onions.... jennnnnnnnn creamy goodness..." and the mashed potatoes will be whispering things that could rival phone sex, "mmmmmm, ooooooooooooh, aaaaaaaaah, butter, ooooh, aaaaah, heavy cream."

I could demolish some greenie beanies and mashies, and let's not even talk about gravy, because that's when it gets dangerous for anyone between me and the carbs.

I could use that potential to really enjoy some food that is out of this world. I could hint in a manly way (that is a way totally lacking in subtle, for my hubby) that all I want for Christmas is Haribo cherries.

I could use that time to catch up on much needed sleep (instead of doing something stupid like making my butt angry by going spinning at 0545.)

I could write a book. Haven't done that in a while. Eeeek.

I could make a batch of Jenn's famous pine nut cookies, which people have been known to fight over, and eat them all myself while pointing and laughing at my drooling siblings.

So, you can:

a) be like the average American and gain 5 pounds between now and January 1st.
b) become a new habitat for several pounds of mashies, gravy and green bean casserole.
c) do something else.
d) find new and creative ways to add diet horror to holidays, such as deep frying an otherwise lean bird.
e) accomplish something

Anywho, as much as I want to slather fat on my food and eat until it comes out of all of my many bodily orifices, I'm electing C) Do something else and E) accomplish something.

I want to officially lose 50 pounds this year, so I am setting a personal goal to reach 261 pounds by December 31st.

What will you be accomplishing in the next 39 days? What will you do to end 2011 with a bang?



First Page
1
2 3 4 5 6 7 8 9 10 11 12 13 14 15 16 17 18 19 20 21 22 23 24 25 Last Page

Get An Email Alert Each Time JENNSWIMS Posts