| | |
| --- | --- |
| | JENNSWIMS's Recent Blog Entries |



Wednesday, September 14, 2011
This is my nephew, Eli.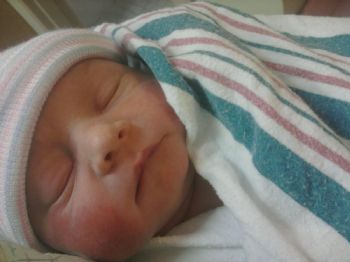 He was born Monday. I refer to him as "The Cute Factory" for obvious reasons. 8 months ago his mother was afraid to give me her good news, fearing that it would hurt my feelings, since I have been a miserable failure at acquiring a fetus and all.

I had been crying happy tears, but when my own sister was afraid to tell me she was pregnant with her first child, I cried a different kind of tears. Big, fat, sad tears--snotty tears.

Today my motivation to keep doing all of the things I've been told to do in order to get pregnant before I am so old that my ovaries shrivel up and ask to be placed in oatmeal cookies is Eli.

I want to take advantage of the genetic code that results in children of cliffs of insanity levels of cuteness. Smart ones that read a lot, that are usually tall, and lippy, and sarcastic and fun to be around. Little cute kids that reset your alarm clock to 0500 when you aren't looking (ok, that may have been me) and kids that pick up naughty words and repeat them in church (this hasn't happened, but it is the kind of thing that I believe would happen to me).

In my effort to have a child of my own, I have:

Quit placing cancer sticks in my mouth, inhaling, exhaling and repeating--Check. One year October first-ish.

Exercise--Check. Yoga yesterday, walking today.

Lose weight--Check... 47 down, 129 or so to go.

Today, because I've found motivation in some chubby cherub cheeks, I ordered this for lunch and didn't even think the chips covered with alfredo and blue cheese until I sat down to blog: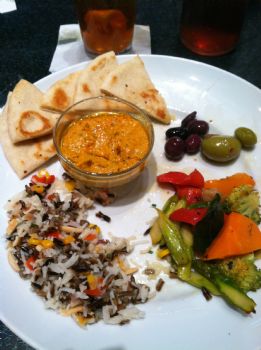 I'm really, really REALLY hoping that losing weight means no more fertility drugs. They make me so miserable. Severe neck pain to the point of not being able to turn my head, weight gain, night sweats, an insatiable craving for chinese soup (mostly wonton) that led to 94 days in a row of eating chinese soup, and worst of all, OCD.

When I stopped the meds the pain and evil Jenn went away, but the OCD stayed. It's ok, you can laugh, everyone else does when they see this: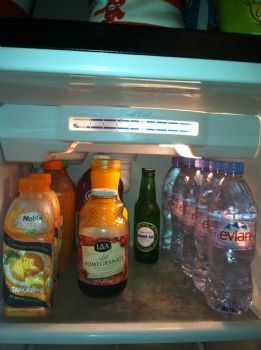 Our friends think the "little soldiers in descending rows" in the fridge is hysterical. Only my husband realizes how much I hate having my emotions permanently altered by a drug, even if it results in a really clean fridge. He's lucky I haven't started ironing his underwear, with him in it.

Honestly though, I will happily put up with having the nose of a bloodhound, major OCD/nesting issues, a hateful demeanor, struggling to find wonton soup at 1 am and the rest of it for one of these: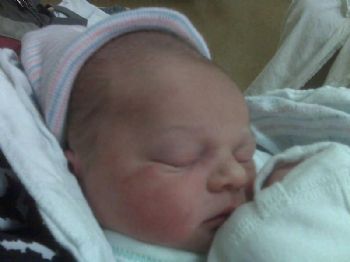 So thank you, Elias. In your three days of life you have motivated me to:

*Start a spark team that is going to be heaps of fun and positivity
*Go to yoga when I wanted to flop out on the couch
*Give an ounce of my beloved avocado to Remy (the furchild) to keep from going over my calories
*Walk for an hour when I wanted to be reading the last 5 pages of the Hunger Games
*Finding my inner spark to lose more weight, which can only boost my fertility
*Find a really healthy meal when I went to lunch with coworkers
*Set a new goal that has me on track for losing 100 pounds by my sparkiversary, and down 87 pounds by my 39th birthday

I'm back on track, and even though I haven't lose weight for the last month, I did lose an inch around my waist, so I'm calling August a victory and getting my tushy in gear.

Where are you finding your motivation today?







Tuesday, September 13, 2011
I created a spark team today and I'm totally jazzed about it. Giddy and recharged and feeling full of weight loss energy. Seriously, I am. I'm so stoked that I'm not even mad at myself for only having 450 calories left for the day at 2:30 in the afternoon.

What is it?

A 20 week challenge to lose weight (if you need to), be kind to yourself, get pfitter and have fun.

Why have you lost your mind?

Starting a team when I'm in grad school, have two jobs and I'm trying to lose weight? While that sounds like a good candidate, that's not it! There is another reason that I may seem a bit crazy today!

Back to the challenge...
Twenty weeks, starting now and ending on February 2nd. That's enough time to start and complete Couch to 5k! Enough time to get into a slinky dress by Valentine's Day! Enough time to put a stop to that negative voice in your head and start thinking nice thoughts about you!

Sounds good, right? It is!

20 weeks to help you get through the holidays without gaining an extra butt! 20 weeks to learn a new skill or try a new exercise! Yoga? Zumba? Spinning? Walking? Chair Exercise? Swimming? Water Aerobics? Kickball? Kickboxing? Strength Training?

All good things, right? So what is the losing my mind part?

Well, leave it to me to start a challenge team based on a talking groundhog that predicts the weather and likes to hang out with Willard Scott once a year.

Yes, I did it. I finally went 'round the bend. I may have named the team the Punxsutawney Phil Pforty. Getting Pfabulous with Phil seemed like overkill.

So, if you have a great sense of humor, think advice from a groundhog is a good thing, if you think the groundhog is the best part of Caddyshack (start the Kenny Loggins music!) or if you just want to know what could have possibly motivated me to base a team on Punxsutawney Phil, here is the link:

www.sparkpeople.com/myspark/groups_i
ndividual.asp?gid=53159

Join Phil (and me, his lowly translator) for Pfun and Pfrolicing!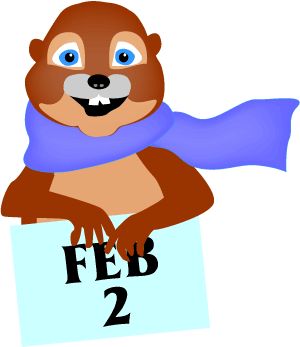 Sunday, September 11, 2011
Dear Macy's,

I'd like to personally thank you for having a "women's department." Please note that I'm using this term very loosely. You see, your "women's department" is depressing and makes me feel like the old fat Jenn I used to be. In fact, I think I felt better about myself when I weighed 311 pounds than how I felt in your store today.

Your "women's department" makes me feel that the world believes that I'm too disgusting to deserve attractive clothing. I know, I know, no one can make you feel bad about yourself without your consent and all that happy horsesh!t, but you guys sure know how to stoke that fire. I would rather go to a consignment shop and buy pre-worn underwear than shop in your "women's department" and just to be clear, I have a fear of public restrooms, so let that be your guide on how revolting I find that concept.

Let's talk about your store, and the embarrassing department you've tucked away on the second floor, away from where it could offend skinny people you really want as customers.

The elevator Musak reject music playing adds to the "corporate made us have a fat department, so we threw some stuff in a corner of the store" atmosphere. The large and in charge section is always understaffed, poorly maintained with things falling off hangers and thrown into a heap on displays looking like castoffs from a Goodwill bin.

In addition to the general neglected feel, your buyers seem to have selected the clothing by throwing darts at the "worst of 2011" catalog. What? That cute cardigan is available in black, red, silver and puke? Well, we better buy 2 of every size in the shade of puke to make sure all of our customers can get one.

The selection is abysmal. You might not realize this, but my grandmother is a size 6. I am 38 and am happy to say I now wear a size 20. Please note, I am not in my 70s, that is my grandmother. Again, I am 38. In addition, I don't wear elastic. Nor do I wear polyester. I like simple, classy, comfortable. I can define those words for your buyers, if they ever decide they might want to put some of those things in the plus size part of the store.

Macy's, I managed to find two things that fit that criteria, despite your best efforts to strip mine all style from the department. I found an awesome shirt, which I bought. I also saw a great Ralph Lauren sweater, which was $195 dollars. I did not buy it, but I admired it for more than is really appropriate for a married woman to admire anything that isn't her husband.

The women's selection is really quite poor, Macy's. You might not realize this, but fat chicks like many of the same styles as thin women, just in larger sizes. We do not lose our fashion gene when our adipose becomes a certain thickness. A love for Doritos does not mean that I can't spot a knock off Coach purse at 50 paces, or that I don't have a girly love for silk and cashmere and style.

I paid for my purchase, feeling really sad and rather close to tears, but I mentally dusted myself off and decided that I needed to look to my future... my thin future. I went downstairs, curious about how much more weight I need to lose until I can shop in the OTHER department.

That, Macy's, is when I realized how much you really don't like me and my kind. When I realized that I'm a second class citizen to you and your employees. See, when I can fit into a 16, or an 18 in some brands, I get to listen to Gwen Stefani while I shop. I get accessories. I get style, and color choices and I get the same F-ing Ralph Lauren sweater, but $100 less and in better colors.

Seriously? The thin women get belts? I would love a belt. Black. Brown. Purple with puce polka dots. Stop acting like I'm so large that a belt defies the laws of physics and cannot possibly exist in nature without disrupting the quantum mechanics of the universe.

If you hate selling plus size clothing, do fat women of the world a big freaking favor, and just stop. Quit pretending to have a "women's department" and doing a catastrophically poor job of it. I'll still shop in your store, I'll just be going to a location that sells Lush bath products instead of god-awful crap my grandmother would wear for Halloween when she wants to dress up like an old lady.

Sincerely,

JennSwims









Friday, September 09, 2011
So I bought an outrageously expensive ($65) yoga mat because I was afraid I was going to injure myself doing yoga. Imagine a oiled up fat girl trying to do yoga on a Slip N Slide, and that's what it was like. How was I supposed to balance on one foot when I thought I was going to land on my oversized bootay?

I guess you could say I'm a copious sweater, not to be confused with an XXXL sweater, which is a different thing entirely. When I'm well hydrated and I start running on a treadmill, I sort of fling sweat on the machine with each step. This would be utterly disgusting if it wasn't for the fact that my sweat doesn't really stink as long as I refrain from eating meat and dairy and eggs. Oh wait, it is still disgusting. Oops.

Anywhoodle, I bought the mat as an early present to myself for losing 50 lbs. I still haven't hit that benchmark, but I really needed the mat, so I may just say it was not my 50 pound gift and a random "I'm worth it" kind of thing.

I know I'm going on and on about the stupid Lululemon fancy ass mat, but it rocks. It's almost sticky, so even though I'm dripping sweat onto the mat, I'm 100% not slipping. After today, I realized that it is so awesome, and so worth the outrageous price, that I bought it a pretty cover to show it how much I love it. (No, the obscene price did not include a carry bag). There was a Jenn print, made of sweat, on the mat-that-should-be-named-at-that-price, after we did the dead man relaxation pose thingie at the end.

So, yoga. My first yoga class was on a beach on a private island. It was the best possible way to try yoga for the first time. I'm seriously unsure that I could imagine a better yoga setting. Different beach maybe, but that's about it. Beach yoga GOOOOOOOD.

Decide for yourself: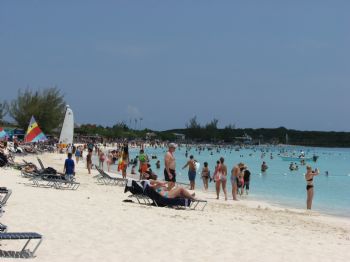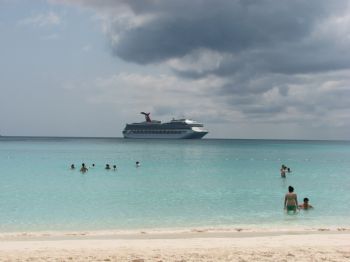 Then I did two classes at my gym, one of which could probably be referred to as slightly hot, since the AC wasn't working so great. It was nice, but I had this feeling that a yoga class taught by someone who also teaches step aerobics and weight training classes might not be the pinnacle of yoga practice. The class wasn't bad, but I was sure I could find something better. Something more yogalicious.

I bought a groupon for a local place that is just getting started. They use other people's martial arts or dance studios to keep prices down. 20 sessions for $29 was a deal I couldn't refuse.

So, the yoga. I've taken 4 classes. One beginner, one candlelight , one hour long hot yoga (85-90 degrees) and one 80 minute hot.

I love it. I like the healthy glow I feel after I get all yogalicious with my bad self. I like dripping with sweat and the way my skin feels like the backside of a baby when I'm done.

I had this silly idea that yoga was stretching and balance. Easy. Not really exercise, just fancy stretching. Uh, Wrong. Yoga can be as challenging as you let it.

You don't have to be flexible to do yoga, flexibility is something that yoga gives you.

You don't to be a mega athlete to do yoga, but if you are a mega athlete, you may find yoga improves your performance.

I've been to 7ish classes my entire life, and I already am more flexible. I'm not able to put my ankles behind my head like I could in high school, but I bet I could in a few years.

My gut, which is still large and in charge, hinders some poses. It is a sad fact of life that when you have a stomach that is larger than some women have when fully preggo, you won't be able to fold all of you into a pretzel.

Candlelight yoga: Mostly floor poses done by candlelight. Awesome for amplified relaxitude.

"Hot" Yoga: Sweatville. You MUST hydrate. Today I saw spots, so I stopped for a few minutes, and went about my sweat. I attribute this to a full size lunch, instead of a light snack.

Beginner yoga: More explanation and assistance with poses. Nice, once was good, maybe twice, than onward and upward

Private Beach yoga: Seriously, what needs to be said?

"Hot" or "Bikram" Yoga: 105 degrees, 90 minutes, 26 poses. I'm not there yet. I have a groupon for the only place in town that offers it. Unlimited classes for one week followed by 5 drop in sessions. I'm going to need some more classes before I feel ready.

Yoga = Very Good. Will get better with weight loss and giant gut reduction.

*******************

Finished 1/4 marathon Sunday 1:41:54 Not a land speed record, but I was pleased. My split for the half way mark was 45:55, which made me very happy. I think that would be like a 43-44 minute 5k, which was a goal I had set. I was pacing myself, so I think my new 5k goal is 40 minutes.

I got a cool medal. I got a less cool mega ouchy inner thigh rub abrasion that is just now starting to heal and has kept me off the treadmill and out of anything that makes my legs rub together.

I felt accomplished. Goal set, work done, goal met. WOOT.

****************

I'm thinking about not doing the Vegas Half, which is basically the same as saying "I'm feeling selfish." It isn't about the training, it is about money, honey. The airfare to Vegas is getting so pricey, plus lodging, plus the fee for the race, plus meals out and all of that stuff... we could take a cruise for the same price. Grad school + a job + a side job = vacation very important.

I'm leaning toward cheaper half (keep the goal) and spend the money on a mellowing out vacay. There has to be a way to make it a win win, I hope.

**************************

Still debating the swim team.

The pros:
Serious cardio workout
Weight loss
I like swimming

The cons:
$150 a quarter (on top of what I already pay for a gym and yoga Groupons)
0545 (yes, that's 15 minutes before god-awful hour of 6am, puke) workouts MWF.
0830 workouts on Saturday













Monday, August 29, 2011
It's true. For a minute there, I felt like Wonder Woman. I didn't feel like that weird, badly dressed new Wonder Woman that lasted for like 2 episodes, I felt like the grande dame of all Wonder Women, Lynda Carter. The one with the swanky gold lasso and, unfortunately, the lame little sister when the ratings started to tank.

Why did I feel like Wonder Woman when I've been pretty vocal about feeling like regurgitated cat food? Because I'm faking it. Big Time. Fake fake fake fakety fake fake fakalicious faketopia and then it wasn't fake anymore.

I feel like utter cornpoop. I feel depressed, sad, mopey, lacking in energy, blue, poopy... however you want to describe it. I personally like "Eeyorey" but that's me and I make up words like it is my job. Feeling Eeyorey this last week has been somewhere between suckalicious and sucktacular, but I decided to fake it anyway. I have scheduled vegan-taco-and-candlelight-yoga-Tuesday with my friends (seriously, if I didn't know I was drain bamaged before, I was sure after that brainchild hatched from my noggin).

In the interest of complete honesty, I may have slipped in a genuine smile once today--when I found out that the Oxford Dictionary officially added "woot" and "buttload" to the lexicon.

I keep fake smiling even though I'm not really interested in smiling: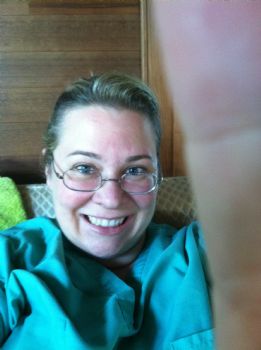 I'm not sure what makes that picture cooler, the fact that I captured my finger so well, or the fact that my eyes look like they are intending to cross!!

But all the fake smiling doesn't change the fact that the world is still in danger. Anyone without an ark should be afraid. Afraid of me accidentally seeing a Hallmark commercial or stumbling across any programming that premiers on the Lifetime Network. Seriously, I feel like I'm on the brink of tears most of the time. Needless to say, I'm desperate for this PMS to be over. I want to get a freaking grip.

In the meantime, I'm refusing to allow FatJenn to wallow in misery and self-medicate with a buffet of Amish-Italian-Chinese-American-Food-With-C
andy-and-Real-Whipped-Cream. Nope. I went to the gym.

Today's not too naughty but comforting dinner (vegan buffalo wings, broccoli, cauliflower, brussels sprouts, avocado) in lieu of aforementioned buffet: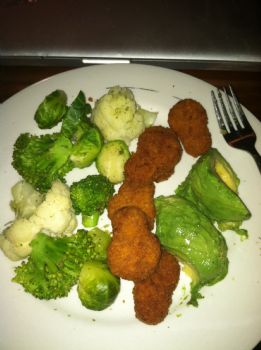 I told myself I didn't care how fast I went, I was going to walk for 4 miles. I was going to make up for sleeping through my first hot yoga class yesterday. The one that I had been looking forward to for a week(I got home at 9am after a 24 hour shift, and the class was at 11:30). I wasn't going to C25k, I wasn't going to worry about time, I was just going to watch a movie and do my miles and get through it.

Anti-FatJenn had other ideas. I set a PR... 4.45 miles in 65 minutes (60 plus cool down). But that's not it, that pleased me but didn't not make me feel all wondertwin power activated. You see, I feel like a million bucks when I crank up the speed to 5.5 or 6 mph and RUN. Not a jog. Not a trot. A run. A shoulders back, arms pumping, chest heaving, knees up, feet are a pounding run. I had the tunes rockin** and for about a minute I felt like the queen of the world.

I was sprinting.
I felt energized.
I felt powerful.
I felt fast.
I felt light on my feet.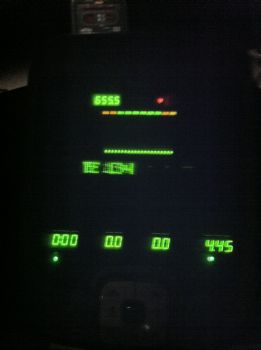 Right now I can only be Wonder Woman for a minute or two, but I certainly have a goal to look forward to...
being Wonder Woman for 15 minutes... or 30... or 45.

I'd be lying if I said it didn't feel really good to be filled with joy and an overwhelming urge to smile, even if it was fleeting.

Sometimes I wish I could see a video of myself running like that, just to see if I look as awesome as I feel.

**My favorite sprinting song is a wonderfully obscure tune from the 80's movie Vision Quest, which, ironically enough, is about a guy trying to cut weight. Shout to the Top by The Style Council. Maybe it is because the tempo is perfect, or because I remember how Matthew Modine runs like the wind in the movie, but it works for me.

Cheesy 80s video can be found here: http://www.youtube.com/watch?v=GDfDvZUNjkc





First Page
1
2
3
4
5 6 7 8 9 10 11 12 13 14 15 16 17 18 19 20 21 22 23 24 25 Last Page

Get An Email Alert Each Time JENNSWIMS Posts