| | |
| --- | --- |
| | JENNSWIMS's Recent Blog Entries |



Thursday, August 25, 2011
So I'm struggling.

My new fancy yoga mat, my lemony gifts to myself and all the wishing in the world can't change that.

Random FYI: I will probably be talking to the girl at the gym I wrote about last week. I will do it on my terms, when it seems natural and appropriate, and not a moment sooner. I think she deserves to know that she inspires me. I think she deserves to be told this information in a way that does not hurt her feelings or make her feel weird. I'm not going to run up to her and gush. I'm not gushy.

I have a history of clinical depression, which runs in the family. In fact, it doesn't even skip a generation, going back to my great grandparents. Ask me how I'm doing in February, when the Seasonal Effective Disorder hits, and I'll tell you that I need a vacation somewhere very sunny.

I'm the girl who almost made a nursing instructor fall off the stage thingie laughing when she heard me say I was having the breakfast of champions-- 50 mg of Zoloft and a Mt. Dew.

I haven't been on meds for almost five years, but I still know when the symptoms are present and increasing in severity. I keep a close eye on it. I'd be more concerned if it wasn't for the fact that my phone told me my period should start in two days. Yes, there is an app for THAT. So it's PMS with a wee bit of a tendency for depression thrown in. That realization is kind of a relief. It's hormones! It feels the same as regular depression, but it should pass in a few days. Yippee! Not.

I haven't been motivated, I've been over my calories and under on my exercise. I've been good about eating vegan since Tuesday, after taking the day off on Sunday to enjoy the bridal-fest that I spent a month putting together.

Bride-fest in Photos--WARNING, food porn ahead

Dessert Buffet: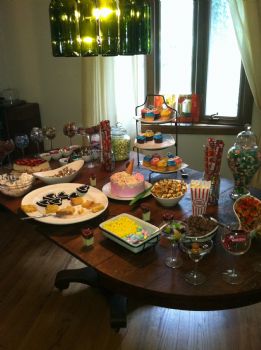 The gourmet popcorn--vanilla butternut, pistachio, regular, white cheddar garlic and bacon cheddar:


The cake Cheffrey made: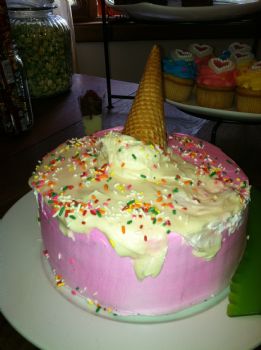 The cheesecake Cheffrey made: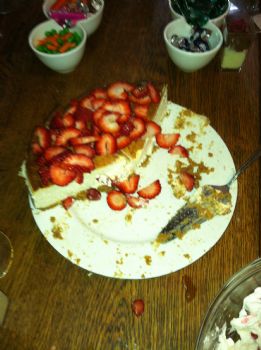 Gourmet coffee and tea service, including red, heart-shaped sugar cubes: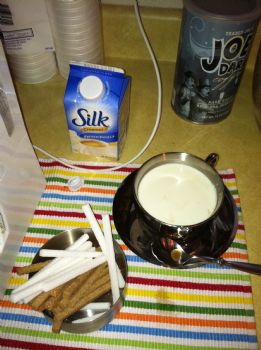 Ice cream station: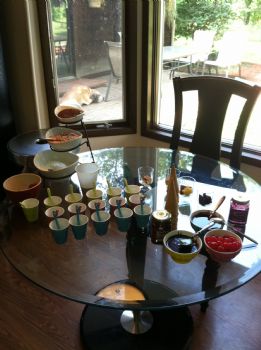 Adorable cookies that look like popcorn: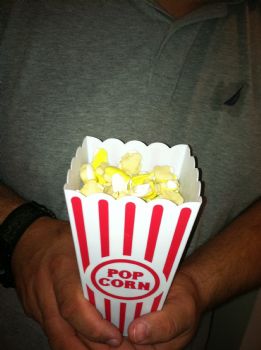 The crowd of people, some of whom invaded my inordinately large personal space, and led to me driving away from the party for ten minutes like a total OCD freak: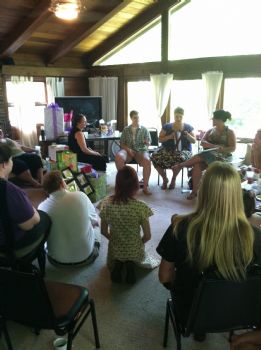 My son, hiding outside away from the crowd, like an OCD freak. Clearly, there is a genetic component: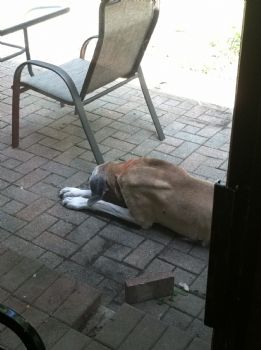 Two days ago I gained over 10 pounds in a day, ended up with pitting edema in my legs and my previously roomy pants were digging into my skin and leaving marks. That ticked me off. I drank 3 liters of water trying to make it go away, and I drank them in 2 hours, and I still didn't have to pee. It's better now, but not 100% gone.

Pitting Edema:



Work sucks. The day that I was dreading ended up being worse than I had anticipated, although completely different than expected. Work just keeps sucking and I worry that I'm going to have to go quality of life and forsake the fundage, because I am sick to death of 24 hour shifts and some other things.

Dinner during my last shift: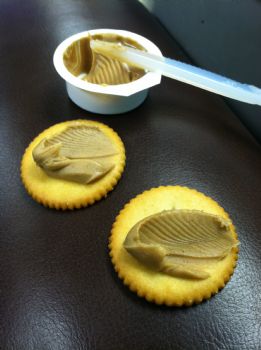 I'm pissed off about grad school, which starts next week and was sold to me as a three year program. Now, with classes starting in less than 10 days and tuition rates making me feel like I'm hemorrhaging money, they are saying it may now be a four year program. This is making me a level of pissy that takes a serious effort to obtain.

I'm one of those people who takes a great deal of effort to seriously piss off, but once you do, watch out. They are on my last nerve and grating upon that last nerve like the year my sister played A Johnny Mathis Christmas every single day, over and over, until a day in June when I put a scratch in that album so deep it was unplayable. By accident, of course.

I know I feel better when I eat vegan, exercise, get enough sleep and take care of myself. It's a fact. So why am I struggling so much to do these things? It's simple. A + B = C. Eat right + exercise + enough sleep = Happy Healthy Jenn. So why am I struggling so?

Today, frustrated, I invoked every happy, motivating, positive, uplifting, motivating thing I could think of.

I ate at my favorite vegan joint, Loving Hut, because I always get food glow when I eat there: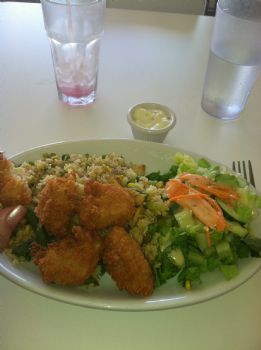 I took a nap.
I booked an exercise date with a friend for today at 7pm.

I loved the food, didn't get the nap due to constant phone calls from work and text messages from people who freaking knew I was trying to take a nap, and at 6:45 my friend bailed on the exercise. I almost went back to bed. But I didn't.

I invoked the power of mother nature, and went for a walk at a local park, thinking that the nature, fresh air, yadda yadda would help remind me how much I like exercise. It was ok. I walked 3 miles and got a reminder that until I can outrun most people I need to be more careful about when and where I walk. The two men walking the trail I was on were not, uhm, interested in girls, it was still a timely reminder that nature walks need to be taken judiciously. Be safe, my SparkPeeps!

Why do I always look all boogley-eyed in my self portraits? Hrmmm.



I was walking kind of, uhm, slowly. Sloth-like even. I tried to invoke the high priestess of exercise tunes, The GaGa, and that helped a bit. At one point I spontaneously broke into a run, which made me smile.

Back in the car and still feeling down and failure-like, I went to my higher depression power. I rolled down the windows, opened the sunroof and with the Bose set for nosebleed, I sped around listening to In The Evening by Led Zepplin. (In case you are wondering... www.youtube.com/watch?v=Vg6MIuXrFf8 ) Nice, and amongst the top tier of classic rock depression relief, but I still felt depressed. Then I went for the gusto... Long Cool Woman (In a Red Dress) by The Hollies. (Remind me to tell my Graham Nash story one day).

It is hard not to smile when listening to The Hollies. www.youtube.com/watch?v=lP94PlEtsEQ

I still feel like Eeyore. I will be eating vegan if it kills me these next few days, because I don't need to take Advil every four hours for cramps if I do. Excellent incentive, don't you think?

I am desperately searching for my motivation, and I will fake it if I must until it magically leaps back into my body. I've scheduled beginner yoga for tomorrow, heated yoga Sunday and candlelight yoga for Tuesday. I'm particularly intrigued by the idea of yoga done for relaxation by candlelight. Mmmmmm.

Anyway, I am posting this. It sounds whiney and depressed, but weight loss isn't all hearts, chocolate and flowers. This is me, this is who I am, and this is what I am struggling with. I'm a real person who gets overwhelmed, down, fails to go to the gym, eats too much, gets tired after working 24 hour shifts, etc. This is my life.

My coworker's butt, while he tries to fix his powerstrip under his desk. Why? To prove I haven't totally lost my sense of humor.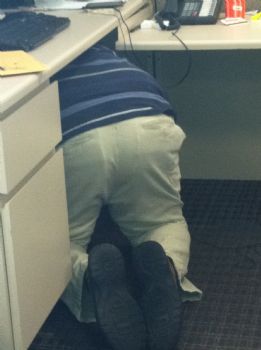 And this random thing, found in the juice aisle: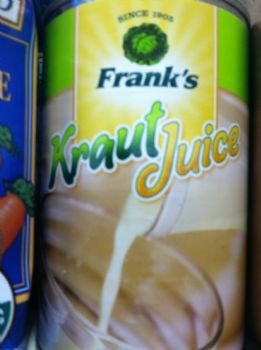 Friday, August 19, 2011
I have a tendency to let my hair and caterpillars (eyebrows) go. The man hair on the chin bugs the crap out of me, so I stay right on top of that, and the legs too, since I'm in the pool a lot. But the hair, well, the hair totally gets hosed in the grand scheme of things. Part of it is ectoplasmic residue from the days of FatJenn.

It always felt like trying to make a silk purse out of a sow's ear, so why waste the money? I'd get a trim every six months whether I needed it or not, and scrunchies are much cheaper than highlights. Wash, rinse, ponytail, repeat. Simple enough, right? The other reason? Jeezum H Pete on a Crispix, getting the maintenance work done on this head of mine is like a car payment.

Well, since my "makeover" in May I've been trying to keep up on my personal appearance stuff. Nails, those I've done well with, hair, well, let's just say I was behind on root maintenance.

Today I took care of me. I didn't work today at either job, instead I took myself to Pei Wei for a vegan yummy lunch, got a cut and highlight, then I went to the mall for my 35, 40 and 45 pound loss presents, the nature of which I had not yet determined. Next time, they will be predetermined because letting me loose without clearly defined objectives on payday is NOT SMART. Not smart is also known as "this doesn't help me with the nightmare commonly known as paying for grad school out of pocket"

L'Occitane, also known as my lemon-verbena-scented-crack-dealers, won. I got myself a new bottle of their lemon verbena (you're shocked, aren't you?) perfume, some lemon verbena hand soap and some shower gel. Yes, the shower gel was, in fact, lemon verbena scented. Not bad for presents to myself.

Unfortunately, I went into a new store after the lemony crack dealers, and they had something I've been needing. Yoga stuff. Lots of it. Awesome yoga stuff. Fantastic oodles of it. The sales staff, who were all sporting yoga clothes on their AMAZING bodies, were very nice. Super nice. Genuine, oozing good health, arms like Dara Torres and super nice. Byotches! No, actually, I heart them. I will be going back.

They sold me what I came in for (a towel to make me stop slipping on my own sweat in class), then talked me out of it because it wasn't what was best for me, then sold me what i needed (a mat so slip resistant it should even work in hot yoga, and my money back if it doesn't) and then they invited me to free yoga classes.

So, the new swanky mat will have to be my 50 pounds lost prize, which is a good thing, as it cost almost as much as my 35, 40 and 45 pound presents combined. Yes, it is true that I'm only at 46 pounds, if you want to get all official-like, but I don't care, I'm keeping my new, sticky, overly expensive, sky/ocean blue yoga mat that was sold to me by goddesses. Period.

I'm hoping my Mom will take a yoga class like she has been saying she wants to do, and I can give her my used only twice lovely purple yoga mat. Maybe she won't sweat like a pig like her oldest offspring.

I am totally lacking an interesting segue way, so on to the next topic plaguing my brain. I have a spectacularly craptaculacious day planned at work tomorrow. You wanna know what's really sick about it? I volunteered for it, to spare my coworkers the horror, and because i know I can handle it. I expect it to be the kind of day that makes people quit jobs after they cry and self-medicate with copious amounts of top shelf alcohol. I don't talk about work here, and have no plans to start, other than vague references to medical crap and nurseyness, but tomorrow is going to suck Rocky Mountain oysters.

Tomorrow isn't even here yet and my stress level is through the roof. Poor Cheffrey, he isn't even home yet and I'm taking it out on him via text. It totally blows being married to me. I'm thankful to Spark for giving me a place to vent instead of eating my feelings. I'm sure Cheffrey is too, he just doesn't know it. (I don't let him read my stuff here, I won't even tell him the full name of the site. If I want to share something with him, I read it aloud, even though I HATE-LOATHE-CANNOT STAND being read to by anyone other than a professional book on tape reader. Yes, I am a hypocrite.)

This is a new for me, to actively look for a positive outlet, to think, "Wow, I should blog, I can feel myself getting upset and I know I'm not hungry so why is the entire jar of Krema spicy peanut butter in serious danger?" (Krema.com and yes, it is fantabulous). FatJenn (registered trademark pending, haha) didn't even recognize the stress for what it was and just started eating. Now, I identify it, squelch the urge to feed it, and look for ways to distract or cope.

This is a good thing, and not a Martha Steward catch phrase b.s. good thing. It is a genuinely good thing that is life-improving. Yippee!

So, to continue the trend of aimless rambling, I thought some photos would be lovely, although "after" kind of looks more like a "before" pic.

New hair. I don't know why I always take my self portraits in the car, I just do:



New hair after 5.33 miles at the gym: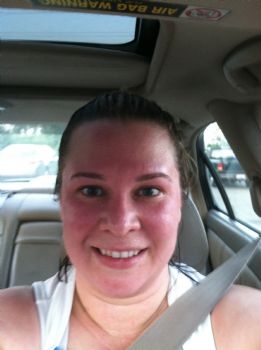 Nails, which I think are coming along nicely: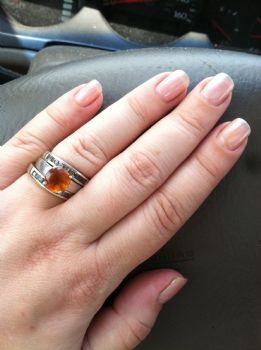 Tuesday, August 16, 2011
There is a woman at the gym that most people probably notice, but not for good reasons. No, she isn't the supermodel that I wrote about a few months ago, the one who was so gorgeous that it was hard not to stare. In fact, aside from being tall, she doesn't have any supermodel attributes. She's a very big girl.

She's taller than me, probably close to 6 feet tall vs my 5'9".

She's heavier than me. She's probably got me beat by 100 pounds, and I'm not petite at 265.4 pounds. Her belly is bigger than mine. She's easily in the size 26/28 range and I'm graduating into 22's and some 20's.

She isn't afraid to sweat, the girl works hard and gets all glowy, as they say. I'm all about sweaty, I love it.

She looks like she may have had gastric bypass surgery or she has already lost a considerable amount of weight, because her skin is floppity (that's what we professional surgery writers call it, floppity).

She has great hair, but I think I have pretty great hair, too so we are even there. She is usually smiling, and I could lie to you and say that I smile when I'm working out, but I think that might be a big, obese lie.

I don't think she can run, but she does well on the elliptical, which I hate with the fiery, burning passion of 1,000 exploding suns.

She never does that leaning over the machine hanging on for dear life thing that irritates me beyond all reason, so she's totally cool as far as that goes. She's someone who doesn't work your last nerve by hitting one of your pet peeves, if your gym peeves include a) people who don't wipe off equipment and b) people who cling to cardio machines.

I know I'm supposed to admire skinny chicks with lips like Angelina Jolie, boobs like Pam Anderson, legs like a Vegas showgirl and abs like a washboard, but I admire her. Yes, I admire the morbidly obese girl at the gym. I'm a fan girl in an obnoxious star-studded movie premier "squeeeeee" kind of way.

Like a groupie in an I can't believe I work out at the same gym as you because you are so fan-freaking-tastic weirdo kind of way. I want to run over to her machine and gush and tell her how awesome I think she is and try not to scare her in a stalker-esque kind of way. I'm telling you, in a rambly dorkish kind of way, I'm a serious admirer.

I've never talked to her, I'm afraid I'd scare her with my over the top rambling about how awesome she is. I don't know her name, and I'd say we are the same age, but that is just a guesstimate.

Seriously though, how can you not admire someone who is at the gym EVERY SINGLE TIME you go the the gym? Someone who religiously does what they know they need to do? I'm serious. If I go to the gym in the evening, she is there, sweaty and working hard. I have NEVER gone on a weekday evening and failed to see her. She is like a workout machine. Like clockwork. Doing cardio or strength training and doing it like she means it.

I admire her and she's never going to know it, because much like my personal policy of not talking to the people gripping the cardio machines for dear life, I'm never going to say a peep. Still, I wish she knew. I wish she knew she wasn't just another fat girl at the gym and that someone at the gym really thinks she is the bee's knees.






Monday, August 15, 2011
I had a plan. All of my horror stories start that way, with a plan. What's that saying about men plan and God laughs? Like that, that's how my plans go. Badly. Yet still I persist in the planning. Silly Jenn.

Today I had a plan. I was going to do my C25K, then I was going to do strength training class, and then I was going to swim so I wouldn't be sore tomorrow.

I arrive at the gym. Oops, forgot swim suit. Never fear, I can still C25K right? Nope, because I cut my time too short before weight class, so I will just warm up on the treadmill and call it good. I was making a sincere attempt at being the very soul of exercise flexibility, which, if you know me at all, is NOT like me. I'm kind of Type A on very, very rare occasions. :/

So, .75 miles as a warm up, nice and brisk, and off I go to weight class. Except it is ending. I can't read my calendar on my phone, apparently, because class started at 6pm, not 7pm. Again, I am determined to override my all or nothing usual self (which would have gotten in the car and gone home at this point 3 months ago) and I'm going to get some sort of workout if it kills me.

So I got back on the treadmill.

I didn't give up because my plan was FUBAR (incidentally, FUBAR is one of my three favorite words that used to be acronyms, including SNAFU and another word that starts with F and ends with CK that I'm not allowed to use here.)

I digress, as usual. Anyway...

It took 18 weeks.
Almost 100 miles on the treadmill.
1/3 of a year.
120 Days... whatever you prefer.
It doesn't matter how long, just know that it took a lot of freaking hard work.


But I did it. I finally reached my "4 miles per hour for an hour" goal. Four 15 minute miles back to back. Actually, I was slower the first half and did the back half faster, because I was determined to finally smash that goal. Whodathunkit?

All or nothing thinking and I would have been in the car and back at home after merely warming up. Progress not perfection thinking means I finally met a goal that has been HUGE for me. A goal I have thought about every time I went for a walk or went to the gym.

I feel... I feel (searches for a word in her memory banks) I feel accomplished.

Now I know for some of you runners 4mph doesn't seem all that fast, but one day the goal I reach will be 6 or 7 mph, and that will be freaking fantastic and fast.

Now I have to come up with a new goal!










What's your newest goal?






Sunday, August 14, 2011
Dear Self,

After having only a tiny smattering of dairy for the last 17 weeks your body has changed. Having a steamed milk with vanilla syrup last night, no matter how low in fat, was a very bad idea.

You have a textbook case of lactose intolerance. The nausea, gas, and other symptoms not to be mentioned in polite company are the proof. Please do not have another glass of milk unless you enjoy saying things like, "Is it wrong to pray to barf?" and "milk is the devil's brew," and "I better take the Kindle or a magazine to the bathroom with me this time."

Sorry, Sweetpea, but avoiding dairy is no longer a weight loss and health strategy, it's an anti-barfville reality of life. Yes, you can mourn brie, bleu cheese, heavy whipping cream and cream cheese, but please don't embarrass yourself at the fondue restaurant with your sniveling.

Sincerely,

Your Gut


In better news, my Mom was in town this weekend and I didn't go to Cheesecake Factory. Saturday I was off plan (baby shower) but not off the rails. Yippee! On Friday we had dinner at this local vegan joint (a chain) called The Loving Hut. lovinghut.us/ Very yummy. I had pepper steak and if was fully orgamalicious.

Tomorrow, I am recommitting to exercise and counting every morsel. I have been sucktacularly pathetic on the exercise front. Time to get back at it and keep moving forward on my C25K. I'm utterly flabbergasted that I've been able to get to Week 5, doing Run 5 walk 3 Run 5 walk 3 Run 5 successfully. If you had told me: a) what I weigh today b) what I can do for exercise today and c) how I feel way back in March, I would have thought you were a) a compulsive liar or b) making fun of me.

Anyway, C25K... I'm making progress, taking longer than prescribed but I'm ok with that, but here's the thing, the next day following 5,3,5,3,5 is supposed to be run 8 walk 5 run 8 and the next day after that is supposed to be run 20. Uhm, have they lost their freaking minds? That seems a bit steep in the way of increasing run time.

Is the intention to have me start to pass out on the treadmill, stumble and get flung to the floor by the treadmill belt? Is the idea to see if anyone who goes to my gym is able or willing to perform CPR on me? That's what it sounds like to me. My goal is to improve, not to perish.

I am going to repeat W5D1 (5,3,5,3,5), do a strength class, then I'm going to go for a nice, relaxing, slow swim. It will be fabulous.

Random factoid: I swim the same day as a tough workout and it works extremely well as a soreness prevention.

If you were wondering, I come by personality genetically. Here is my grandmother at the bridal shower: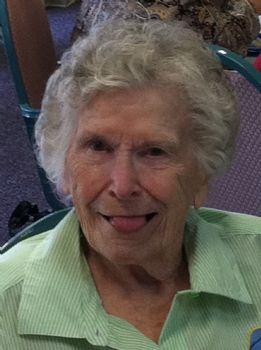 First Page
1
2
3
4
5
6 7 8 9 10 11 12 13 14 15 16 17 18 19 20 21 22 23 24 25 Last Page

Get An Email Alert Each Time JENNSWIMS Posts