| | |
| --- | --- |
| | JENNSWIMS's Recent Blog Entries |



Thursday, August 11, 2011
I have a big mouth, but, luckily, I can, on rare occasions, keep my mouth shut and just have an internal monologue that can only be heard by me. Cheffrey would probably say otherwise, but I really can stifle my urge to say things that should remain unspoken.

For example, when I see people slumped over the control panel of the stair-stepping hamster machine, clinging to it for dear life, I am capable of NOT walking over to them, telling them they are totally screwing it up. I just go about my merry gyming.

I also feel the need to NOT inform people when they are half-assing their workout. This is reason #452 why I am not a personal trainer. I couldn't possibly NOT tell people when they were working out in an assanine fashion. I also manage to keep my mouth shut when people lift weights too quickly or stretch in a position that could lead to a need for a total knee surgery when they are 55. Shocking, isn't it? Captain Lippypants keeps her trap shut on occasion.

Don't even get me started on how some people do sit ups and crunches. Seriously, if you are going to make the effort to come to the gym, get in your gym clothes, and work out (hello, 90% of the battle won at this point) why do they blow it doing it wrong?!?

It's a good thing that my desire to not be noticed at the gym is far greater than my overwhelming need to be right all the time and my driving desire to talk too much. I'd probably get death glares, middle fingers and nasty comments. It would go something like this:

Me: Seriously, let go of the death grip on that stepper. It didn't do anything to you. Stop strangling the defenseless machine. Slow down if you need to, stand up straight, your body will thank you. Your back surgeon will have to find another person to finance his kid's college fund.

Stepper Person: I don't see your fat ass sweating, who do you think you are?

Me: Well, I couldn't do the stepper without dying, but that doesn't mean I can't tell you aren't doing it incorrectly.

Stepper Person: I'm thinking of a specific finger that I would like to show you now.

I have lots of good advice percolating in my little brain, I just don't dish it out very often. I think the advice most people give stinks, and I don't want to be lumped in with that, even thought my advice would clearly be the most awesomest free advice EVER. I get better advice here than just about anywhere, just FYI.

For example, I have friends (I know, shocking, isn't it?) who have both had gastric bypasses. They have had pretty decent results overall, even including the additional surgeries they have needed since the original procedure. They have encouraged me to see a doc and see if I qualify, even though I say it isn't for me. I LITERALLY wrote a book about recovering from weight loss surgery, I will not be having it. Not for me. Yet this advice keeps coming. Enough already. Really.

Eat more chicken. Seriously? While I'm not a vegan, I do eat vegan about 20 out of 21 meals a week. 33-34 out of 35 if you count snacks.

Work out less. Really? I get the whole idea of a day of rest, and rest isn't my problem. I rest too much. Not working out enough is my problemo--not running ultramarathons on weekends, K?.

Eat more, starvation mode is trying to ruin your life! Erm, not so much. Studies have shown that even in full starvation mode, which is nearly impossible to obtain if you have your free will and do not have an eating disorder, your metabolism only slows 10%. Check out the medical literature. Besides, starvation mode, even if it exists, doesn't happen when you average about 1,400 calories a day. Really. Now, let's be clear about this, you eat too little for too long and you will go off the rails, snarf everything in sight and feast on food until you oink at the end of your sentences. Eating too little bad. Eating too little bad for many reasons, but starvation mode isn't one of them for me right now. K? Your mileage may vary.

Organic and natural foods are a waste of money. Some of them, maybe. There are companies who play fast and loose with labels and such, I will fully admit. However, I feel better when I stay away from processed foods, corn syrup and soda and stick with the more "clean" stuff. What harm can it possibly be to eat more organic stuff?

So, what's your best piece of Spark advice... or conversely, the worst advice you've been given while trying to drop some weight?









Wednesday, August 10, 2011
So my normal weight loss goes like this (TMI, Danger, TMI!) I gain a few pounds of water, have my period, torture my husband with my grumpy personality, lose a few pounds over and above the PMS water gain. Then I don't lose anything and get all wound up. Then I ovulate, torture my husband by being cranky, then I lose a few pounds, repeat. I lose weight twice a month for all intents and purposes. I figure this weight loss is timed to function as my reward for being female and having to deal with things like ovulation and PMS. End of TMI alert.

So what has changed over the last few months is that I no longer post a whiney blog about how my weight is not changing despite all I do, because it will right? (Although I will say that writing a whiney blog about not losing weight seems to be the best possible way to get the scale to move. I whine, then the next day, bam, a loss, and usually 2 pounds to make sure I really look dumb and impatient.) It's kind of like how taking a big bite of food is the absolute best way to get the server to come to the table and ask if you need something. I believe that the larger the bite, the higher the likelihood that: a) the server will come right away and b) you will need something that you cannot express with hand signals.

So, back to regularly scheduled programming, why isn't the freaking scale moving? Oh right, my fingers are like little sausages, my exercise has dropped off and I need to drink a ton of water, but I don't want to because I'd like to go to bed and not trip over a great dane or two, some decorative rubber duckies, a pillow, a shoe that I couldn't be bothered to pick up and kill my blind self on my sixth trip to the bathroom. I guess the Great Pee Fest 2011 will have to wait until tomorrow when I want to be wide awake for a few hours.

I'm working on it. Drinking water. More drinking of water to commence tomorrow.

Life has been getting in the way of exercise. By that I don't mean my "oh I don't feel like it" break day, I'm talking about a full on inability to get the exercise in that I would really enjoy doing. I miss my kickboxing classes when I don't do them. I miss yoga. I miss sweating. I miss that healthy exhausted euphoric feeling when I can't bust some booty on the human hamster wheel.

I'm working on getting that feeling back. Last seen Monday, hope to find it tomorrow. Sweat, my skin misses you.

Yesterday, I worked a 24 hour shift, errr, well, darn close. Went to work at 0715 and got home around 0630ish the next day (this morning) so I was awake like 26. That officially eliminated any possibility of working out. I'm serious about getting fit but I hate stairs with a passion and aside from walking stairs for five minutes to cram some activity in my day, I was hopelessly unable to exercise.

I'm working on it and sincerely hope life will quit getting in the way of forward progress.

I'm one measly stinking annoying pound away from having lost 25% of my goal weight and the scale isn't moving. On my list of 176 reasons to lose weight, this one pound would get a really important reason, like no longer worrying about peeing when I sneeze. I never actually did pee when I sneezed, but it seemed like something that was going to start happening when I was at my peak weight.

I'm happy to report that I sneezed yesterday for 16 freaking straight hours, despite taking every non-drowsy anti-sneeze medication available in the pharmacy at a major hospital, and did not piddle. Not even a wee little piddly drop. I sneezed so much that my skin around my nose is chapped, I look like Rudolph the Red Nosed Run/Walker and my nose hurts to touch, but I did not wee in my knickers.

So I am celebrating, but kind of ticked about the whole thing. It is one stinking pound. I should have gotten a freaking lose 43 and get 1 free coupon. It's like the clock stopped moving forward the night before a weekend getaway. Are we almost there yet? Are we almost there yet????

Even with the last pound to a major goal being incredibly stubborn and not magically melting away without benefit of exercise (I exercised Monday... 7 miles, so it isn't like I'm totally slacking) I'm jazzed.

I'm back to 2004/2005. I went on Atkins (first and last time) and got stinky breath and lost something like ten pounds then. That's what I weigh now. WOOT WOOT! It's kind of fun to relate weight loss to dates and the last time I weighed that much. I've now blown past "wedding", "engagement", "graduation" and "starting school as a grown up Take One".

I'm working on getting to 1997... Onederland!!

I think 13 pounds is the most I've ever lost before going off the rails. Weight Stalkers, Jenny Carton of Food, 10% fat diet, Cabbage Soup Fart Diet, etc etc and it never worked. This is working, so I think acknowledging my own victories occasionally is really something worth working on.

I need to buy new scrubs for work. You know you've made progress when you have to replace clothing that is shapeless and has a drawstring by design. I need to buy work clothes, too. I haven't even started working on that. I could write a novel on how much I loathe clothes shopping. I hope that changes as I shed the poundage.

Saying goodbye to the old 2006:



What are you working on?

















Saturday, August 06, 2011
Since I've pretty much given up caffeine in its entirety, I really know it when I've had some. I indulged today. Ice tea. Giant. With Lemon. I'm like a cracked out lemming when I indulge. Or whatever small rodenty-type creature is full of energy, bounces off the walls and is spazzy. I think that makes me a hedgehog, now that I think about it. My thoughts are spazzy, too. Oh look, shiny things!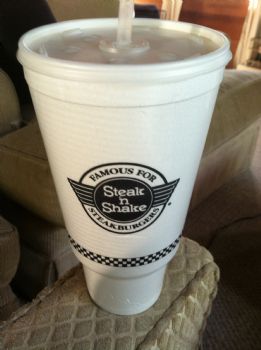 I read something yesterday that said look at your skinny friends, they are probably fidgeters. I guess a really hard core fidgeter can burn upwards of 500 extra calories a day with their foot tapping, wigging, pen tapping etc. Of course, the people around you will want to stab you with your tapping pen, but my point is that being spazzy from caffeine makes me fidget and that may be a good thing. If I drop four pounds today, I will convert to the ways of fidgeting post haste.

Hosting a bridal shower where the food will be a dessert/candy/ice cream buffet for around 50 is in my plans for the month. Having enough candy in the house to make an entire herd of adults (aka my friends' friends) get all cracked out is seriously tempting and makes things challenging. So far jordan almonds, haribos, dots, lemonheads, licorice, peanut butter cups, candy bars and chocolates zero, Jenn one. I have not succumbed! I will not go quietly into that good night, nor into that room filled with candy.

I have an experimental table set up just to see if it will work, and to not-so-subtly torture myself for the weeks leading up the the bridal shower.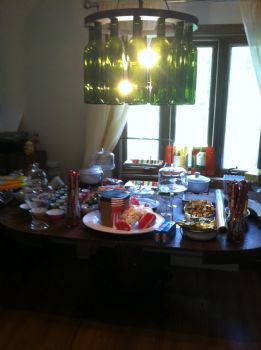 My physical fitness plans and the realities of my life don't always mesh. I am really working at having a life and being true to my goals. For example, when your workaholic hubby says, "hey, let's go for a bike ride tonight" it seems absurd to say no because riding the bike will burn less calories and my heart rate won't get as high. Why the heck would I get fit if it doesn't allow me to have a better quality of life and live longer? Doesn't riding a bike with Cheffrey instead of slogging along on a treadmill count as better quality of life? Leave the incredibly sore butt argument out of this debate, s'il vous plait.

C25K is going well. I am repeating week 4 like I repeated week 3, but I think that is to be expected when you weight nearly 270 pounds. The fact that I'm doing it at all feels like an amazing accomplishment, so what if it takes a few extra weeks.

I'm going to be doing the Rock n Roll Vegas Half. My request for time off from work was approved, so I will be doing a half marathon down the strip at night. The view alone makes it worthwhile. I am trying to talk people into going, we could have a Spark meetup! Maybe at a buffet, since it can easily be justified after a half hahahaha.

I tried a new restaurant today. It is a small chain, called The Loving Hut, lovinghut.us/ and the food is 100% vegan. I'm a total foodie (I'm not a food snob though, as evidenced by my unholy love for all foods that begin with tater and end with tot, but I probably am a water snob) and I thought it was seriously tasty, even without the "it's good for being vegan" qualifier.

My fridge has lots of Evian in it. This makes me incredibly happy and makes me feel spoiled. The stuff is only slightly less expensive than drinking sips of fermented unicorn pee or Dom Perignon, but I can justify it because a) Cheffrey buys it for me and b) it is still cheaper than my cigarette habit. I took a picture of the Evian, because I'm slightly obsessed with making the fridge neat and the sheer joy of not having to drink our sulfury well water and, well, I'm just a dork like that. It isn't such a bad addiction trade, is it?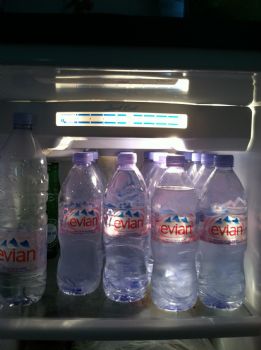 I realized I was wearing the same shirt as in one of my earliest photos the other day, so of course I had to take another pic.
Still over 300: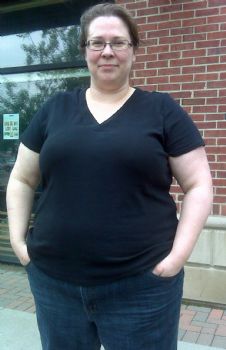 In the 260's: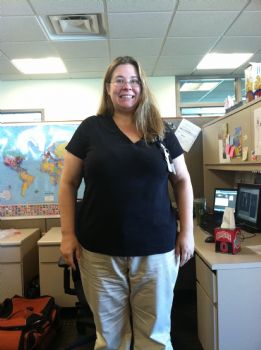 I'm declaring SparkBankruptcy, it is like email bankrupcty, when you delete all of your email and start fresh because you have no hope of getting through it all, but different. I can't seem to get caught up on thanking people for goodies, thanking people for commenting on blogs, thanking people for their support and I feel like an ass. So I'm letting go of the guilt and starting fresh. While I feel bad that I'm a crap spark friend, I can't keep up and it is unlikely that it will change.

If I feel guilty about it, I will quit coming here because of it. I've already been writing less because of it, so I'm letting go of the guilt and simply going with "i will do what I can". If you asked me a question and I didn't answer it is because I'm a sucky SparkFriend. Same for goodies. Same for comments. This is part of my "taking care of me" philosophy that I'm slowly adopting. We shall see how it works. Feel free to email me, I'm really good about that.

In other news, I'm becoming one of those annoying people who can only talk about a very limited range of topics including, and mostly limited to: weight loss, Eat to Live, exercise, fitness, the standard American diet, and weight loss, being mostly vegan without being annoying and weight loss. I think I'm going to have to put a rubber band around my wrist and snap it whenever I mention weight loss without being asked about it.

Oddly enough, I'm 24.2% of the way to my goal and some people still can't tell. Oh well, another 50 pounds and if they can't tell, it will be because they aren't looking.

I am annoying. I hate it. The only thing worse than being annoying is knowing you are annoying. Ugh.






Saturday, July 30, 2011
Confident.

I'm signing up for a quarter marathon on September 4th and I've been concerned that I won't be able to finish it in the allotted 2 hours. Today I did 5 miles in 78 minutes or 5.2 miles in 85 minutes if you count the cool down.

So I feel confident that I could do the quarter (6.55 miles) in 2 hours today if I needed to. i will only be quicker in a month.

I think this puts me on track for the half in December, too, if I keep at it.

I also feel confident (but somewhat less so) that I will lose more weight before my class reunion October 7th... 69 days or 9 weeks from now. I'm aiming for 20 pounds. Aim high, right?

What one word sums up how you are feeling today? Why?














Thursday, July 28, 2011
For the first time since joining Spark, I am not going to the gym because I don't feel like it. I would rather not, so I'm not. I got my gym clothes on, started to head to the gym, and just wasn't feeling it. So I went to the grocery store, got some dinner stuff, and drove back home. I could give you 50 reasons why I should have gone, and I could tell you 51 reasons why I didn't feel like it.

Yes, I'm the one who says treat exercise like it is your job. I also said the treadmill doesn't care if you want to be there or not. Your body doesn't give two rat's asses if your head is in a great place to exercise or if you are making yourself do it, the burn rate is the same either way. I believe all of those things. I'm still not going.

15 weeks and this is the first time I elected to flop out on the couch instead of treating exercise as though it is my job. 102 days. 42 pounds lost. 4,219 fitness minutes. 70.3 hours of exercise. I've slipped out of size 26 pants and into 20s. `

I have sweat like a pig. I have made an ass of myself in a room full of hardbodies. I have kept going when skinny chicks have bailed on a class. I have gone faster and harder when I wanted to go slower and easier. I have gone through at least 100 liters of Evian (a case of Evian a week is how Cheffrey shows his support, since I love the stuff and refuse to cough up the cash for it). I have worn out shoes with high impact exercise. I have had to buy smaller shorts and set other shorts aside. I've undergrown all of my running pants. I've gone through one Speedo and had to buy a smaller one. I've worn out my water mp3 player (see swimoutlet.com, yes there is such a thing) and I have bought pants, undergrown them and given them away and THEN gotten the credit card bill.

I've tried yoga, Zumba, water zumba, kickboxing, weight training and dance classes. I've gone from struggling to walk for an hour to week 4 of Couch to 5k and running for five minutes without stopping. I've done a 5k. I'm signing up for a quarter marathon in September and a half in December (Vegas baby, WOOT!) I'm doing a mud run in September, hopefully. I can swim for a mile and still be able to swim more when I'm done.

So while I feel a bit guilty about sitting on the couch and eating vegan tacos, I don't feel bad enough to rush off to the gym before it closes in an hour. I fully understand that I may lose less weight this week because I didn't go to the gym today. I fully accept the fact that I may carry some fat a few days longer because of my decision and I'm down with that.

Today I'm going to sit back, put my feet up, watch an episode of Eureka and take a look back at how far I've come in such a short time. Tomorrow is soon enough to resume beating my fat into submission and burning pounds for my October 7th 20 class year reunion. Tomorrow I will run, followed by a swim, and I will have that "my skin feels awesome because I just sweat out half a gallon of water" glow and a feeling of accomplishment.

Today, I'm sitting on the couch, but that doesn't mean that I'm not completely dedicated to the cause. I'm just having a lazy day and I may even sleep in tomorrow, because I can. Some day in the not so distant future people will really start to notice how much weight I've lost and that is enough motivation for me to get back at it.





First Page
1
2
3
4
5
6
7 8 9 10 11 12 13 14 15 16 17 18 19 20 21 22 23 24 25 Last Page

Get An Email Alert Each Time JENNSWIMS Posts