| | |
| --- | --- |
| | JENNSWIMS's Recent Blog Entries |



Wednesday, July 27, 2011
I'm insanely curious about most everything. When I was little, my Mom would have to warn babysitters, "if she asks you a question, you have to give her a GOOD answer. If you say 'because' or god help you 'because I said so' she will harass you until you give her an acceptable answer." Babysitters who didn't listen deserved what they got, if you ask me. :)

30+ years later, nothing has changed. I'm still a child in most respects and I'm still filled with an unnatural level of curiosity about the vast majority of things. Today, I am dying to know where everyone lives, since one of you mentioned Sydney (which I LOVE LOVE LOVE) yesterday. So if you are willing to share, comment, or put it in your status or blog title or something. Thanks for humoring me.

Since I'm asking you to share something about yourselves, I will share a random factoid about myself -- I had been on 5 continents by the time I was 22 and at that time my parents had never left the country.

My nosy knows no bounds! DISH! :)

P.S. I'm originally from Erie, Michigan, which is a teensy little town just over the border from Toledo.






Tuesday, July 26, 2011
My counter says I have 9 calories left. I skipped my workout. I ate more than usual. I worked out less than usual. I am a rock star of getting healthy.

I got a phone call no one ever wants to get today.

The hubby, who I harassed into going to the doctor, called from the doctor's office. Cheffrey was being sent to the ER because he was sensitive to light, his neck hurt, his head was pounding and his pupils were "fixed". He would not be permitted to drive himself, he needed to be driven there and he needed to go right away.

For the non-medical folks, this conglomeration of craptaculacious symptoms adds up to one very likely diagnosis: meningitis. The "fixed" pupils part adds a level of frightening that would be hard to express in words. Let's just say it's really bad.

I'm trained to think the worst. It is my job to think the worst. Oddly enough, all I could think of was the worst. Needless to say I about blew an aneurysm right there. I'm in the ICU of a different hospital, losing my sh!t, and I can't even leave to go pick up my husband and get him to the ER. He called a friend, who happens to deliver bread for a living, and got a ride in the bread van.

It took over an hour for my coworker, who, out of the goodness of her heart, relieved me so that I could race across town. By this time it is 1130, I haven't eaten, I am starving, but I was literally afraid to eat.

I was in such a state that I didn't feel like I could be trusted with food and I didn't want to stop long enough to get some anyway. One bite and I would eat everything. All the food that would fit, plus twice as much more. I felt like I was a bite away from flinging myself into a mosh pit of candy and eating my way out. It was safer to be hungry. It was faster, too.

I zoomed (this is my normal driving) to the other hospital. My husband was on his ER gurney, sitting in the dark wearing sunglasses. They snowed him with meds once I got there. No, that's not really true, they didn't just snow him, they gave him so many meds that he was plowed under like those unfortunate cars that you see on the news during the winter that end up with a block of snow and ice 3 feet thick around them.

How snowed/plowed was he? He snored through a lumbar puncture. I almost cried again, because I was so happy that he wasn't feeling a thing. If he had to have pain, then sleeping through it was fine by me.

He had to rest flat for an hour after the spinal tap, and he was happily snoring like a chainsaw on amphetamines, so around 3 I went to the cafeteria. I went a little crazy, getting lots of things, and my tray looked like it was for five people, but I was able to take a deep breath, eat slowly, eat as healthfully as one can from a hospital cafeteria, and stop when I was full. I nibbled. I ate. I did not shovel.

The doc gave me the good news that it wasn't meningitis an hour or so later. Cheffrey couldn't be bothered to wake up for the good news, so we let him snore through it. I was happy and thankful enough for both of us. He got some really good drugs and a no-work excuse through Friday, so all is good on the Western front. He should be back to normal soonish. He got discharged.

Off to the drug store. I did not buy the Haribo gummy bears of dreamy goodness, licorice, Cheetos, Death by Snickers candy bar, Toblerone yummy goodness, Doritos, Haribo gummy cherries, Haribo gummy worms , Haribo gummy frogs, Skor bars, Turtles or chocolate covered macadamia nuts while getting the prescriptions filled at CVS.

I felt like I was schizophrenic, I could hear their crinkly bags and wrappers calling my name as I walked down the aisle. I can tell you it is no accident that those CVS designers force you to walk through the aisles to get to the back of the store where the pharmacy is located. Just remember, it isn't paranoia if the junk food really is out to get you.

So I gave him his meds, fed him, helped him shower and put him to bed. Then I ordered my favorite on plan food for dinner. Szechuan Green Beans With Tofu, add Cashew and 2 Vegetarian Egg Rolls. Not clean (oil!) but vegan and filling and comfort food, which I wanted. I was pretty sure I could handle it, so I went for it, and I did very well.

Being on a plan doesn't mean I can't self-medicate with food, it means I need to eat consciously and cautiously. At least that is how I feel about it, and it is my journey after all. Chinese food is not the devil, gorging is the problem, and I didn't do that. I got the food I wanted, the food that was most appealing for both emotional and culinary reasons, and I enjoyed it.

Today I'm Super Duper Sparkalicious Awesome Sauce Freaky Fantastic because I:

a) Didn't "eat my feelings"
b) Didn't have a cigarette (or even think about having one while in the throes of stress)
c) Realize that it is more important to sit at home and - like a lovesick newlywed - watch my husband sleep than to go to the gym
d) I ate an appropriate portion of dinner


So, why are you Super Duper Sparkalicious Awesome Sauce Freaky Fantastic today?










Monday, July 25, 2011
Today I decided that repeating week 3 of C25K for a third time would just be me wimping out because I'm afraid to run for 5 straight minutes. I no longer wheeze on the last minute of the 3 minute runs that week 3 prescribes, and I just couldn't justify avoiding week 4 again.

I believe that is it normal for a 270 pound fat chick to be afraid to run for five minutes, but it isn't like I can't just stop, right? I'm not going to knock the planet of its axis if I stop, right?

So I did it. I said screw it, I'm going to go for it. Week 4, meet your maker. I will make you my byotch. At least that is what I said before the five minute run.

W4D1 Goes like this:

5 minute warm up
Run 3 minutes
Walk 90 Seconds
Run 5 minutes
Walk 2.5 minutes
Run 3 minutes
Walk 90 seconds
Run 5 minutes
Cool Down

So I did just dandy on the first 3 minute run, but the first five minute run, OMFGFMVM. I did fine the first 2 or 3 minutes. Minute 3.5 I was pretending I would win a car on Biggest Loser if I went 15 more seconds. Minute 3.75 and I was telling myself that GOLOPTIOUS wouldn't stop. Minute 4.25 and I was ready to fall over dead. I was getting ready to give it up and just stop completely when, I sh!t thee not, "Gonna Fly Now" the theme to Rocky, started playing. www.youtube.com/watch?v=oQwnLf5GrqI&
feature=related

Now you just can't quit when the Rocky theme is playing. It's against the laws of physics or TV guide or something. It just isn't allowed. You do it, because you should. You do it because you know you will be glad you did. You do it because you will forget how much it hurt, but you will remember how good it feels. You do it because you can pretend you are Rocky and you are running up those steps. You do it so you can justify the expense of flying to Vegas in December for the Rock N Roll Half.

And once you've done it once, you have no excuses not to do it again. I did slow down to 4.9 mph and again to 4.7 to finish, but that in no way diminishes the fact that I freaking did it. I ran for five minutes. YIPPEEE. Happy Booty Shaking Happy Joy Joy Happy Dance.

So, to recap-- 270 pound girl with inner athlete runs 5 minutes at 5 mph without stopping, dying, falling down, barfing, puking or peeing her pants. Then she did it again. Set a PR doing 4.13 miles in 65 minutes (SOOOOOO close to that 4 miles in 60 minutes goal!!).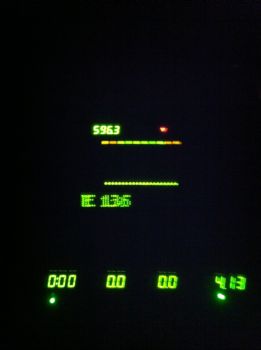 Excuses? Nope. Fresh out of those today. You?

Progress is no longer being able to wear your favorite pants without looking redonkulous: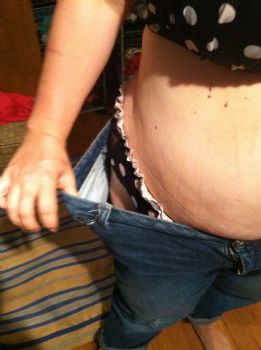 Saturday, July 23, 2011
So after my pity party of earlier this week, I laundered and donned my big girl panties after locating them hiding under the guest bed.

Then I did lots of things my SparkPeeps suggested including:

I quit feeling sorry for myself, realized that I always feel depressed after eating crap food, then uh, quit eating crap food. I know, it's like rocket surgery or brain science or something.

I also made a list of all the sh, err, stuff I need to do and did some of it, including:

A) Taking a week wacker to the garden weeds. When the tough get byotchy notes about weeds, the tough buy a weed wacker and make a rude gesture at the garden plot she possesses. Free bonus spin: I thought the photo was oddly flattering weight wise, considering the nature of the pic.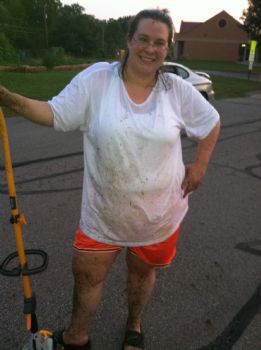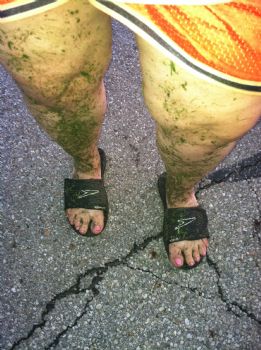 B) Registered for classes. Discovered one of my two classes isn't available at a reasonable time, got a dispensation to take the class elsewhere, where it is online and cheaper. End result? I'm officially registered for grad school and I have saved myself over $1600 in tuition and won't even have to step foot on a campus all semester. SCORE!

C) I'm eating clean and exercising. My mental health and my body are thanking me. Such effusive praise and thanks is coming out every one of my orifices that I'm embarrassed by it. Stop now, you're making me blush, of course I will eat right and exercise, you're my body and you deserve it!

D) Got back on the scale. Down 3 pounds this week. This makes me wonder if my body prefers a bit higher caloric intake. Will investigate when I figure out how to investigate without risking weight gain or a lack of loss. For now I'm eating at the top end of my range (1,500) and enjoying it.

E) Completed FAFFSA FASFA FAFSA whatever the financial aid thing is called. The dread of the thing was certainly worse than the reality of the thing.

F) Stopped long enough to self-identify that some of my eating wasn't as bad as it sounded (some was worse, hello pizza from California Pizza Kitchen mostly all by myself). I had one piece of an appetizer platter of deep fried mac n cheese, not a buffet of it. More importantly, I also realize now that some of the eating was driven by the stress of having tons of tasks to do that weren't getting done with company in town. List made, tasks accomplished = less desire to kill myself with a loaded fork.

In other randomness:


I went out to a restaurant with a friend today. The sign in the front lobby had to be seen to be believed, so of course I took a photo. I resisted their crack-peddling ways. I had a black bean burger and salad! HAh! Take that, purveyors of fryer oil!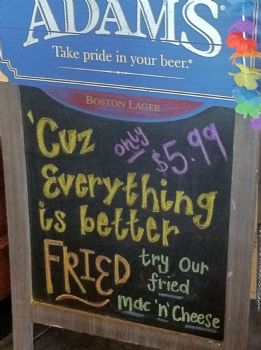 Set a PR this week. 3.97 miles in 65 minutes. Basically 16 minute miles, one of my MEGA goals is to do 4 miles in 60 minutes, so I'm well on my way.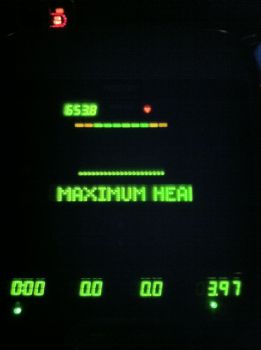 I took a minute to enjoy my garden and remember why I started the thing in the first place. Uh, yes, I like gardening. Newsflash Jenn, it only feels like work if you let it. My first fingerlings, pepper and turnips were waiting for me under the weeds.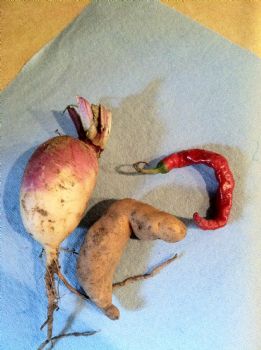 I got a manicure. Something about grooming type stuff makes me feel good. Next paycheck will be "man hair removal and caterpillar pruning day" followed by "cut and highlight day".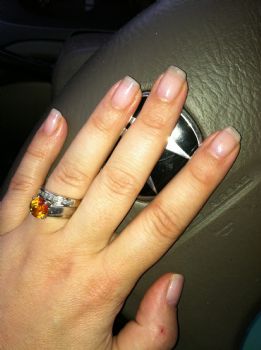 I'm happier. I'm feeling more like myself. I bought a new pair of pants today on clearance in a new smaller size and successfully resisted the urge to buy the same pair in a smaller size.

I have Shake That Ass by Eminem featuring Nate Dogg www.youtube.com/watch?v=BkI2RPJhku0 stuck in my brain. As far as earworms go, it's a good one, and it is FAB to run to. Does raunch make one run faster? If so, I need to start listening to different music.

I survived some awful at work without turning to food, or being tempted to turn to food. This is commonly referred to as "progress."

End of Randomness



First Page
1
2
3
4
5
6
7
8 9 10 11 12 13 14 15 16 17 18 19 20 21 22 23 24 25 Last Page

Get An Email Alert Each Time JENNSWIMS Posts