| | |
| --- | --- |
| | JENNSWIMS's Recent Blog Entries |



Monday, July 18, 2011
My sister and mom were in town this weekend, which is always awesome. I love having them here, I love spending time with them and I just plain love them. I miss them tremendously even though we talk all the time. So that was super awesome. It doesn't hurt that my mom started eating on the Eat to Live plan that I use a few months before me, so she is usually a pretty good influence on me for eating well.

BUT, when they are in town they like to eat at all of their favorite restaurants. So yes, we ate and ate and ate. We ate things that are so far from my plan that they would require The Hubble Telescope to be seen from my fridge stocked with organic freggies. We had pizza at California Pizza Kitchen. Then we went to Harry Potter and had milk duds and popcorn with the fake butter.

My weekend imploded food and exercise-wise. End result? I didn't even track my food because it would have been nearly impossible and too dang depressing. My ass was weeping tears of horror and my giant gut was cursing my name. I could hear it! "Da*& you to hell, Jennifer, you cellulite monger, you are the food Hoover and yes, you super suck!"

I had fun. I ate deep fried macaroni and cheese. (Seriously, who came up with that abomination against nutrition, Cheesecake Factory?) I missed my workouts Friday, Saturday and Sunday. I went to a wedding Saturday in another state (9 hours in the car, thanks work for not EVER letting me have an entire weekend off unless I'm on vacation) that was catered by Amish ladies.

That piece of information may be the worst harbinger of diet doom in the history of harbingers of diet doom, seriously, if you've ever had Amish food you know what I mean. I will put my "wedding catered by Amish" against anything, even "BBQ featuring Doritos" or "birthday party at Chipotle."

The end result is that I feel so depressed and tearful, and, I think, fortunately or unfortunately, a lot of it is food-induced. Processed fatty yucky devoid of nutrition but unusually tasty food makes me feel depressed and it makes my joints ache like you wouldn't believe. It also took my fasting blood glucose from 105 to 118 in 3 days.

My body hurts and that food is like taking a depression pill. Eat clean = No Zoloft. Eat like crap = plan on being on an anti-depressant until you wise up. Wish someone had told me that like oh, 15 friggin' years ago. I digress. I even hate how I smell after getting away from Clean food. UGH.

Mostly, I feel like a failure. I told my husband last night that I'm failing at everything I do, and he laughed at me. He said I don't know how to fail, that I couldn't even be taught how to fail, because it isn't in my genetic makeup. Clearly he doesn't understand that I missed W3D3 and there is no instruction manual for when you screw up Couch to 5K. (The first person to tell me I'm too hard on myself will be unfriended and mocked with colorful phrases that make everyone laugh)

I'm having trouble finding my immunization records for the last 38 years, I got an email from the community garden where I have a plot regarding the height of my weeds and inquiring if I needed assistance with my weed pulling. (I deserve a medal for not telling them to suck it, since they are so busy not having jobs and measuring my weeds. This was not a genuine offer to help, this was a byotchy offer to help, I assure you.) I'm behind on my writing. I haven't registered for my classes. I'm failing my sparkpeeps and hurting their feelings. I haven't filled out my FAFSA or FASFA or whatever the heck it is called for grad school. I'm scared that I won't be able to handle grad school plus two jobs.

Now I'm adding a weekend of horrid eating, feeling really depressed and body aches to the freaking pile, smart, really smart.

I have to restart the Hep B vaccine series ASAP, which makes me sicker than a dog. I need to write three articles on F'ing HEMORRHOIDS of all things. I have at least 5 baskets of laundry to fold and put away. One of my great danes decided this was the week where he would see if he could whine non-stop from dusk until dawn for reasons ranging from not being covered with his blankie to wanting a treat he isn't allowed to have. I didn't work out Friday, Sat or Sun. My greenhouse is a mess and my plants hate me. I'm throwing a bridal shower for friends that I have to plan and I know I'll go totally overboard making it all Martha Stewartesque. I won't even get near the scale. My tub won't drain so I had to call the plummer and had to bail out the tub to take a shower. I forgot my dang lunch.

So what did I do? I cried. I also told the Self-Appointed Garden Guardian that we were on vacation and we would hope to get to our non-garden society approved weeds by Wednesday. Yup. I lied. I LIED. L.I.E.D. Cheffrey said if we needed to we would pay people to weed and fold laundry. We won't, because he knows I would be even more upset after paying people to fold laundry but having them not do it "correctly and to my standards" would be even more stress-inducing, but I appreciate the thought.

So today I'm back at it. Forgot (oh wait, you'd have to actually pack one to "forget it") my clean lunch so I got a Gardenburger from a local place. I will be doing W3D3 tonight at the gym and trying to figure out what the heck to do (repeat the week? Start week 4 on Wednesday?). I will try to be a less craptacular spark friend to the people who support me so very much. I will attempt to not screw up grad school prior to starting next month. I will attempt to refrain from crying like a sissy girl at work.

Most of all, for the love of kohlrabi, The Grinch, houndstooth and lemon hand sanitizer, I will eat clean until this horrible dark cloud feeling goes away and I feel like my happy (if stressed and totally overextended) usual self. I know it is partially hormones (I remember the great hormone melt down blog a few months ago) but that doesn't make me feel any better.

I'm thinking eating clean and exercising whilst feeling miserable may be one of my greatest victories, even if I am failing at everything else. I will force myself to go to the gym tonight if it kills me.






Thursday, July 14, 2011
I took some pics today. I hate them, but they aren't for me, well, they aren't for me right now. They are for future me.

You see, future me, the one who does triathlons, who has completed the Vegas Rock n Roll Half (December 4, be there or be square) and runs 5Ks without stopping, is going to LOVE these pics. She will be all look at me, busting these pics out as street cred when she tries to educate patients to get off their hineys and get moving.

She will say, hey, I know what it is like to wonder if you'll have to be removed from your house with a forklift and appear on Jerry Springer-esque shows about fat people who desperately need help. If I can do it, you can do it! I USED to look like this, and now I can stand in ONE leg of my old jeans. I used to look like this (today's pics) but today I'm a hard body and you can bounce chainsaws off of my incredibly tight bum!

I can take these, and cringe, and give myself a few moments of self-loathing, and then make the decision to share them with all of you because I have a bedrock, unshakeable, foundational belief that these are "before" pics. Well, technically they are -37 pound pics, but they are certainly not "after" photos.

So the next time you don't want to have your picture taken with your family because you look fat, or you don't want to have your picture taken in a bathing suit, or you don't want your driver's license photo taken, just remember that they will one day be your before pics and they will be so incredibly worth it.

Fittingin130 and SouthPondCamp, I blame you both for this.

Got before pics?

Modeling 3D Glasses after Transformers 3 last night: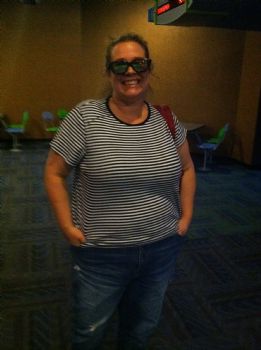 I can see a difference when I compare the 3D glasses pic with this pic, which was very near my starting weight: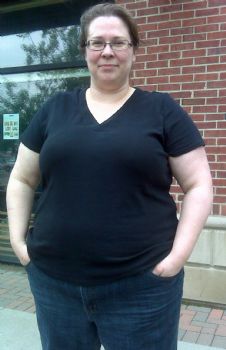 #277, Today, getting ready for the gym. Yes, I have a rubber ducky problem.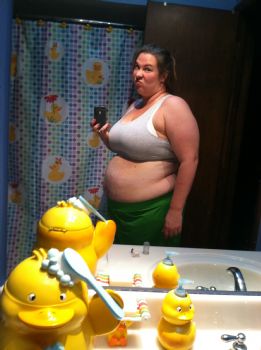 The less traumatizing view: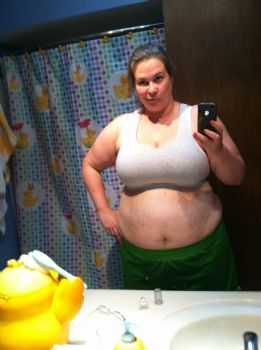 The shirt that makes me look more boobalicious, less belly, if I look at it just the right way. hahaha.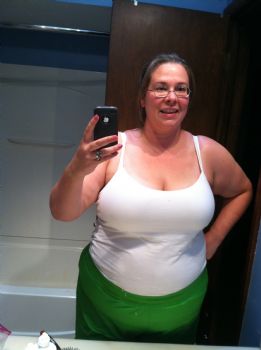 Wednesday, July 13, 2011
So my workplace has a lovely traditional of employee appreciation: the catered breakfast. On this day, once a year, a caterer comes in and provides orange juice and home fries and muffins and croissants and fruit salad, and of course, an omelet station.

It's yummy and fun and people gorge themselves on food.

I've been behaving myself, not a speck of dairy, meat or egg since the 4th of July when I had a brat. I've been cooking for myself instead of doing the restaurant thing (which seems to speed my weighloss notably). Well, that angelic food streak is over.

I had a cup of greasy home fries, a cup of fruit salad, a lemon poppyseed muffin (the kiss of death), 5 pieces of bacon and two cups of OJ. Yes, I thought I was being all good by not having an omelet. I was wrong. I should have had the stupid omelet, and spared myself the turmoil of the nearly 500 calorie muffin. All told, 1,245 calories. My calorie range is 1,200 to 1,500. Eeeeeeek. It wasn't even that naughty! It wasn't like crepes stuffed with marscapone and cherries and unholy nummyness or a filet mignon with shrimp on top (which would have been half the calories, if you are wondering). It was orange juice for the love of Inky, Pinky, Blinky and Clyde.

Why do I always find out the calorie count AFTER I shove the yummy goodness into my muffin hole? It must be the ignorance is bliss syndrome-method, because had I bothered to look, I would have avoided that calorie count like the food plague.

It's not like I'm going to run to the vomitorium and try to erase the reality of my food housing ways, but I am experiencing some food regret. (Note: No food guilt, food guilt bad, regret OK) If I was going to voilate my rules and consume 1,245 calories, it should have tasted better.

It should have been a jar of Krema's spicy peanut butter, or double fisted handfuls of cashews and pistachios (picture cookie monster, with nuts) or vegan chocolate chip cookies from Whole Foods. It should not have been lukewarm fried potatoes and pulpless OJ. The bacon, well, that was worth every calorie, but dangit, what a waste of some perfectly tasty calories! I could have spent my calories wisely, or even on naughty food, but the whole idea that I used that huge bolus of calories on stuff that didn't even make my heart go pitty pat is kind of regret-inducing.

It should have been guacamole and chips and salsa, or a loaded bean burrito, or a peachy coconutty super awesome smoothie or some stir fried green beans with tofu and cashews and extra cashews. It shouldn't have been food that I don't dream of when I'm hungry!

To add calorie insult to calorie injury, tonight is date night, and while I jest (sort of) that I am going to have a carrot for lunch and a piece of celery for dinner, I'm still having the pizza that we have planned on having for a week, and I won't feel guilty about it. I'm going to start with my usual giant salad with dressing that I dip my fork into followed by the best vegan pizza (yes, there is such a thing) on the planet.

I won't feel guilty, I will be over my calories, and that is Ok, because this is a lifestyle. I will count the calories. I will not make my food log private. It isn't a diet, I'm no longer on the hamster wheel of food guilt where overeating drives me to eat, which causes guilt, which causes me to eat. I'm going to eat pizza, ride my newly tuned bike with Cheffrey, enjoy the wind in my hair and the sun on my face, and I am going to enjoy myself tremendously.

So, what would you be eating if you were going to have a 1,245 calorie meal that was so good it would make your toes curl?

P.S. Vegan pizza is from Mellow Mushroom, a chain that is in many states including Georgia, Tennessee and Ohio. mellowmushroom.com






Sunday, July 10, 2011
I was really busy at work earlier this week, and I was at a HUGE facility where it felt like it would be a hike of miles to the cafeteria, and just a giant pain in the patooty to get some food. Not to mention the fact that cafeteria food is suspect at best and I kept getting distracted by the demands of work and it just seemed easier to skip it.

Yes, that is correct. I have violated the unwritten fat girl code. I thought it was easier to go without food. Freakish, isn't it? Warning to the people of Ohio: I will also be violating the code again in the near future by riding my bike in public, even though the seat is so tiny and my ass so large that it looks like I inserted the seat into my rectum rather than mounting it.

I had a red green smoothie for breakfast, which isn't really a stick-to-your-ribs kind of meal, even if it is tremendously healthful. But you can only imagine my shock when a coworker said to me around 1530 (and this is a freaking quote--squeeeeee!), "you need to go eat something, you're grumpy." Who knew being referred to as grumpy could be so joy-inducing?

Yes, it is true. I went without food, and ignored the fact that it was lunch time, and past lunch time, because I was busy and not quite hungry enough to gnaw my arm off, and well, I was busy.

Go eat something, you're grumpy.

Wow.

I'm not sure I've gone without eating long enough to have this happen in my adult life. If it did happen, I can't summon the memory. I read somewhere that most American adults haven't been truly hungry in a decade. I think I resemble that remark.

I am the girl who was always eating for every reason under the sun BUT hunger. I was bored, I was stressed, I was tempted by something in the cupboard, it was time to eat, the sun was shining, the day of the week ended in -day, a rerun of Law and Order was on TV, I fed the dogs so surely I should feed myself as well, and the list goes on.

So this, like ordering the healthiest thing on the menu last week OUT OF HABIT and not realizing it until hours later, may be a sign that this whole lifestyle thing may actually be becoming a lifestyle instead of a whole lot of talk about lifestyle.

The red in color, but green in type, smoothie:







Saturday, July 09, 2011
So the 5K, the first one I ever went to intending to do some running, is complete.

I learned a few things.

1) It is good to have Cheffrey walk with the person who really doesn't want to be doing the 5k and intends to do the race at a stroll, because he doesn't do these things for a time, he genuinely does it with a happy heart to help the cause. His wife, on the other hand, is all about faster, better, more and when necessary, get out of my way. I would have been on the verge of homicidal at intending to complete a 5k at the speed of darkness. This attitude is not just for 5k, it is just kind of how I am every day.

2) Finding a 5k where people don't get in your way is not as easy as it might sound. I felt like I was playing bumper cars, or maybe one of those military drills where you try to slip up, over and around barbed wire. Seriously? I mean, I'm a nice person and all, but I will shove you, your charming child and your double wide stroller into the curb if it means I can shave .002 seconds off my time, so watch out!

3) This is getting easier. I was faster and ran this time, while earlier this year when I did the Komen it was a stroll. I bet it was a 90 minute 5k, and without checking grannies into the the gutter, it would have been impossible to go any faster. Too many people. The two races felt the same in terms of effort. Funny what a few months will do for ya.

4) There were tons of coworkers there, and yes, it is true I did not leave the house without making sure that every possible hair was denuded from my legs, and that my other hair was cutely placed into a perky ponytail, and that I was clean and fresh smelling for any family that might try to hug me or coworker who had an obsession with sniffing me. But here is the thing: the ones who were volunteers were not running OR walking, so I certainly kicked their butts. The coworkers who I did see actually doing the event I saw because I was passing their happy asses, so I know I kicked their butts.

5) My time wasn't horrid, ok for a starting time I think, but the truth is that I could have gone harder and faster, I just spent a lot of time trying to figure out how to get around the slow movers. My time was 51:12, which will make it easy to improve upon later this year, but honestly I think I could have done 45 minutes without feeling like I was working harder. Besides, 51:12 means I'm really on my way to my BIG HUGE GOAL of walking 4mph for an hour!

6) Time to pick a new 5k for next month.

7) Any of you serious 5k peeps out there care to share any tips for having a great 5k and how to go out for a cause but not get boxed in behind people who are moving more slowly? I like to choose races that a) have a cause and (because I'm selfish) b) give away nice shirts, also known as not cotton. Do I really need to give up a) supporting a worth cause to b) move faster?

8) Breakfast at The Blob, AKA Bob Evans induces no guilt at all when you a) do a 5k first and b) choose things like dry toast and oatmeal :).

9) The 3X Tshirt I ordered when I signed up for this event was unbelievably oversized. I think a 1X would have gotten the job done. WOOT WOOT! I need to take a new progress photo wearing something that fits!


Photo montage, I'm hoping that even I can see a difference between these once I post this blog:
May 1, 2011: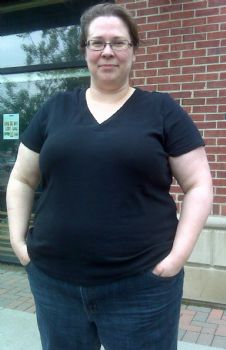 Komen, May 14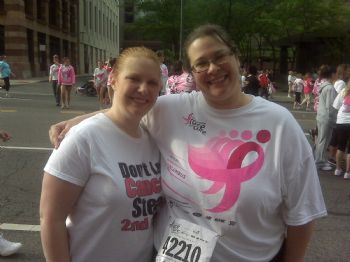 May 20th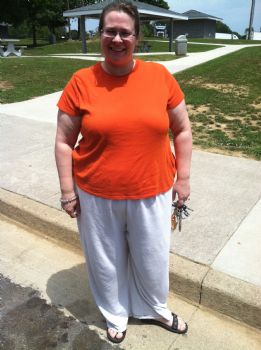 July 9th, 2011, Dash For Donation. Pink does not go with the donate green, but that's OK.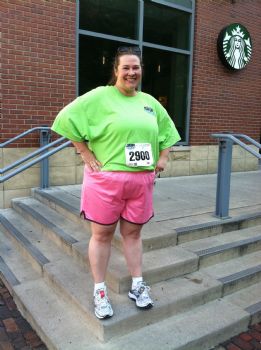 So, planning a 5k this year or some other race-like event? What are YOU training for?



First Page
1
2
3
4
5
6
7
8
9 10 11 12 13 14 15 16 17 18 19 20 21 22 23 24 25 Last Page

Get An Email Alert Each Time JENNSWIMS Posts