| | |
| --- | --- |
| | JENNSWIMS's Recent Blog Entries |



Friday, July 08, 2011
Tomorrow is my 5K, that means I don't have to work out today, right?

Not so much.

Maybe if I was a professional athlete I could make today a light day, but uh, I'm not one of those. What I am is feeling a lack of motivation, so I did what anyone who was truly invested in being better tomorrow than today would do... I texted a friend and made a gym date. It will be followed by food, at a place where I can have a healthful and calorie restricted meal.

This strategy is part of my fake it until you make it motivational strategy.

So now I am going to the gym and when I get there I will pretend to be overjoyed at the thought of burning calories. I will be five kinds of happiness and calorie burning light! I will be enthusiasm personified! I will act as though the smell of chlorine is the most wonderful smell I could imagine smelling in the history of smells. By the end, I'll believe my own press and I'll be happy I went. :)

The thought of the 5k tomorrow makes me want to hurl. It isn't that I will be running and walking, I'm looking forward to that part. It is the fact that over 50 of my coworkers will be there and they will see me a) in athletic apparel and b) getting this BMI of over 40.9 moving.

I know that I'm doing better than all of those people who are sitting on their couches, I know that I'm going a little faster every day, but I would love to not be better and faster in front of my workpeeps, whenever humanly possible.

Thank God for The Dani Method (patent pending) of taming the breast beasts. AKA wear a regular, supportive bra under a snug jog bra. The thought of having coworkers seeing me run with the girls bouncing around in opposite directions, hitting me in the chin, threatening to pull away from my pecs and commit suicide by hurling themselves onto the asphalt is too much to take.






Thursday, July 07, 2011
Have you heard this line about insanity: the definition of insanity is doing the same thing over and over and expecting a different result? I really try not to behave as though I'm insane, but I kept beating my big fat noggin against the same wall, ad nauseum, for about 15 years. So maybe I'm slightly insane. Or 49% whack job. Maybe even something approaching nutty like squirrel poop?

I tried "diets" over and over. I paid big bucks to Jenny, and then gained weight. I paid more money to the Watchers of My Weight, then gained some more tonnage. I've bought and read books until they came out my ears, followed their advice, and gained a few more pounds of bumpy lard. (There is a theme here, I bet you've picked up on it...) I paid a doc to weigh me each week and give me some legal uppers, after which I gained, yes, you guessed it, some cellulite made from pure fat. I ate five little meals a day, then gained weight right before I ate all protein until my breath stank, then I quit stinking and packed on some pounds. I ate less than 10% fat, then porked up some more.

None of it worked, unless you go on a diet planning to get morbidly obese, which I assure you that I did not. Jenny's Frozen Food Diet Plan does not say in any of their expensive literature that you can give them hundreds of dollars, pay them insane amounts for frozen food and be guaranteed to gain weight, but they might as well have in my case.

I'm an excellent example of diets make you fat. I've never stayed on any plan, diet or lifestyle change this long, and "this long" isn't quite 3 months yet, but that didn't prevent any of these plans from fattening me like a Christmas goose. I usually lasted about three weeks before I gave up, caved in or crashed and burned, Mav. Three weeks followed by six months of hating myself for being weak and fat and disgusting and unable to stick with a weight loss plan, then onto another diet of some variety.

In the interest of not having some fat-induced size 26 related mental breakdown and having gastric bypass (which I do not want) out of sheer desperation, something had to change.

I got rid of my food induced cravings by eliminating processed foods from my diet. I prioritized exercise. Then I decided my attitude about the whole thing needed to change. I treat losing weight like a job. Last weekend was a holiday and a vacation from my job. Today was overtime, but I enjoyed it tremendously.

That doesn't mean it is all hearts, flowers, champagne and chocolate. I keep getting in my own frigging way. I eat the orange triangles of doom. I indulge on holidays. Of course, we can't forget the much enjoyed wedding cake for breakfast incident. I'm not upset about those days, but they do slow my weight loss down, which frustrates me tremendously, but it is all about making it a lifestyle, right? This isn't some short term diet thing, this is my life. This is the rest of my life, and if it takes me three years to be a thin person who can do triathlons, then so be it.

I haven't lost a pound this week, but my waist is at least an inch smaller, and I'll take it. If I had to choose between being a size 24 and weighing 135 pounds or weighing 277 pounds and wearing a size 8, I'm totally down with the size 8.







I couldn't decide what to do for exercise tonight, (Look at that, I knew I was going to exercise, just couldn't decide what to do.... woot woot!) should I do C25K (Couch to 5K training), my beloved kickboxing, or swim? Opinions varied, and I hate to disappoint anyone, myself or my SparkPeeps, so I did my C25K, followed by 45 minutes of kickboxing, followed by 20 minutes of water aerobics and then 500 yards of swimming. It was like a buffet of exercise.

I was so jazzed by the energy surge I got from all of that working out. It was fab, a wicked natural high. I drove home with the windows down, sunroof open, smiling and I may or may not have had Led Zepplin playing at a volume known as "vibrate the wheels off." I think this may be what those weird healthy people refer to as "runner's high." It certainly feels better than insanity.










Monday, July 04, 2011
I've treated this holiday weekend like a, well, a holiday. Fancy that.

I've eaten Doritos, made yesterday AND today "days of rest from exercise" when just yesterday would have been more than adequate, and I took a nap. Ok, dang it, yes, I ate Doritos TWICE, not just once, TWICE, and I am trying not to think about it, because food shame is so incredibly unhealthy--just like the orange triangles of doom that like to hurl themselves to their death by flinging themselves into my mouth by the handful.

I've socialized at two BBQs and ate meat and dairy products at both. I ate a "normal" diet, which I have to admit that I enjoy from time to time. I followed my own advice and took healthy, on plan foods to both... then proceeded to eat things that were not on the same planet as my plan.

Evidence that I made health yummy goodness: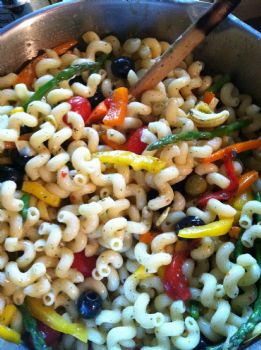 Anyway, today, in front of witnesses, I am recommitting to my plan. No more half-assedness. No more 90-98%. No more slow progress is still progress when I know I can do better... lots and lots better. Tuesday morning means the end of Doritoville and back to serious weight loss and cardio workouts.

That means, since I think goals should be specific, that I should be doing/eating:
*6 Days per week of cardio (3 C25K, 2 kickboxing hopefully, some swimming, some biking, and whatever else I can cram in a week)
*2 Days a week of strength
*2 Days a week of flexibility
*1 Day off

*No processed foods. Processed will not include tempeh or tofu for this purpose, which are grey areas of processed-ness, but will include the triangles of orange death and destruction.
*No meat, dairy or eggs
*No caffeine (unless I'm working a 24 or late shift).
*No added oil
*No added sodium
*No added sugar

*I will also work harder at getting my protein in, so that my SparkPeeps don't have to remind me that my daily diet is completely void of lean protein.

*I will remember that I'm supposed to be hungry, then eat. Period.









October 7th is still my 20 year class reunion, regardless of how many BBQ related holidays fall between now and then. 95 days to get my butt in gear and get some more results! Will I look like the girl who graduated with 8 varsity letters? Uh, no. Will I look better than I do today? I certainly believe that is possible with some effort. Just say no to waddling at the reunion!

Yesterday, Cheffrey asked why I didn't want a frosty delicious frozen lemonade, since it was vegan, I said "I don't want to weigh this much next week." I think that sums it up pretty completely. I want to be smaller next week, and the week after that, and April 18th of next year--my Sparkiversary--I want to be at least 100 lbs away from where I started. I'm completely capable of doing that, as long as I stop getting in my own way.

I'm also committing to be awesome for my 5k next Saturday... if you are in Central Ohio (or willing to drive to Central Ohio) the Dash For Donation is a worthy cause and I will be there, trying to escape being noticed by everyone while I run for 90 seconds, walk for 2 minutes and repeat over and over.

Do you need to recommit to anything or is it just me?




P.S. By popular request, here is the recipe for the salad in the picture...
It was just something I threw together from what I had in the house...

2 boxes of noodles, I like cavatappi because they are cute
3 bell peppers, red/yellow /orange or green, chopped
1 bottle Ken's light Italian salad dressing
fresh asparagus spears, lightly steamed
2 cans black olives
1 cup of green olives
1 can artichoke hearts (chopped)
1 packet hidden valley ranch buttermilk dressing powder

cook the noodles, rinse with cold water until chilled, then throw everything together :) Tweak to your liking with garlic, salt and pepper.








Saturday, July 02, 2011
I'm taking my bike in for servicing today, since it has sat unused for oh, almost a decade. Fab bike, used minimally for one season, then never touched again. I'm getting it tuned up so I can start cross training with running, biking and swimming. Sounds suspiciously like a tri, doesn't it? I blame you, CANNIE50, for this abomination. I'm not sure why you mentioned it, and by "it" I mean tris, but you did, and the end result has put in motion some serious blamestorming today.

I'm throwing a fourth run into my first week of C25K training so I can get my C25K training on a M-W-F/S schedule. For this, I blame MDEVILE, SOUTHPONDCAMP and KITHKINCAID. You evil doers explained to me, as you would to a small, dumb child, that I was NOT too fat to run and how to tame the girls. (Shout out to KITHKINCAID for a blog entry I can honestly say I reread just about daily... check out her 113 blog from this week).

For making me feel like a big sissy when I don't want to work out because I didn't break my leg and I have no excuses and for motivating me when I don't want to be motivated, GOLOPTIOUS, you are blamed!

ZOOKEEPERMAMA, I blame you and your driveway for making me laugh when I should be diligently doing something productive.

4AHEALTHYBMI, I blame you for proving that this isn't the impossible dream and showing me that if I quit being a lazy piece of crap that I can do this too.

To MICHELLESMILES, JICASMOM, GENELDABELDA, SILENTE8, RYDERB, PANBOOKS, HOLLYS-DOIN-IT. You make me feel like I'm not lifting this massive burden of fat alone. I blame you for making me feel supported, even when I screw up.

NUMD97, for letting me know that it is OK to feel totally and completely overwhelmed personally and professionally, and to keep on slugging along as best as I possibly can. I blame you for my search for balance amongst first job, second job, weight loss, grad school, family life, organic gardening and great dane parenting and the occasional regency romance. Julia Quinn and Lisa Kleypas, anyone? anyone?

REDDIRTRUNNER, MELLYBEANS0919, MOSTMOM1, I blame you b!tches for making me feel accountable, even when I don't want to be accountable.

BARBIETEC, I blame you for being the single most inspiring person on SparkPeople. You are the most amazing thing I've ever seen, beautiful inside and out, and I am privledged to know you in this small way. I blame you for stripping away all of my excuses and exposing them for the bullsh!t they usually are. I also blame you for reminding me what is important in life.

For forcing me to stay on track with Eat to Live, COURTIKSOK and FRUITYCHERRY AND 55WALKER, I blame your skinny butts.

If I blamed everyone who deserves a helping of the blame casserole, this blog would have about a thousand names, so if you are reading this, know that you, too, are being blamed for being supportive and making me go to the gym today when I really want to be reading a trashy romance novel and watching Galaxy Quest (Never give up! Never surrender!) on DVD. I blame you all.

Anyone you need to blame? I'm thoroughly enjoying flinging blame around, you might enjoy it too.

Almost forgot, organic food people, I blame you and your crates for forcing me to eat fresh, locally grown, organic freggies. Jerks.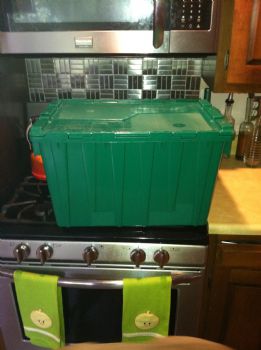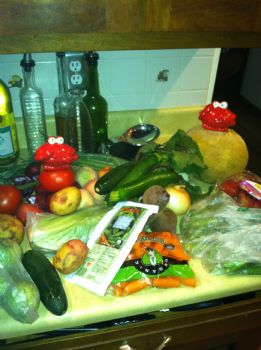 P.S. Seriously, no one noticed the cute little crab salt and pepper shakers that I snuck into the picture?









Friday, July 01, 2011
So many times I look in the mirror and I'm critical. Well, that wasn't exactly honest. Almost every time I look in the mirror I am critical of my appearance. I can't remember the last time I looked and mentally said something nice to myself.

It's usually something along these lines: Oh, look at that giant pannus of horror flopping over! Look at how my boobs bump into my kneecaps when I walk! Look at that cellulite! Look at that fat! Look at those toenails in dire need of a painting!

It's (well past) time to show my body some mental love. No, not the dirty kind, some real love. Some thanks for being-better-to-me-than-I-deserve love. As one of you so eloquently said, I should take my body out to a white tablecloth dinner to apologize for what I've done to it.

Anyway, here's the mental love... some positive thoughts about my body, which has not let me down yet.

1) Thank you for being healthy. I wasn't always good to you, but you haven't succumbed to diabetes, hypertension or any of that fun stuff. I bet your high cholesterol has resolved completely! You took better care of me than I took of you, and while I don't deserve you, I'm totally thankful for you. If we keep this up, the outside might match the inside!

2) Skin, you are fantabulous! Amazing what a little oil after every shower can do along with a ton of water! Enjoy the sweat, fruit and veggies, I enjoy your new glow! The last time I had a facial the lady said, "do you drink a lot of water, your skin looks great!" and the manicure lady said, "do you drink a ton of water, your cuticles are fabulous!" which means, dear skin, you are beautiful!

3) Toes, thanks for loving this whole almost vegan thing. I didn't know that it would fix my toenails that are unholy fritos of ugly, even after prescription meds didn't, so once again body, you rock!

4) To my feet: I know I earned the heel spurs and the plantar fasciitis with the BMI of an elephant and the 12 hour shifts on my feet. I would just like to thank you for sticking with me and not hurting at all anymore, even though I'm now making you deal with the incredible impact of running and kickboxing. Feet, you are the bomb. You should be hurting and crying and the spurs should be so bad that I want to cut you off, but incredibly, you hurt less than you have in 5 years.

5) To my heart: You are a freaking machine! Three months ago doing 3.2 miles in an hour was a major victory. Now I am running, doing this C25K thing and I'm at the top of my heart rate range, but not over. You're a beast! You're the bomb! I can't believe how far you've come and how quickly you've bounced back in just a few short weeks!

6) Lungs: I can't apologize enough. I put you through 19 years of hell, you took it, you accepted it, and now you are taking to this swimming/running/yoga/kickboxing thing like you were born to it. You deserve better and I am going to continue to work hard until I am worthy of you.

7) Pancreas: You rock too! I was headed for DMII... I remember that fasting glucose of 148. I was killing you, but you've bounced back like a real trooper. I promise that the days of torturing you are over.

8) Hair: You've been with me through thick and thin and you've always been my one supermodel feature. Thanks for sticking with me through fat and fatter, always reminding me that inside I was still beautiful, even if you were the only external thing that was beautiful. I hope you like the new attention you have been receiving. You are damn hot with those ashy blonde locks in the front, just sayin'.

9) Nails: Who knew you would be long and all one length and fabulous if I fed you better? Hot diggity. You look so girly and sexyrific now, get down with your bad selves.

10) Giant belly: I know it isn't your fault that you are hugenormous, and I'm sorry. I'm also sorry that you may need surgery a few bazillion pounds from now, since I stretched your skin out. I'd like to thank you for putting up with the 2-3 times a week abs classes. I promise that things will get easier--planks will suck so much less one hundred pounds from now, I promise. I also want to thank you for giving me an innie, but I still hope that maybe one day we will get preggo and have an outie for a while.

11) Ovaries: I know, the meds sucked the big Anthony Weiner. I promise you that I will do everything in my power to lose enough weight that we don't need to take the drugs again. I can't promise anything. I remember that incident in Target where we almost passed out from the pain of multiple eggs popping out of you at once, and I agree, that was sucktastic. Let's avoid that, shall we?

12) Eyes: How are you enjoying the new glasses and contacts? Nice not to be a total nerdbag, isn't it? I know you are legally blind, but it is fully correctable, which means you are still fully awesome. Thanks for not getting all itchy and scratchy like you used to with contacts, you make it so much easier to be athletic when you let me take my glasses off.

13) Knees and Shoulders: Aside from the occasional grinding sound that is rather off-putting, you guys are doing great. Sorry about the extra 176 pounds, I'm working on it, promise.

14) Dear Innards, thanks for not punishing me for making the switch to all healthy stuff. I used to have horrid gas pain if I dared eat a fruit salad, but you have rolled with the punches, my squiggly and slimy friends. If I ever end up (god help us all) on Dr. Oz with playdough and they make me show the world how my poop is shaped, I can assure you that you will be world class and possibly internationally famous for your poop.

15) Legs: DUDES, I can't say enough about you. We are headed for your former high school greatness and don' t you freaking forget it. All those kicks, on land and in the pool, all that running and walking and yogaing and stretching... you're going to be so freaking hot that Justin Timberlake will write a follow up to SexyBack called SexyLegs and it will be all about you. You are fabulous. One day in the future, which may be after some sort of surgery to fix your skin (sorry), we will be putting the sexy back in sexybyotch.

16) Arms... oh you awesome sweet powerhouses! People are noticing your lack of flab and your dramatic increase in tone. Honest. Even me. People are commenting on your early admission into the gun show, and I couldn't be prouder. I can't wait to see what you look like 100 lbs from now!











First Page
1
2
3
4
5
6
7
8
9
10 11 12 13 14 15 16 17 18 19 20 21 22 23 24 25 Last Page

Get An Email Alert Each Time JENNSWIMS Posts