| | |
| --- | --- |
| | JENNSWIMS's Recent Blog Entries |



Thursday, June 30, 2011
After much ruminating on why in the heck I'm so obsessed with what the scale says I finally came up with an answer. What? Get work done at work? Hah! I'm busy thinking of blog fodder, don't bother me with this work stuff!

It isn't so much that I can't appreciate the other indicators of progress, because I AM wicked-happy-jazzed about my three pairs of pants (the others are too big, except one old pair that is too small) getting bigger and bigger. It isn't that I cannot see that my arms are getting more defined and more muscular and less chickeny-skin-floppy-wiggle-flab. It isn't that I don't feel better every day, because I feel as great as a morbidly obese person possibly can!

It is that when the scale doesn't move, I start to panic yet again, scared silly that I have broken my body and my ability to get healthy.

The body is an amazingly resilient machine, but I punished it and I hurt it and I didn't appreciate it and I generally f*&*ed my body over royally for a good decade or two. I deserve to have a body that doesn't respond after abusing it for several years. I deserve to have a body that is a vindictive byotch like I am!

Would a dog come when called if you kicked it every time it did? Uh, no. That's what I did to my body. I gave it the Dorito, Coca-Cola, French Fry, Gyro & Pasta with Alfredo and breadsticks slap down, checked it into the boards, followed by a full frontal assault roundhouse combination every chance I got.

I worry that I haven't earned my body's trust, since so many times in the past I'd behave and do a program for 3 weeks then fall off the wagon for months or years. Why should my body trust in me, that I really mean it this time? I really meant it last time. I meant it when I did that protein thing that gave me crap breath, I meant it when I joined the really expensive program that made me buy expensive food. (News flash, spending more is not the solution)

I know that my body has largely forgiven me, but it requires time to completely let go of what I have done to it. I fear the scale not moving because if I was my body, I'd be pretty resentful and stubborn. I deserve to have this be real work, I made my bed, now I need to suck it up. I have to prove how much I want it.

It's a good thing that my body has always wanted to be healthy and I was the one thwarting its efforts. Now that I'm not working against it, maybe we can get somewhere.

The scale will continue not to move as quickly as I would like (#135 tomorrow would be ok, but I wouldn't learn much). I will continue to panic occasionally, and I will continue to get healthier with every passing day.

P.S. Today I weigh one pound less than I did on my wedding day in 2006. Can I get a WOOT WOOT! Hehehehe.






Wednesday, June 29, 2011
The evil flat thing, aka Captain Poopy Pants, is making me nuts. I feel powerless to stop myself from climbing on the malevolent piece of digital torture day after day.

Captain Poopy Pants, I'm telling you right now that you will rue the day you trifled with me! I will crush you like a tiny, ugly bug in the battle of Fat Jenn versus the Scale. I will hurt you in ways that will make you think me standing all 279 pounds of me on you seems like a pleasure cruise! Err, no, I don't usually talk to inanimate objects.

I really am very upset by only losing 3 pounds this month, and I know that I've done great things that are not based on the scale. I'm running. Seriously! Fat girl is moving her ginormous self at a pretty good clip and not falling over dead. Chubbawubba is kicking ass at kickboxing! I'm getting faster in the pool!

Those things are all so awesome, and make me feel so strong and accomplished that it makes me mad at myself for being mad at myself about the scale. Ugh. Why do I discount all of the accomplishments that aren't the scale?

So, let's roll with it! Onward to the non-digitally displayed ways to measure success! I am more than a number.

My waist will be two inches smaller by the end of the summer, minimum.

I will be stricter about my program and avoid dining out unless it is with Cheffrey. (I hate this goal, I love going out to eat)

I will be able to run an entire 5k by the fall, without stopping. Slow is ok, stopping is not. I will do this without having a heart attack, fainting, barfing, peeing myself, crying or falling down.

I will do more than the last segment of the run in my C25K training at 6mph.

Someone at work will notice my weight loss and comment in a way that is pleasant.

I will wear more clothing with one X than two! Say bye bye XXL, say hello to my little friend XL.

My new WOOT WOOT I fit I fit exercise shorts will be loose by fall and have to have the drawstring tightened.

I will be able to do 4mph for an hour on the treadmill by my 20th class reunion on October 7th. 14 sizes smaller would also be nice, but I'm not holding my breath.

I will remember to eat protein regularly... as in daily... thank you all for noticing and reminding me that I was screwing that up pretty royally.

I will be able to justifiably toss the vast majority of my wardrobe by the end of summer. Too big clothes, bub bye!

I will not charge a bunch of clothes at Lane Bryant when I get rid of the vast majority of my wardrobe, because it irritates me when I charge clothes and grow out of them and give them away by the time the bill arrives.

I will hold a plank for a minute by the end of the year, and not cry like a sissy girl while I'm doing it.

I will join the master's swim team this week or next and start practicing with them regularly. If I do well enough training, I will swim Alcatraz this fall.

I will be able to boxer's shuffle for an entire minute.

I will be able to swim two miles by the end of the year. 3,300 yards.

I will try a Hot Yoga class and sweat like a mofo! I will not pass out, fall down or fart in class in an audible fashion.


Notice I did not say try! Banish try from your getting fit vocabulary. It is an obnoxious word. If you are saying "Well, I'll try" you are either waffling, prevaricating or failing before you even start. I will not try, I will do. Period. Get all Yoda with your bad self, "Do or Do Not, There Is No Try."

Now, what will you be doing this summer that makes you fitter, smaller or healthier but doesn't involve a number on the evil flat thing?






Monday, June 27, 2011
I've never come home from the gym and said to myself, gee, I wish I hadn't done that.

I love the way my skin feels after the gym. I love the feeling of accomplishment. I like the way I need to guzzle water and then when I do I have this sudden burst of sweat a few minutes later.

I like knowing that my fat tires are on their way to becoming fat rolls, then fat hula hoops, then gone altogether.

I'd like to say that I'm so thrilled that my heart is getting healthy, and that my cardiovascular system is perking up, but I care about that a lot less than I care about being able to wear stilettos and a little black dress and looking smoking wicked men-are-jealous-of-my-husband hot. I want perky bazooms, a tight walnut-cracking bootay and legs that look like runner's (woot) legs. Having the cardiovascular system of Secretariat is just a side bonus.

I like leaving the gym knowing that I'm going to lose some weight!

Today I went to the gym, did day 2 of couch to 5 k, and I ran the last running segment at 6mph, which felt a lot like winning the lottery to me. Then I went to take a weight training class only to find out they had run out of equipment. I was, shall we say, less than thrilled. How am I supposed to crack walnuts with my butt cheeks if I don't strength train?

I would have smiled at having another alien-probed-my-brain moment but I was really ticked. Quite irritated would be an understatement. Back on the treadmill I went, miffed about the abrupt change in plans, and I rounded out an hour of cardio.

So, with more time to think on the treadmill, I tried to pin down why this time is different. In the past I've said "it is enough to know that this time is different," but the insatiably curious part of me needs a better answer than that. (My Mom used to warn babysitters that I asked why a lot and that they needed to answer my questions logically because I would make their lives hell if they answered with "because I said so" and not much has changed in the following 36 years)

So here is what I came up with:

1) Hormones. Seriously. I'm not kidding.
I no longer have food cravings at all, EXCEPT when I'm clearly under the influence of hormones. Then I have moderately bad cravings for very lacking-in-nutrition foods. Combine these cravings with some of my other issues and you have a recipe for a diet that lasts 23 days, then crashes and burns. Combine this with the fertility meds that make my hormones go bats&*t crazy and you have an OCD, food snarfing, human junk consumption machine on your hands.

If you are wondering what this looks like, picture yourself buying all kinds of total crap at the grocery store, then putting it in the fridge in perfectly straight lines and stacks, arranged by size and type of food. I wish I was joking. I refrained from alphabetizing. Barely.

2) A lack of exercise.
I would always try to figure out when I would HAVE to start exercising, as opposed to seeing exercise and nutrition as partners. I was too lazy to exercise, but I thought I had great excuses... my bosoms are too big, my shoes are wrong, the wind is blowing, the moon was visible last night.

3) Food induced binging/overeating/cravings.
This is the big one, and without doing a major cleanse/detox and learning a lot from Joel Fuhrman, MD and his book Eat to Live, I never would have realized that this one thing was the vast majority of my problem. It took 3 weeks of detoxing before I figured out that maybe I wasn't a disgusting human garbage disposal.

I was convinced that I was an out-of-control eater, that I would have to have weight loss surgery to lose weight, that I was just a disgusting human being who couldn't control what I shoved in my mouth. I loathed myself and my lack of control. I didn't have a clue that my "healthy" breakfast was setting me up to binge the rest of the day. It seems so simple now.

It took me six freaking months to get all of the high fructose corn syrup out of our house. What a nightmare.

4) Volume AKA The right diet for the right person.
I always failed on any plan that tried to limit portion sizes and left me hungry at the end of the day. A diet that allows me to eat all I want of healthful foods is ideal for me. Picture cookie monster shoveling cookies into his mouth, with crumbs flying around, well, that's me with veggies and fruit.

5) Support. What can I say, I need my SparkPeeps.

6) Boredom eating.
Hungry, angry, lonely, tired (HALT) should really be B-HALT or HABLT or some variation with a B in it for boredom. Any of those things, if bad enough, can trigger some sort of emotional need for overeating, but boredom seems to be the worst for me.

7) Screw perfection, give me perseverance
Expecting perfection is setting yourself up to fail. Coming back day after day, even after you were less than perfect (aka human) is where the success is found. Now that doesn't mean you get to make excuses, but making a solemn vow to keep working at it, day after day after day, even when you have totally blown it, is key.

Why is this time different for you?







Saturday, June 25, 2011
I have been living by the motto "no excuses" during this weight loss thing. No excuses for not making it to the gym. No excuses for going over my calorie count. No excuses for not having my poo linear, if you get my drift.

So after sitting here all day and making 1,235 excuses for why I couldn't/shouldn't/wouldn't do it, at 7pm I left my house and started C25k.

Yes, that's correct, all 279 pounds of me did Couch to 5k day one, workout one. Every minute of it. In fact, I'm such a 'fraidy cat that I did the five minute warm up four times before I actually ran when the app told me to.

WOOT! Happy Dance! WOOT WOOT WOOT! Rockstar/David Lee Roth Jump! WOOT! High Five! WOOTY WOOT WOOTALICOUS!

I can't even claim that the girls made it more difficult, now that I've been introduced to The Dani Method, which means wearing a normal bra under a jog bra... it has changed my life. I think I may even be able to do jumping jacks.







Some of my neighbors were out and I passed others walking. So in my weird little brain I was pretending I was reading their minds. They were saying all kinds of things!

"Wow, look at that fat girl running, I didn't know fat girls could do that!"
"She's walking pretty fast, oh my gosh, did she just start running?"
"I would have thought she would have had to be dragged by both of those great danes of hers to go that fast"
"That girl has giant boobs, how can she run like that?"
"I better not have to call the squad and I will NOT be doing any mouth to mouth, under any circumstances"
"I wonder if that weird girl is doing C25k. I have thought about doing that. If she can do it, maybe I can, too"
"You go honey!"
"Those crazy young people, it's too hot for this craziness"
"My neighbor has lost her freaking mind"




My dinner: organic whole grain white bread, amish strawberry jam, Krema spicy peanut butter, organic strawberries and a side of raspberries.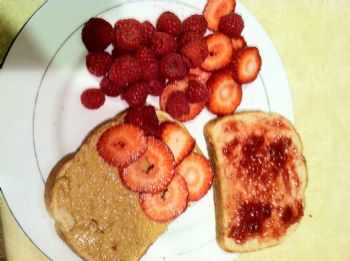 My dinner after a mouse or some other creature nibbled the crusts off all four sides:



I'm still grinning like a fool. Happy dance indeed.






Saturday, June 25, 2011
I've talked about having fatmares in the past. There are plenty of variations, Jenn as Winnie-the-Pooh getting stuck in Rabbit's window, and another version where I'm basically on the TV show Dirty Jobs but I can't fit in to, or get out of, any of the crazy places Mike does. Before vacation I had one where the ship was sinking and the only escape route was a porthole and everyone could fit through it but me.

Today's was worse. I was in a burning building that was really tall, kind of like a dream-induced combination of the World Trade Center towers and the Towering Inferno. All I had to do was go down the 80 flights of stairs before the building collapsed, but I was so fat and so incredibly out of shape that everyone was passing me.

They were running down the stairs, running toward clean air and survival, and fat dream me had to sit down every flight to catch my breath. People tried to help me, some tried to carry me, but I was just too big. It was clear in the dream the fat and totally out of shape me wasn't going to get out in time.

Ugh.

I prefer to keep things on the positive side. I don't put a picture of myself looking fat and disgusting on my fridge, I put a pic of myself looking totally fierce and thin up there. I wouldn't talk about my fatmares at all, or how horrible they make me feel, except I'm pretty sure that I'm not the only one having them. My experience with this fat loss quest indicates that my experiences are typically pretty universal.





If you are wondering what's up with the food pics, I'm trying to be accountable and do better with my food choices, hence the random posting of my meals. I still have 402-752 calories to eat today, but I'll post what I've consumed thus far.

Breakfast: Blackberries, raspberries & strawberries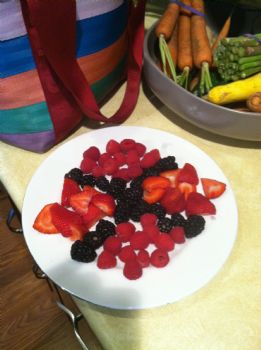 Snack: PB&J--it was heavenly. Krema spicy peanut butter, white whole grain bread and half a tablespoon of naughty Smuckers strawberry yum.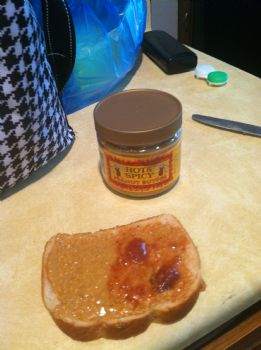 Lunner: Beets, artichokes, garbanzo beans, english peas, purple & yellow potatoes, tofu.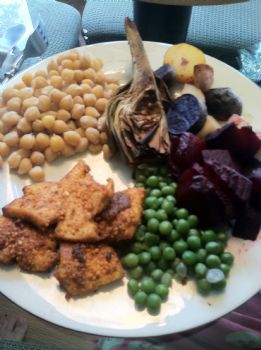 First Page
1
2
3
4
5
6
7
8
9
10
11 12 13 14 15 16 17 18 19 20 21 22 23 24 25 Last Page

Get An Email Alert Each Time JENNSWIMS Posts