| | |
| --- | --- |
| | JENNSWIMS's Recent Blog Entries |



Friday, June 24, 2011
Every once in a while, I have an epiphany. Usually I'm on the treadmill, or in bed trying to fall asleep, and these thoughts pop into my head. Sometimes I come up with weird inventions. Sometimes I come up with fabulous plot lines for a sitcom or a screenplay. Watch out world, Jenn has been thinking again, Danger Will Robinson! Danger!

Today's thought, sponsored by the letter H, was triggered by a Horrifically Horrid and Horrible lunch.

Getting healthy is like a teeter totter.

So I had that random epiphany, then I had a mental image of some poor kid flying off of a teeter totter and being launched like 10 feet in the air when I sat on the other side. Doh!

So, a plan to lose weight is just like a teeter totter. Both have you compensating, shifting and moving, over and over, because you have to be in balance to move forward aka drop some tonnage. Balancing the days where you do great with your food and great with your exercise with the days when you have oh, I don't know, 2 slices of wedding cake plus a bacon sandwich for breakfast, or a souffle with dinner. (I would never do that, I would never eat those things, those are just random examples that I made up :)

Some days you feel like you're on the high end of the teet, errr tott... whatever. Some days you feel like you fell off and got smacked in the face with the teeter on your way down. You just have to keep getting on the totter. Over and over and over. Some of us have to do it for years just to get to our goal, and then of course the whole thing starts all over again with maintenance. I'm guessing it gets easier to teet and tott as you lose, as you get used to it, as it becomes second nature.

Eat too much, exercise more. Eat healthier, get away with a little less exercise. Eat less and exercise more, see a bigger loss that week. Eat a light breakfast and lunch so you can eat popcorn at the movie theater. Plan, balance, compensate, repeat. Why yes, I will do an extra ten minutes on the treadmill for a teaspoon of Krema Spicy Peanut Butter, thank you very much. Why no, I will not do an extra 30 minutes for a Coke, but I will have a few liters of water, thanks. Tater tots, well, I'll do just about anything for first, second and may third helpings of those, up to and including selling one of my kidneys on the black market.

This whole getting healthy thing does not work without balancing the teeter totter effectively. If your diet and exercise regime is so rigid that you cannot maintain it, and you expect perfection, you will fall off the teeter totter completely. If you deny yourself everything tasty and only eat five calories a day, you're going to end up on the deep end of the teeter totter eventually, binging like mad and feeling out of control. You have to take the chips with the carrots.

It's all about balance.

So here is what the healthy side of my teeter totter looked like today, along with some treadmill time: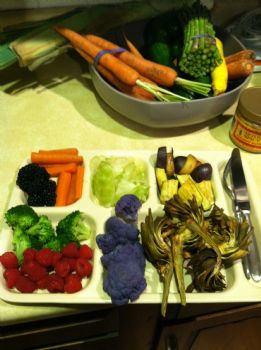 Clockwise from upper right we have red, purple and yellow potatoes, grilled zucchini chunks, grilled artichokes, purple cauliflower, red raspberries, broccoli, blackberries, carrots, and cabbage.







Thursday, June 23, 2011
I've lost almost all of my vacation weight in the last few days, and someone asked me what it feels like to be melting. Honestly, losing 8 mostly water pounds in 3 days feels like peeing. A lot. Frequently. It's good to be back where I was, and I knew it was largely water, but it is such a relief to be right about it, I'm so happy to be getting back to where I was and start moving forward again.

Losing weight feels like so many different things wrapped up in one package. I actually have moments of fear, where this sick part of me deep inside actually fears being thin. But mostly, I'm elated. WOOT WOOT, happy happy joy joy, jump up and down inside happy. Not pee my pants happy, because that would be stinky and gross, but pretty damn happy.

I feel like this inner amazon Jenn is waking up, and she is saying some really bizarre stuff like "We should go for a run! Let's go kickbox! Let's go hiking! Let's get a hot body and dress up and watch the people checking us out!" I kind of dig Amazon Warrior Jenn, she will really love the introductory fencing classes I bought. She may also like paintball as cardio, which really should be featured on the cardio tracker, and it a heap o' fun.

Losing weight feels like rediscovering an old world, the world of athlete Jenn, but with a newly developed sense of appreciation. I didn't appreciate it the last time when I could just hop in the pool and swim a few miles, or run a few miles, or do whatever without feeling out of breath, etc etc. Why? Because I was 17 and it didn't take that much effort. Some, but not that much. I was a teenager, it was normal to have perky boobs and a flat stomach and people checking out my butt. It would have seemed abnormal not to be athletic. I never even realized I was working hard at having a great body.

This time, I appreciate walking a little faster on the treadmill each week. I appreciate good health and lowering my cancer risk and I'm mature (old) enough to admit that one of the reasons I want to lose a ton of weight is for more acrobatic aerobicized sex. (I'm married, I'm allowed to say that) I also appreciate that I may have done so much damage to my skin that I should be putting 20 bucks a pound into a kitty for the plastic surgery I may need when I get to a healthy weight.

Losing weight also feels like a license to shop for lots and lots of new clothes, and a Vitamix, and a yoga membership, better jog bras, fancy wicking shirts with magic thumbholes (I love thumbholes), some more running shoes, a case of Evian, some special swimming shampoo, super duper squishy socks and lots of other stuff but I can't say any more about that because my husband might find this blog.

So, what does weight loss feel like?

Weight loss feels like freedom to me. If I had to pick a single word to sum it all up, it would be Freedom.
**Freedom to go for a run (that will happen one day, I will go for a run, not a jog, a full-fledged run) without having a massive heart attack and dying on the side of the road clutching my overly ample bosom. I will be like Forrest Gump, the Doobie Brothers will magically start playing "It Keeps You Running" as I effortlessly lope around being a runner type person.
**Freedom to stand in one place for an extended period of time without wanting to chop off my feetuses.
**Freedom to ride any roller coaster I choose because I actually fit into the damn things.
**Freedom to ride on an airplane and not wonder if I've finally slipped over that line that means I will have to ask for a seatbelt extender.
**Freedom to wear a mini skirt (they are a privilege, not a right, you know).
**Freedom to wear running tights in public without making people retch.
**Freedom to do high impact aerobics without needing to double bag Shamu and Orca.
**Freedom to buy clothes that aren't on the color wheel between black and light grey. Seriously, what is it about losing a few ounces that makes us all want to buy brightly colored clothes and get rid of all the black, charcoal, silver, grey, light gray, dark grey and heather grey from our wardrobes?

What does weight loss feel like to you?






Wednesday, June 22, 2011
I only had 13 minutes before my gym class started, but I always feel better and do better if I do my own warm up. I wanted to do an hour on the treadmill before class, but I had a personal emergency (Spark reading and commenting, along with reading some online celebrity gossip and eating a teaspoon of the yummiest peanut butter in history).

Anyway, I hopped on the treadmill and did a minute at 3 mph. Then a minute at 3.5, followed by 9 minutes at 4.

This means that I'm getting closer to my goal of walking 4mph for an hour!

Here's the good stuff: I turned it up to 5 mph and I jogged for 2 minutes.
Here's the more extra gooder stuff: I could have jogged longer but it was class time!

WOOT WOOT WOOTALICOUSNESS!

I was on my own little fluffy cloud of happy happy joy joy. I COULD HAVE GONE LONGER!!! Hehehehehe. I know all the guys say that, but I really could have!

I kind of felt bad for the guy I watched walk up and down the row of treadmills. There were three available. One next to me, and two that were available next to some people who were doing some serious jogging/running. I must have been the less threatening of the three, I mean, if you are intimidated by people jogging or running, definitely go to the treadmill next to the heifer, right? I was just getting started, just turning the machine on, so just by looking, I was a good (slow) bet.

Sorry dude, this fat girl can RUN!

When I turned the treadmill up and started to jog, he turned his machine off and left. I could be imagining things, but I think he was disappointed that he thought he was in fat Siberia, and found out he clearly was not.

Fat girl power activate, shape of a runner!








Tuesday, June 21, 2011
It has happened again. The aliens have landed. They probed me and seriously messed with my brain. Of course, aliens are way high-tech, so I don't remember the probing, I can't tell you if they looked like ET or more like the ones from Independence Day. I just get to deal with the after effects of their mind meld brain sucking ways.

Here is how I know the aliens visited my brain again:

I went to kickboxing class today. The class was 45 minutes long instead of the usual 60 minutes. Here is where the alien brain shrinking comes in--I was greatly displeased. In fact, in my alien-warped brain I said, "What? 45 minutes? Total Bulls*&t!! What do you mean I only get 45 minutes of kickboxing?"

Fatty McFatterstein, AKA Old Jenn, would have been thrilled if a class was 15 minutes shorter than expected. Delighted. Thrilled.

Not anymore. I was genuinely ticked that I was going to have 25% less cardio than I planned. I've turned a corner, thanks to the aliens. I look forward to exercise. I get grumpy when I go too long without some real cardio, and I kinda crave it. I like getting dripping wet with sweat and having to wipe my face on my sleeve when I'm working out.





In random news, here is the best random gift EVER! My husband knows I am underwhelmed when my food touches more than absolutely necessary, so he gave me a school lunch tray! WOOT!

My dinner tonight: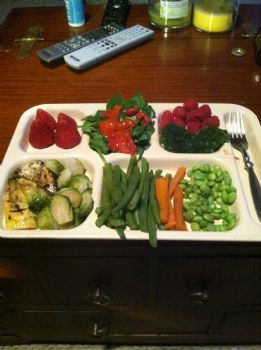 Tuesday, June 21, 2011
Dear Jenn,

We would like to thank you today for being amazing. You've added years, if not decades to our lives. We used to think you were a total moron, since you are in healthcare and all, but now we are starting to think that you are not a total ass-wit. Maybe only a semi ass-wit, since we know you knew better but did it anyway.

We think you rock and we really dig kickboxing and swimming. We couldn't have done either of those before. That yoga thing was nice too, the deep breathing stuff was particularly peachy.

We really appreciate what you did, well, didn't do starting in September, and we are very proud of you for not even feeling tempted 99% of the time. Pretty soon, we will be as good as new, and it will be like you never smoked at all.

Love,

Your Lungs








First Page
1
2
3
4
5
6
7
8
9
10
11
12 13 14 15 16 17 18 19 20 21 22 23 24 25 Last Page

Get An Email Alert Each Time JENNSWIMS Posts